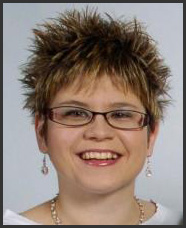 I'm Joan Concilio, community manager and writer for Man Vs. Debt, and I'm in the trenches of a war against almost $90,000 in consumer debt.
I started reading Man Vs. Debt in early 2010 and followed along with my husband, Chris, as Baker and Courtney paid off all their non-student-loan debt, took down their college loan balances, grew their assets and built Man Vs. Debt as a business … all while living the life they chose.
And I had a crazy thought: If they could do it, so could we.
In early 2011, we got serious about getting out of credit-card debt for good, in large part so we could gain the freedom to homeschool our daughter, Sarah, who's now 14. Once I joined the MvD team in late 2011, I realized that publicly sharing the details of our fight against debt – or, as the Bakers call it, radical financial transparency – could both motivate our family to keep going AND maybe motivate other members of the community as well.
So I put it all out there in my introductory post from early March 2012: "Are You Sick and Tired of Being Broke and Tired? Meet Joan Concilio. When we started sharing our updates, we'd already paid down about $20,000 from our highest balance. But we'd come almost that far before, only to face setbacks.
This time, we're in it 'til they're all zero.
By The Numbers
Account
Starting Debt
(As of April 14, 2011)
Current Balance
(As of June 9, 2014)
Very Next Step
Hated BoA Mastercard
$36,013.71
$14,099.41
under $14,000
Citi Mastercard
$21,718.53
$14,271.95
under $14,000
Bank line of credit
$9,994.03
under $7,000
Union Plus Mastercard
$8,860.23
$6,428.18
under $6,000
Citi Visa
$7,386.89
$4,366.45
under $4,000
Discover
$3,143.29
$4,210.91
under $4,000
Springleaf loan
$4,998.13
PAID OFF
Tires Plus
$628.13
PAID OFF
Joan 401(k) loan
$1,639.59
PAID OFF
Chris 401(k) loan
$1,216.32
PAID OFF
TOTAL WORST-EVER CREDIT CARD DEBT
$89,687.23
(as of Jan. 1, 2011, four months before I figured out the numbers above)
TOTAL CURRENT DEBT
$53,370.93
AMOUNT PAID OFF
$36,315.30
PERCENTAGE DEBT-FREE
40.49%
[share_sc]
Detailed Updates
Track With Us
Debt-Payoff Tracking Spreadsheet
Part of our six-item Man Vs. Debt free resource kit available exclusively for email subscribers
Stay motivated while you're paying off debt
Learn the secret to setting goals that keep you going
Use the system I credit with helping us pay off more than $30K in less than 2 years
Our Goals
We had hoped to be debt-free except for our mortgage as of March 2015 when we started tracking our progress here on Man Vs. Debt. Thanks to some changes in our income, we've had to adjust that target, and our newest goal would have us done with consumer debt in April 2016.
That has us paying $2,000 total per month on our debts (minimums plus extras), which at our current income levels is heartily ambitious and maybe not even quite doable – but we're committed to trying!
That said, that seems ages away, and as we've said before, we truly believe that by hustling, we can cut a significant time off of that. The hard part is deciding just how ambitious to be, so I decided to set a "range" of goals.
Marathon finisher award medal: Paid off "on time," or by April 30, 2016
Bronze medal: Paid off by December 31, 2015 (4 months early, about $7,850 "extra" required, give or take)
Silver medal: Paid off by August 31, 2015 (8 months early, about $15,450 "extra" required)
Race-winning, Olympic-qualifying, crazy-awesome gold medal: Paid off by April 30, 2015 (a full year early, about $22,740 "extra" required)
So Where Do I Go From Here?
I really appreciate all the support I've received so far from the Man Vs. Debt and You Vs. Debt communities. It's not easy owning up to these numbers, but I'm confident I'll be able to get them down to zero.
I look at this as my chance to come full circle. I watched Baker and Courtney do this, and I was inspired. I hope that by sharing our story, maybe it will inspire you to tackle your own debt – or to STAY debt-free!
I'd love to hear your comments, both on our journey and your own struggles and successes. Feel free to share those below!