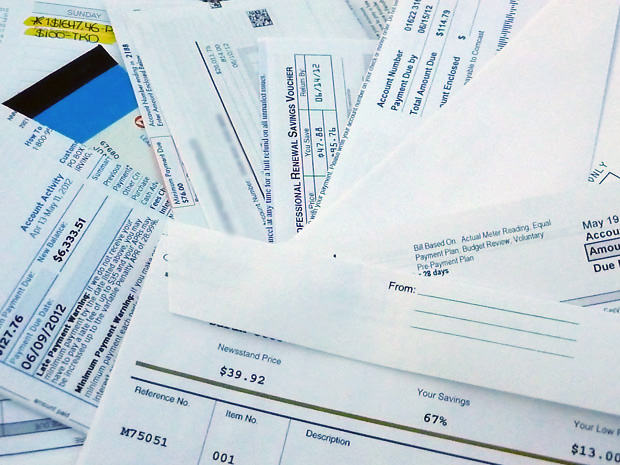 [share_sc]
Note: This is a post from Joan Concilio, Man Vs. Debt community manager. Read more about Joan here.
I like paying my bills.
Now, I hear you. You're saying, "That Joan, she's crazy; I'm not reading any more!" But stick around and let me explain. This love of bill-paying is only a recent change; before we started our war on consumer debt, we were always the people with more month than money.
The biggest change, of course, is that we now stick to a budget, and that means we have enough money to pay the bills. Obviously, that's the number-one factor in why it's more enjoyable now than it was before.
But the reality is, that's true for a lot of people. Many of us do have the money – but somehow we still dread paying the bills.
So how do we change that mindset? How did I personally change the way I think about bill-paying? Well, let me show your our system, and then we'll talk about why I think it works so well for us.
How I keep track of the bills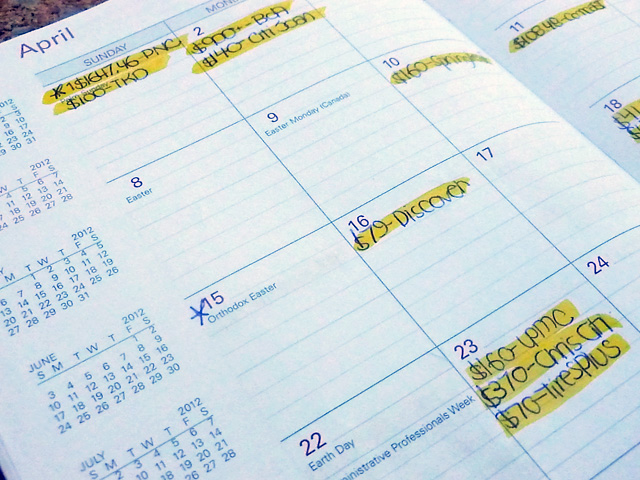 Meet our bill-paying schedule.
It's just a simple 12-month calendar; you can get them in the dollar bin if you're willing to wait until the middle of January. But every time we owe someone money, it's reflected here.
At the start of the year, I go through and mark all our regular expenses and our regular income.
For instance, we have a contract for a home-security system, and that payment is due the 14th of each month. So earlier this year, I sat down and, on the 14th of every month, I wrote "$44.99 – APX." I also did my car insurance, our mortgage (for as far ahead as our payment coupons go), our estimated taxes and so on.
You see that asterisk? That's a payday. I've marked them for the whole year, too – at least all the ones I know of. When we make side money, that's obviously great, but our bill-paying is now based only on our regular income.
And every time I receive a bill, I do two things.
1. I write the amount and the company name on the date on which I intend to pay it.
That's key. I used to rack up late fees, even when I had sufficient money in my account, because I was keeping track of bills by their due date.
Obviously, that's a problem if something comes up and you forget or are unable to pay, because you have almost no wiggle room.
But the other problem was that I was paying bills here and there throughout the month, and that was a recipe for disaster. One on the 10th, one on the 14th, one on the 15th… you know the drill. Now, for the most part, I pick a few days a month to pay bills, and I "stack" my payments on those dates, even if the due dates are a week or more out from there.
2. I slide the bill itself inside the calendar pages for that month.
That's right – I prefer paper bills.
There are some accounts for which I receive e-bills, and when that happens, I stick to step 1 above when I get the email. For the most part, though, I get hard copies, and I slide them right inside the calendar, usually in the order I'm going to pay them.
How I actually pay the bills
So if you've read some of my previous posts, you know that I keep a detailed check register. I just said how much I like receiving paper bills.
That might make you think I'd write out checks and mail them. But I don't. I pay almost entirely online (for national companies) or in person (for local ones).
Bill-paying night is basically me, at the computer, with the checkbook. I balance the checkbook first, then I knock out most online payments (credit cards, utilities and so on).
Then I write any checks for in-person payments (our water bill, for instance).
With each payment (either by check or online), I highlight the line in the calendar to show it's been paid. And I write each transaction in the check register as I go and figure out the balance.
Last but absolutely not least, I go back to our Most Hated Debt, if it's part of that set of bills. In case you're wondering, that's our Bank of America MasterCard with the $26K balance.
I pay our most-hated bill last, and before I enter the amount I'm paying, I look back at the checkbook and calculate how much money we need to keep in there, both as a "buffer" and for expenses like groceries before the next paycheck.
And then I put every cent that's left on that Most Hated Debt. That's the debt tsunami, you guys – the strategy of focusing your repayment efforts on the debt with the most emotional impact.
By putting this at the end of my bill-paying, it gives me something to look forward to. When I get to the end of the bills, and I see we can still hit this debt hard, that's an amazing feeling!
So how do you create a joy in your own bill-paying?
Find a system that works for you
Our system works for us – and keeps me happy about paying the bills – for a few reasons.
1. It's calendar-based.
I operate very much on a calendar system – not just for bills. We have a huge family calendar in our kitchen; I use a daily and weekly calendar for work tasks; you get the idea. Things to do go on a calendar.
So for me, a bill-paying system that's list-based or spreadsheet-based, while it could contain all the same information as my calendar, wouldn't "register" for me in the same way as looking at something that looks like a calendar.
2. It's manual.
The act of writing down each bill I have to pay is very important for me. It helps me be very conscious of them, and I'll often find myself saying, "Oh, I know I have to pay Discover $80 by the 14th" or something while I'm out shopping, which in turn changes my at-the-moment spending.
I'm a big fan of the idea of MANUALLY dealing with your finances. Baker had called that "unautomating," and to me, it makes perfect sense. When I do the work, I become more conscious, and that's always good.
3. It's tangible.
So, OK, why don't I use Google Calendar (which I use for other things) for my bills? I could even enter each payment manually and still have both benefits above.
Well, like I said, I like paper bills. I like to get the bills in the mail, go through the process of opening them and writing the amounts down, and then on the opposite end, I like to tangibly see the pile of bills go down after I've paid them.
Meanwhile, I like the physical calendar because I have it sitting on my desk, where I have very little "stuff," and am physically reminded that the bills are there. It makes it much harder to forget to pay someone!
4. It's visual.
I sort of hit on this above – I like to SEE my month laid out in calendar form. I like to SEE the calendar on my desk.
I'm not an "out of sight, out of mind" person in all areas – but I definitely have fallen into the trap of putting the bills "away" too much, or relegating them to an email folder, and then I've had cases where I forgot something and racked up a late fee.
5. It gives me a sense of accomplishment.
I love highlighting each amount as I pay it. (I am the kind of person who loves crossing things off a to-do list. I may or may not have ever added something I already did to a list just so I could cross it off.)
Again, this physical, tangible, visual act – the highlighting – serves a real purpose for me. Absolutely, if I used an online calendar, I could mark each payment as "done." But I like to physically take the action and see it change.
Even more importantly, paying our most emotional debt last leaves me with a great feeling.
It's ending the game with a grand slam or a 90-yard touchdown pass. You win either way – but when it's the last moment, it feels better. I finish the bills off with a real sense of accomplishment when I see that high balance go down.
If you're already debt-free, this can still work – maybe make your last "payment" a transfer to your vacation fund, or something else that really motivates you. The point is to end on a strong emotional note!
So what does this mean for you?
Maybe you would benefit from a bill-paying system exactly like I've described above. Or maybe you already have a system that works well for you – using an online calendar or some other tool.
But if not, ask yourself what motivates you. Then, work out your bill-paying system to include that.
Are you visually driven? Create a reminder you can SEE.
Do you like that "sense of accomplishment" feeling? Stack your bill-paying so that you hit your most emotional debt last.
Motivated by another factor? Create a system that ties into it.
[share_sc]
When it comes down to it, you may never "love" paying the bills. But you can certainly make it work for you.
Want to get your own money systems in order? Get our Unautomate Your Finances guide, as well as several other awesome resources to "kickstart your money," join the Man Vs. Debt community list by clicking here!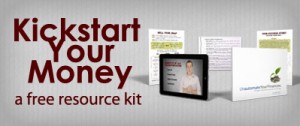 · Unautomate Your Finances ebook
· You Vs Debt Sample Lesson
· What to Sell Where Flow Chart
· Debt Payoff Tracker
· 10 Tips for an Effective Craigslist Ad
So what motivates you? How will you tie that into your bill-paying system?
We'd love to hear about it!