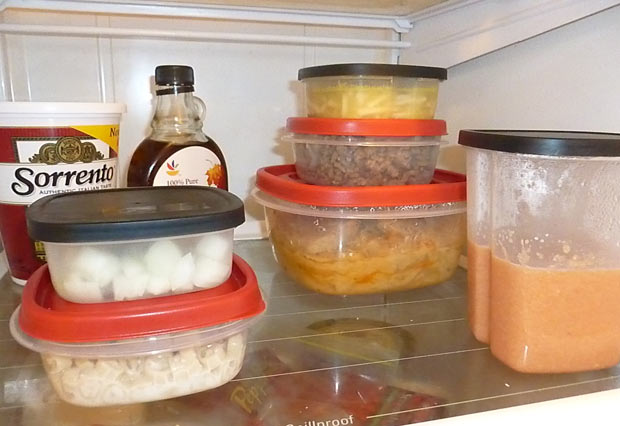 [share_sc]
Note: This is a post from Joan Concilio, Man Vs. Debt community manager. Read more about Joan.
On a recent Sunday, Chris and I sat in church and listened to an appeal to help stock the food pantry. The needs were simple: canned goods, boxed goods, peanut butter and jelly, and rice and beans.
The same afternoon, I headed with Chris into the office where he works (and where I worked full-time for more than a decade).
Our mission: Clean out the office refrigerators.
Wow. That was definitely a two-person, lots-of-elbow-grease undertaking, punctuated by statements like, "What do you think this WAS originally?" and "If it's dripping, do we just toss it?"
And I started thinking about the value of what we were throwing away.
Money down the drain
Its current value was less than nothing – we're talking stuff that had long since left edibility behind. But altogether, it must have been several hundred dollars' worth of food, and the words of the food pantry coordinator rang in my ears.
We're incredibly blessed to have plenty to eat in our family. But no one should be so blessed that they're intentionally wasteful.
And our office compatriots aren't the only ones guilty.
Although we're quite careful about planning our menus every two weeks, generally cooking reasonable portions and using leftovers for lunches, we still have the occasional week where, at fridge-emptying time, we're flinging our grocery money straight in the trash can. That's food – money – the equivalent of which could have met the food pantry's needs several times over.
And I felt incredibly guilty. I committed to stretching our grocery budget a bit farther so that we can add in some more donation items in each grocery trip – and that means I need to make the food-throwing-out an even more infrequent occurrence.
So I shared the situation with the Man Vs. Debt Facebook community, hoping to get some ideas that would help me – and anyone in a similar situation – waste less and use more. Some I'd heard before, and some were new to me!
Storage suggestions
From Heather: Freeze them and then reheat for lunch or dinner on a day you don't feel like cooking.
From Lara: Freeze! Right after I get done cooking, sometimes before eating, I pack it up and freeze the extra.
From Brooklyn: A Food Saver could be a worthy investment.
From Carl: I use a vacuum sealer and then freeze it.
From Danielle: I cook, and freeze in small portions for reheating on a day I don't feel like cooking. It works for me and keeps it healthy because I'm always prepared!
From Sylvie: Keep items containered separately… veggies, meat, sauces etc. Somethings go bad faster than others and if they are mixed together the whole things needs to be tossed. Also it is easier to freeze and/or repurpose if things are separated.
Use-it-up ideas
From Jessica: Soups and casseroles of leftovers.
From Kriston: Throw them into a frittata or soup!
From Lisa: Juice them all.
From Barbara: I repurpose EVERYTHING! … Leftover chicken? Add to uncooked rice and cook together. Other meats become soups, etc. I hardly ever throw anything away.
From Tiffany: We almost always have a "leftover" night once a week. It keeps us from throwing out food, and my kids like that it's almost like a buffet line. Bonus? I don't have to cook!
From Jim: Keep lots of tortillas on hand. The burrito started as a way to conveniently package leftovers for lunch, and nearly anything can be recontextualized as a gourmet wrap!
From Tara: We do the burritos, we toss extra things into soups, add it to salads, make fried rice with leftovers and ALWAYS eat leftovers for lunch. I had a friend who had what she called a YoYo night. It meant You're On Your Own… strictly to use up leftovers and give Mom a break from cooking. It worked great with teens!
Sharing-the-wealth strategies
From Heather: Give them to someone who lives alone, is sick or recovering from surgery.
From Nina: Asking some friends to dinner!
From Misty: Giving them to us people who live alone! We love your leftovers!
From Becky: There is no shame in asking singletons (or others you know who may benefit) about sharing food. I know a woman who had to change her diet and she called friends over for her Pantry Cleaning Party. Everyone wins.
From Carol: Good to find a neighbor who is up there in years and not able to cook. When you have leftovers take them over so they can enjoy.
From Nolan: Trick is to not "Need so much," and to make just enough to be perfect. If you have people over to share a meal, send leftovers with them. You already have an abundance!
From Gita: Share meals with your neighbours. Leave the leftovers outside for vagrants. Go and find some hungry people at traffic lights. Perhaps you spend the same, but you sow a LOT of good karma.
Planning pointers
From Glenna: Always check the fridge for leftovers before cooking something "new".
From Nina: Keeping the fridge organized and planning ahead what to buyand what to cook, not going grocery shopping while hungry as a wolf.
From Vernon: Buy the staple items to use with other items – bread, flour, milk, pasta, veggies, eggs, butter, cornmeal, broth and soups – you can make casseroles, quiche, stews, soups, shepherd's pies and bakes with the leftovers.
From Tim: I have a dry erase board on the top of my fridge. It is right there in my face when I go in there looking for food.
From Heidi: All jars in refrigerator should be labelled with the date that they were opened. Sharpies work best.
From Kara: When I'm going to cook a roast, I'll plan for the roast one night, Shepherd's pie the next night, and then shredded beef tacos after that. Then we have a free night. That's when we all get to know Mr. Microwave.
More great ideas
From Mae: We give our to the chickens who will in turn give us eggs – or compost it and then it will turn into food for the garden that feeds us.
From Mary Meghan: For a while I was participating in "food waste Friday" where every Friday I had to post on my blog what all food I had wasted (including a picture). Being accountable, even just to the nameless internet, really made me think a lot harder about how not to waste food.
From Michelle: I like Mary's accountability option too… add up the monetary value of chucked leftovers for a month and post it. If I have any leftover veggies, I grind them up into my dog's homemade food.
From Becky: Get over the "I don't feel like leftovers." That's cultural training that is such a garbage mentality… Best way to deal with leftovers is to PLAN when you are going to eat them. … It is a mindset. Even if you don't love leftovers, you can change your mindset and embrace that you have them.
From Kara: If all else fails, and you have rice with both green and red mold on it, pull out the microscope. If it's educational, then it's not waste…
Bloggers in the same boat
[share_sc]
I'm tired of taking my food blessings for granted. More than ever, I'm committed to using up what's in our fridge, freezer and pantry, drawing in large part from the tips above!
I'll be taking any extra money that frees in the grocery budget and using it to buy food for several food drives in our area.
Are you willing to take "the leftover challenge" too? And do you have any other tips or fun leftover stories or recipes to share?
Comment and let us know!