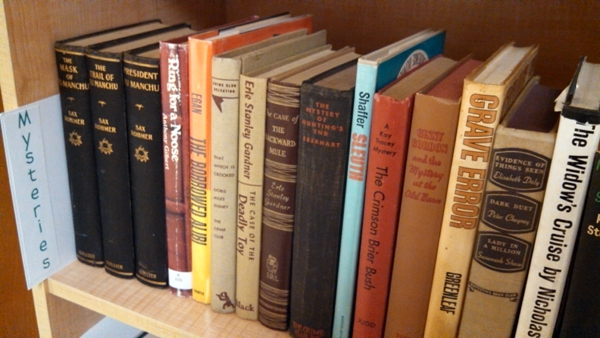 [share_sc]
Note: This is a post from Joan Concilio, Man Vs. Debt community manager. Read more about Joan.
If you've followed our family's story here on Man Vs. Debt for a while, you might know that we have a fairly decent long-term side hustle selling used books and ephemera (old magazines and papers).
Since 2005, we've sold those books online via Amazon.com's third-party seller network, building up to an inventory of almost 3,000 items.
This year, we took a pretty huge step. We delisted all but a handful of those books online, and we rented space in a local antique mall where we've been selling these books – and other items – since late February.
Since I'm a HUGE fan of selling your crap online (and especially fond of Amazon), I figured it'd be good today to compare these two business models and explain a bit about why we've made this pretty drastic change – and where we see our side hustle going in the future. I hope it'll encourage you to think about your own hustles and what's working – or not!
Our Costs
Amazon: One of the best things about selling online via Amazon specifically was that we didn't pay any fees until items sold. We spent a small amount (less than $25 a month) on envelopes and tape for wrapping, and we paid to ship (though Amazon reimburses a "shipping credit," so often we came out either even or slightly ahead with that).
Antique-mall stand: Our stand rent is $88 monthly. We're not paying for shipping supplies (we have enough to cover the remaining books listed for sale online) and we're not dealing with postage. We need to remit sales tax to our state, but since the mall collects it on top of our listed price (and keeps records of it), all we do is put that money aside and pay it to the state Department of Revenue quarterly. We didn't have to outlay for any furniture; the shelves and tables we use, we already had.
In both cases, the space in our home used to store books results in a tax deduction; our stand rent also becomes a business expense for taxes in this new model.
Our Time Commitment
Amazon: While selling online is often one of the quickest ways to get an item gone, it gets more and more time-consuming as you "scale up." Even with a pretty good organizational system, it took us quite a while to find books in our inventory when we received a notice once had sold. Then, we'd spend time wrapping and so on. We also had to be sure to hit the post office almost daily when we were at our busiest. It's not far from our home (thankfully) but it's still a chunk of time that has to be available. Finally, because of the requirement to ship within 3 days, we needed to take our inventory offline during times we were traveling.
Antique mall: Interestingly, the antique mall we've chosen to vend through has no time requirement for its member vendors. (Some places require you to help out at the desk one to two shifts per month, for instance.) Even so, we're spending about an hour there once a week, adding new stock and freshening things up. The great thing here is that, if we want to go on vacation, our items keep selling!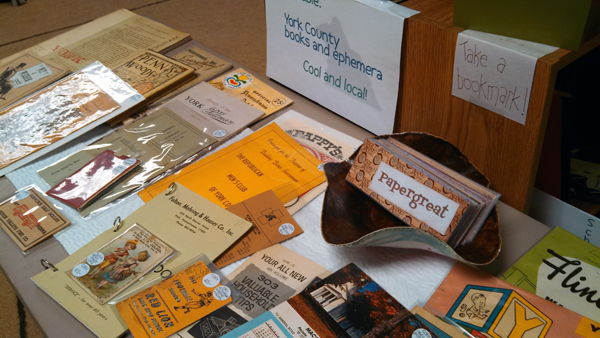 Flexibility
Amazon: The amazing thing about Amazon is that you can sell almost anything used – if it's been made in the past 40-50 years. When you get into older items, especially those of a local nature, it gets harder (and people aren't looking to buy those on Amazon, either, so if you list, it often doesn't sell.) We've chosen to keep certain items listed on Amazon because they're of very niche interest. A 1986 rare book that sells for $59.95 but has maybe two dozen interested buyers in the world? DEFINITELY staying listed there!
Antique mall: The flexibility in the antique mall comes in the opposite direction. We can serve another niche by adding items from our huge collection of local-interest ephemera (gathered for another blog I author). We can also add other items – a Betty Crocker complete 1970s recipe library, an interesting owl statue we found at a local auction, an Easter Bunny-shaped cake pan, some of the family collectibles we no longer use.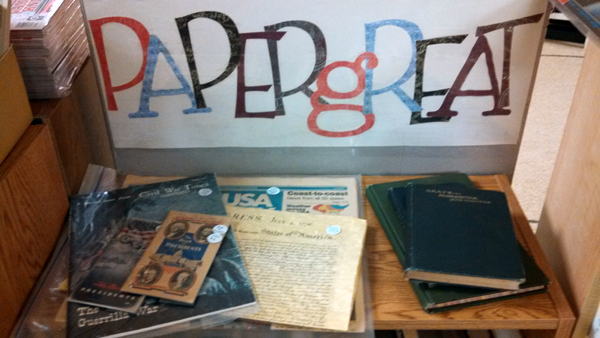 Branding
Amazon: It's actually hard to build a "business" as a seller on Amazon. You can sell a lot, but your storefront presence – where people can see all your items in particular – is limited. That's not a big deal in terms of revenue; if you're priced correctly and have a good seller rating, you'll still sell plenty of items. But as you'll see as I talk more about our goals, we're hoping to build a larger brand, so that's been a struggle.
Antique mall: Here, it's been easy to use the name we want to brand – Papergreat, also the name of my husband's book and ephemera blog. You'll see in the photos above that we have a big sign, free Papergreat bookmarks, and so on. As Chris works to build his blog, we're also developing it as a "brand site," meaning our future business endeavors can all be easily tied to the same name and theme, with an existing large audience both locally and worldwide!
Our Long-Term Goals
Amazon: Our original plan on Amazon was to sell our own crap. We did that. And we did it so well that we started buying other crap to flip. Again, that went quite well. But as a long-term business, it's not particularly scalable. We don't really want to be wrapping and shipping 2, 3 or even 5 books a day and listing 10 more. It's profitable, but it's time-consuming, and as a side gig, it's kind of capped out. Without investing in our infrastructure at a degree we're not willing to go, we've maxed out what we can give – and get – from this business.
Antique mall: This stand is a thought-out step toward our family's BIG long-term goal. We'd like to own a bricks-and-mortar bookstore. We'd almost certainly still sell selected items online, but we've learned a lot about what does and doesn't work in that space. Now, we're actively pushing ourselves to learn what works in the real-world retail scene. It's been a great learning experience. Things we didn't expect to do well, because they weren't great sellers online, are moving quickly – like recipe pamphlets and religious odds and ends. That's what we wanted to do – experiment (in a low-overhead way) in this space.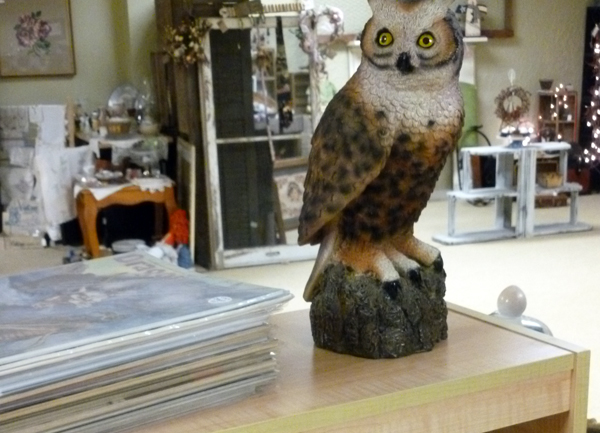 Our Profit
Amazon: At our highest, we were averaging a gross of $300 to $400 a month on Amazon, but selling about 20 items to reach that total. With our time, mailing supplies and so on factored in, we were netting closer to $150 to $200. Interestingly, we believe that with the few items we still have listed, we can still bring in $50 to $100 a month. The difference is, that's between 3 or 4 items, drastically reducing our time expenditure.

Antique mall: In our first month and a half, we've come out in the black. We didn't go in expecting to do that, so we're thrilled! So far, income minus rent has put us about $40 to the good. That's not bad for the first month, and we expect that to grow.
As a side note, my long-term goal is not to have a guest room filled with 3,000 books and 50,000 pieces of paper, so if nothing else, we'd have to find somewhere else to store it… and I'm basically getting a "storage unit" at the antique mall that actually makes me money instead of costing it!
And in the irony of ironies, the dumb owl that I sat there as our "mascot," priced at $5, gotten for next to nothing in a box-lot at an auction?
He was the first item to sell.
See? We have a lot to learn about bricks-and-mortar retail.
[share_sc]
This is not a path for everyone. The interesting thing is, we think that we can (eventually) make more money this way, and learn at the same time.
The question I hope you'll ask yourself about your own crap-selling, side hustles and even full businesses is this: Is what you're doing serving your long-term goals?
Or should you be trying something new?
I would love to hear your thoughts in the comments!