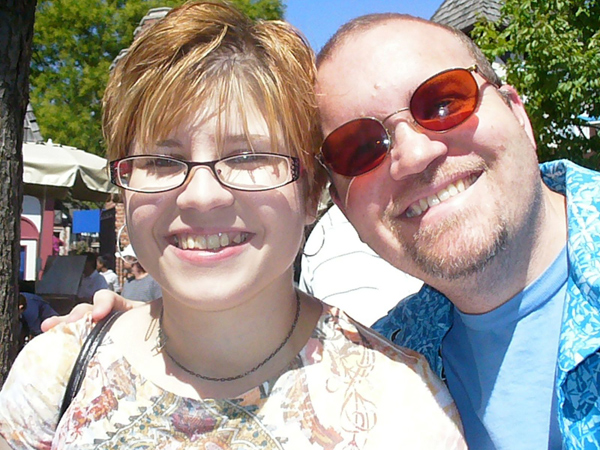 [share_sc]
Baker's note: This post is by Joan Concilio. Joan's been a full-time member of the MvD team for over three months now. This is her story in her own words. 🙂
*****
Joan and Chris were doing all right.
And they were TIRED of it. Tired of living paycheck-to-paycheck. Tired of having a six-figure household income and never having quite "enough" to do more than pay the minimums.
Tired of going to jobs that demanded too much of their time, working part-time jobs that sapped their energy and took time away from their amazing 11-year-old daughter, and tired of being broke and tired.
They knew they could do better, but it seemed that every time they tried to make a change, "something" came up. The house needed a new roof. Then a new heat pump. There were car repairs. Braces. It seemed endless, and the treadmill was exhausting.
Oddly, it was almost as if they weren't doing "bad enough" to make a change.
They didn't qualify for lowered interest rates or special programs. They could feed their family and put gas in their (shared) car. But there was no wiggle room. They were just comfortable enough to stay stagnant.
When their daughter, Sarah, was diagnosed with Asperger's syndrome in early 2011, everything changed. Chris and Joan had always wanted to "be there" more in her life, but now, that became an absolute necessity.
They know that if the whole family is going to make it through Sarah's high-school years, at least one if not both of them will need a work-at-home, flexible-schedule career. And more immediately, they were committed to being able to homeschool their daughter, which brought with it some great possibilities but some unexpected expenses.
When the "why" got big enough, their motivation grew. They started by knocking down $10,000 of their $89K credit-card debt. But they knew they couldn't stop there…
*****
See how I'm not QUITE smiling in the photo above? That was taken on one of our lowest days, late in 2010. We went to an expensive amusement park with our best friends – even though I knew we had a negative checking-account balance – and only had enough room on our credit card to buy a few snacks. My best friend's husband took pity on us and bought Sarah and me sweatshirts when the evening got too cold for our T-shirts. Not too long after that was when things finally hit rock bottom.
I'm Joan, and at its worst, my family's consumer debt was almost $90,000 – and that was BEFORE our $209,000 mortgage.
Now that we have that out of the way… Hi. Nice to officially "meet" you.
I'm part of the team here at Man Vs. Debt, serving as project manager/community leader/Joan of all trades. And in some ways, I'm kind of the "anti-Baker."
World travel? Not so much.
I've lived in the same county in southcentral Pennsylvania my entire life. In a huge move, after getting married in 2005, my husband and I moved one town over from the one in which I grew up.
Flexible living arrangements? Well, note the previously-mentioned $209,000 mortgage.
Also, by way of introduction, besides my husband and daughter that I talked about earlier, our household includes my mom, Joan, who lives with us, a hundred-pound dog and five cats.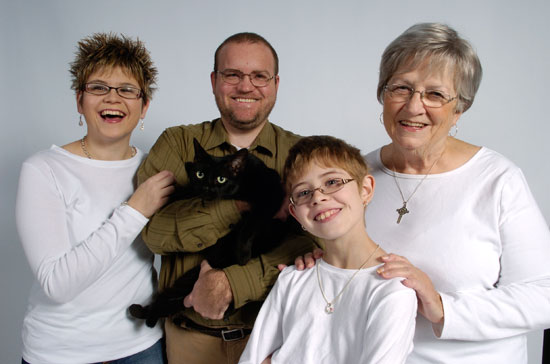 Entrepreneurship and career flexibility? Not so much.
I started working at my hometown newspaper when I was 16, and worked there full-time until December 2011. That's 13 years – I'm now 29. Oh, and I still work there on a part-time basis. My husband has worked for the same newspaper for about 12 years.
The thing is, I'm NOT that different from Baker. Or at least the Baker who wrote this declaration of war on debt in 2009. Chris and I are at war with our own debt, and what you read above is the start of our "success story."
In AMAZING news, we've paid down $20,000 in the past 15 months, dropping our consumer-debt total (not including the mortgage) by 20%.
Here's the scary part though: We've gotten almost this far before – and then racked it all back up. We'll come back to that in a few minutes – because I want to talk about where this debt came from, and why I think this time will be different!
Before that, though…
Here's where we stand.
(Note for radical clarity: Chris and I have talked together about disclosing this info and we're both in agreement with Baker's policy of radical financial transparency. But, you know, don't judge. Please.)
PNC Mortgage:  $204,717.84  (5.5% effective APR)
Bank of America credit card:  $27,071.45  (25.24% APR) WE HATE THIS DEBT!
Citi credit card #1:  $19,007.78  (11.15% APR)
Household Finance credit card:  $8,732.82  (9.99% APR)
Citi credit card #2:  $6,414.73  (12.74% APR)
Personal loan:  $3,221.98  (don't even ask about the APR – the interest is already calculated in, and it's ridiculous)
Discover credit card:  $4,044.50  (0% APR for 9 months, then 15.24% APR)
Tires Plus (our mechanic) credit card:  $1,564.70  (14.04% APR)
Total debt without the mortgage:  $70,858.26
And don't forget, that's the "we've made a ton of progress" view.
As I mentioned before, that's the scary part. We've come almost this far before, early in our marriage – and then racked it all back up when our 30-year-old house needed a roof, our basement flooded and our heat pump died.
Legitimate expenses? Well, sure. Or at least that's what we told ourselves. I mean, everybody owns a house, right? Everybody pays for stuff like that on credit.
And that's when I found Baker.
That's when I – when we – started to think differently. Following along with his family's journey helped to shape our own. It was a wake-up call; it was our "free your mind" phase.
For about two years, from 2009 to early 2011, we started working at our finances. We tried all sorts of things – from the radical "don't spend a stray dime" mindset, to spending only in cash, to making two extra credit-card payments every single month (even if it was $5), to selling crap on Craigslist, to expanding our online bookstore, a fairly lucrative side business for our family.
It was kind of a shotgun approach. We were making progress, for sure, but then we'd just have those months where we might as well have owned stock in our local convenience store for the money we spent there.
Well, like I said, I'd been following along with Baker's journey (read that as:  I was a rabid Baker fan) through all this. (I was the crazy lady who made his family drive an hour north of Baltimore to meet my husband and me in person during his RV tour.)
I participated in the Pioneer You Vs. Debt class last spring… and then the Fall 2011 class… And I have to tell you, that's when I figured it out.
This time is different because we're different.
Before, we were making things too complicated. And with individual credit cards with debt totals like $40,000 on them at worst, the old mantras of "pay a little more than the minimums" and "snowball by paying off your small card" just weren't cutting it.
We didn't feel like we were making progress, and quite frankly, it was just too easy to slide back into old habits when it didn't seem like we were making a dent. I won't even say those were bad habits – just careless ones.
But careless doesn't kick $89,687.23 in consumer debt to the curb.
That's where I've got to hand it to Baker. His radically simple ideas have really made the difference for us:
Track your spending, every day, with a pencil and paper in your purse or pocket.
Don't be afraid to negotiate.
Sell crap that doesn't enrich your life, and use the money to put yourself in a better position.
And it worked.
Not because Baker is brilliant or because those ideas will magically double your money. But this system worked because we worked.
The start of this post is my Day 1 You Vs Debt challenge, in which our assignment was to create the beginning of our success story.
And I did. I don't mean I created it in writing. I mean I started creating the life I want for my family.
I quit a steady full-time job with a major national news corporation to work from home with Baker full-time. I used the negotiating skills I learned in You Vs Debt to essentially create a part-time job for myself at my former company, which still provides a lot of value for them and allows me to continue doing some things that I love, like running my own blog about life in our town.
I got real about committing time to my daughter's education, and now we're a homeschooling family. I devoted more time to my tae kwon do practice and started working out regularly outside of martial arts, trying to build a habit of fitness.
Your life can change. YOU can change.
I remember a close friend of mine who was in the Narcotics Anonymous recovery program telling me that it all boils down to one thing – "you gotta wanna." And, much like in my friend's program, success for me means surrounding myself with people who will encourage me when I'm doing well, support me when I'm struggling, and hold me accountable to my own personal goals when I'm wavering.
And the cool thing is, my job here with Baker is, in large part, to create exactly that.
My biggest goal as part of the Man Vs. Debt team is to help grow and pull together this awesome community of people who want to sell their crap, pay off their debt and do what they love.
Now that we've met, I would be honored to have you walk beside me to create the life YOU want while my family and I keep working on ours. You'll be seeing me pop up a little more around here, helping Baker out with odds and ends, and I hope you'll say hi and help me out along the way!
[share_sc]
Leave me a comment and say hi! It'll take me a while, but I'd love to start getting to know everyone!
Baker's Note: Joan has been a life-saver for me. Her passion for this community rivals my own – and her dedication to making it even better will mean big things in the near future. Welcome, Joan!