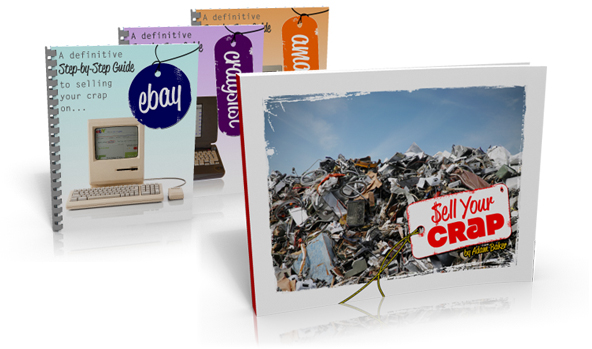 Let Go of What's Holding You Back!
Reclaim control of your time, energy, and money from your suffocating clutter.
4 Guides, 328 pages, 110+ screenshots
Includes eBay, craigslist, & Amazon Modules, 10 Video Interviews & 30-Day Email Support!
Earn More Money in Less Time.
Learn *what* to sell and *where* to sell it!… Save hours of time and pocket more cash.

What If This Were YOUR Success Story?
So my running total of $$ made from selling crap, as of today = $1,665. Of course, that doesn't include anything currently listed on Craigslist, eBay or Amazon, or on the racks of the consignment shop. It also doesn't include all the crap I've donated. I am seriously loving hating debt.
I still have a long way to go. A long way. And I realize that some of my friends look at me like I'm some sort of insane convert when we talk about "decluttering." They mean: "getting rid of some of the junk that's on the shelves in my living room," and I mean: "use every possible method you can think of to unload your crap because it is standing in the way of a freer life." But that's okay. I love how this whole process is working for me.
Everything that's Included in Sell Your Crap…
The Sell Your Crap Guide includes the following resources: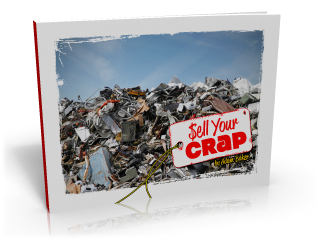 The Primary Sell Your Crap Guide – a 20,000+ word, 67-page anthology describing both the "why" and "how" of selling off your crap to earn a life free of materialism.  You'll be empowered to:
Determine what stuff in your life is worth keeping and what's holding you back.

Jump-start your purge – two powerful strategies to get started fast.

Finally let go of sentimental items that keep you trapped in the past.

Learn the 14 ways clutter costs you even after you've paid for it. [Page 17]

Unite your family and rally your loved ones to attack clutter together.

Save hours of time using our streamlined 13-step attack plan. [Page 57]

Learn which items sell well (and which flop) on eBay, craigslist, and Amazon.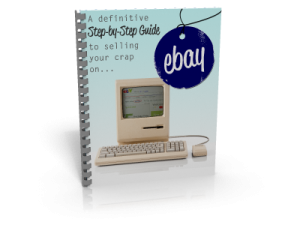 The Definitive Step-by-Step Guide to Selling Your Crap on eBay – a 35,000+, 171-page monster with 65+ screenshots that takes you step-by-step through the many layers of eBay. It's thorough enough that anyone – regardless of experience – can gain all the benefits. This module will teach you how to:
Get started – even if you've never used eBay before.

Avoid common mistakes people make when researching value.

Create descriptions that sell with a proven 10-step formula.

Navigate the listing form – we cover every inch of the form line-by-line.

Gain the confidence to troubleshoot rare problems during and/or after the auction.

Take the hassle out of shipping – discover the best way to pack and ship your items.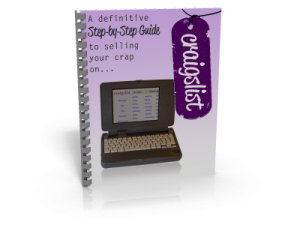 The Definitive Step-by-Step Guide to Selling Your Crap on craigslist – a 7,500+ word, 49-page manual for hacking and mastering the mechanics of the world's largest digital classifieds.
Case Study: How Courtney made $650 in 2 hours off an item I thought was worth $50!

How to communicate with buyers – eliminate the hassle and save time.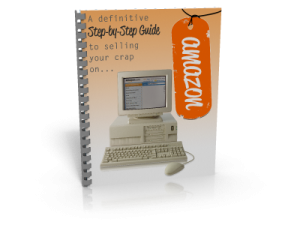 The Definitive Step-by-Step Guide to Selling Your Crap on Amazon – a 5,000+ word, 41-page quick-hitter to leverage Amazon.com to maximize your profits on your media items.
Get the highest possible price for your books, CDs, DVDs, and video games!

Make money in your sleep – techniques to automate the Amazon selling process.

BONUS: 10 Action-Packed Video Interviews with Anti-Clutter Authors and Bloggers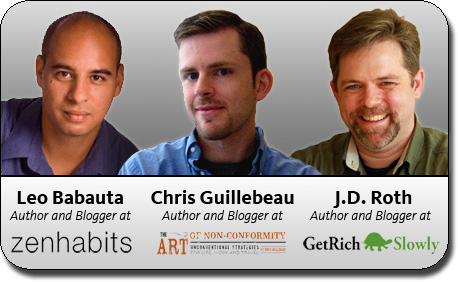 These are intimate, one-on-one video interviews with top authors and bloggers on how they fought their clutter and how their lives have improved from less crap and more freedom…
These interviews alone are worth the price!
Leo Babauta – author of The Power of Less and blogger behind ZenHabits.net and mnmlist.com
Starting from Scratch:  How Leo's family moved from Guam to San Francisco

Inspiring your spouse: Lead by example… slowly and patiently.

Consumerism in the U.S. compared with Guam:  How to stay on your toes.
Chris Guillebeau – author of The Art of Non-Conformity and The $100 Startup and blogger behind ChrisGuillebeau.com
#1 item Chris never leaves homes without – despite traveling to 190 countries.

Most commonly over-packed items when traveling.

Perspective on consumerism after 4 years spent in Africa.
J.D. Roth – author of Your Money: The Missing Manual and blogger behind GetRichSlowly.org
"One Year Wardrobe Project", J.D.'s creative approach to purging the clothes.

Is rejecting consumerism harder when you can afford it more?

Techniques for controlling "collectibles" – like J.D.'s comic book collection.
And many, many more:
Jonathan Mead – blogger behind IlluminatedMind.net
Corbett Barr – blogger behind ThinkTraffic.net and FreePursuits.net
E.V. Bogue – blogger behind FarBeyondTheStars.com
Joshua Becker – blogger behind BecomingMinimalist.com
Tammy Strobel – blogger behind RowdyKittens.com
Betsy & Warren Talbot – bloggers behind MarriedWithLuggage.com
Steve Kamb – blogger behind NerdFitness.com
Sell Your Crap – $47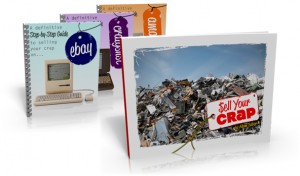 The primary Sell Your Crap guide
The Definitive Step-by-Step Guide to Selling Your Crap on eBay
The Definitive Step-by-Step Guide to Selling Your Crap on craigslist 
The Definitive Step-by-Step Guide to Selling Your Crap on Amazon
Special access to all 11 Bonus Interviews
30-Day Email Support 

What people are saying…
Sell Your Crap is amazing!… Adam and Courtney share their personal journey with humor and honesty. They share their "before" and "after" experiences, giving all of their specific suggestions the power of "why." … The color screenshots blow any DUMMIES GUIDE out of the water. Step by step, screen by screen, this technophobe can conquer these venues. I no longer cower over Craigslist, evade eBay or avoid Amazon.com. I feel like I've stolen the other team's playbook.
I've felt more and more liberated over the past few years as I've become location independent and gotten rid of so much stuff. Baker has put together an excellent and compelling step-by-step plan for achieving your own liberation from stuff and for making some cash along the way. It's indispensable for anyone who wants to live a better life with less.
Baker shows in excruciating detail "how" you can launch your counterstrike on crap! He pulls from his own tried-and-true strategies and winning tactics…  Baker put his entire soul into this program. The quality is freakin' amazing! And when you're done reading these guides you'll swear you've been best mates with Baker since kidhood.
30-Day "Ask Anything" Email Support
As a  final bonus, we're throwing in 30-Day "Ask Anything" email support. This is exactly what the name implies. For the first 30 days, when you are getting started putting Sell You Crap into action, you will have unlimited email access to our team to ask questions about purging your possessions.
Can't remember where a topic is located? Email us. Have a specific question about an item? Email us. Overwhelmed and want to know where to start? Email us.
We'll either show you where in the package of guides and modules you can find it or answer the question myself.  In essence, we'll be your personal help desk for the next 30 days as you put the Sell Your Crap Guide into action!

As always, our team thanks you for your continued support. Our lives have inhaled a new breath of freedom from ridding ourselves of crap! Now it's your turn! Please don't hesitate to contact us… we'd love to hear your stories of nuking clutter and selling your crap.