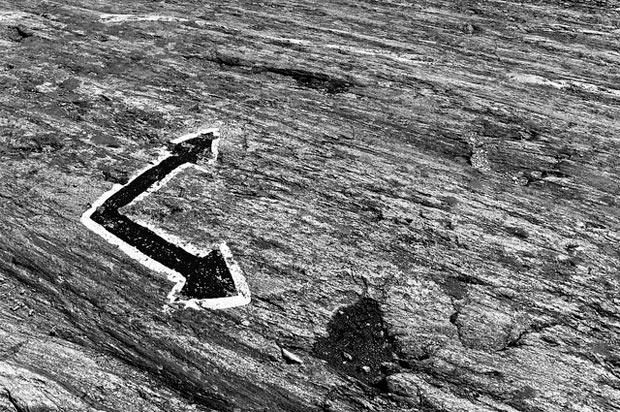 [share_sc]
Note: This is a post from Joan Concilio, Man Vs. Debt community manager. Read more about Joan.
After several months of, well, not much to report, I've decided to make up for it all in one month.
Let's see…
My husband gave his notice

at his job of 13 years – and is strongly considering taking some time to freelance and explore some alternative opportunities, rather than a traditional office job.

Meanwhile, I'm strongly considering a return to

full-time office work

.

We

cashed out a good chunk of money

from my former 401(k).
Yeah, I'd say we've made, or are in the process of making, some pretty big decisions.
A long time coming
While I haven't shared about these decisions publicly before now, they've all been works in progress for some time. Chris, my husband, actually gave his notice last year – sort of – but decided to stick things out after talking with senior management about some potential changes.
This time, though, it's the right time. He needs a change – and our family needs his crazy schedule to change!
Meanwhile, since I began working primarily as a freelancer (and then fully as a freelancer earlier this year), I've longed for the simplicity of my life before.
With bunches of clients to juggle, I'm always stressed because this one is on vacation and needs me to cover all emails, but this one is installing a new computer system and needs me on site, but this one just released a new upgrade and is going to require more immediate tech support… and I haven't had a day "off" in something like 8 months. Man, I miss the 50-hour office workweeks, for sure!
In both of those cases, there is much more to the decision than I'm describing here. Suffice it to say, these are conversations that have been going on for years and years, and while there's no great time to make a sweeping change, this is the time we've chosen, and we're excited to see what's next! (Don't worry, I'm sticking around here at Man Vs. Debt as long as you guys'll have me!)
The nitty-gritty money stuff
Ah, so this 401(k) thing. First, let me say this: Within the next month, I'm going to have a very detailed post explaining exactly why we decided to take a major tax hit and cash ours out, and under what circumstances (there aren't many) I would recommend doing so.
For today, let me give you the very short version: We've decided that some of our money, doing a very specific job for us, is more valuable than all of our money doing a job for us that we don't need. (Don't worry. We plan to retire. We just plan to fund our retirement VERY differently than many people might!)
Right now, almost all of the money has gone to a holding tank – our separate savings account. We first set aside all the money we need for taxes and another large expense we know is coming in the next eight months. Then, we left a healthy cushion in our checking account and set aside the "rest of the rest" in savings as well.
Big decisions
We could have made a huge hit in the credit cards with that 401(k) money.

We could buy – in cash – a much more reliable car than our clunker 2003 Ford Taurus. 

We could get  a second car – a very real possibility depending on how the job situation shakes out.

We could make some long-desired and fairly necessary repairs to our home.
We might be looking at a move (not super-far, but a move nonetheless), again depending on some job options we've considered, and we could use the money to help with that process.
There are pretty much any number of things, ranging from almost definite needs to just some strong wants. We don't know yet what we're going to do. And we're specifically choosing not to act until we've hammered out some of the life decisions – jobs, home, family and more – that accompany this.
All that said, we made progress this month, simply by doing exactly what we've been doing!
We didn't hit any Very Next Steps (which you can see in detail here on my Joan's Finances page) this month, but our total debt was down $318.11, bringing us to a total of $34,427.68 paid off and 38.39% debt-free!
What's next?
Our biggest goal for the next six weeks is to sort out our career goals and options. Chris and I are very blessed to HAVE several options. In fact, our problem is really narrowing down the list to things we really want to do, not just opportunities we could take. We don't take that for granted, and we'll be putting some serious thought into our decisions!
Once that's a bit more settled, we'll start digging into the collateral decisions – location, car, and so many other things.
[share_sc]
Our life right now is a little (a lot!) uncertain. That's not common for us, and I won't lie – it's a little scary.
But it's also exciting. We're ready for a change – and our family needs it.
So I hope you'll celebrate with us, stay tuned for more updates, and generally support us as we walk this new path.
We're ready. 
What big decisions have you faced lately? I'm interested in hearing from others who are doing a new thing too!
Tell us in the comments!