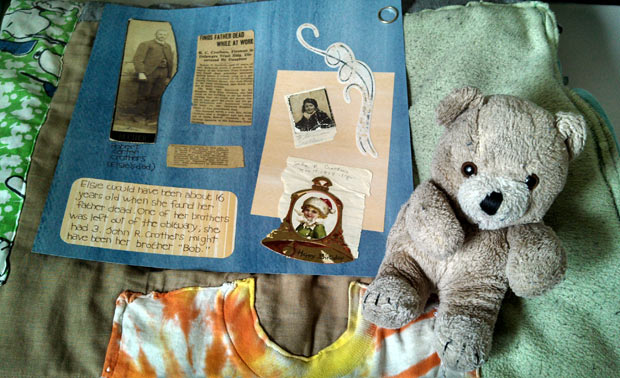 [share_sc]
Note: This is a post from Joan Concilio, Man Vs. Debt community manager. Read more about Joan.
I'm a sentimental-items person. Still have my childhood teddy bear and blanket, love scrapbooks, and so on. But I'm also what I call a mid-range minimalist; I tend not to keep "stuff" unless I truly treasure and value it.
With that in mind, I asked on the Man Vs. Debt Facebook page a week or two ago, in the vein of selling crap that doesn't enrich your life and keeping stuff that really is awesome:
What's the oldest item in your home?
I expected a few responses, not more than 100! They were all great – except for the dozens of you who said "me" – smart alecks!
I want to share some of the answers today, and then leave you with some questions about what is and isn't valuable in your own home.
In our house, we think the oldest item is the newspaper clipping of my mom's grandfather's untimely death, which is in a family scrapbook we're working on.
We had some other close contenders, all of which would be right around the mid- to late 1800s, mostly in other photos and some jewelry (including the wedding ring I wear, which you can see above with my blanket, teddy bear and the aforementioned scrapbook!)
Funnily, I didn't remember until some other readers posted about old books that we almost certainly have books for our bookstore that are older than any of our personal stuff, but I don't think of those as "our" belongings!
Watches, furniture, jewelry and more…
OK, I had to laugh, because my friend Dana said her house is the oldest thing "in her house" – it was built in 1786! She also said she's got some cool antiques, including a metal toy car from the 1870s.
You Vs. Debt alumna Stevie noted that in her home, "It's the piano. Upright grand bought by (my husband's) grandmother in early 1920's and she taught all of her numerous grandkids on it."
And fellow money blogger Agatha K. of Hey Agatha went the other direction entirely – her "oldest" item is a broken Donald Duck gold wristwatch from 1985!
Some of the other stories:
Jim: An old hope chest, no idea how old. The next time we downsize, whatever won't fit inside will be sold, donated or tossed!
Elizabeth: A book of Roman law from the 1500s!
Laura: A jewelry box that my great, great, great, great, great, great grandfather made.
Tina: My husband. Kidding! A French pewter plate from the Napoleon 14th era.
Lara: My great grandmother's gliding chair. Probably from the late 1800's.
Jackie: A collapsible Persian table from my grandparents' life in Tehran many many years ago. I take it everywhere I move. Though I've sold everything else, it's the one thing I can't part with.
Dusty: A beautiful dresser from 1890's. It belonged to my great grandmother. It's priceless to me.
Whitney: Antique spoons, antique dollar bill from my great granddad and an antique red box.
Emily: A photo of my great-grandparents. Taken in 1935.
Glenn: An old badly worn Pinocchio bank.
Jeanie: My husband's wedding ring was my grandfather's. Although…wait. I was gifted a crystal tea set from his parents at my wedding + their pictures and story. So..from 1920.
Kimmie: A weird, hand-carved wooden chair with the face of a greenman on the backrest and lion's heads that belonged to my great-great grandparents.
Anne: A secretary desk, built in the 1880. It is a small one, with tiny spindle legs that I worry will get broken by the kids, so I keep it in my room! It is a nice edition! I <3 it!
Colby: My stepmom has a newspaper from the day after Lincoln was assassinated… it got passed down from her grandfather!
Laura: A chair that was my 60+ year old friend's grandmothers. I love curling up and reading a good book in it.
Donna: A three tiered little wooden box, filled with buttons. It belonged to my grandmother who passed 9 years ago, aged 91. I remember playing with the buttons as a child & this is what I chose as my inheritance. My own children now play with these buttons!
Angelia: A cathedral window quilt my great great aunt and great grandmother made back in the early 60's
Scott: The dresser my grandpa bought my mom when she was a little girl. They don't make them like this these days.
Jeremy: Journals and sketchbooks from teenage – current.
Tabatha: My son's hand print from kindergarten.
Peggy: I have a few baby blankets left over from my children who are all in their 30's.
I could share dozens and dozens more, but these were some of my favorite stories.
Some readers shared stories of living an especially minimalist lifestyle, sometimes on the road. Reader Weaselmouth said, "Since we live in the Airstream, I think the oldest thing is my wedding band. All books are now in the Nook, clothing gets worn and replaced fairly often and everything else is new-ish."
For me, those are some of the neatest stories, since I've always lived in the same town and only moved a few times ever!
For almost all of our commenters, though, the oldest-thing question really became exactly what I was trying to get at.
Things that have withstood the test of time tend to be things you feel are worth keeping.
Treasures vs. crap
I know some people who keep old items "because they're family heirlooms" – except they don't like them, or use them, or even really know much about them.
They just seem to think they're supposed to save them, simply because they're old. To me, those aren't treasures. That stuff, as valuable or as historic or as "important" as it might be, is just crap if you're not loving it, using it, remembering because of it.
I'd rather have fewer things that mean a lot. 
My "scrapbook blanket" that you see above is a good example – it started out as a Mickey Mouse sleeping bag my dad gave me for Christmas the year before he died. Since then, I've used T-shirts from memorable events to patch it – you can see one of Sarah's first T-shirts, one of Dad's Army handkerchiefs, and even a scrap from my husband's childhood blanket in the photo! Now, instead of keeping a bunch of "stuff" – mostly clothes that can't be worn anyway – I have one really memorable item.
[share_sc]
That's my challenge to you today. Whether it's 50 years old or 500 years old, what's the oldest item in your home? And do you truly treasure it – and your other possessions that have survived the test of time? Or are you hanging on to things just because they're old, or maybe "valuable" in a money sense, but not because they truly add value to your life?
I'd love to hear your thoughts and stories in the comments!