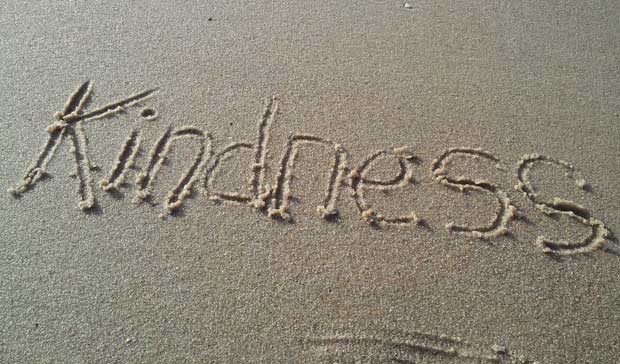 [share_sc]
Note: This is a post from Joan Concilio, Man Vs. Debt community manager. Read more about Joan.
A blessing is love. It can be many things – faith, despair, or a kind greeting. A blessing is an act where you show another that you care. So put out your hand, because a blessing can give faith, love and support for those around you.
– Stephen Owen 
This is not a post about your money, or about selling your crap, or about finding your passion.
And although the timing is certainly appropriate, it wasn't originally intended as a response the gut-wrenching tragedy of the school shootings in Newtown, Connecticut, on Friday, or as a reflection on the death of a close friend of mind, whose memorial service was Saturday.
Actually, the idea for this post came from something very simple – some angry emails I'd had to field as part of one of my jobs.
I was having a crummy day, and I wanted to write a post reminding people to be kind to those in the customer-service field, especially as the holidays draw near.
I shared the following on the Man Vs. Debt Facebook page:
What's the most unexpectedly kind thing someone has done for you this week? I was having a miserable day yesterday and a friend who was working at a store I stopped at went and found me a snack. That seemingly small act turned everything around. I wonder how many of those little moments we miss – and how many chances we DON'T take to "be the kindness" to someone else. I'd love to hear your thoughts!
And you guys blew me away. I heard story after story of real kindnesses.
Just a few:
The car in front of me at the Starbucks drive-thru bought my coffee order! So, I bought the woman's behind me. I was car #12 in the Pay It Forward chain, the barista said.
My daughter's boyfriend brought me some flowers as he wanted to make me smile after a hard week. That was lovely.
The guy behind me in the line to pay for coffee let me get two slots (one mine, and one that would have belonged to him) on my coffee card scratched because that would allow me to get my next coffee for free.
Friend of mine went to Toys R Us… and the guy behind her stepped up and paid for everything… no questions asked.
Was visiting a brewery last week when I noticed the local sitting next to me at the bar tipped with all $2 bills. I asked her about it and she gave me 5 of them refusing to let me turn them down. So in turn I told her I'd pay it forward, sharing them with others.
My friend who passed away recently is the author of the quote with which I started today's post. In the months before his death, he'd started writing – short meditations on any number of topics, whatever he was thinking about, and if you sent him a word or phrase, he'd write something for you. Three months to the day before his memorial service, I sent him the word "blessed," and that's what he sent back.
A blessing is an act where you show another that you care.
Kindnesses. Blessings. Good deeds. Acts of love. It doesn't matter what you call them.
In the wake of tragedies like the Newtown shootings, or other events like 9/11 or even natural disasters like the recent Hurricane Sandy, we often see outpourings of "big kindnesses." These are the national and international drives to raise money, to increase blood donations, to create new charitable foundations, and so on. These big kindnesses are hugely important.
But when I look around my day-to-day life, thankfully I don't have the opportunity to be part of those "big kindnesses" all the time. Every day, though, I have a chance to show I care about the people I interact with.
Maybe it's leaving a ridiculously high tip on a diner meal for a waitress who looks like she's had a long day but smiles at you anyway.
Maybe it's giving $30 for gas to a stranger who approaches you in the parking lot of a rest stop.
Maybe it's counting to 10 before you make that phone call or send that email or argue with that cashier.
Maybe it's simply making eye contact and smiling warmly to the person at the counter taking your order.
[share_sc]
There is no one in the world who cannot give the gift of kindness. I hear from people who wonder, "Can I really make a difference?" or "What can I do that matters?"
Every time you interact with another human, you have a chance to change their day. To make a difference. To show love. To be a blessing.
Be kind.