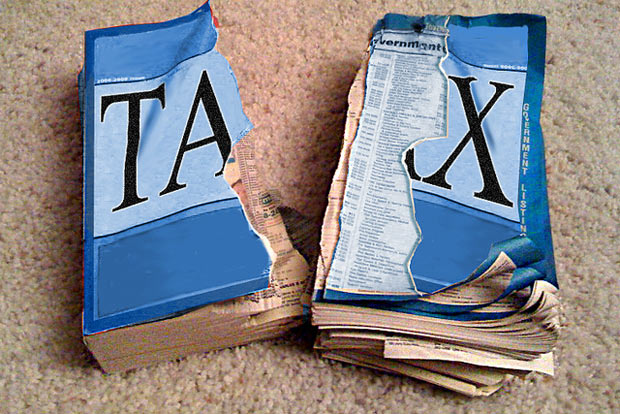 [share_sc]
Note: This is a post from Joan Concilio, Man Vs. Debt community manager. Read more about Joan.
Remember how I said last month that we needed to come up with $7,104 for the IRS before April 15?
And remember how I said I wasn't going to take on new debt to do it – and, in fact, that I expected to make it AND have our credit-card balance total go down?
We're on target to not only meet, but EXCEED that goal. I can't even put into words how excited I am – and how this situation has really changed my view of our family's financial picture.
Where we are: The tax part
We've been moving the "tax bill money" into our savings account in order to easily track how much we have. Our "requirement" is to have $7,104 in there by April 1, so that we can move it to our checking account and pay the IRS before the 15th.
Grand total, as of today? $6,506.32.
That's right – only $597.68 to go – and we expect to have that money in there by this Friday. That's half a month early!
This money came from a few sources – as I mentioned, we cashed out about $2,500 from a 529 plan we had, closing that account, and we had an existing savings of about $1,750 that we were willing to use. The rest has come from some hustling, some scrimping and some crap-selling. 
I'll be the first to admit that it hasn't been pretty. There have been SEVERAL times I've had to convince myself not to go shopping. Thanks to our somewhat minimalist wardrobe approach, we don't have a lot of clothes on hand, so I generally only have about two pairs of jeans that fit at a time. Some of us have "grown out" of our pants (yes, Joan, lay off the potato chips)… and now, I'm wearing the same jeans day in and day out, and lounging in pajamas on laundry day.
Ditto with my sneakers. They're on their very last legs. (I can no longer wear them in a puddle, let's just say.) But they'll do – and it's not like I don't have a spare pair of shoes in a pinch. 
First-world problem? Absolutely. But it's a good example of the place we're in now, where I normally take for granted the ability to go buy a $15 pair of jeans, or even a $50 or $75 pair of shoes, and I'm having to say to myself, "Is that what I really want to do?"
But that's changed for now. For just a couple months, the answer to things like that – what I would normally consider "needs," but needs that can be put off – is: "Nope, that's going to the taxes."
And it's worth it. Those "little sacrifices" add up – in a BIG way!
Where we are: The debt part
Oh, by the way, we hit two of our Very Next Steps against our various debts this month. And we dropped our total debt balance – it's now $58,552.74 – down $567.74 this month and $31,134.49 from the start.
I'm pretty pleased to be down more than $550 in a month where we didn't "pay much extra." That's cool. Even when we're not making FAST progress, I'm proud to say we're making progress.
In fact, as I mentioned, I've got two specific successes.
Citi Mastercard: Our goal had been to get this under $17,000, and we succeeded this month, coming in at $16,829.68. Next, we'll aim for under $16,000!
 Citi Visa: Citi took a beating this month! We had been aiming to get this under $5,500, and now, at $5,475.47, we'll next shoot for under $5,000.
Don't forget that we keep track of all of these debts in summary (complete with V.N.S.) on my "Joan's Finances" page – so you can see how we're doing at a glance. Here, I just hit the updates each month.
What's next?
What we REALLY want to do is have $8,804 in our savings account when we go to make the tax payment. If we can do that, it will essentially mean our emergency fund of $1,700 is untouched.
By this time next month, I want to be as close to that as possible – IRS paid off (will HAVE to happen by this time in April!) and $1,700 in savings, or as close to it as we can get.
I'm excited.
And I'm not just excited at reaching this goal while taking on no new debt AND dropping our existing debt – though that's awesome.
I'm excited because this has proven to me that our financial situation is VERY different than it was three years ago. We couldn't have done it then. I know that's true. But I also firmly believe that we're now in a position to tackle almost any financial situation that arises.
Let's hope that doesn't get put to the test –  but by the same token, I'm kind of sitting here yelling, "Bring it on, world, the Ottos are getting their finances TOGETHER, and you can't stop us!!" 
[share_sc]
I'm thrilled to be celebrating that attitude today – the "I've got this" feeling that I've been working toward. We have a couple hard years ahead of us until debt freedom, but I think our mindset is where it needs to be to get us there.
Thanks for being along for the ride.
What "mental win" are you celebrating today?
Comment and tell us!