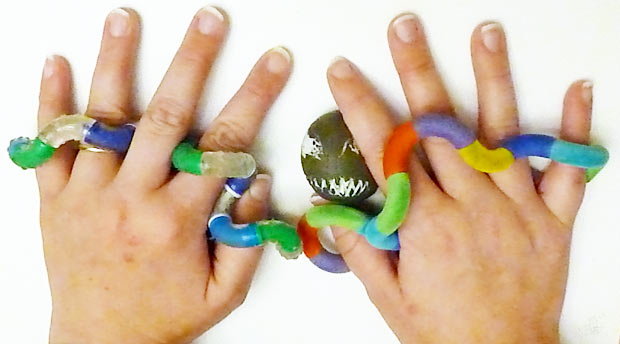 [share_sc]
Note: This is a post from Joan Concilio, Man Vs. Debt community manager. Read more about Joan.
I've got a couple of really bad habits.
Specific to Man Vs. Debt, I have a habit of buying things – "little" things – to make myself feel better when I'm upset.
But more personally, I have an incredibly hurtful bad habit.
This is a story I've never shared publicly before, but as we've started our final You Vs. Debt session, the stories shared by my classmates in the forums make me realize how much baggage ALL of us carry into our financial lives. It's not about money – not really. It's about mindfulness.
It's about the pain of changing vs. the pain of doing what you've always done, the decision to do one thing or another.
And this is the best example I can give of that decision as it's played out in my life.
"I barely felt a thing…"
I first remember it happening while I was sitting in 10th-grade history class. I was bored, I think. Maybe a little down about some kind of high-school drama. As the teacher lectured, I took the second finger of my left hand and scratched absently at the back of my right. Up, down, up, down… for a 90-minute class period. At the end of class, my good friend Phil leaned over and gasped, "What did you do?" He looked down, horrified.
I'd left an inch-long gash in the back of my hand, so deep that I could see bone. I was bleeding everywhere. And I had barely felt a thing.
I pick at my skin when I'm upset. Some people bite their nails. Some pull eyelashes. Some do even more dangerous and harmful things, like cutting.
Since then, it's gotten better, much of the time. Thanks to counseling and my own desire to be healthy, both physically and mentally, I've learned to be mindful of the "doing," and mindful of the causes as well.
I can often stop before it gets "really bad."
But even so, as an adult, I've still left my share of scars – you'll never see me wear a sleeveless shirt, for instance, because my upper arms at my shoulders are a mesh of fine white circles that will never quite blend back in. And the back of my right hand still bears a scar that, if I squint, looks a little like a dragon, a reminder of that day more than 15 years ago in history class.
Sometimes, they get infected. I've scratched deeply enough to cause nerve damage. And yet, the stopping of it is still a work in progress, something that I have to think about, day in and day out, if I want it not to happen.
How I'm changing my dangerous habit
In the past two or three years, I've made HUGE improvements. Getting enough sleep and regular exercise help my mood considerably, and reduce the stress that tends to trigger the scratching.
But in the past two months, certain parts of my life have been, well, kind of a wreck. And the scratching has threatened to become a Big Deal again.
I had a terrible flashback a couple of weeks ago. I was at lunch with my best friend, and as he looked down at the table, where I was getting ready to pick up my silverware, his eyes narrowed. "What happened to your hands?" he asked.
They were sore, scabbed. Three spots – two on the left, one on the right – that had gotten worse in some interminable work meetings before the launch of a huge project. Without realizing it, I was still scratching, and… it was pretty noticeable.
After lunch, my friend stood up and said abruptly, "We need to get you something to do with your hands." We hit the local toy store, scouting the aisles until we came upon probably the dumbest squeezy toy ever, some Marvel superhero gel ball with a scary face. Dumb, sure, but… it worked.
I squeezed the CRAP out of that thing. The rest of the day, I tossed it from hand to hand, dug my nails into it, made circles with it in my palm, rolled it around on my desk.
It went to the grocery store with me. I'm pretty sure I fell asleep still rolling it in my hand.
Anything not to be scratching.
The next day, thanks to the wonder that is the internet, some more durable and more sensorily-interesting things to fidget with arrived. Since then, I've had one of them in my hands almost nonstop.
You can see my favorites in the picture at the top of today's post – the Fuzzy Tangle Jr. and its big brother, Tangle Relax Therapy.
(If you're interested, a few others I tried and liked: the Chrome Tangle Jr., the Ultimate Fidget, the Isoflex Stress Ball, the Twiddle Fiddle Toy and my daughter's favorite, Color-Changing Thinking Putty.)
Serious habit change: What to do, what NOT to do
I wish I had a magical set of steps to change a dangerous bad habit. Instead, I've got a loose collection, not even coherent enough for a numbered list, of things that have worked (and not worked) for me.
In my case, I needed to replace not the habit itself, but the need to do something with my hands when I'm tense or bored or worried.
Be careful with that. I'm no doctor, but I know that it can be awfully easy to trade one bad habit for another that's just as bad. If you're going the "replacement" route, please, please, make sure you're considering the value – and the possible danger – of your replacement.
I could tell you horror stories of people I know who've been serious self-injurers… and replaced one sort of injury, like cutting, with another, like scratching or punching themselves. I'm not a big fan of the "snap a rubber band against your wrist" advice to stop nail-biting for exactly that reason. Let's just try to stop hurting ourselves, yeah?
There's one aspect of the rubber-band thing that is valuable, though. Give yourself visual reminders that you want to change. In my case, I sit the Tangles out on my desk, or wherever I happen to be. I've also picked a phrase – You Are Worth It – that I'm imagining temporarily tattooed on the back of my hand, where I've been scratching. Every time I scratch there, I imagine I'm rubbing it off, and I don't want to.
Pick whatever visual works for you. But keep it handy. Visual goal-setting is a HUGE key to habit change.
My next advice? Don't expect habit change to happen overnight. If you're trying to quit smoking… or biting your nails… or buying lattes on the daily… you probably (read: almost certainly) will have days where your quitting looks a lot like relapsing.
Heaven knows my scratching is a 15-year work in progress. I'm still not as conscious as I wish I was. I still need reminders.
And that's why my biggest tip is simply don't go it alone.
Last week, in You Vs. Debt, we asked our class members to have a personal, nitty-gritty conversation about their finances with someone close to them.
If you're trying to change any habit, especially a serious or dangerous one, I encourage you to do the same. Get someone on board who can help you.
One final point, to be SUPER-clear: If your dangerous habit is causing you or people around you harm, please, please, please seek out professional help. Me sharing my personal experience is no replacement for that!!
[share_sc]
My hands are starting to heal. These latest "spots" might not even scar.
But they're a reminder of how constant my work is to change my dangerous habit.
And whatever habits you struggle with, I hope my hands a reminder to you: You can change. You can do better. There are people who care – and understand.
I would love to hear your stories in the comments.
I know this can be an incredibly personal and private topic – but I'm not too proud to admit I could use some feedback, suggestions, and words of encouragement!
I can't wait to hear what you have to say.