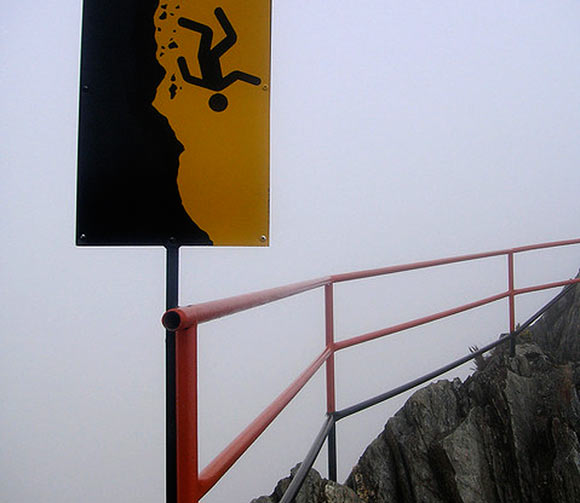 [share_sc]
Note: This is a post from Joan Concilio, Man Vs. Debt community manager. Read more about Joan.
Not gonna lie, you guys.
This month? It basically sucked.
Last month's slow-and-steady progress report quickly devolved into more like a "just barely hanging onto the edge of the cliff" scenario.
We're still fighting the battle, but we took some pretty significant damage this month.
So what's the status, and where do we go from here?
The damage
Sooo… this month.
The car had to be towed to the shop to have a new starter put in, after ours died. Total cost: $422
The cat needed some more vet work. Total cost: $276
The lawn tractor died. Total cost: TBD, repair estimate is about $100
We also had our first full month with a major cut in one of my streams of income, and coming up this month is our quarterly estimated tax payment (planned, but still something that would make us run a little tighter even without the rest of these things!)
All in all, we did something we haven't done in a long time: We ended the month in MORE debt than we started it. The grand total increase in debt?
$9.66.
I don't like it on principle, but if I had to do it, I guess the amount is right? (That also, by the way, just about matches our bank balance until we're paid again tomorrow. Talk about cutting it down to the wire!)
You can check out all the brutal details on my Joan's Finances page, but the short version is, it's holding steady.
How we're getting by
We are skimping on a LOT right now. There are some pretty-much-necessary purchases we're holding off on, and we've cut the grocery budget drastically.
We're expecting to rent out our finished lower level to some friends for a few months, starting soon. While we're not "high rent," we'll at least be able to offset the cost of some extra people and maybe a little more.
We've cleaned out the garage and sold a couple hundred dollars in crap, with a little bit more to come.
I've also picked up some new side hustles that are helping us at least maintain our progress. I mentioned some one-time gigs that raised about $1,000 for us in the past six weeks; without them, it's fair to say we would have been that thousand dollars in the hole.
I love side hustling. It's saved our bacon many times, but it's hard to budget with and hard to maintain at the rate I do it when we're really strapped. (Projects like the ones above usually have me working 7 days a week, with most of those days 10 to 12 hours.)
As much as possible, I try to fit in gigs like that around steadier long-term contracts. I just picked up another of these doing customer service/virtual support, and it will be both a huge help financially and NOT the huge drain on my time that short-term projects often can be.
That's the balance we're working on: Good for our budget, AND sustainable for more than a couple weeks at a time. We can go bare-minimum on grocery purchases for a couple months, but eventually, yes, you DO need to buy more cat litter, or razors, or flour.
I can work long days for a while, but eventually, my health and my family need to come first.
We keep trying, though, and we're committed to MAKING it work.
Speaking of side hustles, our friend Jen Gresham of Everyday Bright is launching a new group called
The Bright Entrepreneurs Club
that is designed to help you start a new business, either full time or on the side.
While we're not affiliated with Jen's program at all (except that we think Jen is coooooool), this is a HUGE resource for anyone interested in building the type of
side hustle
I keep talking about, and I wanted to be sure to share it. Jen's program is different in that it's community-led, not a "guru" system – and it taps into a ton of collective knowledge, experience and enthusiasm.
You can check out more about it here.
No matter what, I fully believe that we can at least hold steady. And if you're the type to pray, or cross your fingers, or send good vibes, or anything like that, we certainly wouldn't be opposed to some positive thoughts coming our way as we keep fighting for another month!
[share_sc]
How has your month been?
Any suggestions for dealing with those REALLY BAD patches?
Comment and let me know!