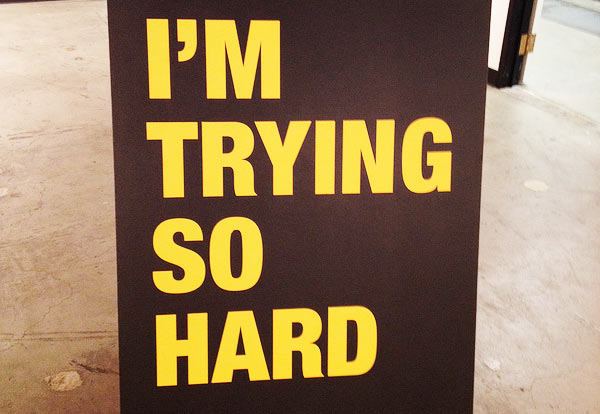 [share_sc]
Note: This is a post from Joan Concilio, Man Vs. Debt community manager. Read more about Joan.
Huge news, everyone!
Our debt balance has made huge strides this month. It's down $3.29 from where we finished last month.
And I couldn't be happier.
We are making progress again
Last month, I shared that we ended the month $9 and some change MORE in debt than we started it. I was happy with that number – because we busted butt to make sure we didn't end up in a bigger hole.
This month, we sorted some things out financially and reconfigured our plan moving forward. We could have made a larger dent in the debt, but we chose to wait, knowing we have some expenses coming in the next month.
We didn't hit any Very Next Steps (which you can see in detail here on my Joan's Finances page). But we hit the goal I'd secretly set for myself at the end of last month: to be able to report, this month, that we were moving in the right direction.
Big things are in the works
I don't have a lot to share in this month's update. We're happy, we're motivated, and we have some clear plans that will have us showing some SIGNIFICANT progress again around September or October.
Is it the best thing in the world that our debt repayment has become a treading-water exercise in the past couple of months? Of course not. But it's not the worst thing, either.
As of this month, we have paid off $32,901.75 in debt since April 2011. We have $56,785.48 to go. At the end of this year, thanks to some financial changes we're making (and that I'll talk about as soon as I can!), we fully believe we can almost reverse those numbers – getting ourselves to almost two-thirds of our debt GONE!
What an awesome Christmas present to ourselves THAT will be!
And I do have some good news to share: This Saturday, July 20, I'm realizing a major non-financial goal. I'm testing for my black belt in tae kwon do, a hobby I've shared about in the past on MvD! That's taken a significant amount of time and money over the past years, and I'm certainly not quitting at the first-degree black belt I hope to receive this weekend. More time (and another significant expense) will be required to continue my studies.
That's a choice we've made, and I'm proud to say we're doing that, as well, without digging any kind of hole financially. That's right –  while the old balances on our accounts might not be dropping as quickly as we'd like, we're proud to say there is still no new debt.
You can do it too
To conclude this month's slightly rambling and less-full-of-numbers-than-usual update, I just have to say thank you, hugely, to all those who commented, emailed and otherwise cheered me on after last month's frustrating and dismal news.
While the dollar figure may not have changed drastically, we've made significant improvements this month, both in mindset and in our personal lives.
You can do the same. It's not easy to stick to it when tractors break and cats get sick and sneakers wear out and orthodontists' bills arrive. But it's possible.
And I'm always here to cheer YOU on, just like you've all been so amazing at cheering for me.
[share_sc]
So what's been your biggest "win" this month? (Financial – or otherwise!)
Let's cheer for each other in the comments!