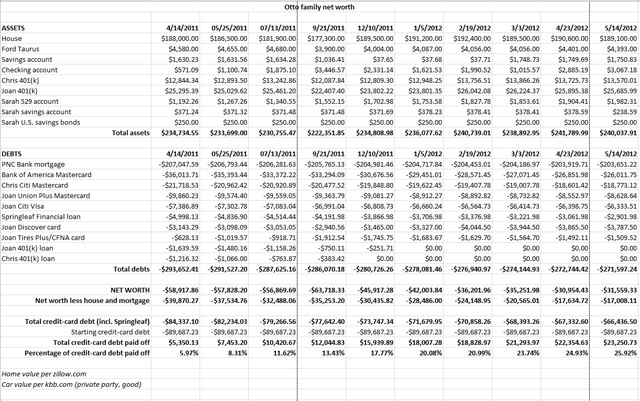 [share_sc]
Note: This is a post from Joan Concilio, Man Vs. Debt community manager. Read more about Joan here.
When I introduced myself to you guys a couple months ago, I was $70,858.26 in debt on credit cards and loans, and that meant we'd paid down 20% total on our worst-ever balance of $89,687.23.
I'm incredibly detail-oriented – remember, I still keep a check register – so it probably shouldn't surprise you that I set up a spreadsheet where I keep track of our debt payoffs.
That's the "big picture" you see above – since I started the sheet in April 2011, we've gone from being $84,337.10 in credit-card debt to, as of today, owing $66,436.50 on credit cards and loans.
When is being $66,000 or more in debt a GOOD thing? Well, when it's more than $23,000 less than you WERE in debt a bit more than a year ago. Even since earlier this year, we're down considerably – and we've hit one of our key milestones, which I'll talk about in detail later.
But since this is my first real update on our war on debt, I want to show you exactly what we're keeping track of and why. (I promise future updates will be a lot more to-the-point!)
Our assets

Oh, doesn't THAT look pretty? This is the top section of our spreadsheet, a look areas where we're "to the good" a bit. Later on, I'll talk about our net worth and how we choose to view it, but for now, let me just talk a little about some of these figures. (Also note that, for readability, I'm showing our starting figures from last April, but then I skip to 2012's numbers – hence some big jumps!)
Our house. Oh, our house.
I agree with Baker that your primary residence is not an "investment." Right now, we're keeping track of the approximate market value of our house (using estimates from zillow.com) so that we can get a feel for when we're no longer underwater on our mortgage. As you'll see when we talk about the "debt" portion of my finances – that'll be a while. Even so, we feel like the approximate market value is good info to have. As you can see, our housing market hasn't changed much in the past year or so.
The Taurus of Wonder and Joy. Don't forget, this is our only car.
We track this using estimates from kbb.com, the Kelley Blue Book. Again, we don't intend to "do" anything about our car for some time. But we like having the information on hand, much like we do for the house, and it's interesting to see this hasn't changed much in the past year either.
The point isn't that these are tangible "assets." It's that if we're faced with a life-changing event – whether an opportunity or a crisis – we want to be armed with all the info we need to be as flexible as possible. And for us, that means knowing what we'd get if we needed or wanted to sell our two main physical "structures."
Our checking and savings accounts. These are pretty self-explanatory, but I'd like to point out two things.
Following Baker's advice, we are now committed to NEVER having less than $1,000 in our emergency fund/savings account. If we need to fall below that, we will replace that money as our absolute first priority. This is going to come in handy this month, in fact, as our house now needs a new hot-water heater! We'll use some of that savings, but we'll keep the balance over $1,000.
We're also trying to save up a cushion of a month's worth of expenses in our checking account. That will take a while, but we're steadily increasing our balance on hand and, in fact, we haven't had that account under $1,000 in a few months either, which is really an accomplishment!
Our 401(k)s. Here's where I'll make a few enemies, I think.
I wish we didn't have 401(k) plans. I don't want or need that vehicle for future savings, and it ties up my money when I have other uses for it in the short term. We started participating in them when there was a significant company match, and that made sense, but now, there is no matching, and that money is just sitting. Ugh.
Saving for Sarah. This takes a few forms.
First, Sarah has her own savings account, which she contributes to (and withdraws from) for her own needs and wants. Her "income" sources are basically birthday and Christmas money, the proceeds from selling her crap, and earnings from odd jobs, etc. Her "expenses" so far have been limited to a couple large purchases – a bike and helmet that she chose to buy for herself back in 2010, and her 3DS video-game system, which she recently saved up for.
So that's "her" money, more or less, though of course Chris and I will guide her on how it's used. But I've also started a 529 savings plan for her as well. The good news is, this money CAN be withdrawn for things other than educational expenses. If she goes to college, she essentially gets more than we've contributed, but if she withdraws it to use for another reason, she gets what we put in and basically nothing else.
If I had it to do again, I wouldn't have used the 529 vehicle for this. To me, it just makes our savings more complicated, much like the 401(k)s do. But we have it, and we continue to contribute to it ($25 every two weeks).
You'll also see that Sarah has a few U.S. savings bonds – I'm nothing if not thorough in my accounting! 🙂
Our debts


As weird as it sounds, this is my FAVORITE thing to keep track of with regard to our finances. Seeing these numbers drop, slowly but surely every month, is incredibly motivating to me.
One problem we've historically had with our debt payoff efforts is the sheer volume of what we're trying to accomplish. We're paying down a big dollar amount, as well as a long list of accounts, and sometimes in the past it has felt like we're making NO progress.
So we chart each debt like you see above. We celebrate when we get to lines like the two at the bottom – PAYOFFS! And we do something else, too. Maybe you've heard this before…
We set a Very Next Step for each account.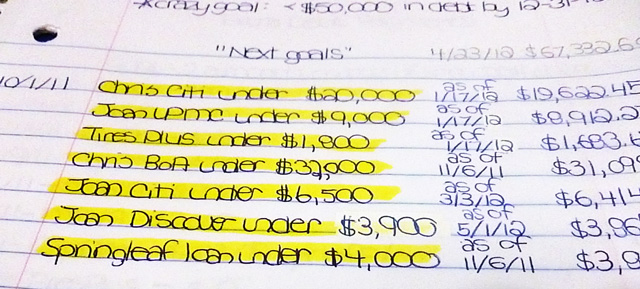 We keep a financial notebook with lots of goals and other things written down, and for each of the accounts in the spreadsheet, we set a "next goal." Originally, for instance, we wanted to get the Bank of America Card of Doom under $32,000. When we reach that, we go down the page and set another goal. Then another. Then another. And we make sure we always have a goal for each account.
Our current V.N.S. goals are:
Chris Citi card under $18,000
Union Plus MasterCard under $8,000
Joan Citi card under $6,300
Bank of America card under $25,000 (WHOA – $7,000 down on this one!)
Discover card under $3,700
Springleaf loan under $2,500 (look how far we came on that one!!)
Tires Plus card under $1,300
It turns into a game for us – seeing what goals we can hit. And we purposely make them attainable enough so that we always have something to celebrate!
Want to track your own debt payoff progress? Get our tracker, as well as several other awesome resources to "kickstart your money," join the Man Vs. Debt community list by clicking here!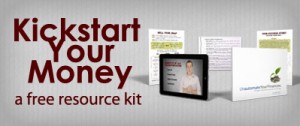 · Unautomate Your Finances ebook
· You Vs Debt Sample Lesson
· What to Sell Where Flow Chart
· Debt Payoff Tracker
· 10 Tips for an Effective Craigslist Ad
Our bottom line

I mentioned earlier that in our bottom-line figures, we leave out the house, which we don't view as an "investment." So one of my goals is to get the "net worth less house and mortgage" out of the red. That'd be pretty cool.
We do want to figure out our mortgage and housing goals eventually, but for now, we're pretty sure we'll be in the same home we currently own for at least the next five to seven years, if not longer, so the consumer debt takes priority!
Those are the lines we live for. What's our total debt? What's the total dollar amount of debt we've paid off? And how close are we to being 100% debt-free?
25% debt-free
Yes, as of this month, we have paid off more than 25% of our consumer debt, not including our mortgage. As I mentioned before, our current "big goal" is to pay off all credit-card and loan debt – and to REMAIN debt-free from those sources for life.
Next goal? Have paid off more than $25,000 total – and that's only a month or two away!
[share_sc]
I'm actually relieved to have shared this update. You guys really stepped up and supported me after my introductory post, and since then, I've been worried that I won't live up to the "lady who's paying off debt like crazy" expectation I set up.
But when I take a look at these cold, hard numbers, I realize we ARE making progress. We CAN do this. And we'll keep nailing our Very Next Steps until we get there!
Will you do the same?