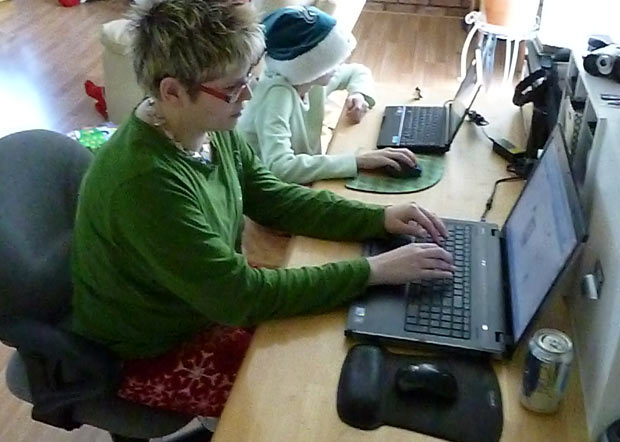 [share_sc]
Note: This is a post from Joan Concilio, Man Vs. Debt community manager. Read more about Joan.
As of July 1, ALL of my income will come from self-employment. Many of you who've read previous posts know that I've juggled full-time and part-time jobs and side hustles for several years, but now, the "job" piece will become another contracted project, and I'll officially be freelancing everything.
Thinking about that made me look back on the past two years of my life, when I've transitioned from a 55-hour-a-week office job to working almost entirely from home. Even my "job work" has been done primarily at home, and while some of my contract work still needs to be done on-site for various clients, mostly, my home is my workplace! (As evidenced by the photo above, which is really me, really working, really in my pajamas – you know I love you guys, to let you see me that way!)
As I was thinking about this transition, it's become clear to me that even on the "worst" days, I love being at home.
1. Lower costs
Working as a freelancer does have added costs (if it needs to be purchased, it's on me!) but the tax deductions make that a wash. In general, though, working from home saves money in several ways.
No commute! (In my case, this is NOT a huge savings, as I literally live one block from my old office, but it's an overall good point!)
Few demands on your wardrobe. I hated buying "work clothes" that I didn't wear outside of work. While I tried to minimize that as much as possible, it's been nice to cut that expense to a bare minimum. And unlike the photo above suggests, I don't usually work in PJs – but I do wear jeans almost exclusively.
Less temptation to spend needlessly on food. Bad day in the office? Our solution was to go out to lunch, or to hit the office vending machines. Now, I'm home, surrounded by the food I've already paid for at the grocery store with little to no need to go get more! Nor are there those ambiguous not-quite-working lunch meetings that you feel bad if you miss, but that cost $10 to $20 a pop.
2. Increased flexibility and comfort
This goes beyond just the stereotypical pajamas thing I've mentioned.
I'm always cold. ALWAYS. It sounds like a silly thing, but working in an office, with a temperature set to 70 degrees year-round, was like working in a freezer to me. I get so much more done in my own home, because I'm not COLD! (And if I am chilly, I can wrap up in a big comfy blanket!)
I can even work curled up on the couch with one of my cats at my feet. I couldn't do that even in the most forward-thinking office on earth! And you guys know how much I love my cats…
3. Being interrupted
That's not a joke. I like that my family and friends interrupt me while I'm working. Especially since we homeschool, but even separately from that, it's important to me that my family knows they can talk to me and come get me if something semi-urgent comes up.
My definition of "semi-urgent" isn't high, either. Often, it's, "Hey, Mom, come look at this praying mantis in the garden!" Sometimes I might have to say, "Hey, I'm writing something that I need to finish. I'll be there in a few minutes if I can." But more often, I'm blessed to be able to say, "Whoa! Let me save this draft and I'll come see!"
I've said in other places that the reason I work from home is that I believe being with my daughter is important. I don't schedule "office hours" like many work-at-home parents do, not because I think they're a bad idea, but because I could have stayed in my office, making more money and keeping a more consistent schedule, if that was what I wanted.
Instead, I'm able to show Sarah through my actions that I'm always available for her. And when I do go back to work after an "interruption" like that, it's almost always with a positive, rejuvenated attitude.
[share_sc]
I'm not saying that working from home is perfect. I live in fear of the times I can't mute my conference call soon enough and my dog's enormous bark interrupts it. I sometimes bemoan the fact that I don't have an office – or a door to shut; private calls end with me outside, or sitting in my bedroom.
It's not always ideal, but it's good. It's really good.
What about you? Do you work from home, all the time or occasionally?
Do you have questions about HOW to approach your company about working from home (something I plan to share in a future post)?
Would love to hear your thoughts in the comments!