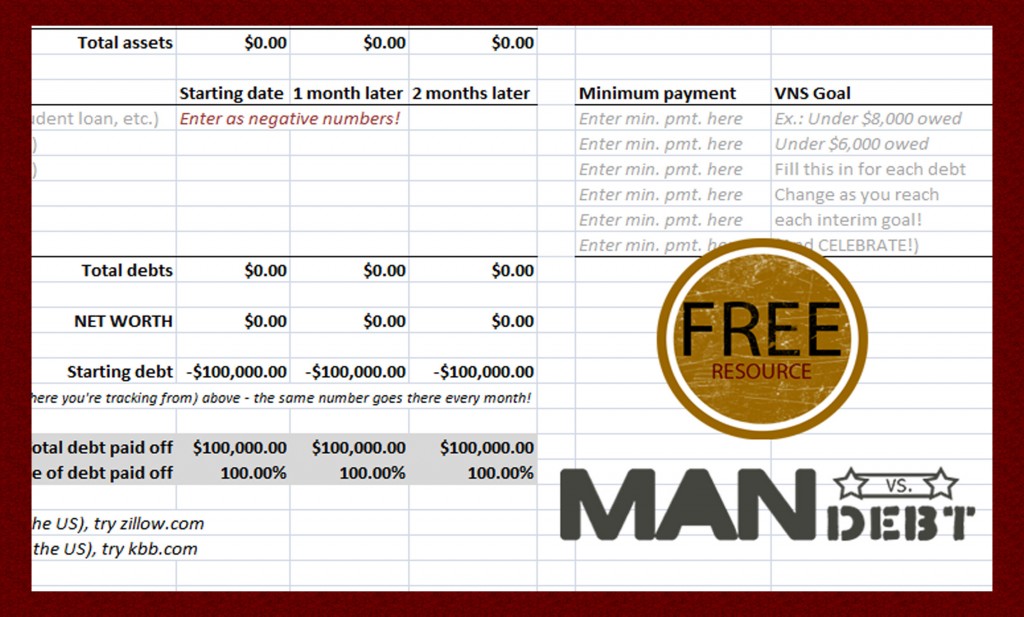 [share_sc]
Paying off your debt is hard work.  It can feel complex, overwhelming, and intangible.
Personal finance doesn't have to be complicated – awareness is the single biggest weapon in your debt-fighting arsenal, both to get you started in your war on debt and to keep you going!
Man Vs. Debt community manager Joan introduced a Payoff Tracker in her first monthly financial update, and people have been asking about it nonstop.  You can skim a live version on Joan's Financial Journey page.  The tracker has gained buzz in our community, since Joan credits this simple sheet for helping her pay off $30,000 in debt in a year and a half!
$30,000.  That's $54 a day.
It's easy to get discouraged, especially when you feel like you have a long way to go.  To help you stay motivated, we are sharing this FREE spreadsheet so you can track your progress!
Using this straightforward spreadsheet will break down the big, daunting task into smaller, manageable steps.  It's available in two formats; click the links below to download them!
How to make these work for you
These charts are pretty simple. You list your types of assets and debts down the left column, and then your dates across the top. Each month, around the same date, update another column with your totals. 
In the editable spreadsheet version, the calculations are done for you to figure out your debt owed, percentage debt-free and so on! If you're using the printable PDF, you'll need to calculate those by hand, and basic instructions are included on the printout; but if you need help, just reply to this email and we'll see if we can shore up the math for you! 😉 
You can see a live example here – Joan, our community manager, actually uses this very chart and shared images of it in one of her monthly financial updates! 
The most important step you can take, we firmly believe, is setting your VNS for each debt. That's a fancy way of saying your Very Next Step, and you'll see a column for that on these sheets. You can see Joan's example of that here, but basically, just set a target for each debt that's within reasonable reach! 
When you get there, celebrate, then set a new target. That will help keep you motivated… and you'll be able to celebrate your successes along the way!
Community tracking success stories



What's next?
Wanting to simplify your financial life even more?  Here are 24 Quick Actions you can do today to radically change your financial life forever.
[share_sc]