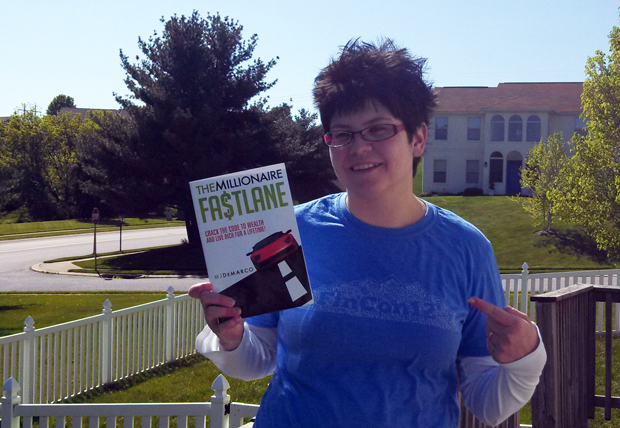 [share_sc]
Note: This is a post from Joan Concilio, Man Vs. Debt community manager. Read more about Joan.
So here's the thing about me: I'm not rich.
You're shocked? (Er, if so, maybe you should check out the scary details of my finances.)
What this means is, when it comes to books about how to become rich, I'm probably the perfect reader demographic, but maybe not the perfect reviewer demographic.
After all, why would you want to hear what I have to say about someone else's ideas on wealth? After all, I'm not particularly wealthy, right?
Well, we'll come back to this in a bit, because it's the question I've been kicking around in my head as I read The Millionaire Fastlane by MJ DeMarco, which is one of the many books on the collective Man Vs. Debt bookshelf that we've read, reviewed and then given away to a reader!
For those of you who aren't familiar with his work, MJ DeMarco is an entrepeneur, investor, author and, yes, multimillionaire. When I started reading The Millionaire Fastlane, I have to admit I was a bit skeptical of the premise – the idea of some kind of "fastlane" to wealth – but I realized after reading further that MJ's fastlane isn't about "get rich" schemes. In fact, he even specifies that there's a difference between "Get Rich Quick" and "Get Rich Easy."
The goal of The Millionaire Fastlane is mindset and process. It goes behind the scenes of the "wealth events" of MJ and others – you know, the types of people who invent something and sell millions of them in a month? And the secret is, these aren't one-time events, not really. Getting rich "quick" is preceded by hours and hours of work. It's a process. The money might come all at once, but it doesn't come easy.
And it doesn't come at all unless you're in the right mindset. So that's the point of this book – exploring the mindset that leads to wealth creation, and dispelling some mindsets that discourage it.
In the book, MJ describes three types of people: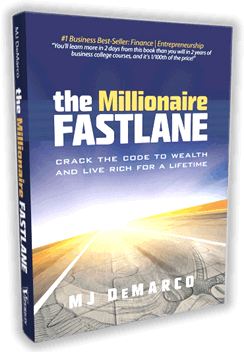 Sidewalkers. These are the people in the debt-slavery mindset. Debt, to a sidewalker, is a way to get something now. It's almost a supplemental "income." To the Sidewalkers, "stuff" is more important than just about anything, and having the best of it is paramount – even if it means charging it! The thing that stuck out to me most about this way of life is that it is not income-dependent. Yes, there are poor people living in this lifestyle. But there are also people like I used to be – with high incomes but a terrible financial situation, always spending more than they earn, nothing but "surface stuff" to show. No matter your income, a key part of this "sidewalk" lifestyle is being one something away from true poverty. One missed paycheck, one unexpected expense, and so on. The point that MJ makes is that you can't keep this "sidewalk" mindset if you want to become truly wealthy. As a "former sidewalker," I agree. I had to make the choice that just-getting-by wasn't good enough any more.
Slowlaners. These are people who are following "the system." They're going to college, working hard, paying down their debt, investing in their 401(k)s and some other conservative investments, taking modest vacations and planning big things they'll do after retirement – whenever that might be. Slowlaners focus on money – how much they can get if they work overtime, how much they have saved, how much they owe. I have to be honest here. This is where The Millionaire Fastlane almost lost me. MJ started describing some things I feel pretty strongly about – like paying off debt fanatically – as kind of bad. Ouch!! But when I read about the final group of people, his reasoning clicked for me.
Fastlaners. This is the gold standard in MJ's system. A Fastlaner values his or her time above all else. That means that Fastlaners are entrepreneurs – they create something in which they invest time once, and then draw continued benefit. MJ's point is that no matter how much you make, if you're trading time for money (for instance, designing top-notch websites for a couple hundred bucks an hour), time is still capping you out on how much you can earn. Like it or not, you can't design 5,000 websites in a day. This is hard for me, as even the most profitable things I've done in life are time-for-money trades. This is also hard for me because I have no desire to be an entrepreneur in the business-building sense. I'm not passionate about it in the slightest. But MJ goes into some other ways of being a "creator" that go beyond building a long-term business, authorship being one of them, and that's much easier for me to wrap my head around.
MJ also points out that Fastlaners do a lot of the same things Slowlaners do – like pay off (and stop accruing) consumer debt. The difference is mindset.
There's a lot of valuable advice in The Millionaire Fastlane, even if you don't think that multi-million-dollar wealth creation is your dream. (And MJ addresses that, too.)
My advice is, if you're going to read this book (and I think you'll find it interesting!), please read the whole thing. While there are mindset points in The Millionaire Fastlane that seem to run contrary to the Man Vs. Debt mindset – like, for instance, not thinking about business in terms of "Do what you love," which of course is part of our motto, reading the entirety shows you that MJ's got the right idea – you can't do what you love as a revenue stream if it doesn't meet a need. So if you open a break-dancing studio in a retirement community because it's your town and you love to break-dance, don't expect to get rich, essentially!
Overall, this book is for you if you'd like to think differently about the ways money and time work in your life. There were certainly some eye-opening thoughts for me!
What does wealth look like to you?
That's one of the key takeaways to The Millionaire Fastlane: What does wealth look like to you? Is it a Lamborghini? A huge house? Awesome vacations? Or is it something else – the ability to donate $20,000 instead of $20 to a cause you're passionate about?
That sounds a lot like finding your big "why" to me, one of the key concepts we talk about here on Man Vs. Debt. If you want wealth, you first have to know WHY and what that looks like. And I'm curious to see what forms it takes for you!
[share_sc]
So what does wealth look like to you? 
Update: Congratulations to Beth VB, our 44th commmenter, who was randomly chosen to receive our copy of this book. Thanks, Beth!