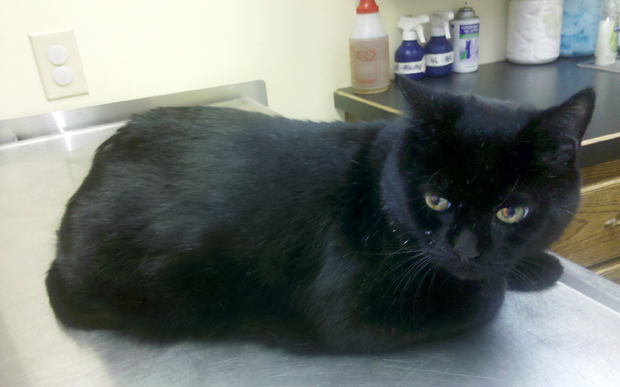 [share_sc]
Note: This is a post from Joan Concilio, Man Vs. Debt community manager. Read more about Joan.
Meet my cat Floyd.
Floyd's one of five cats in our household menagerie, which also contains one large dog, a hamster, and currently some monarch butterflies in a hatchery.
We like animals – but they're awfully hard on the budget. In addition to the regular costs of food and supplies for that many living things, this month, Floyd's unexpected dental surgery and related costs set us back about $600.
That's my entire "extra payment" for the month on the hated credit card, you guys.
The whole thing.
After spending some quality time this week with my checkbook and my debt-payoff chart, I see that we now have $61,878.56 in debt to go. As of last month's update, that number was $62,745.92, so we're down $867.36 this month – about $600 less than our running average. Coincidence? I think not!
So instead of looking back at how things have gone otherwise this month, I figured my mid-month review would be a good time to look ahead – and to talk about a question that a lot of people I speak with seem to struggle through.
No, that question is not "Would you spend $600 on your pet?" I think that's an area where we could debate for days and no one would change their opinion from whatever they went into the discussion with!
That said, I want you to imagine that you're in a circumstance where some expense in which you'll be spending $600 comes your way. Doesn't matter what it is, except that it's something you feel strongly about. In my case, it's my aging cat's health and comfort; in your world, maybe it's a mission trip, your holiday expenses, your car repairs, travel to see an ailing relative or friend, whatever.
The question becomes…
When do you tap your emergency fund?
Here's the thing. We have $1,755.51 in our savings/emergency account right now.
I could have transferred the exact amount of Floyd's vet bill from the savings to our main checking account, paid the vet, and then paid on our normal amount against the Bank of America credit card this month at bill-paying time.
I didn't. The savings is sitting there, untouched.
Why??
I wish I had a great answer to that question, but I'm kind of stumped. So I'd like to walk you through my thought process, then ask you to put yourself in a similar situation and tell us what you'd do!
The main reason we didn't tap the emergency fund was that we HAD ENOUGH in checking for the expense. I guarantee that if the bill had been $1,000, we'd have had to use the savings.
So what does "having enough" in checking really mean, though?
Am I robbing Peter to pay Paul, or using money that should have gone to another use? Well, kind of.
If we couldn't buy groceries this month, I'd feel differently. Instead, the money that we used for the cat came from what is, to us, discretionary income.
We CHOOSE to pay $600 extra on our credit cards most months. We feel strongly about becoming debt-free, but at the same time, the bottom line is it's a choice we make, not an obligation!
The other thought we considered was that, if we tapped the emergency fund now, we'd simply spend NEXT month's extra-credit-card-payment money restocking it. We prefer to keep in that fund about the amount that's there now, which would cover our housing expenses for a month in a crisis.
So, with that in mind, it just didn't seem to be anything except extra work for us to transfer money out of our savings. Like I said, I'm not claiming to have particular logic to that decision. It's just where we ended up, and I'm all right with it.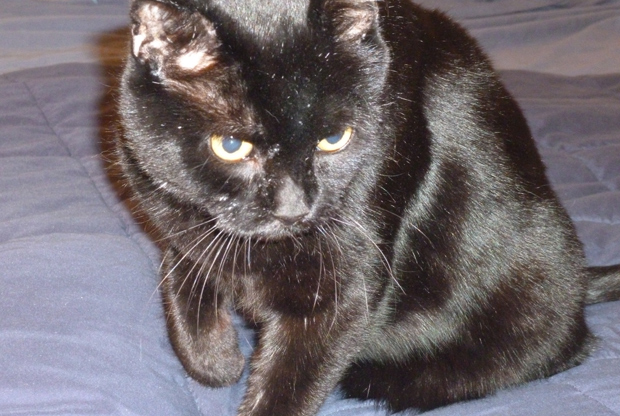 Where do we go from here?
The thing I'm trying to keep in mind is that Floyd is feeling better. He's back to his usual life of leisure, curled up on our bed, completely not earning his keep – a perfectly normal cat.
For me, the cost was worth it. And so was the decision not to tap our emergency fund in this particular case.
That said, I'm not willing to write off September as a month in which we pay only the minimums. We've decided to hustle and see how much we can put toward a second payment on our Bank of America card before the end of this month.
I've already picked up some on-the-side work that will get about a quarter of the $600 back, and we're selling some crap to raise at least another $100 if not more.
Hopefully, what we'll end up with is a win-win-win situation.
First win: Large expense paid for in cash.
Second win: Emergency fund remains at a comfortable level.
Third win (hopefully): We make our now-customary BoA-bashing big payment!
Want to track your own debt payoff progress? Get our tracker, as well as several other awesome resources to "kickstart your money," join the Man Vs. Debt community list by clicking here!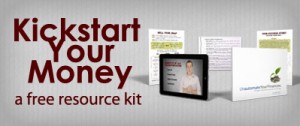 · Unautomate Your Finances ebook
· You Vs Debt Sample Lesson
· What to Sell Where Flow Chart
· Debt Payoff Tracker
· 10 Tips for an Effective Craigslist Ad
So my question to you is, "What would you do in a similar situation?"
You have an unexpected $600 expense. You have $1700 or so in savings. And you want to make an extra payment against your debt of $600.
Would your choices look like mine, or be different?
[share_sc]
Leave me a comment – I'm curious!