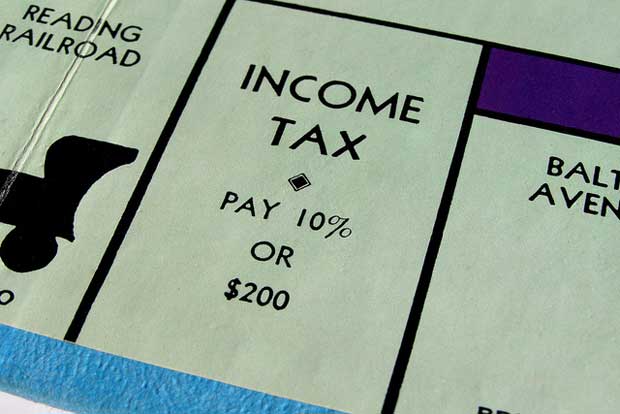 [share_sc]
Note: This is a post from Joan Concilio, Man Vs. Debt community manager. Read more about Joan.
As of today, our total debt stands at $59,120.48. That's down $1,331.37 from last month and $30,566.75 from the start.
We've officially paid off more than $30,000 in debt.
We also found out Friday that we're officially going to need to pay the IRS $7,104 by April 15 thanks to a withholding "issue" related to one of my non-Man Vs. Debt streams of income.
Scary? Well, yeah.
But Chris and I had a big Financial Planning Brainstorming Session last night, and we decided something important: We're not going to let this derail us, and we're not going to let this increase our debt level.
Will our paydowns slow a bit for a few months? Yep.
Will our savings and emergency funds take a hit? Also yep.
Will we ramp up the payoffs again and rebuild that savings ASAP? YES, a third time.
Our plan for the next two months
So, $7,104. That was the magic number we sat down and planned toward, and it's a full 50% of the money we have coming in during the two months until our deadline.
We realize that we could set up a payment plan for the taxes owed, but that's "new debt," and our goal is not to incur new debt. Instead, we're going to tap a few sources.
$1,761 – Amount currently in our savings/emergency fund. This is the account we're going to put all our "taxes due" money into, and we're willing to use the already-existing funds in the account for this purpose, with a goal to replenish it back to this amount afterward.
$2,511 – Amount currently in a separate savings account we'd started in the past couple years for potential future educational expenses for our daughter, Sarah. We've taken action to withdraw this money into our "regular" savings account, also with the goal to save the same value afterward, though probably in a different form.
So that gets us to $4,272. That means $2,832 has to come from… somewhere, between now and April 15. Our plans for that?
Pay the minimums on our 6 consumer-debt accounts for the coming two months. That will take care of between $1,500 and $2,000 (depending on payment dates), because we pay about $1,000 over our minimum each month.
Sell some bigger-ticket crap. We've listed a snowblower and a futon so far and have a couple other items in the pipeline. Our goal here is to make $500 to go toward the tax bill.
Side hustle. We expect to be able to bring in another $400 minimum from side gigs in this two-month period, but we've got lines out on some ways to up that to closer to $800.
Eat the cushion. No, it's not a new grocery-cutting measure. We'd built up a cushion of close to $1,000 in our checking account, and while it had dropped already a little bit, we've consciously decided to run a "zero budget," meaning we want zilch left in the checking account right before payday. Instead, we'll be funneling anything at all extra into the emergency account.
Spend less. This takes a few forms. Some of them are things like putting off haircuts; canceling our Valentine's Day dinner reservations; evaluating the gifts we've already bought for our daughter's 13th birthday next month and realizing it's enough already, even though we had a couple other gift ideas in mind; that sort of thing. Some are larger-scale cuts, like deferring some work around the house we'd saved up for (say goodbye for now to a driveway that doesn't eat my car tires and grows more grass than my yard…).  And some are just minor economizing measures, like watching our grocery budget a little more carefully and making sure we're turning out lights when we leave rooms.
This might actually be overkill. In other words, we might be successful enough at all these economizing and money-making measures that we end up with money still in the savings account. And that's just fine! We'll have some lean months even after these, so it will be good to have a buffer of any sort!
So then what?
The good news is, even paying the minimums, our debt balances will go down. Not much, but they'll be going the right direction, even with interest factored in. The bad news is, to help prevent this same fiasco next year, we're going to make some changes to our tax-withholding arrangements in some of our income streams. Net result: A good deal less take-home pay for the last 8 months of 2013.
That's OK. In fact, another good conversation Chris and I had is that, until we're free of the credit-card debt, we want to be extra-careful with our withholdings and estimated taxes, even if it means giving the government the same kind of interest-free loan I mentioned we try to avoid.
Things will be different once we're debt-free, but until then, we definitely don't want to have IRS debt to worry about!
After we get through April 15, the plan looks something like this.
Adjust tax withholding to prevent next year's issues. Subsequently, adjust budget to match new (lower) amounts take-home paychecks!
Rebuild savings account back to $1,700+ (more than one month's mortgage payment) over 3-4 months.
Restart payments above the minimum to credit-card companies, first in slightly lower amounts as we rebuild the emergency savings, and then at as high of a rate as our budget can take.
Rebuild checking-account cushion back to $1,000 over 6-8 months.
So our updates for the next couple months might not be super-exciting on the debt-payoff front, but I will be doing them, and I will DEFINITELY be sharing our progress on saving for that tax payment!
[share_sc]
Will you stick around to cheer me on? We could use your support!