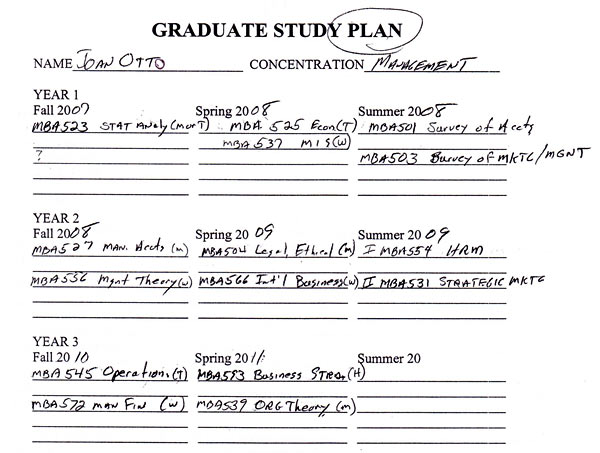 [share_sc]
Note: This is a post from Joan Concilio, Man Vs. Debt community manager. Read more about Joan.
"Dear Joan," the letter begins, "I am pleased to inform you of your acceptance into the Master of Business Administration Program for the Fall 2007 term. On behalf of the faculty and our MBA students, I welcome you as a part of our campus family."
I was thisclose five years ago to committing 3 more years of my life – and more than $20,000 of my money – to a graduate degree at my alma mater.
It sounded like a good idea for a lot of reasons.
My company was offering some degree of tuition reimbursement.
I had an undergrad degree in mathematics with some work already done at a master's level, so I'd get double credit for some work already done.
I wanted to run my own business someday.
My daughter was in school, so I could attend many classes without daycare issues.
No one in my family had yet gotten an advanced degree.
I loved to learn.
I got as far as meeting with my advisor and planning out the schedule you see above. And then, only weeks before it was time to start classes, I bailed on the entire thing.
Why??
The grad-school scam
Take a minute and a half of your time and watch this video. Funnily, this came my way just this month – not during my graduate angst phase in 2007. Not-so-funnily, it encapsulates a lot of my struggle with the grad-school system.
When I got my bachelor's degree in 2002, I was still among the first handful of people in my family to graduate from college. I had a good job, a wonderful daughter, and this really nifty piece of paper saying I had really made it!
Why on earth wouldn't I want to keep going for more?!
"If it can happen to me, it can happen to anyone!"
The closing lines of the video clip above really got to me. It's a joke, but yet, for me, it's not quite.
Even early in my college career, I was darn proud of my money skills. I had one semester's worth of loans from my bachelor's coursework, and it was paid off the summer after graduation. I'd dodged that bullet – purposefully and through a lot of hard work – yet here I was, ready to jump in front of the next one?
If it can happen to me, it can happen to anyone. Whether it's a decision about going to college at all (and THAT'S a loaded issue I'll save for another post) or the specific question of whether to pursue a graduate degree like an MBA, if you're a working professional or entrepreneur, the question is going to come up.
In my circle of friends, the "everyone's doing it" pressure didn't help. I had two other friends ready to enter the SAME master's program at the same time. My teacher friends were well on their way to master's degrees in education, simply thanks to the continuing education courses they were already required to take. And here I was, not even USING the mathematics degree I had earned at my job as a newspaper editor.
Going back to school seemed like the American dream for us.
Sure, it'll cost a bunch of money up front and take a lot of my time. But imagine the earnings potential I'll have afterward!…
When I really took my beliefs about education out and examined them as I prepared to go back into the classroom, I had a total epiphany.
Separating higher education from "higher education"
I mentioned before that I love to learn. One of my sisters and I have joked that if "perennial college student" were a paying job, we'd apply in a heartbeat. We would collect degrees like some people do postcards.
But I've come to realize that the "higher education system" isn't the path to education for me.
Let me stop here and say that there are times when I think an advanced degree is a great thing. I want my doctor and my attorney to have one, for instance. For my teacher friends, who are required to amass credits as they work, why on earth would they outlay the money and time and NOT use it to build toward something that will significantly change their earning potential?
But for someone like me, the degree isn't the end result I'm really going for. And that's what stopped me from walking back through the college doors in 2007. It turned out that I didn't need the formal system in order to learn what I wanted to learn. There were two main reasons why I bailed on grad school at the last minute.
REASON #1: I've always been a self-directed learner. I don't really want to take a prescribed set of courses because someone else says they're what I need to know, and I don't want to take a "survey of accounting" course when I've worked as a business accountant in the past, just because the degree says I need that particular credit. Mostly, though, I don't want to pay someone to give me information I could get on my own.
Again, there are degrees for which that's not true. If I had gone to med school (as my high-school plan was), I'd be dissecting cadavers, and they sort of frown on you going off and doing that on your own!
REASON #2: I'm not interested in narrowing my interests. I'd still like to learn more about theoretical mathematics and some of the other things I specialized in during my undergrad career, like dynamical systems. I'm definitely interested in the quality and organizational theory aspects that were part of the MBA-that-wasn't. I wouldn't mind deepening my medical knowledge. Oh, and I have almost enough credits for another bachelor's degree in philosophy and religion, and I've actually considered attending seminary to further that. But I don't want to pick just one.
Do you really need that piece of paper?
I'm lucky to have a choice. To do what I love, I don't need a piece of paper saying I'm a "master" at it. In fact, I'm a happy Joan-of-all-trades in many ways. There are certainly some passions that don't allow for that, and I realize this approach won't work for everyone.
But in my case, I've decided to meet my insatiable need to be "learning" in some lower-cost, lower-stress, higher-flexibility ways. The best part is, since we homeschool, we can learn as a family – something we sure couldn't do in a high-priced master's degree program.
There are hundreds of resources I could list, from  Khan Academy to our local library system to auditing individual college courses without credit, to the great free-online-learning  directory No Excuse List. They're the sorts of things I'd encourage anyone to check out, regardless of your current education level!
Hey, that's working for me. In your case, maybe you do need that piece of paper that says "master" or "doctor."
The point isn't that advanced degrees are bad.
The point is that higher education is a BUSINESS, designed to make a profit. If you choose to buy, make sure you've carefully done the research – the way you would before choosing your home or your vehicle.
Don't get talked into the Maserati Master's Degree just because all your friends have one! Sometimes, the Ford Taurus Free Online Education will get you where you want to go just as well!
[share_sc]
Today in the comments, I'd like to do something a little different. In addition to hearing your thoughts on the grad-school issue in general, if you're willing to share, I'd love to know what degrees you have, if any, and how useful you found them!
Was your "higher education" experience worthwhile?
Comment and let us know!