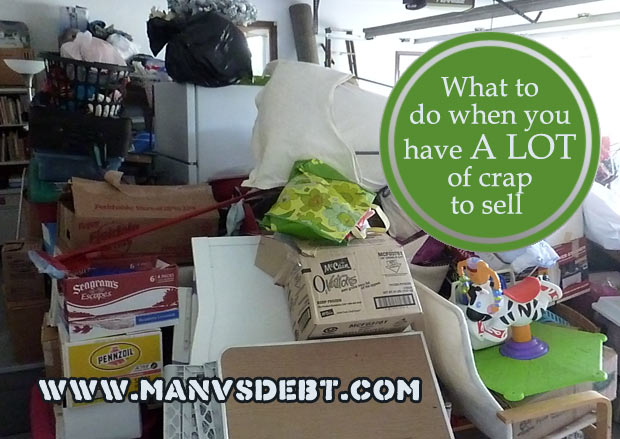 [share_sc]
Note: This is a post from Joan Concilio, Man Vs. Debt community manager. Read more about Joan.
Last week, I received a note from a reader asking me a question that I've received before, but that we haven't previously addressed on Man Vs. Debt.
Her question was essentially this:
"What do you do if you have a lot of crap to deal with? For instance, hoarding, stuff boxed up in storage units, etc.?"
And while I had some short advice to offer, I thought that question deserved more discussion here with the MvD community.
When you have a lot of stuff
Dealing with a hoarding situation (yours or a family member's) is one case where you might need to deal with "bulk stuff." But there are other reasons too – the death of a loved one; a sudden need to downsize or relocate; the need to get stuff out of a storage unit (or units!); maybe having someone move in with YOU temporarily.
The thing is, some of our crap-selling advice is based on the idea that you have time, and you have space. When you're dealing with stuff in bulk, sure, you'd like to make money, but you also want to balance that with time and space concerns. That said, a lot of the same techniques still apply!
See that photo above? That's my garage. Not my stuff, but my garage. We're helping friends of ours get ready to move to Puerto Rico as missionaries, and before they relocate, they're temporarily staying with us AND selling almost everything they own.
That's the sell pile. So not only was our reader's question interesting in a broad "Hey, the Man Vs. Debt community needs to hear about this" sense, it was interesting in a personal, "Uh, I've got lots of stuff in my garage" sense.
It's forced me to create a very different game plan. Normally, when I'm selling my crap, I've got a pile of stuff that can sit on my fireplace for a few days until it leaves the house.
It's easy to photograph and list individual items for sale on various platforms. It's not changing how I live my life. It's manageable.
But the garage? Less so. And in case of my friendly reader, who said I could share some details of her story in the hope of helping other MvD readers know they're not alone, it's reached the point of "I don't even know where to start."
From her story:
"My brother and I downsized our apartments right into our dad's house so there are old bedrooms packed in with stuff we once cared about but now know we'll never need again. I'd like to sell from his house but it's riddled with boxes and books and just gives a bad impression of how good the stuff for sale is, let alone the items in our overpriced-and-not-really-needed storage unit. I have living room furniture packed into both places and I guess I'm going to Craigslist it. Once it's gone I'll be glad I'm not having to worry about it. I was holding onto it hoping to put it 'properly' into an empty bedroom at my Dad's but it seems there may never be an empty bedroom there. I'd rather do my part to free his floor space (though the stuff makes him feel like less of an empty nester) than to treat it like it's normal to live piled-high."
So… what do you do when there's SO MUCH that it's hard to even get started?
The "Lots of Stuff" game plan
 Step 1: Address major space issues first.
Our friendly reader is going to tackle her living-room furniture. That's perfect – it's LARGE, and it'll free up a LOT of space. Don't even worry about money so much here. If you have a gigantic item that you can get gone for $10 – or by donating – tackle that first!
Pick off as many sizeable things as possible, without having to dig too, too deep. It gets SO MUCH EASIER to deal with the rest of the stuff when you have a little elbow room to get at it.
Step 2: Identify big-ticket items as you go.
As we're dealing with our garage, many items are simply destined for a good yard sale. We'll talk more about that later, but interspersed among them are some items that can fetch good prices if listed online and sold individually.
There's way too much stuff to sell each item that way. We've sort of taken the game plan of "If it's easy to get to and photograph, or if it's particularly valuable, we'll list it individually." That's been the case with several antiques, some household items (like an airbed), bulk collections of clothing, and so on. We're focusing our individual-item-selling efforts on the things that will give us the biggest cash return for the most reasonable time investment.
Step 3: Clear out less-valuable items fast.
This is where a yard sale can come into play, or an estate sale, or having an auctioneer bulk-buy from the space you're clearing out.
In cases where you're selling to an auction house or dealer, you're likely to want to move some of the big-ticket items you identified above to that person as well, but with a yard sale, you can put out all those items that might sell online for $5 each, but you just can't take the time to list them.
My recommendation? Price a few items at your yard sale, and make the rest 25 cents an item or "best offer." Get stuff gone. Lots of stuff. You're not going to do that selling books or DVDs for $1 apiece. You'll sell some, but you won't clear out in bulk.
Remember that it's not just about the money. Those items sitting in your garage waiting to be sold for $1 are worth LESS to you now than those items sold for a quarter. Think about it. That space is valuable.
If you really want to get crazy, figure out how much you're paying in rent or mortgage each month to house those items. You'll start looking at selling them for a quarter MUCH differently!
And when you're done that yard sale, whatever hasn't sold? Donate it and get a tax receipt. Again, this doesn't include your identified "big-ticket" items. But all those 50-cent and $3 and even $5 items? Free up the space, and get them to a good home.
Step 4: Regroup and restart.
If you've cleared out large items, listed some of your big-ticket items for individual sale, gotten rid of some "bulk" in a yard sale and by donating, you should start to see a significant dent in your pile of stuff.
That's when it's time to regroup and restart. Have you unearthed other large items that should go to make more room? Can you start grouping what's left into lots for selling as bigger-ticket deals? Are there things you can immediately donate or throw out, or is another yard sale in order?
Lather. Rinse. Repeat. Keep at it, and each time, it'll get easier and easier to find things, make decisions about them, and sell them or otherwise purge them. It's never "easy." But it does get better.
Bonus step: Set deadlines.
In the case of my garage, we've got a built-in deadline: Our friends need to move to Puerto Rico this fall. The stuff's got to be gone by then. That makes our decision process a lot easier. Yes, we'll take $20 for that $40 item if you can take it NOW, you know?
If you don't have a time crunch, though, I highly suggest you fake one! It's too easy to get stuck in procrastination. Pick a date and commit to it.
If you're paying rent on a storage unit, give yourself three months to get it emptied. Cancel your agreement effective that date. Then you've got to make it happen!  Otherwise, it's too easy to get overwhelmed, say, "I'll deal with that later," and end up in the same boat 5 years later. Trust me, I've been there!
Changing your mindset about stuff
This is really the key. You can clear out a space once. But you really don't want to be doing it two, three, four times. And it WILL build up again – if you don't change your mindset.
That's why I loved hearing from our friendly reader. She wrote:
Reading Man Vs. Debt articles has really helped me see possessions as anchors. I wish I could get my family to do the same. I ask for movie passes and restaurant gift cards as gifts and they get mad at me because I don't want some ancient paperweight from an estate sale. I've tried to explain how I have to care for, clean, and pack these items and I'd rather have experiences but they don't understand. They'd rather spend $$$ doing both and I'd rather save money and not have to bubble-wrap everything. I hope that once they see how nice it is to not live with stuff, they'll want their homes stuff-free and join me on the CL/eBay/Amazon crusade of cleanliness.
That's what we hope, too. And while there are deep, deep issues that go into situations of hoarding, many more than we can tackle here on MvD, we can give you hope that there's a plan to tackle the stuff, if you're ready and willing!
[share_sc]
Do you have questions about selling "bulk stuff" or experience doing so? Are you ready to get started?
We'd love to hear your stories in the comments!