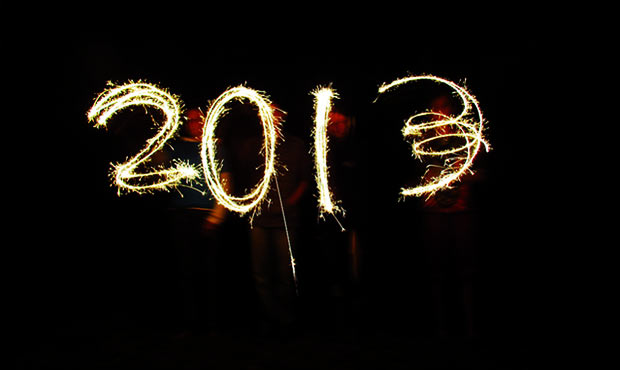 [share_sc]
Note: This is a post from Joan Concilio, Man Vs. Debt community manager. Read more about Joan.
This marks the end of my first full calendar year of updates here on Man Vs. Debt! (Though I'd done three-quarters of the year in 2012.)
At the same time, our family is in the process of job transitions, personal changes and decision-making.
Seems like a good time to take stock of where we've come this year. Next month, when I share our financial update, I hope I'll be in a position to share some particular news about where we're going in 2014, but for now, I want to showcase some of the awesomeness (and the less-than-awesomeness) that was 2013, and give you some ways to take a look at your own year in review!
Our six big financial wins for the year
Total debt INCLUDING mortgage: Down $10,484.76 this year, from $263,103.53 in December 2012 to $252,618.77 this month. I don't often include our mortgage in our debt totals, but as we hit a milestone in it this year, dropping our total owed below $200,000 AND, finally, not being underwater on the expected resale value, I wanted to celebrate this!
Total credit-card and loan debt: Down $7,057.32 this year, from $61,366.50 in December 2012 to $54,309.18 this month. This isn't even close to some of our past averages, but I'm proud of it. I fought for every penny of that – including the month where I was so proud that I ended $3.29 to the good from the previous month! When you factor in super-rough times like that, I'm incredibly proud of how far we came against this debt.
(The hated) Bank of America credit card:

Down $4,557.61

this year, from $19,809.70 in December 2012 to $15,252.09 this month. This is the card we're passionate about tackling, the one we throw anything extra against, and the one we most desperately want to be rid of. Since we started, we paid off more than $25,000 on this card, so seeing the remaining balance at "only" $15,000 makes me feel like the end is actually in sight!
Total money in liquid savings: 

$15,821.49.

 For those who read Man Vs. Debt regularly, you know that much of this came from a decision for which I took a LOT of heat, but looking back on the year behind and ahead to 2014, this money, where it is, is probably the only way I'm staying sane about some of the changes we intend to make! It was hard to make the decision to cash out my 401(k), but I'm more certain than ever that it was a win for us personally.
Tracking our progress: I'm serious when I say I consider this one of the biggest wins of 2013. We kept track, every month, even when things looked ugly. We shared our story here on MvD, and kept even more detailed records for ourselves. We had regular planning meetings with our accountant to be sure we were on solid tax footing. All in all, I feel like I'm finally getting to the point where I can say that even when it's not ideal, I'm ON TOP of our financial situation, and I love it.
Our family bookstore: Realizing a longtime goal, we took our first step toward owning a brick-and-mortar family bookstore. It's not huge by far, but we ended the year in the black, learned a lot about bookselling beyond Amazon, and, I think, found a way to better use the space in our home by removing a large inventory of books from it. So that's pretty amazing!
Three ickier parts of 2013
Rearranging debt: I've mentioned before that I am not a fan of debt consolidation. At all. For many people, it's a sideways move at best, and I have seen plenty of cases where it did more harm than good. In our case this year, we have two accounts that ended the year with a higher debt balance, both done intentionally and from moving money from other accounts, not through any new purchases. I'm calling this an ickier part not because it was awful, but because I should have trusted my gut. We dabbled in it, and as expected, it didn't do anything much except save us a handful of dollars on interest and confuse my tracking spreadsheet. Lesson learned.
The job market: So in good news, I've had several offers of work since I made it known that my husband was leaving his job to freelance, and I was looking to take on full-time employment (in addition to keeping some of my contract work, which currently takes up more than full-time hours). In bad news, many of these offers were also for contract work (and not benefitted, which is a key for me); some would not allow me to keep the contract jobs I have because of competitive arrangements; and yet others had distance or hours conflicts that were insurmountable. The good news is that I don't "need" to take a job, so I can be choosy; the bad news is, it's a rough job market, and I'm learning just how rough first-hand. I can honestly say that of the jobs I've applied cold to – not ones where I've tapped an existing connection – I've had almost NO response. That's humbling – and it makes me glad that my self-employment income is more than sufficient for our needs!
Stress-related decisions: We've had a rough year – some fairly decent-sized family health problems, some unexpected expenses, some personal worries and a lot of big decisions to make. Through it all, my stress level skyrocketed – and I'm sad to say that anything that I truly view as a "bad" financial decision came out of that. Everything from an impulse-purchase of silly earrings to too many lunches out because I didn't plan my menus as closely as normal, instead of reducing my stress or feeling like a "treat," made it a little bit worse. Individually, that $5 or $10 isn't a huge deal, and I've been working hard at giving myself room in the budget for those unexpected odds and ends. But when it adds up to a behavior pattern, it's a bit more worrisome. I'm pleased to say things are on a fairly even keel now, and I'm doing as much as I can to keep my decisions healthy, but it's still a low from this year.
A few highlights regarding non-money stuff
Fitness: I earned my first-degree black belt in tae kwon do in July!
Homeschooling: Our daughter, Sarah, who is 13, is now more than halfway through what would be her eighth-grade year if she were in public school and doing great. We're in the process of rebranding our family homeschooling website (a big part of our vision for 2014, which you'll hear more about next month) and we've had a ton of learning fun together.
Friends: I specifically went into 2013 attempting to make new friends. And I did – several, all of whom are amazing in ways I can't describe, and all of whom are introducing me to tons of new things and experiences (which was what I was hoping for). This might be the part of 2013 I'm happiest about.
Here on Man Vs. Debt
Your year in review
So I got to talk about me a lot here. That's fun. I guess. Maybe not for you, and if not, well, thanks for bearing with me!
But I say all this to get you thinking. So many of us focus on New Year's resolutions and goals for the coming year. That can be fine – but there is value in a look back, too.
I think the thing I've realized after taking a look back at the past year is how many directions I'm changing in. Professionally, financially, personally, and with regard to particular relationships, health… so many things! It'd be easy to limit myself to a review of one area, but really, my life has grown in SO MANY directions that I can't even begin to encompass them all. Your life will be very different than mine – but here are a few questions that I truly hope you'll ask.
Where did 2013 take you? Where did you start… where are you now… and where are you going? This can be related to a particular topic or life area, or overall. My short answer is that 2013 has taken me more toward "being me" and knowing what makes me truly happy.
What were your five biggest successes this year? Don't overthink it – just pick the things that immediately stand out, no matter how big or small.
What were your three "icks" this year? I don't call them regrets, and I don't call them failures. They're just "things that weren't super-great." And there are fewer of them than successes in this line of questioning for a reason. They're important, but they can't be your focus.
What did you create? Was it an amazing blog post, a beautiful piece of art, a system that made things easier for your coworkers, a welcoming entryway in your home, or something else? My goal is for everyone to be able to point to one tangible thing and say, "THAT. I made that happen."
What image or moment from the year sticks in your mind? Again, don't think too hard about this. What one picture or memory immediately pops into your head? Whatever it is, good or bad, think about the time surrounding it and ask yourself what it tells you about what's important. If it's a happy moment, how can you bring more of that type of happiness into your coming year? If it's a less-happy one, what made it so hard, and what can you learn about yourself through it?
[share_sc]
I could give you dozens of questions. But the point is not to create an endless set of journal-writing prompts (unless you're into that sort of thing, in which case, carry on!) My goal, though, is to get you started thinking back on your year. I hope your mind will wander. I hope you'll start thinking of things not even close to the things I've posed questions about. And I hope as you're looking, you'll find the good in 2013 and be ready to put the bad parts to rest.
Because, you know, next month, when we vision and shape our 2014… you've got to be ready for it!
I'd love to hear your thoughts on 2013 – financially and otherwise – in the comments today. 
Are you in?