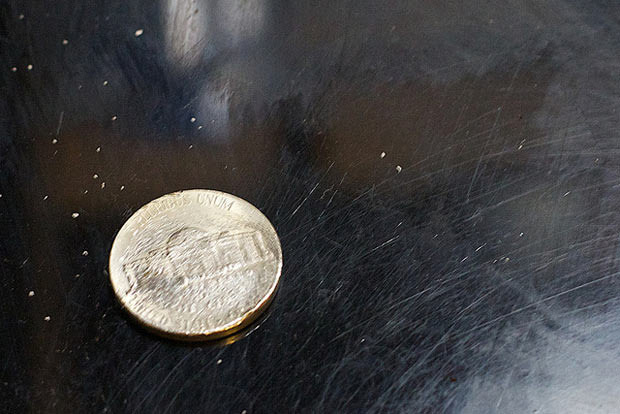 [share_sc]
Note: This is a post from Joan Concilio, Man Vs. Debt community manager. Read more about Joan.
I didn't hit any of my Very Next Step goals on our five remaining debts this month. I didn't quite top the $30,000-in-debt-paid-off mark. (Though that's coming next month!)
But I DID commit to something big. More on that in a minute, but first… if I'm still $60,451.85 in debt, why on earth do I think 2013 will be a great year?
Where we're starting 2013
Still to pay off: $60,451.85
Paid off to date (since Jan. 1, 2011): $29,235.38
Percentage of debt paid off: 32.60%
Amount paid off since last month: $914.65 (with another payment of $600 to come in the next 24 hours, for a total of $1514.65)
I recap all those on my Joan's Finances page, which you can see any time, but I wanted to put them out there loud and clear as we kick off our first full calendar year together.
We've come a long way. Being almost a third of the way to credit-card-debt FREEDOM is huge for us. It took us two years to get this far, and THANKFULLY it won't take us four more years to knock out the remaining two-thirds of our balance.
Our 2013 goals
The big number: Our plan shows that we'll be right around $40,000 still owed as of Dec. 31, 2013. Of course we want to be SURE we're under that, so that's Goal #1 – Total debt under $40,000.
The other big number: That matches up with the other "half" of the number, and that's the one I'm more interested in celebrating. If we hit Goal #1, we will also almost certainly hit Goal #2, which will just be a slight stretch more work – Total debt paid off OVER $50,000!
The BoA Constrictor: Our most-hated debt, the thing we're hitting with our debt tsunami approach, is our Bank of America credit card. It had at its highest a balance of about $40,000. Right now, it's down to $19,220.11 (yeah!)  This is the mega-goal. The one that will be hardest to reach. Goal #3 is… drumroll please… Have BoA paid off by Dec. 31, 2013! That's not going to be easy (in fact, we'll need to be almost $5,000 ahead of schedule to reach it), but what fun are goals if they're not audacious?
Being part of something big
OK. So. Audacious. Let's talk about that.
Late in 2012, I agreed to join the Debt Movement, which has a goal to help its combined group of participants pay off $10 million in debt.
THAT'S A LOT OF DEBT.
If I were 100% consumer debt free, that would be less than 1% of the group's total. If I were debt-free including my mortgage, it'd only go up to between 2% and 3%.
That's why it's a community thing – and anyone, not just financial bloggers, can join at www.debtmovement.com. (Yes, this means you!)
I'm audacious in a lot of ways. Not the smallest one is that I'm willing to air my financial dirty laundry here (and also in an interview for the Debt Movement site that you can read here). The goal in me telling this story over and over, as many places as I can? To help other people know that there is hope, and that you CAN get out of debt, even if your total is pretty honkin' big. I hate looking at the big number, but yet it's oddly motivational.
In the case of the debt movement, though, I love looking at that big number – because of how amazing it will feel WHEN we accomplish it!!
I'd love for you to join me at The Debt Movement. Joining basically means you agree to keep track of your debt-payoff progress and report it (without your name attached) for the big huge debt-payoff counter.
There will be Google hangouts for participants with some personal-finance bloggers and experts, there's the option to track your payoffs with ReadyForZero, which is a neat web app I'm enjoying, and there are even some scholarships (where you can win money to put TOWARD your debts, how cool is that?)
[share_sc]
So what's your audacious financial goal? Tell me in the comments!
Can't wait to cheer you on!