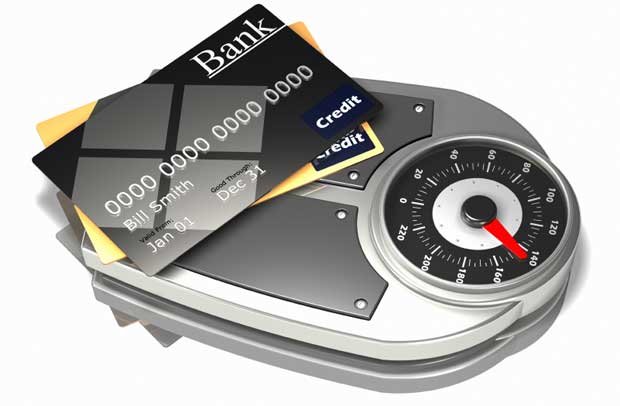 [share_sc]
Baker's note: This is a post by Joan Concilio, the "community manager" here at Man Vs. Debt. Expect to hear from her more and more in the coming weeks!
Hey, it's Joan! Hi again. So in my introductory post here on Man Vs. Debt, I shared with you the cold, hard truth about our financial picture. (It wasn't pretty.)
I got into the numbers behind our debt, to the tune of about $70,000 currently before the mortgage, and about $90,000 at its worst. But those aren't the only, uh, not-pretty numbers I've been keeping track of in recent years.
While I was getting deeper and deeper into debt, I was also getting fatter and fatter.
After the birth of my daughter in 2000, my average weight was around 117 to 130. But at worst, in early 2005, I carried about 170 pounds on my 5-foot-4 frame. That's not the end of the world, but it's about 50 pounds heavier than I should be, especially in light of some health problems that weaken my joints.
50 extra pounds of weight on my knees meant I was, at one point, looking at having a knee replacement in my early 20s, to which I said NO FREAKING WAY.
That was my turning point.
I joined Weight Watchers, started exercising, and eventually reached a goal weight of 118 pounds around Christmas 2006, essentially dropping 50 pounds from my highest weight. I even became a Weight Watchers leader as one of my (many) side jobs.
Since 2006, my weight has fluctuated like crazy, mostly between 118 and 145, all still in the "healthy" range for my height according to the body-mass index. 145 is my top "healthy" weight, and anything above that is considered overweight.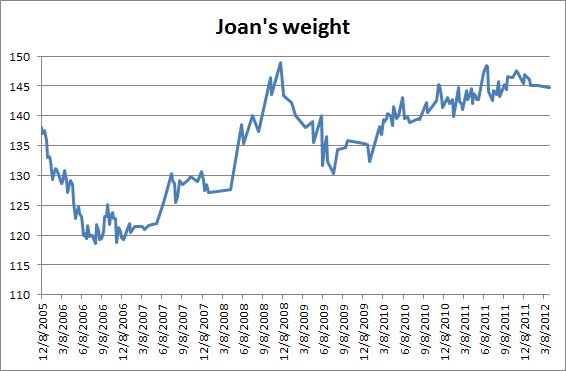 Well, guess what?
As you can see by my not-at-all-nice graph above (which doesn't even INCLUDE the heaviest points, because of course I wasn't interested in keeping track of those) … well, for the past year or so, I've been on an up-hill climb, headed suspiciously close to – and sometimes veering scarily into – overweight.
Like, "a heavy sweater on weigh-in day puts me over" kind of close. And my body-fat percentage is about 30%, which means about 43 pounds of ME is made up from fat. You need some fat – but not that much.
And I hate it.
Yes, I'm not back to my highest weight. I'm still in single-digit pant sizes (ladies, you know this is big!) But I'm not doing what I need to do to be my healthiest.
And, BMI aside, I feel fat.
145 is more weight than I'm comfortable carrying. I'm tired, and my knees hurt, and quite frankly I know that I'm not going to stay at 145.
If I don't make a change, the fact is, I'm going to gain more weight back – weight I once worked really hard to lose.
So why I am writing about this on Man Vs. Debt?
Because Baker's also trying to get back to a healthier weight? Well, yeah, that factors into it. But what really sparked my interest was a forum topic during our Kickoff 2012 You Vs. Debt class.
We were talking about "Patterns" – things we noticed that lots of class members had in common. And the biggest thing to come up was that being in debt seemed, for a lot of people, to be linked to both having a lot of clutter and being overweight or making unhealthy food and exercise choices.
It turned into an incredibly poowerful conversation, and I felt like one member, Laura, really summed up some of the problem I've noticed in myself. She says:
It seems like the urge to overindulge in food I don't need comes from the same place as the desire to spend money I don't have. Both overeating and overspending seem to be an attempt to fill a void in my life that can't actually be filled with either food or possessions, but rather can be filled with relationships and rich experiences. Both overeating and overspending are a form of "giving up hope" and "giving up control" over my life. Tracking feels to me like I'm grabbing back the steering wheel, and making a choice about where I want to put my attention and steer my life.
That's exactly it.
I firmly believe that when you make a CHOICE to change, you can alter the course of your life. I also believe that those choices and lessons are very transferable!
5 things I learned while losing weight that are helping me pay down debt
1. Write it down. In Weight Watchers – and MANY other weight-loss and exercise plans – a key tenet is keeping track of what you eat. If you don't have an accurate record, it's way too easy to delude yourself about what you're really taking in and expending. In You Vs. Debt, a key tenet is writing down what you spend, and creating an accurate picture of what you owe, for the same reason.
2. Get support from others on the same journey. I was a big fan of the weekly meetings in Weight Watchers, even before I started leading them. (And now that I'm not leading regularly, I miss them!) It felt SO GOOD to know I wasn't alone, and to get encouragement both when I had successes and when I had challenges. That's also what brought me to Baker and You Vs. Debt as a participant – I needed a community around me. I'm not someone who can succeed on my own! Find your support system.
3. Splurge where it really matters. When I was losing weight, I would often make some pretty basic substitutions. (Baked chicken, veggies instead of fries, etc.) But if I was really craving a phenomenal cheeseburger, I did NOT follow the "diet" advice of having a low-fat English muffin with a veggie burger patty and low-fat cheese on it. I didn't even "splurge" by getting a small McDonald's cheeseburger. No, I would go to my favorite local restaurant and get the most wonderful concoction of feta cheese and ground beef layered on a thick bun, probably the equivalent of about 2,600 calories, and I'd dig in. It's the same with money. I buy most of my clothing at Walmart or the local thrift store. But I spent $250 yesterday on a purse – because I'll carry it every day and get years of use out of it, whereas my cheapo purses generally only last me a few months before getting holes in them. Pick what matters – and really enjoy your splurges. But don't splurge where it doesn't matter!
4. Don't get frustrated when your progress plateaus. I'm pretty sure there's not a human being alive who's lost weight in a healthy way without hitting the occasional slowdown or plateau. I'm also pretty sure there's no one in the world who's tried to pay off $90,000 in credit-card debt who hasn't had months where they were able to pay just the minimums. That's OK. Don't beat yourself up. Just keep doing what you need to do, and your progress will show again soon.
5. Check your progress regularly and assess what's working. In Weight Watchers, members who are in the "losing process" are asked to weigh in each week. This, combined with the tracking system I mentioned earlier, gives you feedback on what's working and what's not. If the scale moves the direction you want, then the choices you made were probably pretty OK ones. If the scale doesn't move the right way, then you can look back over your tracked food, drink and exercise, and see where you can make a change. The same goes for your finances and your budget. I don't know how many people I know who've set up gorgeous works of art and called them a budget. But these same people – myself included – are often guilty of not revisiting them and seeing what works and what doesn't. Check yourself. See what's working, and CHANGE anything that's not!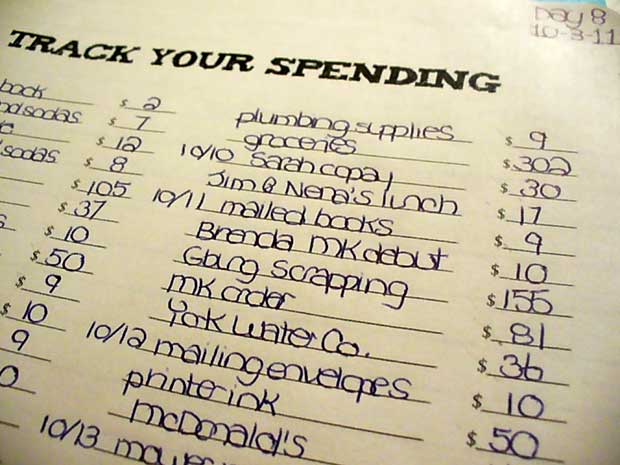 5 things I learned while paying down debt that will help me "re-lose" 20 lbs.
1. Don't overcomplicate it. I am a famous overthinker. Until recently, I had spreadsheets for my spreadsheets when it came to debt reduction, and I was trying 10 different approaches at once. When I narrowed my focus, followed the You Vs. Debt course and didn't try to throw in 50 other tips, I was successful. Same for weight loss and fitness. I'm struggling now because I want to do too many different things – Weight Watchers, juice fasts, 4-Hour Body… it all sounds great to me, but I've got to pick an approach. I'm also not going to be able to realistically schedule the gym AND regular tae kwon do workouts AND sessions with a trainer AND long hikes AND Nerd Fitness. So I'll pick what seems most manageable and focus on those.
2. Set up specific, tangible "Very Next Steps." This is a total You Vs. Debt thing. When you have more than your year's income in debt staring you in the face, the old advice of "pay off your smallest debt first" doesn't really get you psyched up. If you've got 100 or 50 or even 20 pounds to lose, it's not really very motivating to say, "OK, that'll be great when I reach that goal." You need to pick what Baker calls your Very Next Step. Is it to track what you eat for a week? To exercise 3 times? To lose the first 5 pounds? When you reach that, set the next one. Then the next.
3. Don't be overly restrictive. Ohh, I'm so bad at this. While paying off debt, we've gone through phases where we eat cheap hot dogs and don't buy anything – ever. We use up the little toothpaste samples from the dentist rather than buying Colgate. That sort of thing. And you know what? These periods of "starvation" almost always result in a binge later on. The same goes for food. I'm not someone who's going to succeed in long-term habit change by saying I'll never eat a potato chip or a french fry again. I know that about myself. So, while I'm certainly going to limit those things, I'm not going to restrict myself in ways that aren't sustainable.
4. Remember that it's a marathon, not a sprint. Getting out of debt takes a while, and so does losing weight. If you take your time and do it RIGHT, you'll make it to the finish line. If you try to rush – like, say, dumping a ton of money on paying off a credit card, but having no emergency savings – you're only going to hit a setback later. The same goes with weight loss. I could lose 10 pounds this week, but that wouldn't set me up with good habits for long-term change. So I need to commit to building good habits the right way.
5. It never ends. That sounds depressing, doesn't it? But I realize that right now, I'm aiming for this really specific goal of having $90,000 in credit-card debt paid off. Great – but that's where the real challenge begins; I need to live a life in which I won't ever carry consumer debt again! I was slow to realize that about weight loss. I hit my weight goal, and I "sort of" maintained, but it wasn't until recently that it really clicked – this is a forever thing. I'm ALWAYS going to have to work at this. Maybe not as hard at some points, but the fact is, there's no rest for the pear-shaped! 🙂
So what's next?
Much like with my debt, I'm going to put it all out there for you guys. You get to hold my feet to the fire! My "big goal" is to be down to 125 pounds and less than 20% body fat by the time I take my black-belt test in tae kwon do, in about another year.
My first step regarding my diet is to track what I eat this week and for the following three weeks using Weight Watchers' system, and to stay within what they recommend for me as a daily target.
My first step regarding my activity level is to go to tae kwon do class at least 3 hours a week for the next month (if not more!) and to get to the gym at least once a week for an hour, preferably twice.
Can I do it? I think so – and the habits that are helping propel me out of debt will help me get there (and vice versa)!
[share_sc]
Do you feel like there are parallels between your "money life" and other areas of your life?
What habits or skills have helped you tackle both issues?
Would love to know what you think!