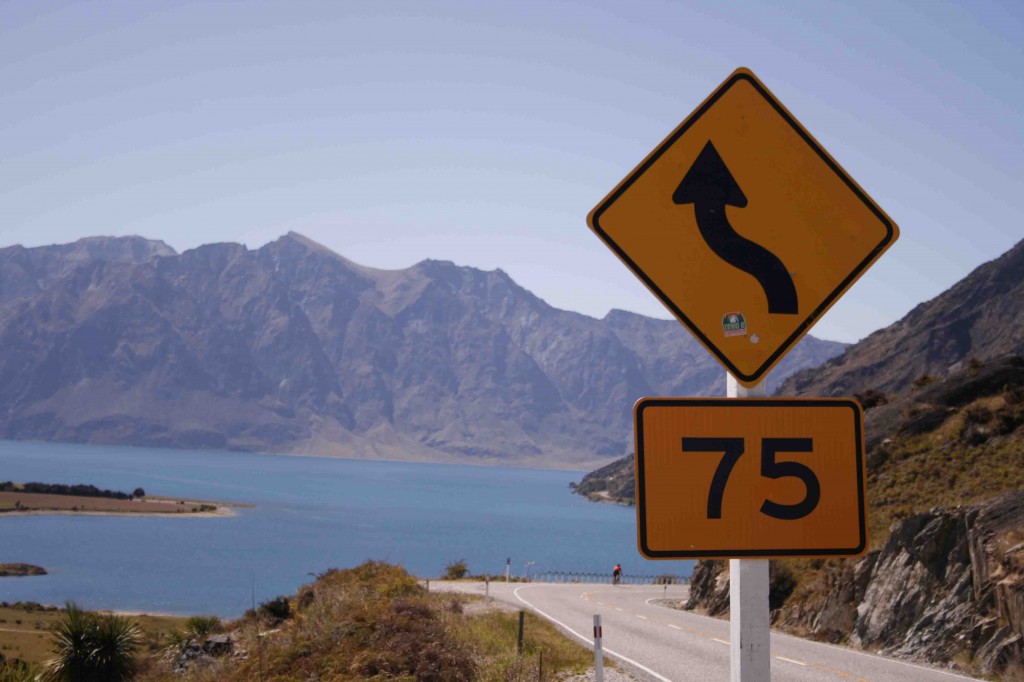 This post is a travel update of our two-week driving tour of the South Island in New Zealand.
If you cannot see all the videos, click here to visit the post directly!

After spending months in Auckland anticipating our upcoming two week driving tour of the scenic South Island, the day was finally upon us.
This time our adventure started a day early as we had to fully check out of our apartment, fill out bond return forms, and turn over the keys.  With the formalities out of the way, we took a 45 minute bus ride out to the airport where we stayed at at the "Best English Manor Replica Motel in New Zealand".  I love titles like that.
We got very little sleep as we boarded our 4:30 free shuttle (a van driven by the only person who worked the desk) to the airport for our very early flight to Christchurch.
I quickly fell in love with the domestic terminal of the airport as they had genuinely free internet kiosks scattered all around.  Courtney and I laughed as we noted that not once were our I.D.'s checked.  We didn't even pre-print our tickets.  We simply went to the counter and stated our names.  Not during check-in, through security, nor when boarding did they confirm or ask for any identification. Not sure if this is standard or not, just something we talked about as we boarded.
Couchsurfing Christchurch
After landing in Christchurch, we gathered our bags and headed past the taxis and shuttle to catch the public bus into town.  We had to catch another much shorter connection in the downtown area to get to our host family's neighborhood.  Our growth in understanding how public transport works (and Courtney's great planning ahead) made this go much more smoothly than anytime before.
Apparently, though, our Google map reading skills could be slightly improved as we turned a 15 minute walk from the bus stop to our host house into a 40 minute walk mostly by me insisting that west was east (as we walked in the wrong direction half a dozen blocks with all our possessions).
Alas, we finally did find our target house and met our wonderful host family.  Just like our Couchsurfing experiences in the past this one exceeded our expectations.  Helen, Darren, and Maddi (5 years) were terrific hosts, with Maddi paying special attention to act as Milligan's "big sister for the day".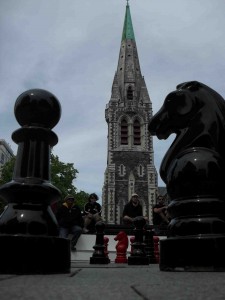 Helen and Maddi drove us into town where we explore the plethora of free museums, exhibits, and art galleries.  Most uniquely (at least for us) were several older school buildings which had been converted into artist studios.  You could walk the halls and talk with different types of artists in action, from weavers, sculptures, painters, jewelry makers, and basically anything else you could think up.  I'm assuming that the artists pay a fee to rent the rooms where they can go to work and occasionally sell a piece of their art to people who meander through.
After a day exploring Christchurch, we returned for dinner which included lentil patty burgers with lettuce, tomatoes, and mushroom picked straight from their garden (we picked up some buns, cheese, chips, and cookies biscuits for dessert at the local supermarket).
The kids eventually made their ways to bed as Courtney and I stayed up to chat with Helen and Darren about everything from traveling (they spent 6 months traveling Australia when Maddi was only 5 months old) to real estate differences, parenting philosophies, different types of schools, and funny talks about accent difference from Australia, New Zealand, Canada, and different parts of the U.S.
They had also spent a couple years living in Melbourne, so they advised us on their favorite parts for our short week-long stop coming up.  Here's a video of our 'couch' where we slept:
As I mentioned in the video, while many people only view Couchsurfing as a free place to sleep, we would gladly pay motel rates for the experience.  It's not about money as much as meeting great new people, learning a little bit from each visit, and getting a first hand perspective of the city. We are looking forward to returning the hospitality once we settle down (wherever that is).  🙂
A Quick Reverse-Hitchhike & Rental Car Issues
In the morning, we said our goodbyes as Darren headed into work and Helen escorted Maddi into Kindie on their bikes.
As we were walking out of the neighborhood we had a car pull up beside us and ask us if we needed a lift to the bus stop.  It was probably only another 10 minutes or so by foot, but with our packs full and our stomachs empty we decided to accept.
Our impromptu taxi driver was an overwhelming nice New Zealand woman whom had traveled herself with her son.  In her own words, "No worries!  It's the holiday season and it just as easily could have been me walking with wee Daniel."
As we made the short drive to the bus stop, we noticed the bus was getting ready to pull away from the stop.  Oh well, we thought, it wouldn't be the first time we waited another 30 minutes for the next bus.
But our new friend driving the car, wasn't as willing to let the bus pull away before we could get there.  Heading the wrong direction, she pulled along side of the bus driver's window…
"Hey, do me a favor and hold up a second!  I've got Americans in here!"
Blushing with embarrassment, we quickly unloaded our bags, unhooked Milligan's car seat and scampered onto the half-full bus of people who had waited several minutes on us while we turned around and unloaded.
Luckily, the rental car place was a quick jolt away from our downtown bus depot.  Pulling up to the counter to check in, we were excited to pick up our car and tent we had rented for the trip.
Unfortunately, we were informed by the guy at the counter that they had just ran out of the tent/camping packages and didn't have one to fulfill our reservation.
Baker: We reserved this several weeks ago.  How does this sort of thing happen?

Attendant: Well, it must of been a mistake on someone's part here.  The only option is for you to drive over to the airport and pick one up from our other location.

Baker: Ugh, that's not exactly convenient for us.  We have very limited time to drive to and see Kaikora tonight.  I guess we have no choice, though.

Attendant: No sorry, it's our only option to get you a camping kit, today.

Baker: Well, I guess we'll have to do that then.  Being that we rented this nearly a month ago and now we have to detour over to the airport, can you knock off a chunk of the price for us?

Attendant: Yeah, I can do something for you.  Again, I'm sorry about this.  [pause] How does $25 sound?

Baker: Can I be honest? I know this all isn't your fault, but I was looking for a little more.  We paid an extra $150 to get the camping kit.  It just all seems like a hassle at this point.

Attendant: Umm…  well, hold on one sec.  [Pause for 30 seconds or so while continuing to type and fill out registration details]…  I guess I could get you $50 off.

Baker: That's sound very reasonable.  I appreciate your help, man.
On one hand, I've been told by several people that New Zealanders are not used to giving discounts or negotiations of any sorts, so I felt a little more awkward than normal.
On the other hand, I know how they likely run out of tents they have reserved.  They probably rented it out to someone else who decided to add it on at the last moment.  Either way, we still paid $100 bucks (after discount) to rent a tent and camping gear for two weeks, so I doubt they aren't still turning a profit on that exchange.
Kaikora and driving on the 'wrong' side of the road.
I'm not ashamed to admit I was a little cautious about driving.  I didn't know what to expect and hadn't driven anything since being overseas, besides a glorified golf cart back on Magnetic Island in Australia.
The tension only lasted about 3 minutes in terms of driving on the left side of the road.  After my first couple roundabouts (they seem to be everywhere here), driving just became automatic again.  The only consistent issue (it still catches me even after a week) is turning on my turn signal.  At least the first 15 times I went to signal I turned on the windshield wipers. I'm about 50-50 now after a week.  🙂
The drive to Kaikora is one side of the Alpine Pacific Triangle, which in my mind there can't be any better way to start the trip.  We quickly found out what driving through the South Island was going to be about.  100 km speed limits embedded with dozens of hairpin and s-curve signs with 15, 20, and 30 km suggested sharp turns.
The first couple of hours kept me on the edge of my seat driving, which I thought would wear off.  Well, it hasn't. I've driven over 2300 kms at this point and I still haven't gotten tired or needed music while driving.  The roads do a great job of keeping you on your toes and the constant scenic views negate the need for any other form of entertainment.
The path led us through the Waipara Valley Wine Region, up into the mountains, and finally along the stunning ocean coast line.  We arrived in Kaikora, an old whaling town, which is still famous for it's whale and dolphin sightseeing trips.
A formal whale-seeing tour wasn't in our budget (re: expensive as all get out), so we opted for a free walk through the small town and over to the rocky Point Kean to see the common seals of the area.
As it turns out, a couple of the seals cooperated with our travel plans.  We carefully jumped from rocky outcrop to rocky outcrop to make our way out to where the seals were playing.  Milligan giggled at the large seals, although I'm fairly sure she still thinks they a just really fat 'puppies'.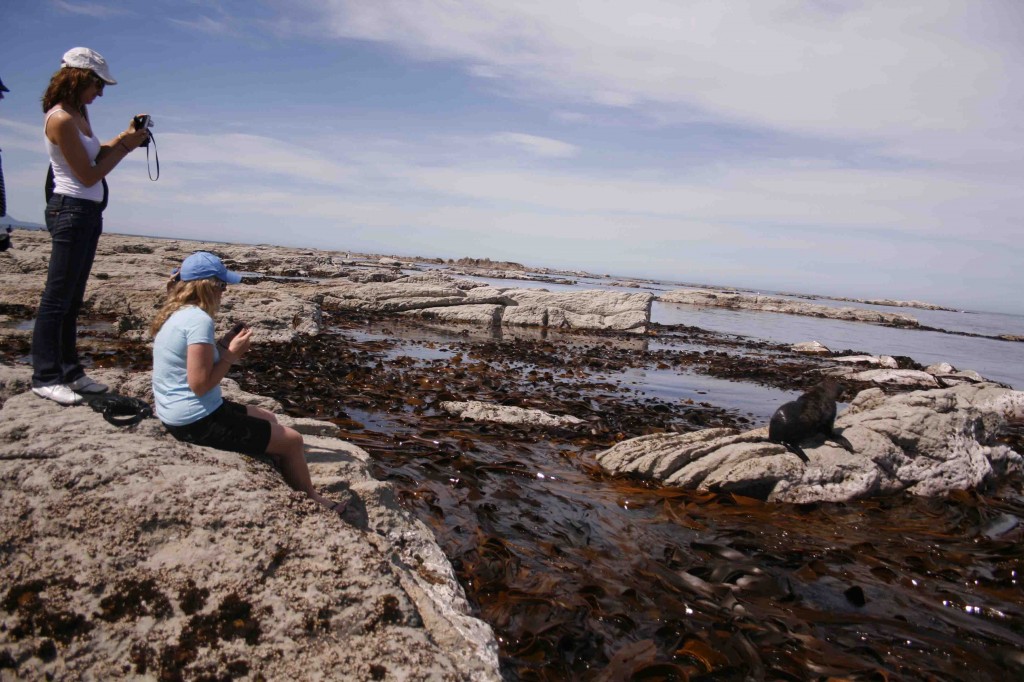 It was getting late and we still had over an hour drive to our first campground of the trip.
Hamner Springs and first night camping.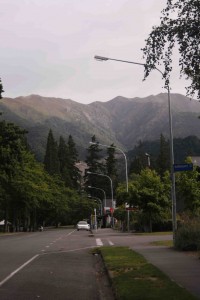 We arrived in the small town (every town was smaller than we anticipated) of Hamner Springs right around 7 p.m.  Which just so happened to be just in time to catch the yearly 'Santa Parade' with what seemed to be the entire population of the town either participating or watching.
We sat on the side of the short street as Milligan danced to the group of about a dozen bagpipers.  By the time the parade ended, it was time to drive just 5 minutes outside of the town to our first campground.  It was sort of a camping 'light' experience as the campground was really just an open field at the edge of some housing.  We didn't mind, though, as it was a good trial run for some of our more rural sites to come.
As soon as we exited the car to set up the tent, though, we were swarmed. I believe they are called sand flies around here, although I'm still not sure.  We would have called them gnats, however the gnats in Indiana tend not to bite you every .5 seconds.  Either way, Courtney and Milligan took shelter in the car as I desperately tried to set up the tent as dusk approached.
I figured out, either I'm a complete idiot or we are missing some pieces to our 'camping kit'.  Either option is completely reasonable.  The end result, was a great demonstration on how NOT to set-up a tent.  For those of you, who would like a laugh, I even snapped a photo: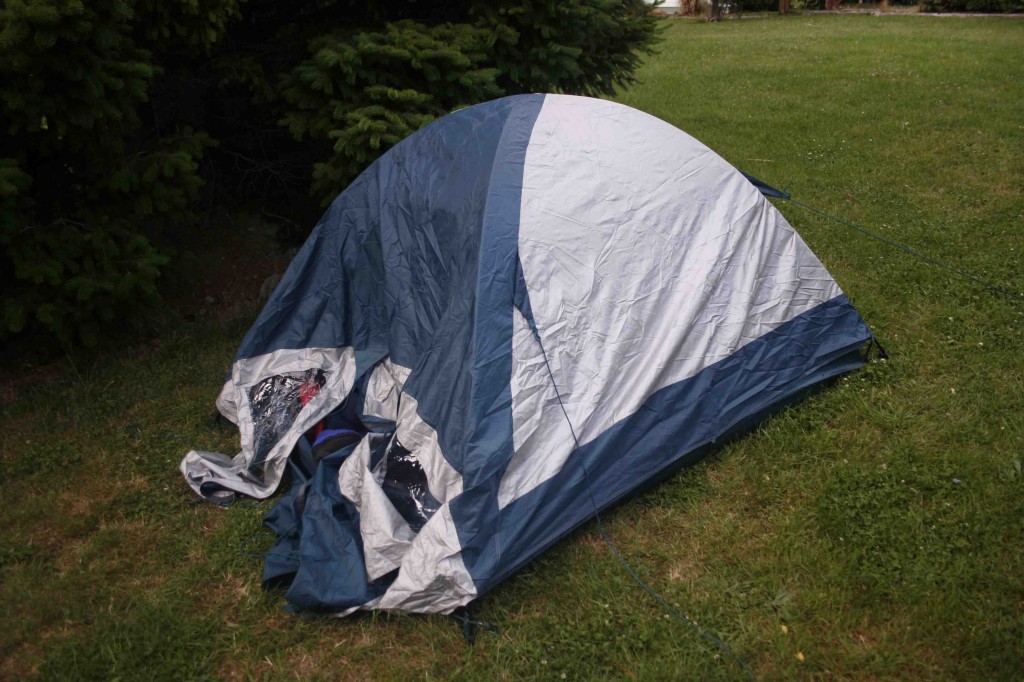 Taking the Lewis Pass and even more seals (much more).
We survived Milligan's first night sleeping in the tent (it actually went very well once we shut out the insects).  We grabbed a couple kumara and cashew quiches for breakfast and set-off to drive through the mountain range via the Lewis Pass.
It was raining at this point, which at first seemed like it might ruin one of the projected best drives of the whole trip.  In reality, it was just the opposite.  The rain fully fueled the spectacular waterfalls on either side of the road and provided a great 'haze' to the mountains are we curved around and through them.  It was an awesome added effect.
After the mountains came the rich forest of Victoria National Park, which again were augmented by the drizzles and haze.  We made a quick pit stop in the West Coast hub of Westport, before driving to the Tauranga Bay Seal Colony.
Here a 15-minute walk enabled us to overlook a 'harbor' of sort for the seal colony as they avoided the rough seas.  I would say there was at least 3-4 dozens seals around the rocky outcrops, with plenty of young pups (are they called pups?) waddling amongst the rocks.  Check it out for yourself:
Punakaiki Pancake Rocks & a 3-hour search for a bed
As afternoon approached, we drove a little over another hour (again through amazing scenery, this time more of a tropical coastline) to the famous Punakaiki Pancake Rocks.
Our plan was to camp out after viewing the natural landforms, but after we were finished with our quick walk it was still very wet and rainy.  Without a ground tarp or much experience with how cold or wet Milligan could get, we elected against camping and searched the small town of Punakaiki for accommodation.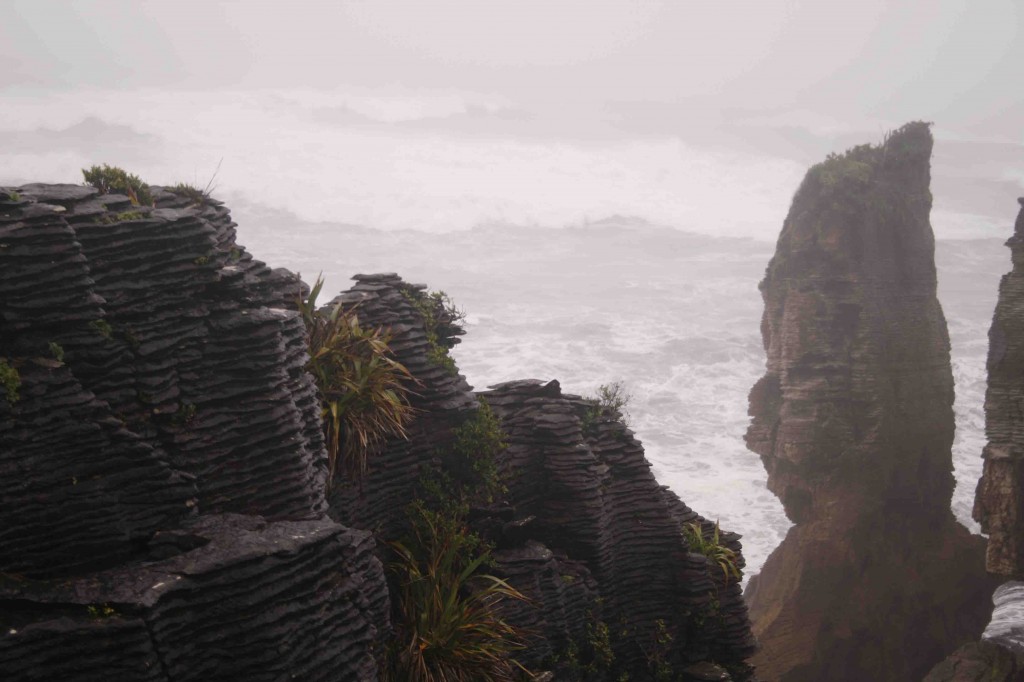 As it turns out there was a local wedding for the next day, so almost every single bed in the 4 motel/hotel/cabin options in the town were taken.  Of all four potential locations, only one had any openings:  a single $55 cabin left.  We quickly jumped on the opportunity.
As Courtney reached for the 'Accommodation Envelope' we noticed one big problem… we had ran ourselves out of cash!  Doh. We had our EFTPOS card (sort of like debit), but to our despair they didn't accept EFTPOS.  The clerk said we could put it on our Mastercard (our American debit account) or run down the street to the ATM and he'd hold the room.  Since we had to get cash anyway, we decided to make the trip to the ATM.
Courtney grabbed a receipt from the clerk for the room saying he would hold it.  We made the short 5 minute drive into town to search for the ATM.  The information center told us it was in the tour booking shop.  The touring booking shop said they thought it was in the diner next door.  And finally, two people in the diner assured us that, "I'm positive there is no ATM in all of Punakaiki, we get that question all the time…"
Ugh.  No worries, we thought.  We drove back to the motel, ready to use our U.S. debit card.  You can probably see where this story is going. In the 20 minutes we were gone, they had rented away our room (despite our receipt and promise).  I decided it was best for me to go to the car, before my 'hulk mode' came out.  Courtney asked about other options, but there were none.
The next town was another 60-90 minutes away.  So we sucked it up and hit the road again.  Luckily, the road was awesome, which helped ease the pain of our stumbles.
I'll save you the gory detailed, but let's just say we found a place to sleep 3 hours and 4 small towns down the road in Franz Josef (which was our next destination, we were just around 15 hours early).  The only option that the hostel had left was dorm rooms, however one of there 2 bunk (4 bed) rooms was void of any other travelers.
It was approaching 10:30 p.m., so we decided to take it.  The bartender (whom also was checking people in) assured us he'd do our best to "put the other stragglers in bunks in the other dorm rooms." We noted that we'd appreciate it as Milligan would be less than happy to be woken up at 2 a.m. by a drunk backpacker (and the backpacker may be less than happy to share the room with an angry Milli).
Man Vs. Glacier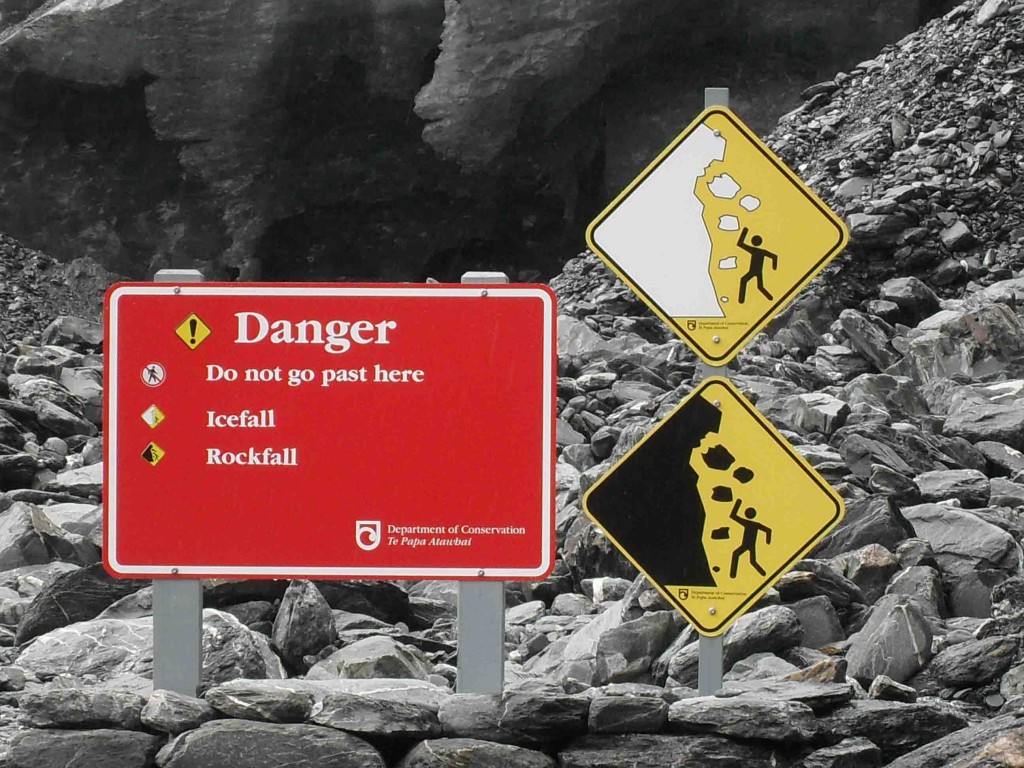 No stragglers were brought to the empty bunk in our dorm room and we got some decent sleep.  As it turns out, I would need it as my morning/afternoon would consist of some good 'ole fashion glacier hiking.
Throughout the trip, Courtney and I have decided to split up many of the more adventurous excursions that Milligan wouldn't be able to participate in.  While we'd love to do them together, it's simply one of the sacrifices we have to make when traveling with a toddler.  I'd hike up Franz Josef glacier and later Courtney would get to Bungy Jump in Queenstown, etc…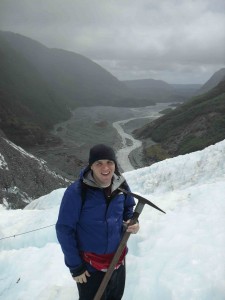 The morning guided tour (you have to use a guide to go on the glacier) had one spot left, which was perfect.  I got suited up in my heavy duty boots, trousers, waterproof jacket, sock cap, and gloves and boarded for the short bus ride to the walking path.
After the short ride, we walked for about 15-20 minutes to get to the basin of the valley carved out by the glacier.  The valley is actually now 2.2 km long, but only 100 years ago the ice filled past the point where we entered. It was a great visualization of how quickly (and massively) the glacier was retreating back into the mountains.
Rather than try to describe the entire experience, I spliced together some of the videos I took along the way.  I was unable to tap many parts of the climb, but this video gives a nice selection of what it was like.
Standing only 1km up the the glacier wall (it actually goes up 6 km, but that takes around 3 days), it was an amazing feeling. There was a slight drizzle of rain which created a light haze to view the beautiful valley below.  The stark whiteness of the ice made the greens, blues, and yellows of the terrain appear so vibrant they almost appeared to not be real.
Off to Wanaka…
With sore feet from climbing in spikes over rocks and through ice, I met Courtney and Milligan back at the tour office.  Our next campground awaited us halfway through the Haast Pass (yet another mountain/hilly pass) toward Wanaka.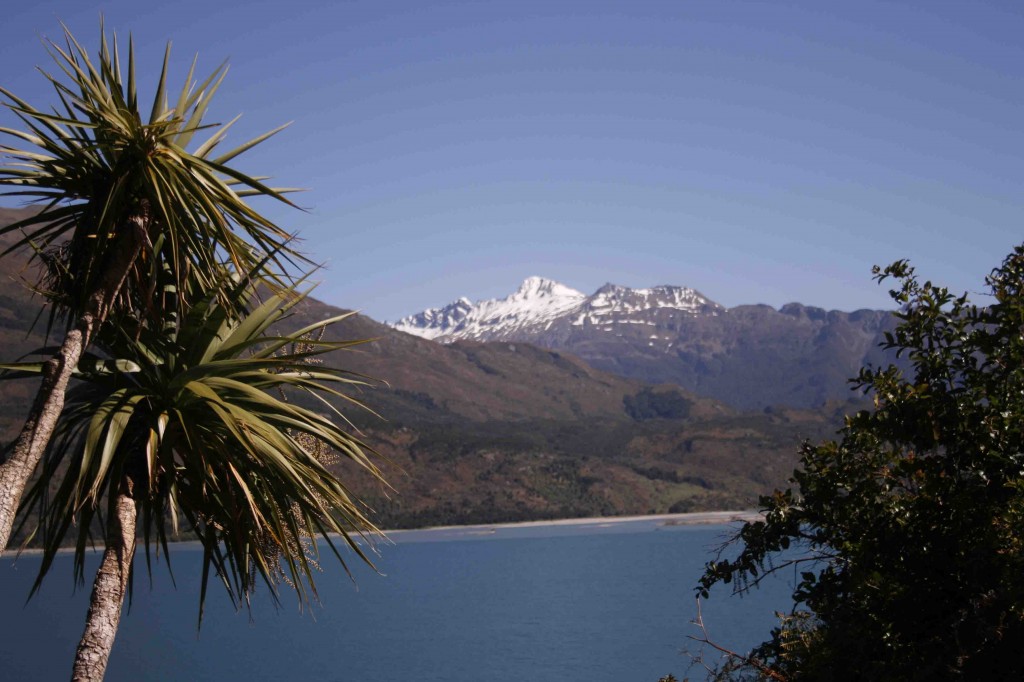 We thought the best scenic views may have been towards the beginning of our trip.  After all, we had seen an amazing variety of beaches, mountain cliffs, dense forests, and sheep-filled hills.
As it turns out, though, we were wrong.
It was only going to get better and better…
photos by Courtney Baker, to see all the videos click here to visit post directly.