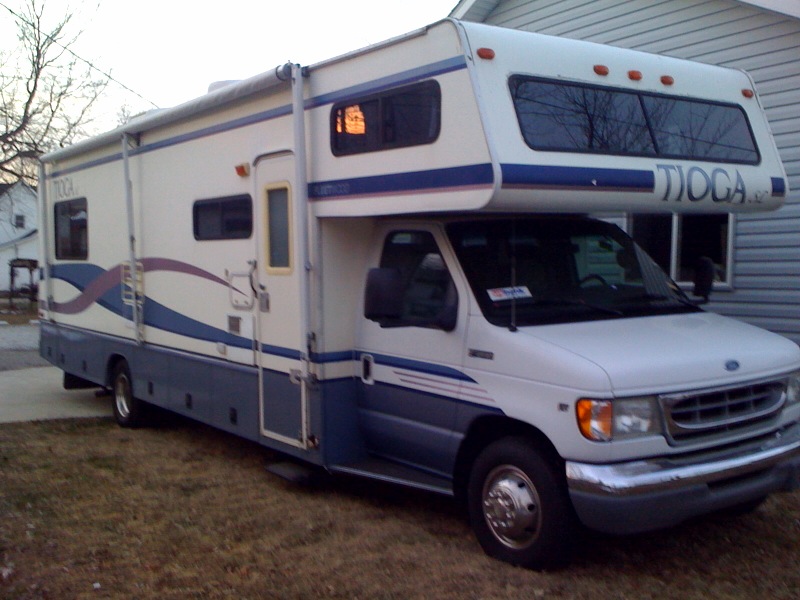 [share_sc]
For the last month, I've been alluding to a big "announcement" or a semi-radical life change that was coming up. Today, all is finally ready to be revealed.
We are moving… into an RV!
Starting at the beginning of 2011, Courtney, Milligan, and I will be packing everything into our new (to us) RV and hitting the road for a year-long U.S. tour.
This has been in the works for months and months, but up until recently we weren't sure what the timing would be. In the last few weeks – thanks to the help of some friends – the final pieces have been placed together.
Why an RV?…
Well, there are several reason we enjoy this concept.
In fact, long-time MvD fans may remember me talking about this as a next possible step even as we were traveling abroad. We'd always had RVing the U.S. towards the top of our future travel list.
However, in late January of this year we made the decision to return home (back to Indiana) from Thailand. I blogged openly about our back and forth between full-time traveling and "settling down". It was a hard decision, but after 6 months back here in Indiana – it was clear to both Courtney and me that we weren't done with travel yet.
We knew we still wanted to explore a bit – and although we had done a small amount of overseas travel recently, there was still a huge amount of our own backyard we hadn't visited. We want to see what our own country has to offer!
In addition, an RV allows us to remain flexible in our location – while still having a resemblance of "home". We feel like it gives both us and Milligan a bit of stability and eliminates part of the downside of the frequent, budget travel we did last year.
Of course, RV travel comes with its own set of challenges, especially when you consider Courtney and I have a combined ZERO experience living or operating one.
However, I had no experience when I started this site two years ago. We had little to no oversea travel experience when we landed in Australia last year with nothing to our name but two backpacks. It's not stopped us before, so why now?
But above all, the number one reason why we chose to R.V. is… you.
We'd love to meet you!
My absolute favorite part of this blog (and travel for that matter) is the ability to meet other like-minded readers, bloggers, and families. I love going to "meet ups", sharing a meal with new friends, attending conferences, and generally just hanging out (a.k.a. playing board/card games).
If you'd like to meet up with us on the road – more on that coming soon!…
What type of RV?…
Once we knew that we wanted to pursue cross-country travel, we still had to decide just how we would get around. For those of you *not* familiar with RVing – there are dozens of options, models, and class combinations to consider.
Having never RV'd in my life before, it was hard for us to grasp all the information in the beginning. Sure, we could read reviews, blogs, websites, and books – but it's just not the same as being able to feel, touch, and try out some on our own.
Luckily, I have some amazing friends and connections.
Nearly five months ago, when we first thought this adventure could be a realistic possibility – I knew who to call first: Chris and Cherie.
Chris and Cherie run Technomadia and have been full-time RVers for the last several years. Their site has a wealth of information on the topic and they've been nice enough to jump on Skype several times for me in the last few months (and patient enough to start from complete scratch with my questions).
Through Chris and Cherie's advice and the helpful resources they reccommended, we decided that we would get either an older Class A model (these have a flat front and look more bus-like) or an older Class C model (these have a "cab over" the top of either a van or truck chassis). In other words, we ruled out pulling a trailer behind a truck, getting a "fifth wheel", and some of the other creative modes of transportation that were available.
The next big step for us was to actually visit and see as many RVs as we could in order to get a feel for our preference. Once again, a couple friends help come to our rescue… The Ren Men!
In addition to filming and running the amazingly high-quality Ren Men Web Show, Grant and Alan are serial entrepreneurs. They manage a Midwest Real Estate empire, own a vending machine company, and have recently turned an oversized lot outside their office into a used car business!
Note: These guys actually went to New York to play Hungry-Hungry Hippos with Gary Vaynerchuk and flew to San Fran to interview Tim Ferriss. They also are terrible at frisbee golf.
As part of their automobile business, they frequently attend "dealer only" auctions where licensed dealers in Ohio can browse hundreds upon hundreds of cars before bidding against each other for them. It's not uncommon for perfectly decent cars to go for 20%-50% (or more) off listed prices. Obviously, the dealerships then clean and repair them (if needed) in order to resell at full list price.
I had let Grant know that we were looking for a specific type of car to pull behind an RV – and to keep his eyes open for a good deal if one popped up. Little did I know that I'd get a call from him the next week, "Hey Bake, guess what?… They are auctioning off over 200 RVs here next week!"
200 RVs in one spot – parked neatly next to each other – open for dealers to walk through.
The holy grail!
I immediately called him back and told him we couldn't pass the opportunity to look at that many different RVs – let alone the opportunity to potentially purchase one later at auction.
Grant worked his magic to get us access to the RVs, Courtney took a personal day off from teaching, and we made the two hour plus drive to Ohio that next week. Grant, Courtney, and I spent hours browsing the different R.V.'s (and cars) before heading into see some of the cars being auctioned off.
It was nothing like I've ever seen before.
The auction floor had 7 lanes of non-stop car auctioning. The cars would come up for bidding just long enough to get one or two bids and then they'd pull them off and pull forward the next car. Bidding would continue – on the car that was no longer present – while people looked over the new car that would be up next. It was fast paced and frantic – like a scene from a weird movie.
The RVs wouldn't be auctioned off for a few more days (although we could preview them all), but turns out these cars were really going to the highest bidder. I know, because we actually bought one!
In the flurry of action, we snagged a 1998 Jeep Grand Cherokee Laredo (a great vehicle for towing behind an RV) for several hundred dollars under what we were willing to pay for it.  Whoo-hoo!
After our purchase, we continued to browse RVs (in the pouring rain) to get a feel for which may be realistic choices. We took pages of notes, before thanks Grant and Alan and making the drive back over to Indiana. The RV auction was three days away – so if we were going to try and bid on one we'd have to do our price research and homework before going back.
Turns out, we identified five (of the 200+) that we thought would fall in our price range and we'd be willing to take a chance on. Courtney couldn't take off work again so soon, but we decided that I would make the trip back on Friday solo (to meet up with Grant once again at the auction place).
At 6 a.m. on Friday, I sluggishly rolled into the car and started the drive back over to Ohio – knowing full well that I may make the biggest single life-changing, cash purchase we've ever made later that day.
The auction process was more familiar this time and with our research and notes, I was a bit more prepared. I revisited our 5 contenders and was immediately able to rule one out. It had a big sticker "Engine will not start!" This may be a steal of a deal for someone who could easily fix the problem – but that man is not me. I wasn't willing to buy one with unknown engine problems.
Marking that one off the list, we took our seats (they had seats this time) for the start of what would be a long auction day. The first three on my list came in went in the first few hours. Two of the three were close to our threshold we had set – in two cases they ended just 10-15% more than we wanted to get those particular ones for.
Each time, I felt a bit of a sinking feeling in my gut, but I was able to hold firm and pass when they crossed our mark. When it came time for the final one on our list (probably the nicest of the ones we had selected), I crossed my fingers as bidding started. I decided to bid fast and firm on this one – making it as clear as possible that I was dead serious on making it mine.
The price rose nearer and nearer to our threshold once again, but as I bid just $400 under the top dollar I was willing to pay – a hush fell over the rest of the auction floor.
Going once… going twice… Sold!
I did it!
Our adventure got very *real*… very quickly. We had just bought our first home – with cash!  (Sort of)  🙂
Here's a quick video tour of what will be our home for the next six months:
This baby will be pulling our new (to us) 1998 Jeep Grand Cherokee Laredo.
Yes, that's right we are rolling in our 1998 RV pulling our 1998 Jeep…  We fully plan on playing Linkin Park and Missy Elliot while watching Titanic on the road. 😉
Where we are going!…
The short answer:
We aren't sure what path we will take quite yet. There are a few factors at play.
First, there is a sign company in Baltimore that is willing to wrap the vehicle in a design for us. This is an unbelievable offer – and would be hard to pass up, despite meaning that we'd be making the trip in freezing weather up to get it done. If everything comes together, Baltimore will likely be our first stop!
After Baltimore (or potentially just straight away), we'll likely head down the East Coast. We'd like to make stops in Virginia, North Carolina, and South Carolina. These are all states and regions we've heard so much about, but have not really had the chance to explore much at all.
I have family in Florida (including my brother stationed in the Army) who we'd definitely like to see towards late January and early February.
Next, we'd likely hit New Orleans – another city I've heard so much about, but have never visited. Of course, this would put us within reasonable distance of much of the South (for any of you in that region!).
Our first 100% sure stop will be Austin, Texas in mid-March for SxSw. We'll likely spend several weeks there – a little before and after the Interactive festival.
Next, we'll head towards Portland for Chris Guillebeau's World Domination Summit in early June (I hear Chris and the team have a prime spot for us to park at the Summit!).
Luckily, we'll have several months to make the trip. I imagine this will take us through Arizona and the Grand Canyon, before making the drive up through California.
We'll definitely be making stops to see friends in L.A., San Francisco, and Davis – but would love to add some stops along the way!
After the awesome stop in Portland, we are considering Alaska (mid-June) and then coming back across Canada/Northern U.S.. If we make it back across the width of the country, we'd really enjoy hitting the Northeast, including New York in the late summer before it gets too cold and nasty.  🙂
While I'm willing to roughly draw out our route, the most important thing for us is… freedom.  Freedom and flexibility. We won't have a strick schedule, nor we will have many expectations. If we enjoy an area we may stay for several weeks, in some situations we may only stay a few days.
Part of the benefit of traveling is taking advantage of all the exciting and unknown opportunities that can just pop-up. We'll have a casual plan – with a few definite stops – but most of our trip will be wide open.
Which is where YOU come in…
Request a Stop!…
If you'd like to party like it's 1998 along side of us, we'd love to meet you!
Obviously, we can't promise that our path around the U.S. will match up perfectly (or that the timing will work out), but I'd absolutely LOVE to here from you guys.
I've set up a simple Google Doc form where you can "request a stop" from us. You can put simple details such as your name, city, and any special details you'd like us to know. It won't take long at all and will help shape the path we end up taking!
Seriously, we'd really enjoy being able to say hi!
What does this mean for Man Vs. Debt?…
Everything!
Man Vs. Debt isn't going anywhere – it's only getting better!
First, I'll obviously be returning to some of the old travel updates that so many of you miss (and that I miss writing!). We'll be documenting the adventure with video, photos, and funny stories. I'll be sharing two of these or so a month – every couple of weeks.
Second, I've got some excited resources (both premium and free resources) planned for early 2011. We are going to keep spreading the message here as far and as wide as people will allow (and now in person, too!).
Third, some of the "features" that have fallen behind in updates will now be re-activated. Primarily, we'll be tracking all the expenses of the *travel* side of our spending – meaning you'll know exactly how much our full-time RV lifestyle costs us.
We'll also be re-categorizing and tracking everything we own again – a challenge I really enjoyed when we were last traveling.
For me, these were some of the things that really gave MvD it's core personality. I'm excited to return to travel updates, tracking stuff and finances more, and explosive (and valuable) resources. I hope you are too!
What's left to do?…
Well… a lot.
If we are truly going to embark on January 1st – we still have a lot to learn. We are scheduling our RV to have a full system check of the gas, water, and electric systems – as well as paying for a walk-through from a couple RV professionals (showing us how to do everything).
We've got to finish purging a bit of our belongings (we've already been doing this for the last three months), but will have a big wave right before we leave.
We'll have to buy a dozen or so things *for* the RV, including a tow bar for the Jeep, any minor repairs that need to be done, and a few furnishings to make life easier while on the road.
All while taking some time out to spend the Holiday's with family!
This is a big deal for us. It's going to be a lot of work and a little bit of adjusting – but I'm confident we can pull it together in time.
It's also a big time for Man Vs. Debt, my business, and our community here. I'm so excited at the opportunity to meet more of you in person!
Thursday, I'm going to ask for your help in brainstorming creative challenges, wrapping the RV, and potential sponsorship opportunities. There are a couple moving parts that I think many of you will know a lot more about than me! More details on the side of things later in the week.
[share_sc]
What do you think about the RV?
Do you like it?
Have you ever spent extended time traveling via RV?
Have any favorite resources or tips?
I'd love to hear what you guys think!
Xoxoxo,
-Baker