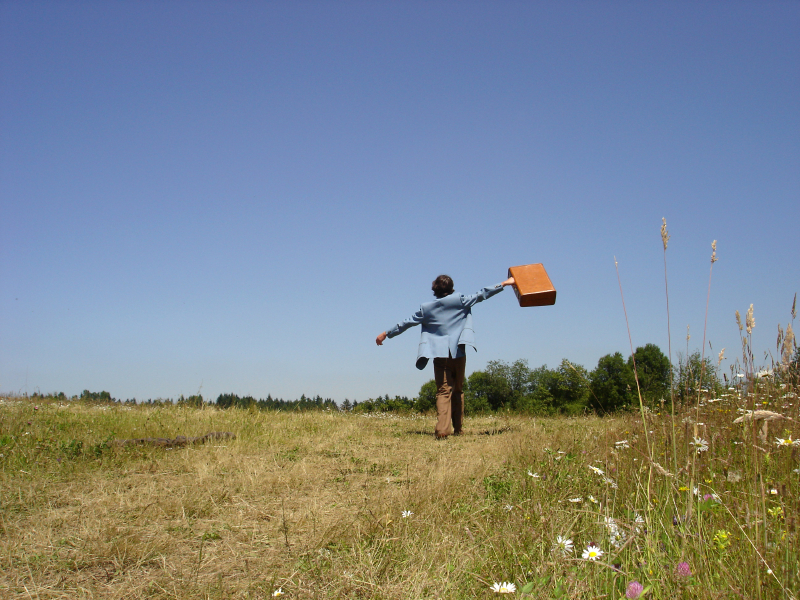 [share_sc]
Note: This is a post from Adam Baker, founder of Man Vs. Debt.
This morning, I had a revelation while talking to Milligan.
We were in the car and had just dropped off Courtney at the front of her classroom at school. We choose to only have one car as a family, which means if I'm going to need it on any given day I drive and drop-off Courtney at school and Milligan at the local family who watches her for part of the day.
Note: For those of you that are new around here, Courtney is currently teaching a second grade classroom (until Christmas Break) and Milligan is two and a half years old.  🙂
The conversation after dropping off Courtney went like this…
Milli: "Mommy's goin' work."
Baker: "Yeah, Mommy's going to work"
Milli: "Daddy's goin' to work?"
Baker: "Yeah, Daddy's taking you to Sarah's… I have to go to work, too."
Milli: "Daddy's goin' to work, too."
*****
At this point, it hit me.
Wait a second, this conversation is terrible.
I'm having a full discussion with my daughter about how Mommy and Daddy have to go to work.
I'm teaching her that whenever we aren't around – we are at "work".
In fact, I remember when my niece – who is several years older than Milligan – was her age. Whenever you asked her where someone was (that wasn't actually present) she'd reply in a sweet voice "He's at work… (or) She's at work…".
It didn't matter if they were at the store, watching a movie, out back playing football… my niece thought anyone who wasn't in the room, must be… at work.
I realized that soon – if not already – Milligan would have the same concept carved into her brain.
The facts were obviously. Right now, we weren't going to be around her during the day and we were "working" in the traditional sense of the word. However, I no longer want Milligan to only get the traditional sense of the word.
The fact is Courtney enjoys 80% of her "work" – and so do I. We choose to do what we are doing. Courtney chose to accept a 3-month contract to fill in for a pregnant teacher. She enjoys the challenge of short-term spurts of teaching a new group of kids.
I choose to write and build this business. I enjoy the far majority of it. It rarely – if ever – feels like "work". It's challenging… even stressful at times… but it's not "work".
We choose to rent a 1-bedroom apartment right now. We choose to drive one car – even though we could easily afford two (on convenient monthly payments of course). We make choices so that we don't have to "work" in the conventional sense, yet I'm not sharing this concept with Milli.
In fact, I'm teaching her the opposite out of old habit.
A bit disappointed in myself, I picked back up the conversation.
*****
Baker: "Milli, Mommy doesn't just go to work… Mommy teaches…"
Milli: [silence…]
Baker: "Mommy is teaching kids."
Milli: "Mommy's teachin' kids?"
Baker: "Yes, Mommy teaches kids at school… Do you know what Daddy does during the day?"
Milli: "Daddy teachin' kids?"
Baker: "No, Daddy doesn't teach kids. Mommy is good at that. Daddy *writes*."
Milli: "Daddy writes?"
Baker: "Yeah, Daddy writes.  What does Milligan do during the day?"
Milli: "Milli rides in car"
Baker: [laughing] – "Um, yeah I guess so. But what about later on. Milligan plays and gives hugs, right?"
Milli: "Yea, Milligan plays… (pause)… No hugs, OK Daddy?"
Baker: [still laughing] – "OK, Milli… You don't have to give any hugs if you don't want to…"
*****
From a young age, we are taught that work is something that we have to do. It's a stressful, undesirable – but necessary – part of daily life.
Putting your head down and trotting off to work, even though you hate it, is considered admirable. Don't get me wrong, I know many people are in spots where they do have to work.
But I don't buy that anyone has to stay in that situation for the next 5, 10, 20, 30, 50 years.
Even in jobs we don't prefer, most of us choose to make it worse than it is. We choose to dwell on the negative, we choose our pissy attitudes, and we choose how we talk about it to others.
Here I was talking to Milligan about how "Mommy and Daddy have to go to work". My tone was negative. You could hear an inaudible sigh in the pitch of my words.
Most of us seem to have a tendency to do this when talking to our families, friends, and coworkers about our work.
Bitch, bitch, moan, moan… cash our paychecks and do nothing about it. This is our sad default setting.
Here are my fancy, dancy "2 Steps to Never Work Again":
Stop bitching about your work. Seriously. Make the best of your current situation and pull people around you up… not down.
Take steps to change it. I'm not telling you to quit tomorrow (I'm not telling you NOT to quit tomorrow either). I'm telling you that you don't have to stay in your life-sucking job or business forever. You *do* have options. There is such thing as a fulfilling job. It is possible to build a business around one of your passions. These are not fairy tales.
Me?
I never want to "work" again.
I want to write, teach, learn, and change lives. I want to grow my business, generate a lot of income, and give a lot of time, energy, and money back. I'm willing to spend a lot of time on this, but I don't want to "work".
So from now on, as best we can, we won't be going to work anymore.
Mommy may be teaching…
Daddy may be writing…
But Mommy and Daddy will no longer be "goin' to work".
[share_sc]