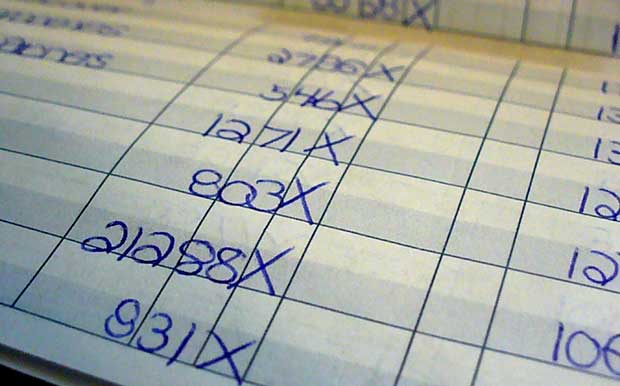 [share_sc]
Note: This is a post from Joan Concilio, Man Vs. Debt community manager. Read more about Joan here.
I'm that lady. The one with the checkbook and the neat lines of transactions marching down each page of its register.
And let's be honest, nobody still keeps actual checkbooks with matching check registers – do they?
Though my husband and I do try to spend cash as often as possible, every bank transaction – online bill payments, ATM withdrawals, checks and Visa debit purchases – does go right into the register as soon as possible.
That's right – I still do keep the checkbook in my purse. We don't write a lot of checks, but we still find keeping the register for ALL transactions well worth it.
Chris, my husband, will usually hold any receipts he has in his wallet, then give them to me about once a week to enter in the checkbook to ensure we are on the same page.
Then, a couple of times each month, usually before I pay a set of bills, I go online and reconcile the checkbook with the bank's online transaction record, making sure I haven't missed anything and, most importantly, making sure my number (with any outstanding transactions factored in) matches the bank's number. To the penny.
Part of this is just my personality – I'm often frightfully organized, and it'd make me itchy not to know how much money we have available.
But also, there was a time in my life in which it mattered – to the cent – how much I had in the checkbook, because if I was off by a couple of dollars, checks would start bouncing.
I don't like to be real serious most of time; I'm kind of a clown, which you'll come to know about me, but the thought of bouncing checks was serious stuff.
I remember holding my infant daughter, shopping in Walmart, and putting back jars of baby food at 59 cents apiece because I could get 10 but not 12 of them.
And with a budget that tight, you can bet I kept pretty close tabs on the checkbook. There was even an ATM in the next town where you could withdraw cash in any amount, coins included, and I have a strangely funny but terrible memory of going there and taking out $4.58 (leaving exactly $1 in the account) for gas money.
I guess those habits stick with you, because I'm still just as neurotic disciplined about it.
The funny thing is, I'm really "digital" about most things – except this. I swear I've tried every web- or software-based system for accounting for transactions, but I can't get into them.
A pen, a paper, and little Xs next to the amount when it's cleared the bank; that's the simplest way and the way I've gone back to time and again.
And even if you're not as neurotic as I am – almost all of use can benefit from the increased awareness. It doesn't take nearly as long as you think – and will change your relationship to your spending.
Here are 5 reasons why I think this works for us:
We only have ONE account that has any money going out of it, so it's not super-complicated to keep track of. (Our savings account, with its infrequent transactions, does have its own matching register, but I don't try to marry the two!)
It's how I first learned to manage money. My mom ran a small business when I was growing up, and when I was homeschooled, one of my jobs was to keep her business ledger. That built up such a habit for me that I find it hard to pick up any other methods.
It requires me to be intentional. I love the idea of some of the online money-management systems that keep track of your finances and make sure everything balances out for you. But I don't love the practice of that – I like to be forced to really LOOK at where the money is going.
Along with that, this forces you to see the truth about your finances. I truly credit my banking system with our debt turnaround; even at our worst, I was faithfully keeping track of the money going out … a LOT faster than it was coming in. Hard to ignore the kinds of bank balances that have only a single number before the decimal point, you know? That really motivated me to take action.
Finally, it puts Chris and me on the same page financially. I generally keep the checkbook and pay the bills, but the fact that he keeps track of his own receipts and sees the balance means he's fully aware of what we do – or don't – have available.
I know, though, that I'm almost certainly the minority in this (even though I think the benefits are universal).
Want to change your mindset about your money? Get our Unautomate Your Finances guide, as well as several other awesome resources to "kickstart your money," join the Man Vs. Debt community list by clicking here!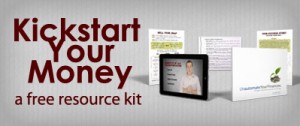 · Unautomate Your Finances ebook
· You Vs Debt Sample Lesson
· What to Sell Where Flow Chart
· Debt Payoff Tracker
· 10 Tips for an Effective Craigslist Ad
So what works for you?
Do you keep track of your expenditures from your main account at all?
Do you still carry around a "checkbook"?
[share_sc]
Leave me a comment below and let me know! I'm super-curious about this. If you can make me feel any less neurotic, bonus points. 🙂