[share_sc]
Note: This is a post from Adam Baker, founder of Man Vs. Debt.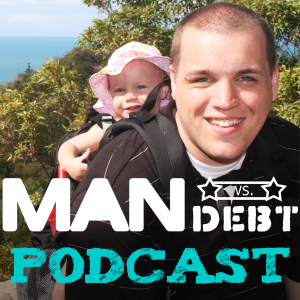 In Episode 3 of the new podcast, we cover the "6 Phases of Debt Reduction."
Having talked to thousands of people (on all different parts of their debt journey) over the last few years, I've noticed a couple patterns that have emerged.
It seems that almost everyone, regardless of income level, country, or age, goes through 6 clear phases when taking back control of their financial life.
Listen to Episode 3 here!
You can also download the .mp3 file here; simply right-click or option-click and choose "Save link as."
[share_sc]
What We Can Learn From The News:
At the beginning of each podcast, I cover three news stories from the past week. We attempt to have a little fun and pull out a positive nugget from each story featured. 🙂
I also pointed out what was the best Super Bowl ad last year (by far): Young Darth Vader.
The 6 Phases of Debt:
Free Your Mind… (I show off my singing voice – can't miss it)
Wake Up!
Suck it up and Budget.
Stop Buying Crap.
Earn More Money.
Bringing it all together (for the long-term).
We cover an overview of each of the 6 phases, along with tips on what to focus on if you are in that phase of the game. 🙂
Help the podcast reach even more people!
We're still Top 10 in our "investing" category of iTunes. And still being featured as "New and Noteworthy in iTunes".
Help us keep up the amazing momentum!
Word of mouth is still the most amazing method to spread the news. Is there a friend, coworker, and family member that would enjoy the podcast? Send it to them! 🙂
You can also click here to view and/or subscribe via iTunes!
If you are extra impressed, don't forget to leave a review inside of iTunes. This really helps!
[share_sc]
Which phase of battling debt are you in?
Xoxoxo,
-Baker