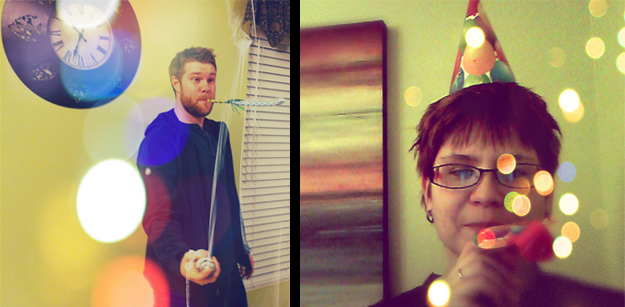 [share_sc]
What, two Man Vs. Debt posts in one DAY? What's that?
Well, this one ISN'T by Baker. It's me, Joan, aided and abetted by the awesome Dustin, popping in with a surprise "virtual birthday party" for the head honcho. We're all about three states apart right now, but Dustin and I just couldn't let the day pass without a special birthday shout-out to a guy who's not only an incredible inspiration … he's also an incredible friend.
Happy birthday, Baker!
Thanks for all you do for your family, your friends, and the Man Vs. Debt community. We're honored to be along for the ride. I'm feeling a little LESS honored by my dollar-store hat up there, but, you know, we can't all find Silly String like Dustin did.
I know Baker got some birthday wishes after his post this afternoon, but I'm hoping we can get a few more folks to join our virtual party in Baker's honor.
Just leave him a birthday shout-out below, and then go do something you love this weekend in his honor.
Best gift you could give him!