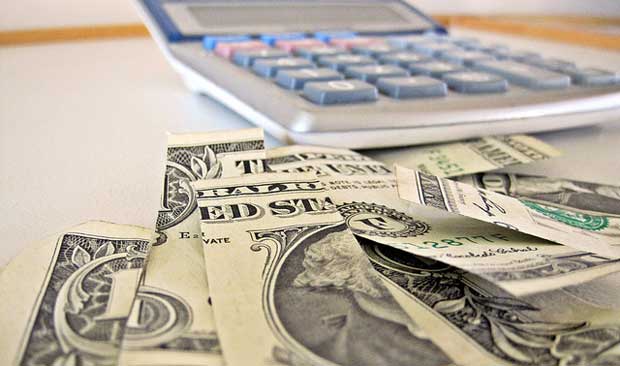 [share_sc]
Note: This is a post from Joan Concilio, Man Vs. Debt community manager. Read more about Joan.
There are tons of great resources online about how to reduce any particular bill. The Simple Dollar has a great one on 40 Ways to Reduce Your Monthly Required Spending by doing things like insulating your doors and turning off lights when you're not using them.
I'm a big fan of creating habits like those – especially now that Chris and I have some serious debt-busting momentum built up, these are the "little things" that help us stay on track.
But the fact is, unless you're incredibly careless right now, turning off the lights and installing a low-flow showerhead aren't going to save you $50 a month.
And if you're currently paying only the minimums on your debt, like we were just a couple of years ago, you need to free up chunks of money to hit those balances with. Same goes if you're trying to build up your savings – you want to hit it in sizeable chunks if possible, right?
That's where reducing your costs at the source comes in. Here's a four-step process that I used to knock off more than $125 a month from our bills – all of which now goes toward debt repayment!
1. Make a list of what you pay.
G.I. Joe says knowing is half the battle, right? It's just like when I talked about facing up to our debts – having a list of where the money's going is the first step. At this point, we're mostly concerned with regular monthly costs.
Utilities: Gas, water, electricity, oil, trash, sewer
Technology: Cable, internet, phone
Memberships and subscriptions: Gym, home security, movie services, weight-loss services, mail-order products
Insurance: Car, homeowner's, life, health
Revolving debt: Credit cards, mortgages, loans, car notes, lines of credit
I would encourage you to apply the steps here to tackling ALL these categories. I've talked about insurance before in detail, and we dig heavily into that and revolving debt (and negotiation skills!) in You Vs. Debt.
But today I'm going to focus on ways to tackle the first three types of accounts specifically – the ones you can most quickly knock down!
So make a list. Get out your calendar of bills – or whatever other system you have in place. If at all possible, have a copy of your bill in hand as you move forward. The more detail on what you're paying – and for what – the better.
2. Do your research.
With that copy of your bill, find out exactly what you're paying for. Is it unlimited texting? 857 of your favorite cable channels? 5 samples of cosmetics? You want to know what you're getting.
If you can, ask other people what they pay each month for each service. (It's OK to talk about money, honest!)
Go online and see what offers are available for NEW customers to the service – and its competitors. This becomes key when you're ready to negotiate. These are often much less than what you're paying as a loyal, existing customer, and you can use that to your advantage!
3. Call and ask.
I'm a big fan of doing lots of things online, but rate-reduction isn't generally one of them. No matter how nervous you are about negotiating on the phone, you often stand a better chance when you're actually speaking with a representative.
Find the phone number on your bill, pick up the phone and call. When you do:
Be polite and friendly: "Hi [representative's name], I'm Joan. I'm hoping you can help me with a question I had about the pricing on my account!"
Be brief and informed: "I have my account number ready. It's 123456."
Mention the rates offered by the competition: "I recently saw an offer from [competitor] for [similar service] for [price].
OR, mention the rates offered for the same service to your friends or new customers. ("I recently saw that you're offering [price/deal] for new subscribers.")
If possible, mention the length of time you've used the service: "I've been a customer with you since 2002, but I see that I'm paying [higher price]."
Close with a specific request for help: "I'd really like to keep my service with you, but the cost is getting hard to fit into our budget. Is there any way you could help me get my monthly rate down to [low price]?"
You aren't going to win 100% of the time. "Flat-rate" services are harder to negotiate. For instance, my trash and sewer bill is negotiated by our municipality – and every resident pays the same amount. Making a phone call helped me become informed about that, but it certainly didn't change my rate. My Birchbox subscription is $10 a month – the same as it is for every other cosmetics-loving female in the U.S.
But I had AMAZING success with my phone, cable, internet and alarm services. Those are the types of places where you – and the company representative – sometimes have more wiggle room. (For example, here's a walkthrough of a chat with Comcast that cut the bill by 33%! I still prefer doing it by phone, but the idea is the same!)
Finally, be willing to negotiate creatively. Maybe the cost is fixed, but the features can be improved. That was the case with a gym membership I once had. It was a small chain of stores locally that didn't have a lot of leeway on price. However, the owner was willing to throw in several "premium" classes that my lower-level membership wouldn't normally have entitled me to.
4. Be ready to cancel what isn't working for you.
If you've gotten a good deal for a cable/internet bundle through your phone negotiation, that's great. I recommend going into the negotiation with a "make or break" number in mind.
I try to think to myself, "I'll keep the cable package I have if I can save $20 a month, but otherwise, I'm reducing it to the basic package."
Know this in advance, because you can then negotiate with it – or at least kill two birds with one stone!
When I negotiated my own cable bill, I wasn't particularly successful at first, and when I (again, politely) thanked the representative, I said, "Is it possible for you to transfer me to someone who can help me downgrade my service? I'm going to need to do that to make the budget work." If nothing else, I was saving a phone call – but it turned out that I was then transferred to a "retention" representative who was able to give me a better deal.
Big caveat: I see some sites that advise you to say you're dropping your service no matter what. Joan's take? Don't say it unless you're truly prepared to do it! In my case, I knew it was possible I'd get a better deal – but I also knew that it was possible I wouldn't, so I didn't mention it until AFTER I'd tried my first negotiation and decided I didn't want to keep the service I had at that price.
[share_sc]
Are you willing to take the challenge and negotiate a bit? Even if you lower ONE bill by $20 a month, you'll have made a great start!
What bill could you negotiate today? Tell us in the comments!