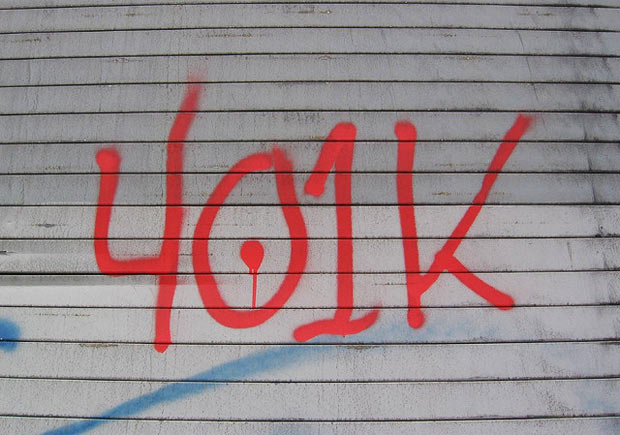 [share_sc]
Note: This is a post from Joan Concilio, Man Vs. Debt community manager. Read more about Joan.
When I shared my monthly financial update last week (Big Decisions Involving Big Dollars), I said I had big news: Among other changes, I'd decided to cash out my 401(k) from my former full-time job.
It wasn't an easy decision to make, and it isn't without some serious ramifications. And here at Man Vs. Debt, it ranks among the most frequent decisions on which people seek our input: Should I cash out my retirement fund  (or other savings vehicle) to pay down my debt?
So, since I now have first-hand experience doing so, I thought it made sense to talk in depth about this topic – and to share some thoughts I have. Warning: If you're expecting traditional financial advice, you might be disappointed. But if you want to know why I made the choice I did – and what we tell readers who ask us about this hot-button topic – read on!
Cashing out a 401(k): What you need to know
In the United States, a 401(k) is a tax-deferred, employer-sponsored retirement plan. That means that your employer takes money out of your check, before it's taxed, and deposits it directly into a specific type of retirement investment account. It's got some cousins – 403(b) plans, IRAs, pensions – and all have different legal definitions and ways they can and can't be used. I'm focusing mostly on 401(k)s today in a technical sense, but the decision-making process holds for more or less all of them!
Here's the thing about all these plans: What goes in is not necessarily meant to come out. At least, not right away.
If you withdraw your money from a 401(k) plan before you're 59 1/2 years old, except for certain particular "hardship" cases:
You'll pay income tax on the money you cash out (meaning, you lose the tax-deferral benefit to this method of savings).
You'll pay a penalty to the IRS of 10 percent of the value.
If you keep your money in the account until you're 59 1/2 years old, when you withdraw it, there's no penalty, but you DO still pay income tax.
So the difference here is the 10 percent penalty.
Under almost any circumstance, you cannot cash out a 401(k) account when you still work for a particular employer. This is an option only when you've left a position, and there's often a delay between when you quit and when the money is available to you, if you do choose this route. (As an example, my last day of employment for 401(k) purposes was June 30, 2013, and I was not able to request the cashout until mid-September!)
I'll share my exact dollar figures in just a few minutes – and explain why I was willing to take the 10 percent penalty. Mostly, I want you to first know the basics of what we're talking about.
What we at Man Vs. Debt tell people who ask us about 401(k) cashouts
Here's the thing. None of us here at Man Vs. Debt are financial professionals. We don't give investment advice. What we can do is share the thought process we use to make decisions – and you can think about what works for you.
When people ask us about cashing out retirement savings, our big point is this: IT ALL COMES DOWN TO MOTIVATION.
Here's the question we ask our readers: What will motivate you most to GET debt-free and STAY debt-free? 
If someone writes to us planning to take a cashout, the advice we give is to use ALL of it to attack debt. Not most, not as much as possible, but not a cent to anything else.
We'll tell you this: Take a look at your Debt Tsunami, hit the debts that tick you off the most, or that free up the most cash in a month when they're gone, and obliterate them.
Then, take the money you're NOT paying on those debts – again ALL of it, not just some – and put the same dollar amount for maybe 2 or 3 months into a savings account/emergency fund of some kind. Our biggest concern for readers who  end up being able to pay off debts using "big" methods like this is that, if you haven't built the habits and the foundation, you're going to end up charging the next thing, and then you're no farther ahead.
And then finally, after you've paid off some debts or knocked down the balances, and put the monthly payments amounts for the now-gone debts into savings for a couple months, you'd then want to pay that same amount each month onto any remaining debts. It's not a magic bullet – even doing that 100% faithfully, it could be years til people with the kind of debt we're talking about are 100% debt free.
But IF you can stick to it, you can make a lot of up-front progress and free up some cash flow to build an emergency fund.
Is it always the right thing to do? Absolutely not. We've heard too many stories of people who want to cash out to get that "once in a lifetime" vacation, or to pay for their dream wedding, or any number of other things that are absolutely fun, but absolutely not NEEDS. In those cases, we tend to strongly caution against a cashout. Age is a factor, too. MANY of our MvD readers are our age – late 20s, early 30s – or younger. In the case of readers who are closer to traditional retirement age, our advice takes time and risk into account as well.
But when it comes down to cashing out retirement savings to pay off debt, in general?
Our short answer is to decide what motivates you most. If it's the highest dollar amount in the bank a few years from now, maybe keeping things as-is (still building a modest emergency fund, by the way, before paying down any debt!)  is the better fit.
If making some short-term progress quickly and getting some cash freed up for more aggressive debt repayment on the remaining balances motivates you more, then maybe cashing out is the choice you make!
Either way, the pledge has got to be NO NEW CHARGING!! I believe whole-heartedly that this only works in conjunction with a debt-free-for-life plan.
Why I chose to cash out my 401(k)
A while ago, I tackled the question Are 401(k) and 529 Plans a Good Idea When You're in Debt? When I wrote that, I said managed savings vehicles are not, in general, my first choice for investing or saving for the future. They weren't – and they still aren't. There are many people for whom retirement accounts are a great choice. I've never been one of them – despite having at some past points an incredibly high-yield 401(k) account.
I'm 100% intending to save for retirement. I'm just choosing to focus on motivation above all else – and trying to find ways that allow me the best chance, over time, of having the life I want – now AND in the future.
My exact retirement amount balance at the time of cashout was $34,507.26.
Of that, we had about 25 percent withheld off the top – 15 percent for standard income taxes (this is intentionally low, and I'll explain more in a minute) and 10 percent for our penalty.
Our total disbursement was $25,605.81.
We specifically have been overpaying our estimated taxes this year. We'd been doing that intentionally and at the advice of our accountant, and at the time of this withdrawal, we were days away from paying our third-quarter estimates, which had already been figured to take into account the money we'd owe from cashout.
That's why our accountant suggested the off-the-top withholding she did. She knew what we'd already been putting aside and didn't want us to give the government any more of an interest-free loan than we had to!
Once the money arrived, our first step was to pay our third-quarter federal, state and local tax estimates (goodbye, approximately $4,900!)
Then, we put three big chunks of money into a particular savings "bucket" – one for the fourth-quarter estimates, one for the second half of my tae kwon do master's program payment, and a final sum to bring our emergency fund back up to the equivalent of one month's mortgage payment. That was another $8,800 in all.
401(k) cashout money remaining: $25,605.81 – $4,900 – $8,800 = $11,905.81
Now here's where our situation gets interesting. We are also facing a pair of job changes. I will (likely) be returning to full-time, non-contract work, and my husband, Chris, will likely be freelancing, as of about the beginning of December. It is likely based on projections that our income will remain the same or increase during this time, but there are some particular expenses we're aware might occur.
This is where we deviate from the standard Man Vs. Debt advice, and I want to be as clear as I'm able to be about why. Our situation is a little weird. I'm as 100% transparent as I can be, but with job offers on the table, there are certain things I can't discuss. Specifically, just know that if we had been able to, we'd have made certain decisions first before cashing out (and hence, would have followed the advice to have a plan and spend the money ONLY on that plan), but that option was likely to not remain available beyond a certain window.
So we're doing the best we can by putting the money aside in savings until we hammer out the following moving parts.
Our biggest issue is our vehicle. We've only got one – and the viability of that as a solution VERY MUCH depends on what career choices we end up with. One strong contender would have me working about 2 hours from home in an area lacking public transportation. Have I mentioned that my car has… needs? It's got 130,000 miles on it already, and we're prepared to put at least another 70,000 more on it, but probably would prefer not to do so in the course of, you know, a year.
We're also beginning to weigh the possibility of relocation. Our house is not underwater – JUST BARELY. We're not going to profit on it if we sell it, and that's the largest factor weighing against a possible move right now. (See also, Renting: The New American Dream. Or, why Joan is sorry she bought and then refinanced a home during the housing bubble.) So, if we were to move, we'd have to be able to do so without assuming any proceeds from the sale of this home.
Finally, there's the debt. Remember that – all $55,000-some of it? So, we have this 401(k) money left. Almost $12,000. A lot – but not enough to knock out our highest and most high-interest debts. We could use it to attack the smaller debts, but they have favorable APRs – and our hatred of BoA is SO GREAT that we can't imagine putting the money toward anything but that. That said, we could knock a huge chunk off the remaining $16,205 BoA balance – and probably have the rest paid off in a handful of months!
Right now, our move was to put that excess 401(k) cashout money into a separate savings bucket. It's earning some interest (not investment-level interest, but again, our timing was limited due to factors beyond our control). Our plan is to spend November hammering out our employment situations and choosing the options that are the best fit in that area.
Then, the plan is, if we need it, use the money to pay cash for a decent (better than our current) car that would become our primary vehicle. If we can avoid that – and we're scoping out as many options as possible to do so – then our next plan is to send a HUGE pre-Christmas payment to BoA! And if we should choose to relocate, we'll factor that in as well.
All that said, I understand that I've made the choice to give up more than $3,500 of my money in PENALTY FEES. That's true. But I know what motivates me – and our family. I know that it was the right time for my husband to leave his job. I believe it's the right time for me to pursue some opportunities that have come into my path.
Considering a cashout? Take these steps
1. Talk to a tax professional.
Go armed with the exact balance in your account and as detailed of a set of current financial records as possible!
We would not have proceeded with this cashout without the guidance and counsel of our accountant. The hour-long consultation we paid for allowed her to forecast our income for the year, the total money we would need to withhold for taxes (for the cashout and otherwise) and how we could best put ourselves in a good position overall (including in what tax year to proceed with the withdrawal – all signs pointed to doing it before the end of 2013 in our very specific situation!) She recalculated our estimated-tax payments, made suggestions on what to withhold at the time of the cashout, and more.
This was well worth the $55 for the consultation. To be radically clear – we would not have proceeded with the cashout if we'd gotten a red flag from our accountant, who I've worked with for more than a decade and who I trust implicitly. If you don't have such a relationship, this is a little harder, but still VERY MUCH a must-do.
2. Don't let the money touch your general fund.
ANY time we get any kind of "windfall" money – really, any type of lump sum, whether a tax refund, a large gift, a bonus, etc. – we make sure it goes directly into our savings account. If it sits in checking, even for a week or two, it's way too easy to nickel-and-dime it away with an extra lunch out here or an extra pair of shoes there!
That's one thing we're particularly proud of. We moved the entirety of our 401(k) cashout to savings – and, in fact, to a couple different savings "buckets" so we knew what we had available to us for planned expenses, like taxes, vs. other purposes.
3. Have a specific plan in place to rebuild or build a retirement savings/income account.
Not needing or wanting a 401(k), in our case, is definitively not the same as not wanting to retire!
I'm 30. I have a one-year plan, a five-year plan and a ten-year plan to first tackle our consumer debt, then to fund any needed higher education expenses for my daughter, Sarah, who is 13, then to live mortgage-free (either in a paid-off home or via renting, depending on circumstances), then to begin fully funding a large-scale "retirement" account.
I say retirement because that's what people understand, but my plan is not to work full-time for many years and then stop working.  My interests are such that I will freelance and consult as long as I possibly can, but I am happy to say my long-term goals include enough money in savings and investments that I won't need to work to pay the bills – which, in turn, will be modest, because I intend to stay FULLY debt-free once I become so!
Have a plan for retirement. If you're going to cash out, don't just say, "Well, I'll start over later." Have a date. Have goals. Set Very Next Steps. Cashing out CAN work, but only if you have a plan for the future.
4. Use this strategy only in conjunction with a debt-free-for-life mindset.
I said it before, but it bears repeating: If you don't have a plan for getting out of debt for good, a windfall (whether it comes from a cashout, an inheritance, the lottery, whatever) is not going to change your life. The money will be gone, and with no system in place, you'll charge the next big problem that comes your way.
That's not the point. If you already have a plan in place, a cashout CAN work for you.
You need to, at a BARE MINIMUM,  be in the black every month with your budget before you consider cashing out. If you're not making ends meet, a cashout is not an easy fix – at some point the money will be gone, and then what?
If you already are working a plan, though, and can get farther faster using the guidelines we talked about above, THAT becomes a point when a cashout might be worth considering.
More perspectives on 401(k) cashouts
I said at the start of today's post that my thoughts run counter to some pretty big traditional financial advice, which tends to be HEAVILY focused on math over motivation. (That's not bad – it's just not "me!") One thing I would love to encourage you to do, though, is to read a variety of perspectives on the subject. Here are a few, and I'm sure you can find dozens more – even though I might not agree with all the points contained in these, they're WELL worth reading.
More Than 25 Percent of Americans are Making a Huge Financial Mistake: In March 2013, Trent Hamm on The Simple Dollar came down solidly against cashouts for almost any reason. In fact, he says, he'd rather take a credit-card cash advance than an early withdrawal (though his point is that both are disastrously bad ideas, not that he's in favor of such advances!) My take on this is simply that I agree – if you're not planning to be debt-free for life and to fully fund your retirement savings in some way, it's a terrible idea. (And I also agree that it's NEVER something to do to fund a "treat" or because of poor financial planning.) And, interestingly …
Emptying Out a 401(k) To Pay Off Credit-Card Debt: … in this earlier post (from 2007), Trent gave generally the advice I'm sharing here: That sometimes motivation matters more than mathematics, and that in certain cases, cashouts can be a long-term help as well as a short-term one. I find this version of Trent's thoughts to be some of the most sound advice I've read on the topic – and much more succinct than my own. 😉
Why You Shouldn't Cash Out: Famous money guy Dave Ramsey compares the 35-percent-plus tax hit to taking a loan at 35 percent interest to consolidate your debt, and says it's never a good idea. I'm not saying it's always a good idea (see above!!) but I disagree with the math here. Only 10 percent of the money you pay in taxes to cash out a 401(k) is a penalty. The other is simply tax on that income based on your tax bracket (25 percent in Dave's example). If I could earn an extra $30,000 next year, would Dave suggest I shouldn't do so because I'd have to pay 25 percent of it in taxes? Probably not. So at best, I'd say it's like taking a loan at 10 percent interest. Hmm. Suddenly that sounds a little different. Especially since my BoA card has a 22.99% APR…
[share_sc]
Let me be super-clear that cashing out a 401(k) is NEVER a blanket yes-or-no move. There are dozens of factors to consider, from motivation to mathematics to age to lifestyle choices to the job market.
My goal today is not to "convince" you to make or not make such a move. It's simply to provide an alternative way of thinking that sets up a responsible framework IF you think it might be for you.
I realize many of you will disagree – and that's OK! My interest is in hearing how you've handled similar decisions – and what resources you've drawn on to help make those difficult choices. That's what I want to build here – a growing list of things to think about!
I can't wait to hear your comments!