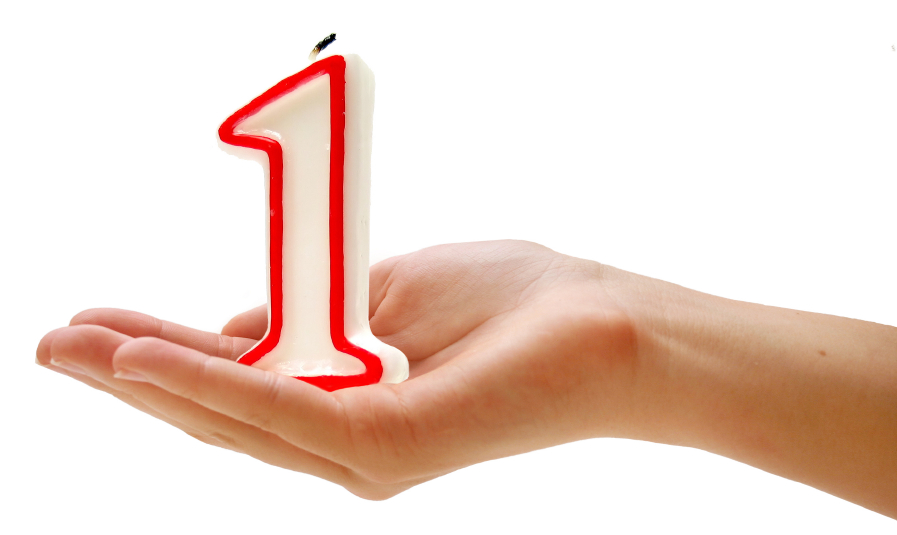 Last week, Man Vs. Debt turned one year old! Whoo-hoo!
It's been one heck of a ride, but I'm really proud of what we've been able to build in this time span.  I wanted to take a very brief look back at the year past, but I really want to concentrate on what lies ahead in year two!
Here's a couple statistics from my first year in blogging (most via Google Analytics):
Subscribers: 5,621
Visits: 372,946
Pageviews:  769,029

Pages/Visit:  2.06 <– proud of this number
Overall, I'm actually proud of all the numbers.  But more important than any single number is the community we've manage to wrangle up.  It's hard to quantify or measure, but it's an extremely active and passionate bunch.
A well-respected author/blogger at SxSw said he was amazed that when I introduced my first paid product that I didn't have one (not a single one) negative comment about price and/or charging for content.
I told him what he already knew…  that my community was amazing and connected.  That most knew how much work I had put into it and that I would over deliver 95% of the time.  Even if someone had no use or no interest in the product (there are many in this group), they knew that the far majority (90-95%) of the content would be given away for free as it has been the last year!
I told him, "You know… I really think the majority of my readers are rooting for me to succeed.  I really feel that way…"
So a special thank you to all the people who take the extra step to comment, e-mail, or support the site in any extra way.  You guys are my primary motivation to keep at it.  Even when I slip (more on this later), it's the community that brings me back up!  🙂
Alright, here's some more staty-stuff…
The top 10 posts by traffic in my first year blogging!
And one more list…
Top Referring Blogs/Bloggers (not counting Google, Digg, MSN, etc…  actual blogs):
Let's transition…
The real reason I haven't been posting lately…
Yesterday's April Fools prank was only half a prank.  No, I'm not going to become a watchmaker that includes moving out of my house and leaving Courtney and Milligan.  No, I'm not accepting a full-time job.
What wasn't a prank was the lack of recent posts.  Before yesterday it had been over 3 weeks since I posted.  By far, the longest void in the life of the blog so far!
And there was a reason for it…
I was burnt out. Crazy, burnt out. More burnt out than I ever have been before.
I know I sound like a broken record, but the guide really did take a lot out of me.  Especially the two weeks leading up to launch.  Not only that, but I only had a hectic 48 hours (after launch) to monitor things and get ready for an 18 hour drive to Austin, Texas for SxSw.
Don't get me wrong, SxSw was an amazing time (I plan to do a post on my experience), but anyone that was there can tell you that it's very exhausting.  There are a ton of brilliant like-minded people to meet, panels to attend, parties to go to…  you are basically full-on for 16-18 hours of the day (at least I was).
The business and personal benefits were (and still are) outrageous.  There's not a chance I miss future SxSws, probably the rest of my life.  Nevertheless, it was terrible timing for me and the long drives both ways didn't exactly help!
When I got home from SxSw I just crashed.  Hard.  I didn't want to write another word of personal finance.  I didn't want to answer any e-mails.  I didn't want to blog and I certainly didn't want to plan out the next launch down the road.
So for the last 2-3 weeks, I've been basically ignoring people.  I've let a lot of friends down (if you were one of them I'm sorry!) and lost a bit of momentum, especially after my first big launch!
But a lot of good things have come out of it, as well.  I spent a lot of extra time with Milligan, playing board games with Courtney, and started regularly attending BJJ practices again.  I've wasted a lot of time on the internet… I never get burnt out on that!
Seriously, though, I think these down periods are a key part of entrepreneurship.  Some people have consistency as a strength.  They can write day in and day out.  They stick to a strict schedule and can pump out seriously solid content.
That's not me, though.  It never has been and it never will be.  When I'm on, I'm on it…  and when I'm off, well… now you know what that looks like to!
But now that the dust has settled, I'm ready to get back on the horse.  I'm ready to start feeding the monster again and seeing where we can take this thing in year two!
In the coming weeks and months, here are some things you can expect to see:
A return back to some MvD basics.  April will be the first month we start back up the full "radical financial transparency" parts of the site. We'll be sharing out budget, our daily spending, and all the details of this site (including income details of the launch, etc…).
Mid-month we'll be focusing on completely updating our "Stuff" list (everything we own).  It's much, much harder now, but both Courtney and I still believe in the power of making a list.  Realistically, we need it now more than ever!
Catch up on our travel stories. Remember the car wreck in the middle of nowhere in New Zealand?  Still wanting to get a couple Thailand videos?  I even want to write about my burn out adventure in Austin!  I'll be catchy these up.
More video. More "Do What You Love Show" with cool people living passionately.  And more video posts with just me.
Sometime in May, I'll be unveiling my second premium project…  "Sell Your Crap".  I have some really intense plans.  It's going to be epic.  O.k. maybe not epic.  But sweet…  It'll be sweet.
The overarching plan is still in line with my kick ass 2010 goals, I set at the beginning of this year.  Actually, I'm right on track in almost every bullet point in that post.  (This may be a first… ever).
So now you know.  And knowing is half the battle.
Thanks for the awesome first year.  Thanks for your patience the last week.  And thanks in advance for the year that lies ahead!
Xoxoxo,
-Baker