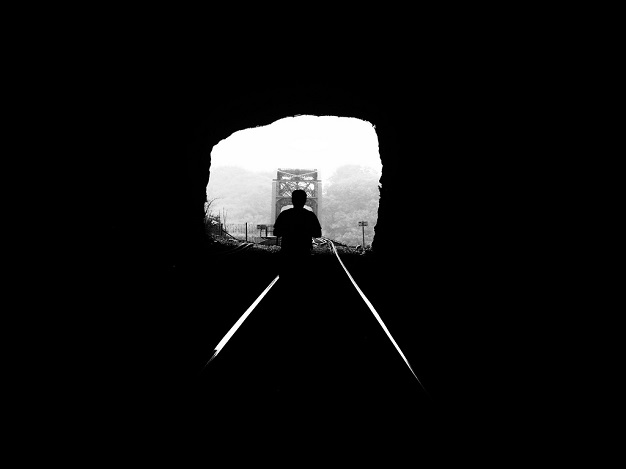 [share_sc]
Note: This is a post from Adam Baker, founder of Man Vs. Debt.
The more you simplify your financial life, the easier it is to dominate it.
I've made this concept one of the pillars of my financial life in the last couple of years.  I must warn you, though, this stuff is addicting.  The more I explore this subtle art, the deeper the rabbit hole seems to go.
For me, simplicity isn't always taking the most convenient option.  Simplicity doesn't mean pursuing automation at all costs or always choosing the option that saves the most time.  Rather, simplicity is ruthlessly cutting out anything in your life that stands between you and your passions.  It's a journey to increase intimacy.
The heart of simplicity is in exploring, finding what works for you, and purging the rest.  With that in mind, here are 42 ideas to help push you down the rabbit hole:
Focus on one financial goal at a time. The average person seems to always be juggling paying down debt, building an emergency fund, saving for retirement, coming up with a down-payment, college, weddings, kids…  ugh.  Instead, try passionate focusing your intensity on one goal at a time.  If you're attacking debt, attack debt.  If you're saving for a down-payment, start stockpiling.  Simplify, focus, and prioritize.  Build on your momentum.  Once you knock out one, plow through the next.
Consolidate accounts. I seriously doubt you need 2 savings, 4 checking, and 3 separate retirement accounts.  It's no wonder people get lost tracking their finances.  Shoot for 1 of each.  Unfortunately, we're forced to have two checking accounts, one for NZ and one for U.S.  Close enough, I guess.
Combine finances if married. This battle has already been publicly fought here and on other blogs.  My preference is clear.  Invest the time upfront to create 1 account of each type, 1 set of goals, and 1 financial life.
Cancel your credit cards. Yeah, I said cancel.  While you're at it burn the evidence (in the most environmentally friendly way, of course).  Lower risk of identity theft, less financial accounts, less miscellaneous and erroneous fees, and cleaner reviews of credit reports makes Baker a happy boy.  By the way, it's been a year and my credit score is perfectly fine.
Freeze your credit reports. For those committed to a life without credit (or those who won't need it for awhile), freezing your credit report can save a lot of headaches.  A freeze limits access to your report, making it much more difficult for anyone to compromise your identity.  Most states charge a fee, although a couple offer it for free.  You can even do it all online.  It doesn't get any simpler than that.
Budget using pen & paper. I've recently adopted this practice and I absolutely love it.  My new theory is if you can't generate a simple budget with pen & paper…  your budget is too complex.  This forces you to use broad categories and encourages you to lower your spending/monthly commitments.  Also, physically writing out your budget is a much better demonstration of comprehension than staring at fancy computer software.
Budget using last month's income. This popular budgeting hack is effective for three reasons.  First, it implies that you're a month ahead of you bills, meaning you have a least a small cushion.  Secondly, it solves the problem of budgeting for irregular income.  Third, because it can't change, it lends itself easily to zero-sum budgeting or the process of allocating each dollar to a specific category at the beginning of the month.
Use cash.  Try adopting cash for your discretionary spending.  The key to cash is to make the process as intimate as possible.  Using physical envelopes that represent your spending categories is a fantastic way to make your budget tangible.  It doesn't get more simple than looking down to find $4 left in the "Entertainment" envelope.  Don't mistake convenience for simplicity.  They aren't always the same thing.
Batch bill paying. The goal of this idea is to pay all the scheduled bills for the month on the same day.  I do this with our student loans.  It can be hard to do with some bills as due dates can be spread out.  However, the far majority of vendors are more than happy to take your payment a couple weeks early.  This is especially easy if you are budgeting based on last month's income.
Leverage calenders. If batching your bills doesn't work well for you, set up a bill calender for a simple visualization of the month.  Most calenders can send auto-reminders to ensure you don't miss a regular payment.
Track your spending at the point-of-sale.  Carry a notebook.  Tap it into your iPhone.  Use whatever strategy you want, but do it at the point-of-sale.  There's a big difference between auto-syncing your spending into budgeting software and physically logging your spending.  Tracking in this way enforces your positive spending patterns and causes you to think twice about your impulses.  With limited practice this habit becomes second nature.
Experiment with spending hacks. Implement "No Spend" days. Try fasting from different common purchases (no television for a month, no daily Starbucks for a week, etc…).   Give yourself time to adjust and test whether those reoccurring expenses are really worth it.  Add any of your "must-have-it-now" purchases to a 30-day list.  Only purchase those that are still "must-have" after a month.
Stop thinking monthly.  When purchasing big ticket items, stop thinking about the monthly payment.  Think, negotiate, and buy based on total or lifetime cost.  This goes for contracts as well.  What's the total price?  Once again this will lead to less impulse spending, less useless clutter, and, of course, less monthly payments.
Automate the flow. Take advantage of online bill paying services. Direct deposit your paycheck.  Ensure your accounts are properly linked.  That being said, I'm not a huge fan of automatically paying your bills.  Streamline it so you can pay with the click of a button, but I choose to maintain control of authorizing the payments each month.  This allows me to scrutinize bills and notice erroneous fees or changes in service.  There is such a thing as too much automation.
Go paperless. Authorize vendors to issue online billing as much as possible.  Scan and keep digital copies of any important paperwork.  Reduce your junk mail.  Good for the environment, even better for your sanity.
Insure adequately. Invest the time upfront to understand your insurance coverage.  Know at least the very basics of your policy and how it works.  Stop making excuses and buy health insurance.  Life, home, auto, long-term disability, make sure you cover your bases.  When the time comes to use it, you'll life with my 1000 times more simple.  By the way, this include having a basic will.
Package services. Speaking of insurance, package all your insurance needs with one company.  This means less contacts, less confusion, and usually will save you money anyway.  Look for ways to do this with other services like communication.  At the same time, don't ever get an add-on you don't explicitly need.  Package your needs before you start shopping.
Pay for regular services in advance. For any service you pay monthly, check to see if you are able to pay in advance.  Often times you can pay for 3, 6, or 12 months.  This not only is simpler in terms of paying less often, but almost always results in a discount.
Cancel all subscriptions. Subscriptions, especially the small ones, can really sneak up on you.  Rather than pick and choose, cancel any of them you can and start from scratch.  Be ruthless.  Don't re-subscribe easily, even if it's free (unless it's to Man Vs. Debt).
Quit signing contracts. Cell phone contracts, gym memberships, and even long term leases are common examples.  Stop signing this crap.  Negotiate, pay in advance, or explore alternatives.  I've adapted this principle with great success in the last year.  Only sign contracts on the most essential needs in your life.  Almost everything else has several other option.
Fund an emergency fund. This is most important for peace of mind.  If you don't have one of these, you have no idea what sort of stress release it is to have this in your back pocket.  It's changed our complete mental approach to our finances.  We treat our fund as another form of insurance.  We don't fret about interest rate or optimization.  It's just there to help spread the risk of something unexpected.
Become 100% debt-free. Including the mortgage.  I can only imagine what it feels like to not owe a single cent to anyone.  Must be so liberating.  I know how much more simple my financial life is now without my consumer debt and I can't wait to knock out the rest of the student loans.  Can't.  Wait.
Consolidate high-interest debt. Be careful.  Normally, I vehemently oppose consolidation.  9 times out of 10, people use this as an excuse to transfer responsibility.  They consolidate and then fall right back into the same trap.  However, my friend Matt Jabs recently consolidated his high interest debt using Lending Club.  He's proven there are exceptions to the rule as he's now more passionate than ever.  In his case, he's simplified it into one source and is saving a lot of interest in the process.
Create artificial scarcity. This is more commonly referred to as "pay yourself first."  The theory is to automatically transfer a portion of your income to savings and budget on the rest.  Basically, it is prioritizing your goals.  The theory is great, as long as you actually spend less than your earn.  There's no reason to pay yourself first, if you're going to overspend and continue to plunge into debt.  When done correctly, though, this ensures you're accomplishing even your "boring" financial goals.
Simplify your investments. My theory when it comes to investing is that if you can't provide a quick summary of what your investing in and how it works…  you shouldn't be investing in it.  You don't have to become a financial planner to know the basics of what your money is doing.  And, yes, you can simplify, while still maintaining diversification.  The two aren't mutually exclusive.
Buy and hold. Stop trying to time the markets.  There are very few exceptions and you aren't one of them.  Neither is your cousin's new inside "opportunity."  This game is an emotional roller coaster and the stress it causes is the exact opposite of everything that is simple.
Do it yourself. Simplicity isn't just doing whatever takes less time.  There is simple virtue found in embracing sustainability, creating your own products from scratch, cooking at home, and learning the skills to repair instead of replace.  At the same time, don't be afraid to…
Outsource tasks.  The truth is learning the skills it takes to be self-sufficient takes time and practice.  Some people are better off focusing their attention on tasks that offer more value.  More importantly, there are some things best left to trained professionals.  Outsourcing makes sense when it will increase the quality, while saving time, stress, and money.
Create a list of everything you own. I'll be honest.  Creating the list, itself, isn't simple.  Actually, it's pretty hard.  But the process of creating this list is sure to stimulate a quest for simplicity.  It'll be a wake-up call to consume less, spend less, and own less.
Sell half of the list within the next two weeks. Here's where things get interesting.  Making a commitment like this will spark a wave a simplicity in multiple areas of your life.  Not only will you generate some cash, but you'll be saving maintenance, upkeep, and potentially storage costs for all your unused junk.  This also increases productivity as it spills into other areas of your life.
Get rid of 2 items for every 1 you buy. Once you've simplified your consumption habits, it's important to take measures to maintain them.  Adopting this policy will help control your spending, encourage you to borrow before you buy, and shift your focus from possessions onto experiences.
Embrace alternative transportation. Ditch the cars.  Research public transportation.  Try the buses, trains, or subways.  Move closer to work, so you can bike.  Walk if at all possible.  In addition to the potential health benefits, you get to bypass car payments, repairs, registration, plates, gas, insurance, etc…
Become a one-car family. Alright so you have to be able to drive.  Whatever.  More and more families these days are making the jump to a one car.  Whatever you do, you're going to be hard pressed to explain how having 3, 4, or more vehicles is necessary (not all that uncommon).  Go ahead and try, I'm all ears.
Buy a smaller car. Less upkeep and usually more efficient anyway.  Don't read this incorrectly, though.  This doesn't say "buy a new car."  You can find dependable, late model, compact cars.  In fact, they are all over the freakin' place.  You might have to look at more than just one website, though.
Rent. Avoid the number one killer of financial simplicity… a house.  Two years ago, I would have been shot on sight for this suggestion.  These days, examples of buying too soon, too much, or too many are all around us.  I'm a fan of home ownership, but you've got to be 100% ready for it.  It's adds an enormous amount of complexity to your financial life.
Consider a condo. A condo could be an option if you're just dying from house fever, but are looking to stay as simple as possible.  Obviously, buying a condo is just as dangerous (if not more so) than buying a house.  It still requires 100% commitment and offers a different set of challenges.  However, it's often easier to budget for "association fees" than it is to account for all the ups and down of maintaining a single-family home.
Buy less house. Finally, if a house is a must, consider buying less.  One of the biggest problems with leveraging credit to purchase a home is the temptation to buy so much more than we need.  Remember, bigger home means higher maintenance, insurance, and mortgage.  Don't forget you'll need more crap to fill it up.
Simplify your income sources. Multiple streams of income sound great, but pursuing too many options at one time can stifle them all.  I suggest having one primary and one secondary source at any one time.  If you're working a full-time job, trying to buy and sell on e-bay, launching your blog, and delivering pizzas on the weekend…  stop.  Choose one of these side pursuits and focus your energy.  You'll simplify your life and most likely have more success anyway.
Discover what you do well… and do it more. If you're an employee, search for whatever delivers the most value for your employer.  Once you find out, replicate it as much as possible.  Playing to your strengths will fast track your progress, as well as your satisfaction.  As an entrepreneur, you're goal is to find out what unique value you provide that your competitors don't.  Whatever extra value you offer, focus on that.  Stop trying to be everything to everyone and just be something to someone.
Learn to negotiate. Many of the tips above will be much easier to implement when you become comfortable with a certain level of negotiating.  We all negotiate in one form or another.  It pays to learn some basic strategies to help you understand and deal with other people's wants.
Filter your financial advice. Experiment with different forms of inspiration.  Find what sources click with you and which don't.  Hone in on those that offer value (*cough*- Man Vs. Debt) and throw away the sources that don't speak to a part of you.  Take the best parts of all the guru-system out there and craft your own.  Once you find a system that works, cut down the noise and focus on it.
Simplify other areas of your life. Eat Less. Passionately pursue only one hobby at a time.  Remove clutter work environment or office.  Simplicity is viral.  Come drink the kool-aid.
[share_sc]
What other ways have you found to simplify your finances?  Which ones on the list are your favorite?  Which ones could do even more to simplify your life?  Let everyone know by joining in on the conversation below!