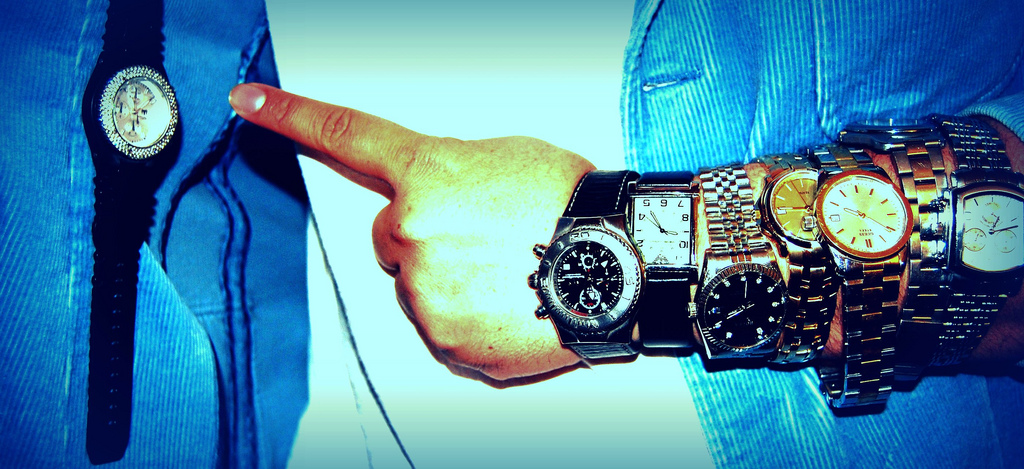 Note:  This is an April Fool's prank post. Since it's now *not* April Fool's Day, I wanted to make sure that it's clear up front.  I can't believe I got so many of you guys (check out the comments)!  🙂
In case you haven't noticed, I haven't been posting much lately.  I'll be the first to confess to that.
Despite this, support for both myself and the guide remain very, very high.  So, first…  thank you.  Second… I feel I owe you an explanation.
Here it is…
The buzz from the launch earlier in the month caught the attention of several people.  One of these people happened to be a local watchmaker here in Indianapolis.  Admittedly, I thought he was a little weird at first, but after talking with him for a while, I was hooked.
Turns out he's got over 40 years experience in the industry.  Watchmaking is not something you can go to college for these days.  It's still relies on the same master/apprentice relationship of many skills of years gone by.
Master watchmakers get to a point in their art where they elect to head towards retirement, but before they do… they pass down their knowledge to the next generation.  This particular master only takes on one apprentice every…  five years.
And that's the length of commitment you have to make.  5 years to be fully accredited as a master watchmaker.  You don't get paid for the first 3 years, either.  Fortunately, the master does provide a place for you to stay and three meals per day through these early years.
Strangely enough, the master saw or heard something in our conversations that made him offer me the apprenticeship.  I politely declined, but thanked him for such an honor.  After a couple days, though, I thought more about the offer…
And you know what?…  I'm actually going to do it.
It's been a long, hard decision.  It's taken several weeks of intense meditation.  While Courtney and Milligan will be close, they aren't allowed to live with me during the apprenticeship.  All my time and energy must be focused on learning my new trade.
As far as Man Vs. Debt is concerned… I won't be quitting completely.  I won't be selling or anything like that.  I plan on writing at least one article per month to ensure that the site lives on.
My stint in making a living online was a fun journey, but it's time for me to focus on an actual career now.  I need to put food on the table.  And in 3-10 years, I should be able to provide that security.  Who knows?  Maybe watches will be my new passion.
After informing my new watch master that I'd be accepting his offer, we went through a ceremonial acceptance ceremonial.  Luckily, Courtney recorded a portion of the ceremony for you on youtube (I was having a bad hair day).
Wish me luck!