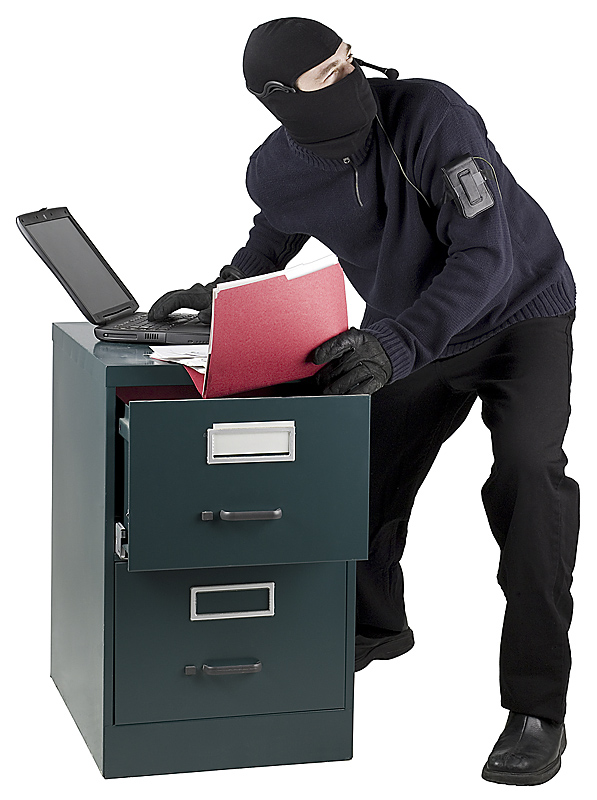 [share_sc]
Identity Theft is the fastest growing white collar crime in the world. The FTC has stated that there are over 9 million cases of identity theft per year in the United States alone!  Even if you've been able to avoid any issues thus far, chances are that you know someone whose identity has been compromised.
Well over 50% of all cases of Identity Theft involve someone whom the victim knew!
If you take anything from this post, realize you can never be too safe with your personal information.  You need to be on your toes, even especially around your co-workers, friends, and family.  Although you won't be liable for any fraudulent charges and/or spending, it can takes months of consistent effort to clean up. Here are some ways you can avoid becoming a victim:
Check Credit Reports Several Times A Year – With resources like AnnualCreditReport.com at your fingertips, there is no reason you should struggle to keep tabs on your own reports.  You are allowed a report from each of the three bureaus, once every twelve months.  By only pulling your report from one bureau at a time, you can have FREE access once every 4 months.  This awareness can go a long way toward catching problems before extensive damage can be done.
Consider "Freezing" Access To Your Credit Reports – You are actually allowed to place a freeze on your credit reports.  This effectively locks potential thieves and creditors from pulling your report.
Opt-Out – The less pre-approved credit card offers you receive in the mail the better.  You can "opt-out" online at www.optoutprescreen.com or by calling 1-888-5OPTOUT.

Do Not Call Registry – Putting yourself on the Federal "Do Not Call" list is yet another way to minimize your exposure.  You can get more information at www.donotcall.gov.  Your individual state may also have it's own Do Not Call registry.
Cancel Credit Cards – There are positives and negatives to canceling unused credit cards.  One of the positives is that canceling eliminates the chance of identity theft on that specific account.  The more accounts you have open and unused, the more opportunities you have for id theft.
Credit Monitoring Service – These days there are all sorts of credit monitoring services.  Each bureau offers it's own credit monitoring, along with nearly every major credit card company.  Prices commonly range from $5-$50 per month depending on the intensity of monitoring.  Personally, I'd much rather purchase insurance or simply freeze and monitor my own reports.
Identity Theft Insurance – An alternative to monitoring is insurance.  Usually, insurance will still have some form of monitoring, but will focus much more heavily on resolution and reimbursement in the event of an actual theft.  There are plenty of options available that blur the lines between monitoring and insurance.  If you choose to go with either, be sure to shop around and compare policies, plans, and coverage.
Don't Carry Unnecessary Information In Purse/Wallet – Try to minimize the amount of credit cards, social security cards, passports, and other sensitive documents you carry on a daily basis.  In the event your purse or wallet is lost/stolen this will not only limit the damage, but will make it exponentially easier to report and resolve.
Photocopy Information You Do Carry – Make photocopies of both sides of every piece of information you carry on a regular basis.  Once again, in the event that your purse/wallet is lost or stolen you can have quick access to phone numbers, account numbers, and expiration dates that are missing.
Simplify Your Financial Accounts – The more you simplify your financial accounts, the easier they will be to track.  Looking over your account balances each month is an essential step in catching any issues early on.  In addition, the more institutions that you have accounts with, the higher the risk of a security breach that compromises your information.
Keep Spreadsheet/List Of Reoccurring Bills – It is common for thieves to submit a change of address request on regularly scheduled bills in order to attempt to gain access to your credit lines and accounts.  If you track these bills yourself, you will notice any significant gaps in your incoming mail.
Use Direct Deposit – Having your checks directly deposited from an employer is much safer than handling paper checks.  Not only is it more quick and convenient, but it eliminates the possibility of a lost or stolen paycheck.
Guard Your Social Security Number – Your Social Security number is your most valuable asset when it comes to Identity Theft prevention.  Always think twice before giving out your number over the phone, online, or in person.  Take precautions to minimize the amount of people who come into contact with your number.
Purchase Only From Trusted (Secure) Sites – If you have to think twice about a site, it is usually a good idea not to risk putting in your credit/debit card information.  Regardless of the size or reputation, never enter in your information into an unsecure site.
Avoid E-mailing Sensitive Information – Never e-mail your account numbers or social security numbers.  If you must send these over e-mail it is better to create and attach a password protected file.
Be Aware Of Phishing Scams – Be wary of any e-mails that appear to be from legit companies asking you to "verify" or "confirm" your social security numbers, address, or credit card information.  The majority of reputable companies maintain policies that they will never ask for you to confirm information in this manner.  If you are in doubt, stop and call customer service to double check any suspicious activity.
Eliminate Spam E-mail Altogether – Make sure that you are actively using a spam filter.  Not only will this cut down on the number of phishing scams, it will also drastically lower harmful viruses and spyware that may collect and send out personal information.
Do Not Store Account Information On Social Websites – I must say, I was guilty at one point of maintaining my financial spreadsheets on Google documents.  I've also heard of people using Facebook or Twitter to send their account information.  It doesn't get much more silly than that, folks.
Don't Access Banking Websites On Unsecured/Public Networks – Avoid checking account balances, paying bills, or access personal information while on unsecured/public wireless networks.
Protect Your Computer –  Make sure that you are taking full advantage of reliable Firewall, Virus Protection, and Spyware Removal programs.
Password Digital Financial Files – Even if these remain exclusively on your own computer, it never hurts to password protect any lists or spreadsheets with your account information.  Any extra deterrents you can put between your information and a potential thief is a good thing.
Wipe Hard Drive Before Disposing Of Old Computers – Before you sell, donate, or trash your old computer make sure that you securely "wipe" all files from the hard drive.  It is fairly easy to recover files which are simply "deleted."  If you are donating or trashing, consider literally removing the hard drive.
Take Advantage Of Optional Security Questions – Many times online accounts make these questions optional.  As I've stated before, any possible deterrent you can put between your information and a potential thief lowers the risk that you'll fall victim.  Any question is better than none!
Don't Use Same Password For Every Online Account – I definitely struggle with this one.  It is extremely common for me to use the same username and password for all my online activities.  At the very least, make sure to create unique passwords for each of your financial accounts.  In the unfortunate case one of your online profiles is compromised, at least they won't have access to any and all financial accounts.
Set Up Banking Alerts With Your Bank For Unusual Activity – The majority of banks are able to set-up free, automated e-mail alerts that inform you of any major changes in your account activity.
Be Cautious When Providing Information Over The Phone –  A good rule of thumb is to make sure that you have initiated the call.  If you receive a call asking you to confirm any information, be extremely careful.  In addition, make sure to be discreet with your personal information while talking on a cell phone in a public setting.  You never know who might be listening!
Be Cautious When Providing Information Face To Face – There are several places where your Social Security Number or other personal information may be discussed.  Gyms, movie stores, tax preparation offices, and other membership based vendors will often require personal information.  Make sure to inquiry about how the business handles and disposes of your sensitive information.  If you don't feel comfortable, take your business somewhere else.

Invest In A Shredder –  Shred any document that has even the least bit of personal information on it.  Be sure to shred any junk mail or pre-approved credit offers, as well as old bills and account statements.
Invest In A Safe – Keep all your most essential documents safely locked in a fire-proof safe.  This will help protect your information in the event of a physical break-in, in addition to damage from a  fire or natural disaster.
Do Not Carry A "Master List" Of Passwords/PINs In Wallet – I've known many people to carry a "Master List" of all their account numbers, passwords, and PIN numbers in their wallet.  This is like leaving the keys in the ignition and the car doors unlocked.  You are just asking for trouble.
Do Not Write Account Numbers On Outside Of Envelopes – Do not write any personal information or account numbers on the outside of envelopes when you pay bills.  If you need to include the account number, write it directly on the check, itself.
Drop Bill Payments By The Post Office Yourself – That little red flag on the side of your mailbox might as well be a "hurry and steal from me" sign.  Don't leave personal checks and personal information sitting in the mailbox waiting to be picked-up.  Take advantage of online bill paying or swing by the nearest post office or drop box to send bill payments.
When You Go On Vacation, Have The Post Office Hold Your Mail – A stack of neglected mail is a would-be-burglar's best friend.  Having the post office hold your mail will not only help prevent identity theft, but might save you from a couple broken windows and a completely ransacked home.
Do you know of other ways to prevent identity theft?  Did I leave out any obvious ones?  Have any of you been a victim of Identity Theft?  Join in on the discussion by commenting below!