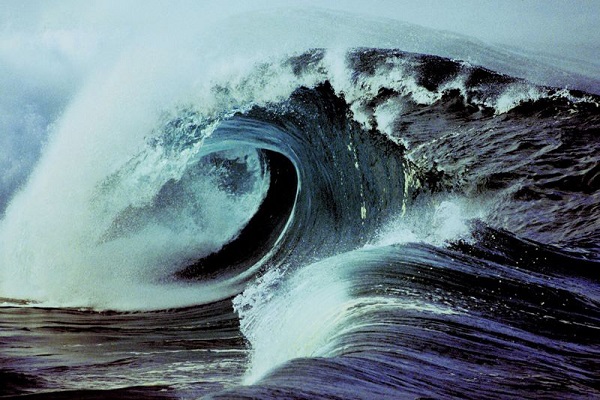 [share_sc]
There is a roaring debate within the personal finance community about which method should be used to pay off debt.  Most likely you've heard of the "Debt Snowball" and the "Highest Interest First" approaches.  However, I wanted to review a method, which is certainly not new, but that you might be far less familiar with.  I've nicknamed it the Debt Tsunami.
The Debt Tsunami
Simply, the Debt Tsunami is a debt reduction method in which you pay off your debts in order of their emotional impact. This method tends to be extremely flexible and able to adapt depending on the personality of the individual.  Here's how I came upon the name…
In our physical world, Tsunamis are often cause by abrupt earthquakes, plate shifts, and even volcanic eruptions.  This is also true in most successful financial turn-arounds.  At some point, you've got to draw a line in the sand and say, "No more"! You've got to stomp your foot down and reclaim personal responsibility.  This needs to be a tangible, singular moment which will help power the entire journey towards the shore.
At first, though, Tsunamis are nearly undetectable when they are in deeper waters.  However, as the water begins to get shallower and shallower the wave grows exponentially in size and strength. In the beginning, slashing your budget and applying extra towards your mound of debt may appear to be futile.  But as many have proved, constant effort and dedication will rapidly begin to compound.  As your overall debt begins to get smaller and smaller, the scales start to tip in your favor as the momentum is nearly impossible to stop.
Once they reach land the destructive force of these natural phenomenon is undeniable.  They will annihilate anything in their path, leaving little more than bare ground when they are finished. As you approach the end of your journey, you will be riding a roaring wave of passionate debt-reduction.  You'll not only have completely changed your own life, but you'll be an awesome example of success for others.  With no debt, your financial life will be the proverbial blank slate. Life will be yours to build, create, and live as intentionally and as passionately as you desire.
Ladies and gentleman, that is a Debt Tsunami.
Before digging into the principles a little deeper, let's review some common issues with the popular strategies for eliminating debt.
The Two Most Referenced Methods to Pay Off Debt

Debt Snowball
This method encourages paying off debt by focusing your efforts on the lowest balance debt first.  In theory, knocking out your smallest debts will help encourage confidence and build momentum. In addition, many people find themselves overwhelmed simply by the number of different debts they owe.  In these cases, one less debt can go a long way in helping an individual grasp their situation even better.
In some specific cases, though, totally ignoring interest rates can end up costing you a lot of money.  The biggest downfall of this system is the assumption that eliminating the next lowest balance will always build the most momentum. This simply isn't always true, especially for different personality types.
Highest Interest First
By paying off your debt in order of the highest interest first, you ensure the quickest theoretical finish.  Therefore a successful attempt utilizing this approach will result in paying out the least amount of money.  This is very desirable among individuals who draw inspiration from detaching themselves from the emotions of debt altogether.
The biggest problem I have with this method is in the assumptions of a large amount of its supporters.  You commonly hear that this is the only "logical" choice, or the most "mathematically-correct" method.  The only reason you would not want to follow this is if you were "struggling" or if you were "irresponsible" or "lacked control".  I hear this kind of thing so much, it makes me want to vomit.
There is nothing wrong with simply choosing between two benefits, especially when one meshes better with your personal tendencies.  My only problem is when there is a pretense that no benefit exists in any other method.  Don't forget that probability of success is a very "mathematical" concept. Or ignore the fact that it just might be the most important part of this equation.
What Role Do Our Emotions Have in Paying Off Debt?

For most people, the process of debt reduction is an emotional one.  Often times, people allow their emotions to freely dictate their behaviors, which plays a significant role in deepening the levels of debt.  There are two solutions to this problem.
Attempt to remove emotions from the process completely. This is really what the "highest interest first" crowd tries to teach/implement.  It's the "logical" choice.  The "mathematically-correct" approach.
Recognize the emotions, identify with them, and leverage them to help you. I strongly prefer this approach.  Rather then fight to eliminate them, I'd rather install new methods for handling them that embolden my values.
Why The Debt Tsunami Works
A major advantage of the Debt Tsunami approach is its flexibility.
For example, let's examine the story of a fictional young couple whom is truly overwhelmed.  They've recently taken back control of their spending and have a firm grasp on a budget.  However, they are left starting at 12 different debts spread out amongst credit cards, car loans, two mortgages, and even family members.
In this case, the couple could receive a lot of benefit from the debt snowball approach.  Eliminating the smallest debts first would allow them to quickly simplify, build momentum, and reinforce the positive changes they've recently made.  However, let's say the three smallest debts are a $500 credit card, a $700 credit card, and a $1000 loan from the in-laws.  Unfortunately, the $1000 loan to the parents has caused some tension within an otherwise great relationship. The young couple would receive much more emotional benefit from eliminating this debt first.  They would earn a piece of their dignity back, which would be priceless over the long journey ahead.
On the other hand, let's view an example using an individual whom is very detailed oriented and excels at removing emotions from the process altogether.  He too has recently drawn a line in the sand, but for him he sees no benefit in paying off his $500 loan from a family member.  It hasn't changed the relationship and was given interest free.  Why would he pay it off now? He attaches no emotional benefit from this accomplishment.  Instead he'd rather focus on his $6500 dollar credit card at 12.5% interest.  He receives the most emotional validation from knowing he is pursuing the "optimal" method. He draws inspiration from knowing he will be out of debt two months earlier.  He plans to celebrate by spending those months backpacking overseas.
In this scenario, our hero takes a totally different approach, but still is paying of the debts which have the biggest emotional impact given his values.
This is why I'm a huge fan of the Debt Tsunami. With all this flexibility, though, it's easy to fall into a "do whatever works" mentality.  This doesn't produce great results for a large majority of people.  Too much flexibility and we lose the awesome benefit that comes with a well-written plan or a set of easy-to-follow steps.  Therefore, let's find a balance by reviewing a systematic approach to creating your own Debt Tsunami.
A Step-By-Step Strategy
Create The Initial Mental Shift
You've got to find a way to create that first burst of energy. That underwater earthquake.  The volcanic explosion.  Write a Declaration of War.  Freeze your credit cards in a block of ice.  Sleeve your ATM cards.  Tape pictures of your kids in your wallet.  Track spending for a week.  Make a list of everything you own and sell half of it.  Try a cash budgeting system.  Take a shotgun to your credit cards out in the back field.
Do whatever you want, but just do something.  Start hating debt. You can always kiss and make up later.  Remember, the entire effectiveness of your Tsunami depends on the energy of this first surge.  Make it pop. It's this spark that creates the momentum for all the events to follow.
List Your Debts From Smallest To Largest Including Interest Rates
A simple list.  Don't make this complicated. Name, Amount, Interest Rate.  That's all.
Why smallest to largest?  In general, people will attach more emotional value to eliminating the smallest debt.  More bang for the buck so they say. However, unlike the Debt Snowball, we won't be totally ignoring interest rates.  That information will help you judge in this next step.
Focus On The Emotional Connection With Each Debt
Starting with the first debt on the list, close your eyes and imagine paying it off completely. I don't care if you think it's corny.  Do it anyway. Really try to get a gauge of how you feel about the debt. How long will it take to pay it off (run the numbers if you have to)?  How do you feel about the creditor?  On what did you waste spend the money?  How much of a burden is this particular debt in your financial life?  Is it secured or unsecured?
Stop.  Jot down your thoughts on the list. Create a scale.  Give it stars.  Do whatever you want so you'll remember what you felt. Proceed to the next debt on the list. Ask yourself the same questions.  Start from scratch each time and really attempt to be open and honest.  No one is looking. Continue until you've done each debt. If you get tired or start to have a slight headache, that's a good sign.
Reorder Your List Based On Potential Emotional Impact
Now that all the hard work is out of the way comes the fun part.  Look back over your list and make any changes that you need to. Move that 20% interest credit card up a couple spots.  Push back that $800 student loan at 2.75% interest if there isn't a big connection with eliminating it quickly. Order the debts by how awesome it'll feel to eliminate them combined with how easily you can actually get that result.
Head Immediately Towards Shallower Water
Now that you have your list, the real journey can begin.  You've already created the spark, the mental earthquake.  But your work isn't done. If you head out to deeper water, you'll get lost at sea.  The only way to build momentum is to go as fast as you can towards shallow water. Track spending, learn to budget, adopt frugality, and grow your income.  With you new list as your guide you'll be destroying everything in your path before you know it.
Your debt won't stand a chance.
What are your thoughts on the Debt Tsunami?  In what order do you (or did you) pay off debt? Did I miss the boat, or hit the nail on the head?  Join in on the discussion by leaving your comment below!