Note:  If you cannot see the video book review, <– click here to watch.
First, I apologize for the darkness in the video!  I'm an idiot and recorded in front of an open window.  Doh!  I had to add a couple brightness notches post-filming, which lowered the quality.  Even still, I wanted to share the honest, non-scripted first take.  🙂  Enjoy!
In case you didn't watch the video review (go watch it now!), I'm giving away 4 copies of J.D. Roth's new book, Your Money: The Missing Manual.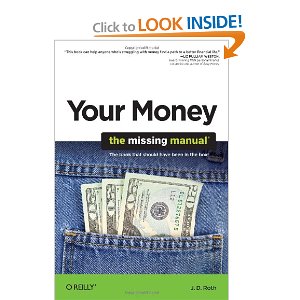 Earlier today, I sent out instructions on how to win two of them to the Man Vs. Debt Militia.  If you are a member of the Militia, check your e-mail to enter to win!  If you aren't a member, be sure to enlist now to get all future giveaway e-mails!
Militia member or not, you'll still have two shots to win a free copy.  I'll make these super easy:
Leave a comment below (on this post) describing why you deserve a free copy! I'll pick the 5 most convincing comments (I'll mix it up) and then randomize the winner among the top 5!
Leave a comment on Facebook describing what you will do with the book when you are done with it! J.D.'s financial turnaround was started with the gift of a book.  I'm trying to pass that along by giving away 4 books here.  What will you do with the book when you are done?  Donate it?  Sell it?  Give it to family?  Let me know and I'll choose the best 5 and randomize a separate winner of the Facebook comments!
Two simple comments. One here on this post and one on MvD's Facebook Fan Page gets you a chance to win a free copy of the book!  What are you waiting for?
You should buy this book.  Simple enough?  More info –> "Your Money: The Missing Manual"
*****
Disclaimer:  If you decide to purchase the book through a link on this page, Amazon will throw me roughly 60 cents.  Whoo-hoo!  Also, J.D. sent me a free copy of this book.  Whoo-hoo!  More importantly, I genuinely enjoyed the book so much that I personally bought 3 additional copies off Amazon to give away to you guys…  WHOO-HOO!