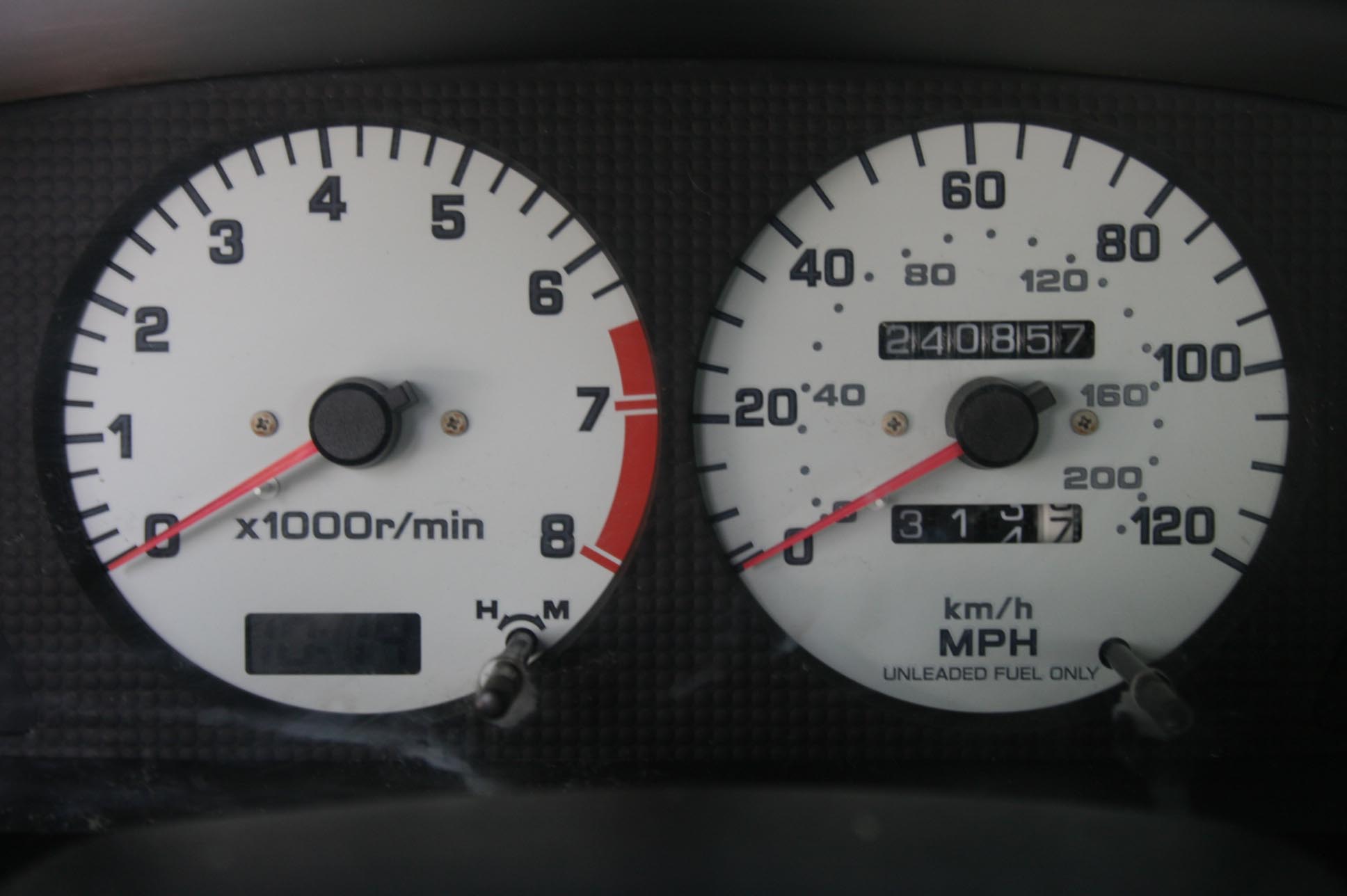 [share_sc]
Goodbye, Nissan 240SX.  Hello, $1200 cash.  [This is my happy dance]
I hate selling cars.  Actually I hate cars in general. I'm horrible at them, I don't understand them, and I don't do a good job of taking care of them.  Luckily, I've been blessed the last few years by the gods of Japan, a.k.a. Nissan.  I did nothing right for 6 years straight and this little thing held strong.
I think it's important as bloggers to admit when we suffer "epic" fail.  I occasionally fall into the habit of preaching from a soap box (a.k.a. yesterday), but every now and then I take the time to step up and admit I suck.  I sucked today. I just got lucky.  I like being lucky.
You can't run a car into the ground for 6 years, ignoring check engine lights, changing oil, slowly leaking tires, broken headlights, and impending rust and expect to make a big profit when you sell.  After all the car has 240,000 miles. How much longer can this thing go?
Did I mention we waited until the last minute, threw up a rough ad (good picture thanks to wife, though), and just kind of closed our eyes?  We thought we'd be lucky to get $1000. Actually we said told ourselves we'd take anything over $1000 and run.  We put it up for $1500 "or best offer" (mistake).  I was flooded with calls asking all kinds of questions, especially "what's the lowest you'll take".  I literally had a tough time keeping up with everything.
The first 4 people who looked at it passed without even making an offer.  They were out looking for a steal and weren't willing to deal with a leaking brake line, leaking oil, power steering pump, weak transmission, dents in the body, rips in the leather seats, and 240,000 miles.  Selfish pricks. I was starting to get really worried.
Then the clouds parted and out dropped a young kid who just enrolled in technical school to work on cars.  Guess what his dream fixer-upper was.  Hallelujah! About an hour of looking under the hood and under the car, he totaled up what it would take to create the next inspiration behind Fast & The Furious and offered $1200.  I countered at $1300, he declined.  I thought for exactly 1.5 seconds before running away as fast as I could with $1200!
I quickly sat down and jotted everything I did wrong in this process.  It took up almost a full page, so I just kept the party going and brainstormed everything I could have done wrong.  I'll leave it up to your imagination which half of the following I actually did and which I made up.  It's more fun this way…
67 Ways NOT To Sell A Car
Don't worry when a little rust starts to form.
Don't wash the outside of the car. First impressions don't matter.
Don't pick up trash from the back seat of the car.  Who rides in the back seat?
Clean the car, but don't detail it.
Don't bother checking the fluid levels.  Who cares about oil, brake fluid, and power steering?
Don't fix minor interior problems, such a knobs, switches, and vents.
Don't bother with adding an air-freshner.
Let your pets have free reign over the car.
Don't worry about touching up paint.
Don't bother cleaning out the trunk.  Instead assume they won't pop it open.
Add the 16th bumper sticker to your collection.
Continually smoke in your car up until the day you sell.
Don't replace old, worn out floor mats.
Let your kids eat food in the car.  Would you like fries with that?
Assume waxing your vehicle is over-rated.
Sell your car to a dealer without checking the private party market.
Don't bother with keeping maintenance records. Everyone will take your word.
Don't mention that your car has been totaled… twice.
Don't bother paying off the title even if you're able.
Only advertise in one medium.
Don't bother with free online listings. They take too long and people hate the internet.
Clean the car, but ignore the tires/rims.  No one ever looks at the size or condition of tires.
Don't bother to check the air in all the tires.
Don't replace broken headlights.  You can just sell it during the day.
Don't replace broken windshield wipers.  You can sell it on a sunny day.
Let people test drive your car alone.
Tell everyone your reason for selling is "Time to move on from this one."
Print fliers in black and white.
Forget to mention you've been the only owner.
Grant a discount, because it's "all the cash they have on them".
Put "Or Best Offer" on every ad.
Forget to mention any other calls or appointments you may have.
Sell your 4-wheel drive in the spring, right after all the snow melts away.
Sell your rear-wheel drive convertible in November.
Donate your car to charity without first testing the local market, solely for the tax write-off.
Start your price slightly above-market, just in case.  That works well for homes, too.
Advertise your price as $13,000 instead of $12,900, even if you're willing to take $12,000.
Don't bother getting that clicking noise looked at.  Buyers probably won't notice it.
Don't worry about a physical "For Sale" sign.
Forget to mention that you are selling your car to family and friends.
Have an annoying ring-back tone on the number you place in the ads.  Everyone likes Soulja Boy.
Don't screen buyers by phone.  Just put your address directly in the ad.
Ignore how you look when you meet potential buyers to show the car.
Sell your car on payments.
Answer the question, "What's the lowest you'll take?"
Just sign over the title, without checking your state laws.  Isn't that what Uncle Earl always does?
Forget to look over the glove compartment and trunk one last time.
Don't cancel your insurance after selling the car.
Don't study the local market. Kelley Blue Book conquers all.
Post an ad without any pictures.
Ignore all calls from numbers you don't know hoping they will leave a voicemail.
Be the first to throw out a price once negotiations start.
Accept a personal check as payment.
Underestimate the leverage of an official car history report.
Rush the buyer when he is looking over the car.
Lose a deal over $50, with very little other prospects.
Don't list all of the obvious issues with the car in the ads.
Over-promise, under-deliver.
Don't thoroughly include all the details and features.  Who cares about power-windows?
Fail to explicitly state that "car is sold as is" and definitely don't get that in writing anywhere.
List your car on Monday night.  The weekend is usually too convenient for people.
Wait until the last minute to sell your car.
Don't worry about getting seat covers for damaged interior.
Lie about known problems.  These things never come around.
Lack knowledge of your car's gas mileage.
Grow attached to a particular buyer and forget you always have the option of walking away.
Once the sale is complete, sport the Happy Dance in full view of the buyer.
Do you suck at cars half as much as I do?  What are your favorite ways NOT to sell a car?  List them below and I'll add any original ones up into the post above!