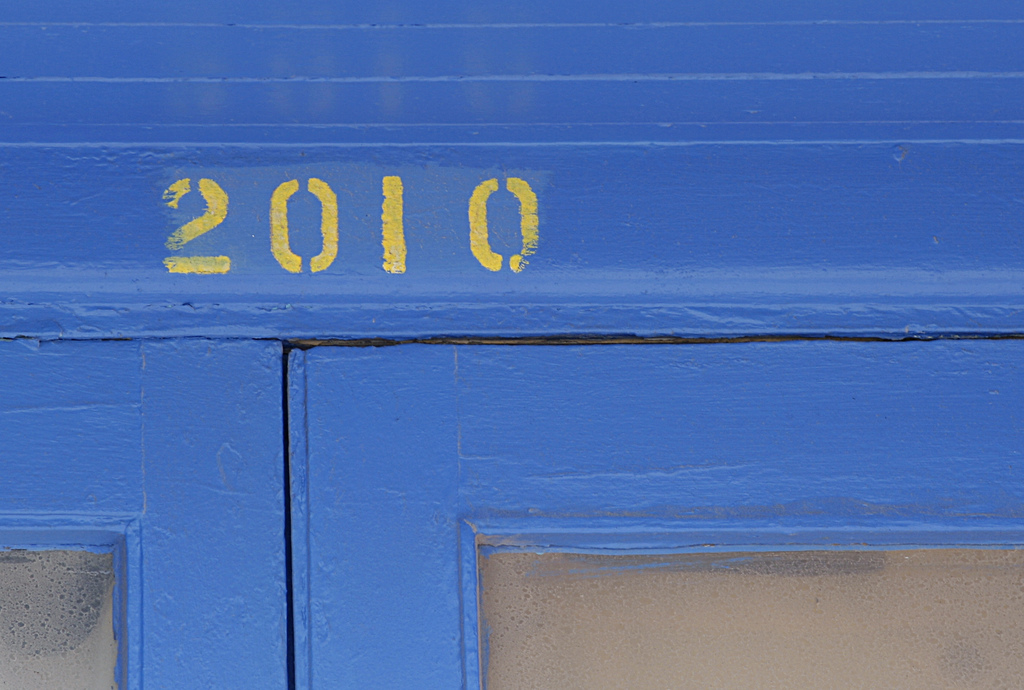 [share_sc]
At the beginning of every new years, there are usually two sects of people:
Those who endorse 'resolutions' and goal setting at this time of year.
Those who are critical of this process: "It's the same as every other day".
I can see both sides.
I get the fact that most resolutions are too vague or too unrealistic.  But at the same time, there's a lot of energy right now.  There is a ton of optimism for the new year and the new decade.  People are fired up, dreaming big, and digging down deep.
Wouldn't it be a waste not to tap into this atmosphere?
I, for one, am going to buy into the hype.  I'm going to declare my intentions for 2010 in public.  It helps me to write them down.  It helps me to shout them from the rooftops.  I'm going to focus on building momentum now.
February will be here soon enough.  I'll worry about it then.  If all this buzz only gives me one great month, I'll take that.
Here we go:
Man Vs. Debt 2010 Blueprint
2009 was all about opportunity for me.  It was a 'yes' year.  I said yes to every tangent, chased every rabbit hole, and explored countless options to find what I enjoyed doing most.  It was a lot of work  for very little tangible rewards.
But it paid off. I'm much more concrete about what I love doing and what I don't.  I'm positioned well online for the short time I've been around.  I have a great blossoming community and dozens of other bloggers I call friends.
That being said, 2010 is going to be more focused.  I will be saying 'no' to many more tangents and rabbit holes.  It's go time for me, now.
The main switch will be mentally.  I will be exploring ways to treat my online endeavors like true businesses.  Many 'opportunities' will be cut back and simplified, that's just part of the shift.
Don't worry, though.  I'll still be accessible, transparent, and vulnerable. The truth is that is my business model.  It's also what I love most.  Responding to comments, e-mails, questions.  Building the community and interacting with readers, bloggers, and media.  It's a blast and I've had success.  That won't change.  🙂
Here are some of the ways I plan to kick ass in 2010:
Gross $48,000 this year through light affiliates, light freelancing, and the product launch plan below.
Become an A-list Blogger. Move from the B/C list to the A list through media mentions, targeted guest post surge, collaborate w/ other A-listers, making full-time income.
Become confident with/known for use of videos.
Position myself for speaking/prominent book launch in 2011.
Product Launches for first half of year:
Unautomate Your Finances

with Leo Babauta.  An eBook/guide that has been in the works forever.  A comprehensive, simple/minimalistic approach to getting finances in order.

Sell Your Crap Online

.  An in-depth guide with specific videos, a lengthy written guide, and interview/success stories for organizing your stuff and selling it on Ebay, Cragslist, Amazon, etc…  Three levels:  Beginner, Intermediate, and Advanced selling techniques/walk-throughs.

Blogging/Branding/Networking Workshop & Consulting

.  This will likely be both a workshop for small groups of 3-4 and the release of private consulting options, as well.  It will contain an in-depth case study to how I grew/grow MvD, including the literal e-mails I sent, what I did right/wrong, freelancing, guest posting, networking, and building community quickly.  It'll be How NOT to Suck at Blogging, but on steroids, updated (I've learned a lot since then), and personalized for each participant.
The idea is that these three products tap into topics/audience of different interests and will provide a base (or tripod) for the rest of my business ventures.
Other Mini-Goals/Plans:

Make MvD 50% written and 50% video based

. I'll let you in on a secret.  I'm not a writer.  I don't like it at all, really.  I like doing big projects/cool posts, but I don't enjoy writing.  Never have and not sure I ever will.  So, I want to keep my written posts on MvD as the huge, detailed, and comprehensive projects and posts that have done well for me.  For everything else, I will continue to explore video as a medium (including the "Do Shit You Love" series).  Actually, I'm fairly close to this split now (for the last month or so) anyway.

Execute a HUGE Guest Posting surge

. This is going to come either after the 1st or 2nd product launch I do.  I'll be targeting the biggest and best names in the blogosphere and writing ridiculously high-quality content.  I won't be going for quantity, but rather quality.  I'll be attacking 10-15 of the most well-known names, many outside of personal finance or life design.

Go after more Media Mentions, Interviews, and helping others w/ projects

. I'll be focusing more on getting our story out in other forms of more traditional media.  I also want to do many more interviews.  In fact, if an interview with me can help you in anyway, let's schedule it!  I'll record a video, do it on Skype, or even in text (if you insist) :-).  This will also include helping other people by contributing to their eBooks, guides, and projects in small but powerful ways.

Explore Speaking Gigs and a Book Deal

. This will be my projected focus for the last quarter/couple of months of 2010.  With the continue growth of the community, I want this sort of activity to be vibrant in 2011+!
Couple Other Projects I Will Be Supporting.
This list is sure to expand throughout the year, however at the start there are a couple other projects I'll be helping support in one way or another.
Nomad Baby – This is Courtney's blog/project she is starting.  She will be featuring one photo from our travels for each day in 2010 (365 total).  She'll be exploring techniques and showcasing her best snaps in attempt to show her growth throughout the year.  Pictures will mostly center around the sights and activities of Milligan.  All of the cool travel photos I share on posts are already taken by her.  This will show off even more.  If you enjoy photography or our travels, be sure to check it out!
Untemplater – I'm one part of an awesome team of people behind a new group site, that'll focus on helping Gen Y figure out what the heck to do with our lives :-).  The launch team includes Jun Loayza, Cody McKibben, Carlos Miceli, Monica O'Brien, Andrew Norcross, and another couple dozen of awesome writers/contributors.  There will be a personal finance section, as well as one for entrepreneurship, mobile lifestyle, and personal development.  It launches on January 5th and there will be some killer giveaways and a free manifesto (with my own story included).  Stay tuned.
10% of any Man Vs. Debt revenue (gross) to Charity: Water.
In 2010, I'll be pledging 10% of all income generated by Man Vs. Debt (my own products, affiliates, advertising, consulting, etc…) directly to fund a well with Charity: Water.
It takes $5,000 to fully drill a well for a community and I would like to support one in Courtney and my name (through this 10% and other personal donations), as well as an extra one through donations from the MvD Community.  I plan to 'give up' my 26th birthday and other major holidays next year to help this happen.
Although I don't have advertising on my homepage at this point, I will be making room for a non-intrusive Charity: Water banner to link to the community project.  More info soon!
Personal Goals:
In the interest of accountability and for those of you who are interested, here are some of my personal goals for the year:
Fitness: Meet and maintain weight of 200 pounds. Although, I've sacrificed updating Man vs. Fat, my diet change is still going well.  I'm down between 20-25 pounds, but have a long way to go.  In 2010, I'll be working with Steve Kamb of Nerd Fitness (which I love) on a bodyweight-based exercise routine that I can do while traveling.  If we decide to spend more than 3+ months in any one location, I'll be exploring martial arts regularly (Muay Thai in Thailand, BJJ if back in States).
Family: Stop taking marriage/fatherhood for granted. Milligan is hitting her 'terrible twos' phase.  She's exploring expressing herself, but hasn't been taught/can't yet communicate fully (especially frustration).  For the first time in her life, I feel myself getting angry/burnt-out easily and not knowing what to do.  She's been such an easy infant/baby, I've not had my comfort zoned as a father stretched until now.  The same is true for Courtney and me.  We've just sort of put our relationship on default mode.  It's strong, which is why we've been able to adapt to the life changes, but we often forget we need to set aside time to actively work on it, too.  I feel like it's above-average on default/coast mode, but I want it to be extraordinary. With Milligan and while traveling, we need to remember to give our relationship focus, time, and concentrated effort, too.  I plan on attacking these both the same way I do everything…  reading books, blogs, and exploring strategies/techniques to be a better father/husband.  Anyone have suggested reading?
Travel: Stretch comfort zone, be more confident. We'll be heading to Thailand for a couple months, which will be a different level of comfort/traveling for us.  I don't think we will be done traveling after Thailand, though.  We'd like to visit home, but will look for ways to tour the U.S. or possibly South America.  With each week of mobile lifestyle, we are become more honed in our system and our confidence with this lifestyle.  I want to be more in control, but without having to plan out every detail.  This is the sign of a confident traveler in my mind.
Spirituality: Commit to exploration. I've neglected this arena (by choice) for at least the last couple of years.  For me, it's not about one dogma or religion over another, but simply exploring my options.  I want to see how Buddhism affects the daily life in Thailand and explore the Christian Church community more when visiting/traveling the States.  I also want to read several more books on NLP, which I personally view as part of spirituality/self-control.
Hobbies: Build diverse skills, find releases. I tend to struggle with having light hobbies.  If I start to pick-up something, I start to dig in and really want to master it.  Since starting blogging, I've done little else from a personal perspective.  I'm starting to revisit Speedcubing (solving the Rubik's Cube) and am back down to just under 60 seconds.  I'd like to average between 30-35 seconds per solve.  I'd also like to devote an hour or two a week to the Harmonica (I love music and desire an outlet for it).  I also want to explore martial arts more.  It's not about the specific options, but rather just devoting 5-10 hours per week to something purely fun outside of planning travel or blogging.  A healthy release if you will.  🙂
I told you I was buying into the hype!
Long story short, 2010 is going to rock for me.  My word for 2010 is going to be Confidence.
Confidence as a father and a husband.  Confidence in my business and travels.  Confidence in my body and spiritual exploration.
I don't and won't have all the answers, but I will be confident in the journey.
Don't bet against me this year.  Heck, don't bet against yourself, either.
Let's do this.
photo by Doug8888