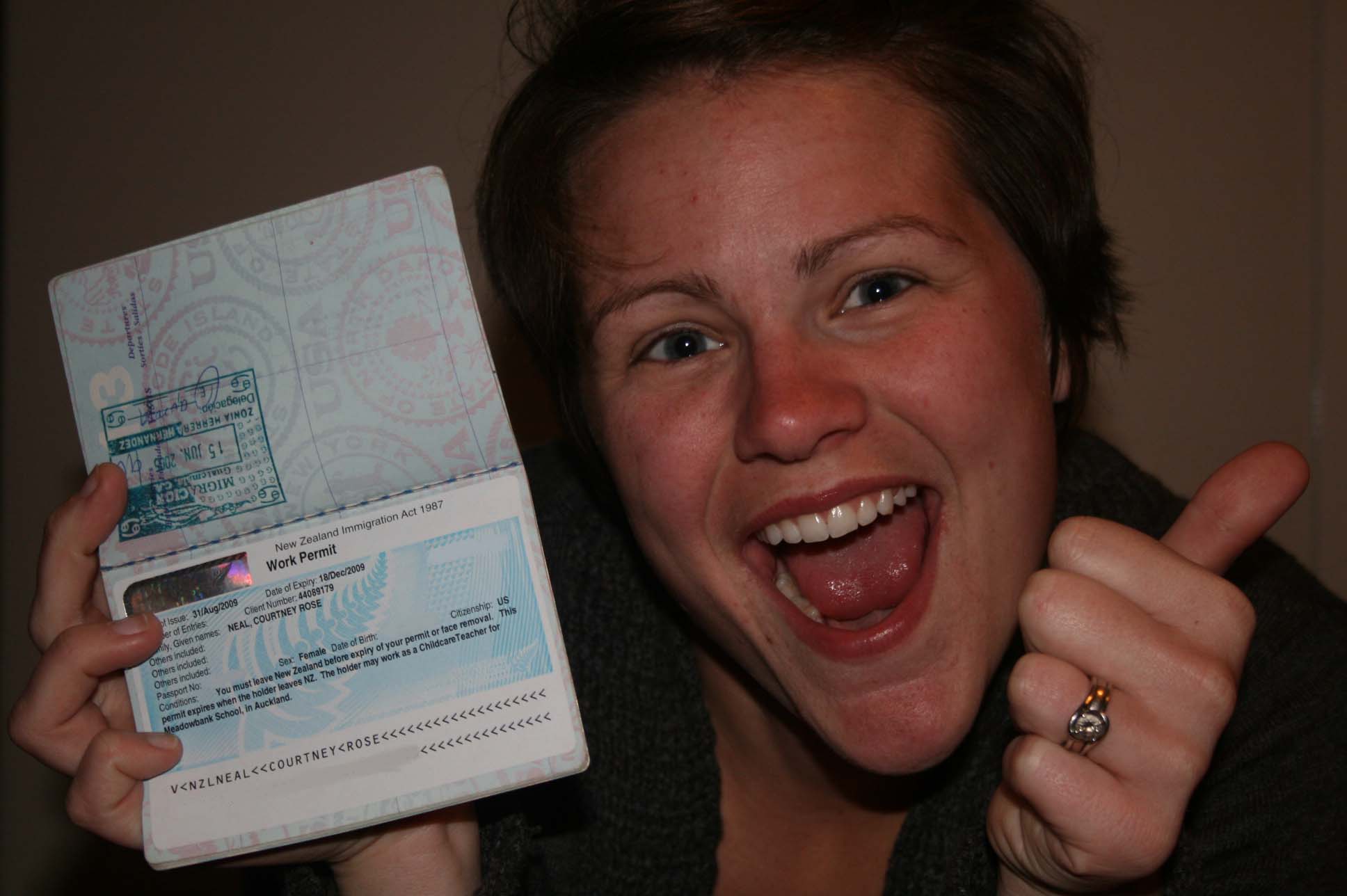 [share_sc]
That right there is a work permit, folks…
It came this past Wednesday, less than one week before Courtney was due to start her new job.  (She started today, actually… we like to play it close)
As it turns out, this means we've literally proven that you can sell all of your possessions, move to the other side of the world, and somehow find a job from scratch within 3-months.  Granted this process was made a lot harder by traveling with our daughter, who disqualifies us from obtaining the simple Working-Holiday visas in various countries.
For those of you that are in the same boat, I present you with…
Baker's fail-proof, 25-step plan to obtaining a New Zealand work permit:
Decide you are going to sell all of your possessions and move across the world.
Plan for a year to obtain Working Holiday visa and live/work in Cairns, Australia.
Realize 3 months before you leave that you aren't eligible for Working Holiday visas.
Start applying to have teaching credentials assessed by Australia for sponsored visas.
Worry for 3 months and then leave anyway, too late now.
Arrive in your new home of Cairns, Australia.
Leave your new home 3 days later for a new, new home (Townsville).
Try to find a school to sponsor your visas.
After two weeks realize that getting sponsored in Australia is going to be a long shot.
Research sponsored teaching visas in other countries.
Fly to the cheapest/closest of viable options (Auckland, New Zealand).
Start applying to have teaching credentials assessed by New Zealand.
Apply to 40+ teaching jobs.
Get rejected by 75%, score a couple interviews.
Almost leave New Zealand for a teaching job in the U.S. Virgin Islands.
Travel by bus 1.5 hours to job interview, miss connection, arrive 20 minutes late.
Get offered job on the spot based on your interview, despite being late (Kudos to Courtney).
Finish getting "assessed" by New Zealand.
Obtain official job offer from school.
Submit Assessment + Job Offer in order to get "registered".
Obtain registration with the Teaching Board of New Zealand.
Submit Assessment + Job Offer + Registration + Application to Immigration to get work visa.
Obtain work permit less than 1 week before the job is set to start.
Write a blog post.
Alright, so maybe it's not fail-proof…  But it's had a 100% success rate for anyone that's followed it step-by-step so far.  🙂
Aggressively Waiting…
That pretty much sums up what has happened since my last travel update.  Not really has happened physically, but the gears have been active behind the scenes.  For the last month, we've been staying with our original CouchSurfing hosts.  We've decided to work out a deal to pay a small amount of weekly rent to help with the utilities and provide them a little bit of extra cash for an impending trip that they were undertaking.  While it's been difficult to enter roommate-mentality at this point in our life with Milligan, it seems to have worked out well for both parties.
Back at the beginning of August, Courtney was offered a job at a Decile 10 (the highest rating) school here in Auckland.  The only problem was that the opportunity started in approximately 1 month.  At that point in time, we still had the following steps to complete:
Have Courtney's credentials "assessed" by the NZQA – Est. time 2-4 weeks
Register w/ NZ Teaching Board (need job offer + Step 1) – Est. time 4-6 weeks
Apply for Work Permit w/ Immigration (need Step 1 + 2) – Est. time 30-60 BUSINESS days
As you can see, the math on the estimated time didn't really add up.  (Did I mention there is a fee for each different step with each different organization, ugh?)
So how did we do it?  Simple…
We contacted someone, through some medium…  every day. Literally, everyday.  Most days we'd call, other times we'd e-mail or show up in person.  It didn't take long for multiple people to personally know our situation.  We were able to make connections with key people early on in both the first two steps.
We were very humble, open, and honest. We mercifully thanked everyone we talked to.  We recounted our personal story a couple dozen times.  We played the sympathy card if we could.  We apologized for having to ask for extra effort.  Eventually we had several people that were willing to go above and beyond to help us.
That's all we did.  It's simple in concept, but it's a ton of work.  We both relied heavily on, "I'm really sorry to have to ask you for a favor…  but what would you do if you were in my shoes?" You'd be shocked at the number of doors that opened with this phrase.
During the first step, I was able to establish personal contact with the office manager at NZQA.  After a series of e-mail and personal phone calls, he helped us take their processing time from 2-4 weeks to only 6 days.  He also overnighted Courtney's federal background check to us at one point, so that she could mail her application into Step 2 a couple days early.  He then personally forwarded the finalized assessment to Step 2, saving even more time.  Even with all this help, our chances still looked bleak.
Courtney was the one who made the connections at the office of the second step in the process.  The school had given her a deadline for getting through Step 2 (registered), otherwise they would have to offer the job to someone else.  On the day of the deadline, an employee stayed an extra hour (til 6 p.m. on a Friday) in order to finalize the registration and send a digital copy to Courtney, so that she could forward it onto the school.  They were able to shorten the 4-6 week period into 5 business days of processing.
Lastly came Immigration.  While it should have been the most simple, it worried us more than the others.  The office was much bigger, applied much more red tape, and was dealing with many more individual cases.  Somehow, we were going to have to talk them into to taking a 30-60 BUSINESS day quote into just under 8 regular days.  We'd tried calling, e-mailing, and showing up in person.  Nothing was working. Our application was "in the system."  We couldn't get the name of a manager, an e-mail, or even a specific status request.
This past Monday, one week before she was due to report to work, Courtney informed her principal that we weren't having the same success making the internal contacts we had at the previous two steps.  Actually, he wasn't available so she just left a message with the secretary at the school.  For the next, two days we trying calling a couple more times.  Each time getting a new voice and each time not getting anywhere.  Our focus moved to hoping the school would give Courtney more time to get it worked out.
Then it just appeared! The mailman brought a simple envelope which had Courtney's passport along with a copy of the work permit.  It was totally unexpected.  Later, we came to find out that the principal had called on Monday after receiving the message and pulled some strings.  They ended up fast-tracking it that very day.
I tell you all this for two reasons.  First, some of you are interested in our complex little journey.  We've had a ton of questions about it and I've even received e-mail from people planning their own move to New Zealand.  But more importantly, I want to reinforce the old adage that it's not what you know…  but who you know.
If you really want something, don't let red tape or "standard" guidelines intimidate you. Do your own research.  If you call, e-mail, or show up in person more than once, you are ahead of 90% of the people.  Learning how to show persistence without "nagging" is an invaluable skill we've been able to hone over the past 3 months.  Even when you are forced to wait, find ways to wait aggressively.
What's the future hold?
Well, Courtney's initial offer runs only through December.  This is to act sort of like a trial period where she can adjust to the difference in curriculum, culture, etc…  Starting in November, she'll have more details on extending it for the next 1 or 2 years (school year runs from Jan – Dec).  At this point, all we know for sure is that we'll be here through December.
As far as accommodation is concerned, our host-roommates have left on an overseas trip of their own.  Since it is much cheaper for them to have us house-sit than to board their cat, we'll be staying rent-free for the next three weeks.  After that, we'll be apartment hunting for a cheap downtown apartment.  We've never lived in the heart of a major city, so we are looking forward to seeing how we like it.  At the end of the December we'll either make a bigger commitment to New Zealand or choose to blaze a different path in another country.  We'll see!
It's been a wild ride for us over the last couple of months, but it looks as if we were able to accomplish our initial goal of selling everything and relocating overseas.  Of course, it didn't go anything like we expected or planned, but that's all part of the journey.  Most importantly, we've proved that it CAN be done.  There were many more hurdles than we thought, but we found a way to jump each and every one of them.
Courtney and I are both looking forward to opening up a little bit now.  Joining some local activities, trying to meet some new friends, and really examining what "normal" day-to-day life could look like here in Auckland.  Obviously, the travel updates on the blog will be more rare as we enter into more of a working life here.  However, if you like following our journey be sure to connect with me on Twitter (@ManVsDebt), where I provide smaller updates more frequently.
I'd be honored if you join in on the discussion below.  Have you ever had a time you were forced to wait, but got great results from staying pro-active?  Let me know below!