[share_sc]
It's been over two weeks, since I last updated everyone on our backpacking adventure!  A lot has happened as those of you that follow me on twitter (@ManVsDebt) know.  Although, we are currently in New Zealand, I have some catching up to do!
The last travel update left off with us boarding a bus in Cairns and heading for Townsville, Queensland.  It covers our flights, our awesome time in L.A. meeting some other bloggers, and our arrival and stay in Cairns.
I'll reiterate, once again, that it is not my intention to morph this into a travel log, however there is a large percentage of you that are interested on how the trip is going, how we are staying sane with a baby, and how we ended up in New Zealand!
Another 6-Hours Riding, This Time On A Bus

We didn't know what to expect from a bus ride of this length.  We hadn't really experienced it before.  As it turns out, it was actually fairly comfortable. Milli slept for at least the first two hours and we stopped halfway through for a 30-minute lunch break.  The bus was pretty bare, which allowed us to spread out with Milli and let her play amongst the seats.
The most interesting discovery of the entire ride happened during the lunch break.  We pulled up at a small cafe, where I ordered the vegetarian burger.  Around 10 minutes later, I come to find that beetroot, shaved carrots, and mayo are all standard ingredients on burgers in Australia.
Beetroot?  Really? I didn't mind as I just picked off nearly half the toppings (leaving the lettuce and tomato, of course), but we did get rather weird looks when I tried to explain to someone that only 65-year old widows eat beetroot.  I guess they didn't find that as entertaining as Courtney and I did.
Before we knew it we were around 15 minutes from the bus depot in Townsville.  Milligan thought this would be a fantastic opportunity to throw her first screaming fit.  After about 10 minutes of full-pitch screaming, the bus driver took the opportunity to joke about the situation on the intercom, as we pulled up to the depot.
Our First Couchsurfing Experience
After grabbing our bags from under the bus, I proceeded to the nearest payphone to give Nanie, our couchsurfing contact, a call.
Nanie: Hello

Baker: Hey Nanie, this is Adam Baker from Couchsurfing.  You told me to call you when we got here.  Well, we just got off the bus.

Nanie: Oh, well, Andy just got out of surgery, so we are still at the hospital.  I'll be home in about an hour and a half.  Would you mind taking a cab?

Baker: Absolutely not.  We'll just hang around here for a couple hours and then take a cab.

Nanie: Oh, no.  Just head over to the house.  Our keys are… [radio edit].  Just let yourself in and make yourself at home.  Asha and I will be home soon.

Baker: Ummmm…  Sure, o.k.  Thanks so much for your help.

Nanie: No problem, see ya soon!
Keep in mind that we had never met these people before.  I had exchanged a couple e-mails with Andy (whom elected to host us even though he was having ankle surgery that night), but that was the first real conversation I had exchanged with either of them.  This was our first real showing of the famous Australian hospitality, but it wouldn't be our last.
We were all very tired and weren't extremely mobile with our full gear, so we decided to head on over and take advantage of the offer.  Quick tip for those of you traveling in Australia:  TAXIS ARE EXPENSIVE.  Wow, I think it ended up being $28 for a ride that was maybe 10 minutes at most.  And yes we checked beforehand, but really had no other viable choice (dark, unfamiliar city, full bags, cranky baby).
We paid the fare, found the keys, and let ourselves into to a stranger's home.  Luckily, our bedroom was easy to identify (Nanie had left a couple towels for us on the bed) and we put Milligan down for nap.  For the next hour, Courtney and I reflected how we had wound up in Townsville in a stranger's home and wondered what the family would be like when they arrived.
The Lucas' had a beautiful, open home. Most homes here are relatively small compared to those back home, which I don't view as a bad thing.  Of course, Indiana isn't nearly as beautiful and is much farther away from the ocean!  The homes are built up off the ground which was more for air circulation than flooding.  Since buying the home several years ago, Andy and Nanie put in a backyard pool and completely re-landscaped.  It seems they spent a lot of time on their back deck and we could easily see why!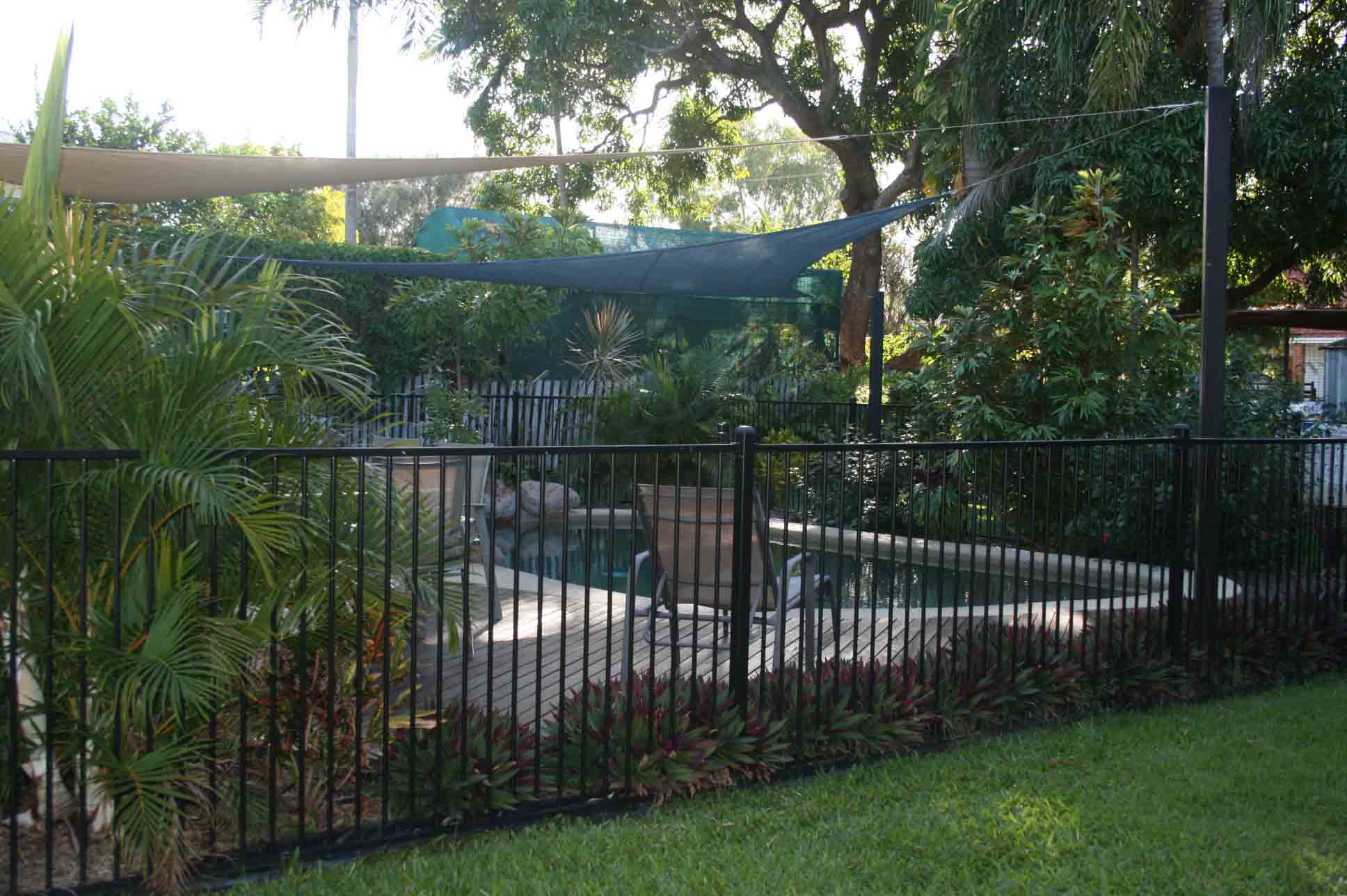 Later the next day, we finally met Andy after he was released from the hospital.  It was well worth the wait! Andy, like Nanie, was a far greater host than we could ever imagine.  Even though he was confined to the wheelchair with a bright red, swollen leg, he took a genuine interest in our journey.  That is really the beauty in the Couchsurfing community. Some people see it as a free place to crash for a night, but for most it's far more valuable than that.  Andy educated us on everything from the best day to get classifieds in the paper to how leases, deposits, and rentals worked.  Andy and Nanie have extensive travel experience, including several trips to Southeast Asia when Asha was Milligan's age.  Luckily, this allowed us to swap stories and really feel comfortable for the first time in the trip.
Even Asha seems to pick up on the hospitality of her parents.  She was constantly entertaining Milligan, running back and forth, playing on her Nemo table, and feeding her random bits of food.  Asha was such an intelligent and active young girl. After only a minute of meeting us, she was in our laps telling us stories and playing games.  I sincerely hope traveling with Milligan helps her develop this sort of vibrant, personable nature as she gets older!
Exploring Townsville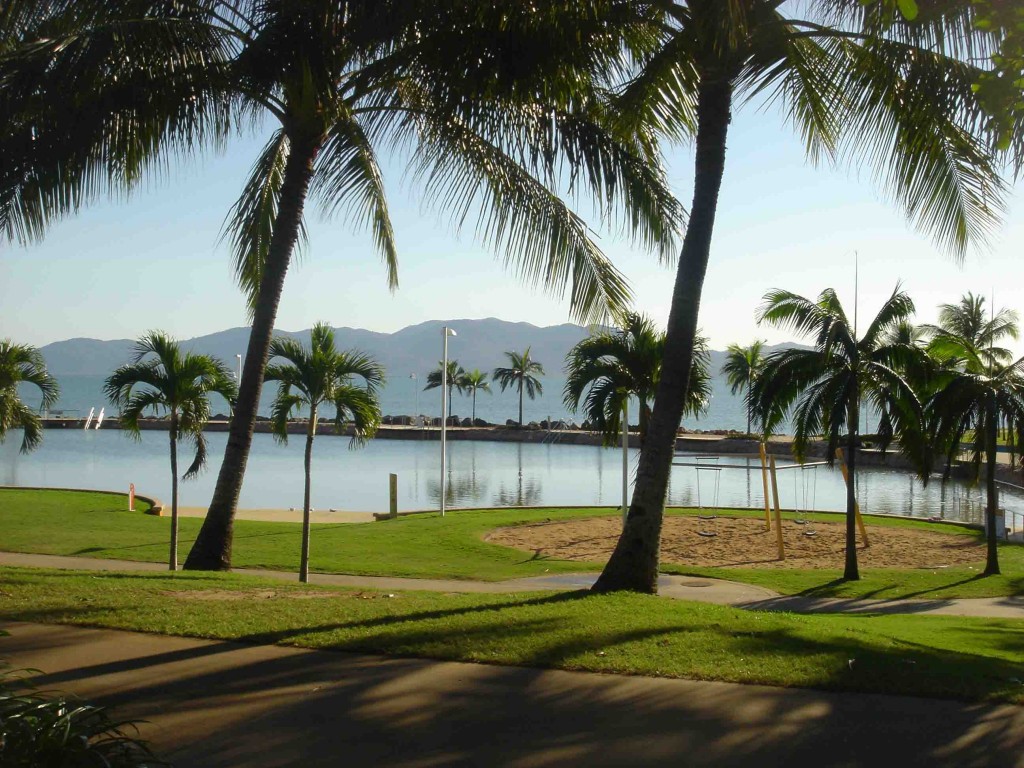 A pool alongside the beach in an area called, The Strand. Magnetic Island in the background.
Courtney and I really enjoyed Townsville. In fact, we liked it so much that we would be up for calling it home for a year or two.  The only issue standing in the way is obtaining work visas, which I'll explain a little later.
By far, one of the most appealing aspects of Townsville for us was The Strand, a 5 km (3.1 miles) stretch of park that ran alongside of the main beach.  So instead of having a street lined with apartments and shops right up against the beach there was a buffer strip of water parks, playground, pools, and barbecue pits before the beach started.  Even though the actual beaches weren't really special in anyway, the stretch of parks made the area almost irresistible.  We visited almost everyday and walked the whole 5 km several times.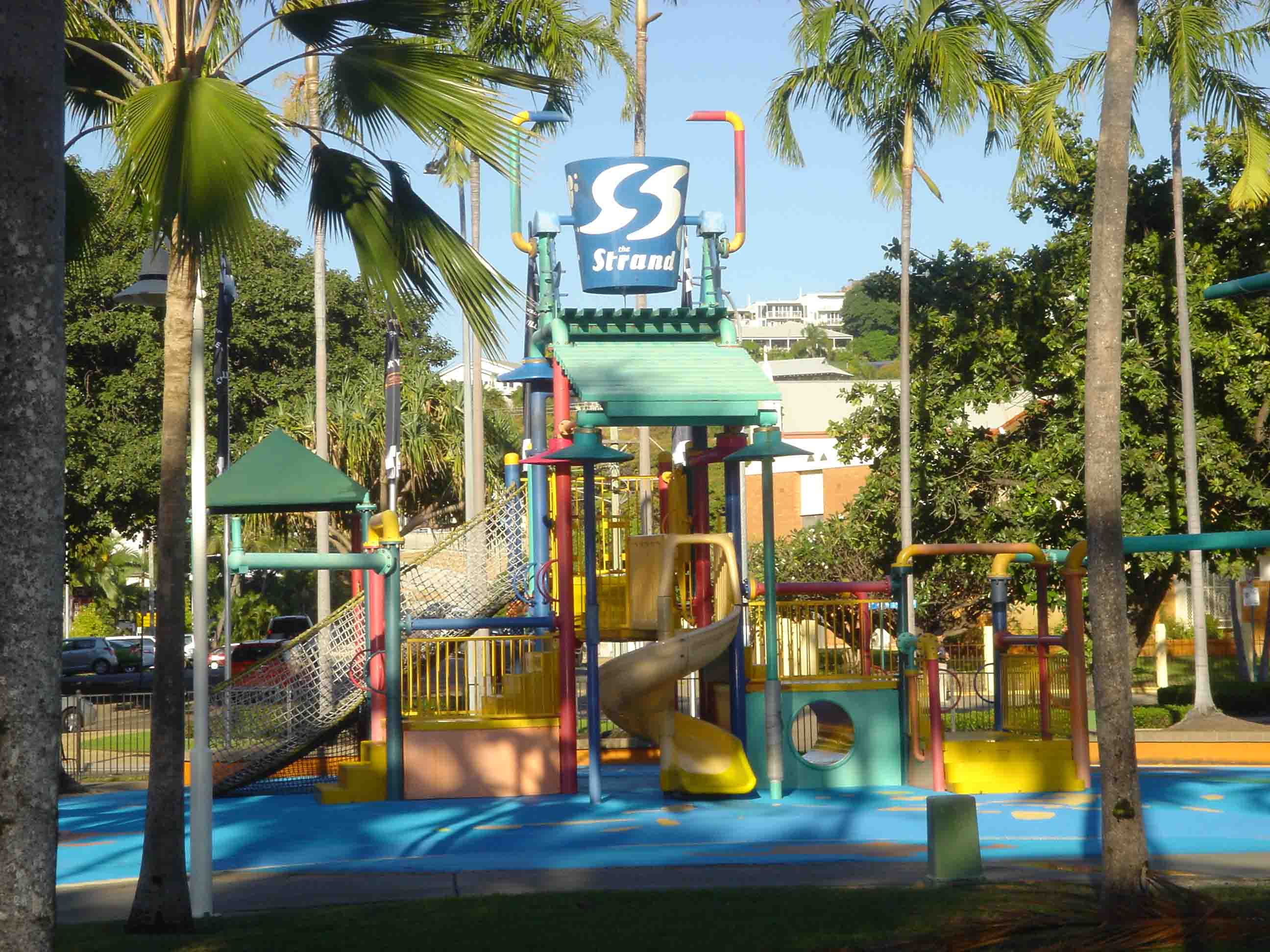 Milligan's favorite part by far was the amazing water-playground for kids (this like all of the park areas was free).  The playground had all sort of contraptions that sprayed water, complete with a rubbery surface for the kids to run around until they were completely soaked.  The best feature was a huge bucket on top that constantly was filling with water.  Every couple of minutes or so it would fill up and tip over, spectacularly dumping water all over the playground equipment and sending the kids screaming away!
Never Underestimate Castle Hill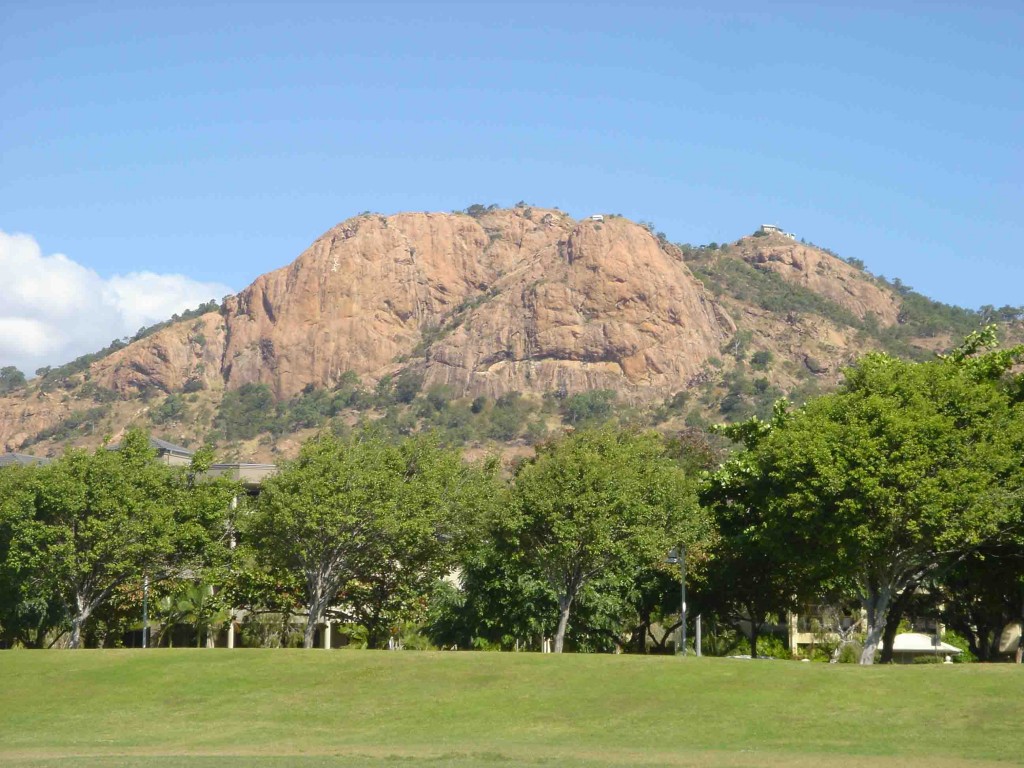 Another great feature of Townsville is the huge half-hill, half-mountain in the middle of the city.  O.k., maybe it's not a mountain, but it's not really just a "hill" either. There are a couple different trails up the side and as you can imagine the view once you get to the top is amazing.  The city is sprawled out beneath you can fully see how beautiful Magnetic Island is hanging out 30 minutes off the shore.
According to the guidebooks, it's a 30-45 minute hike depending on whether you take the long, but gradually sloped road or the "walking" trail, dubbed the "Goat Trail".  It would appear that the Australians and I have slightly different associations with the term"walking" trail. Look, I know I'm overweight, but I'm young and had been walking non-stop carrying backpacks for at least a week straight.  We thought it would be no problem and even took an extra bag instead of stopping back by the hostel.
Big Mistake! The leisurely "Goat Trail" is nearly straight up the entire way and made almost exclusively of either over-sized steps or sharp dirt inclines.  Having horrible pre-set expectations meant that we started off way too fast.  Even before we were halfway, I was panting, sweating-profusely, and holding onto a rock trying to catch my breath.  We had to cut our pace drastically to keep from stopping every 5 minutes (the heat didn't help).  To add injury to insult, we were passed by two guys jogging up the winding path. I wouldn't even call it jogging, they were pretty much sprinting.  I seriously considered tripping them as they went by, but I finally realized it wasn't there fault I was so out of shape.
Finally, we made it to the top.  I must say, it was worth it. The breeze all but negated the heat of the sun and the view distracted me from the burning sensation in my legs.  In the end, this type of experience was just the sort of "tourism" we were after.
A Week In A Hostel
After a couple awesome days with the Lucas family in Townsville, it was time for us to pack our bags.  We were going to head over to stay with a single girl who had a couple extra rooms.  Nanie, yet again, volunteered to drop off us close to the Strand where I decided to call our next host.  No answer.  But within minutes we received a text from an unknown number.  It was a friend of our host, who was informing us that she had fainted randomly at work the day before and was currently in the hospital.  They were doing extensive testing and didn't expect her to be out for another couple of days.  Holy cow! What's our deal with hosts in the hospital?
We wished her well in a text and told her to touch base once she got back to normal.  Luckily, we had already researched hostels in the area as a back-up plan.  There were 2-3 viable options close to the Strand, so we went to check them out.  After seeing a couple different rooms and set-ups, we settled on The Reef Lodge.  It had a great location, clean rooms, a big shared kitchen, and was offering discounts for weekly lodging.
One of the most stressful part of our trips was constantly not knowing where we were going to sleep in 48 hours.  So far, we had always been able to piece everything together, but we decided we wanted a little bit of a break.  We negotiated the rate to around $46/night if we bought a week and settled into our room.
For some, staying in a hostel with a baby would be unbearable.  However, to be honest, it really isn't that bad.  Sure, you have to do your research and adjust your lifestyle some, but we managed to live comfortably.  The closest bathroom and shower stall were at the end of the hallway with several more scattered through the building.  I can honestly say that I never went to the bathroom or to take a shower and had to wait.  This hostel gave discounts to a couple of the long-term backpackers who were willing to clean the bathrooms several times a day.  As such, the bathrooms, kitchen, and common areas were always reasonably clean.
The kitchen was very well stocked, but was much more busy than the bathrooms.  Courtney and I were both shocked by the extent that some of the backpacker's were cooking.  I expected a lot of rice and peanut-butter, but was blown away by the skill of some of these people.  Groups of people were cooking multiple course meals, grilling huge slaps of meat, making specialty curry, and chopping vegetables like they were seasoned chefs.  We honestly felt a little embarrassed with our routine pasta with broccoli dishes.
Luckily, our room was in view from one of the common areas, so when Milli was taking naps we were able to meet some interesting people.  We met several people from England, other parts of Australia, an Asian guy who spoke absolutely no English, and a couple dutch girls who were on the final leg of their adventure through Fiji, New Zealand, and Australia.  The common area of a backpacker's hostel is a great place to expand your horizons.
Searching For Job Sponsors And Housing Options
Amazing view from an apartment for rent.  Older 1 bedroom unit, $200 AUD/week.  We loved it!
Throughout the week at the hostel, we settled in to more of a routine.  We spent a couple hours on the Strand each day, followed by a couple hours at the local internet cafe researching jobs, apartments, and other options.  We saved money by buying groceries and cooking at the hostel for almost all of our meals.  We elected to avoid scuba diving, sailing, sky diving, and all the other "touristy" desires for the short-term.  Although, we did slap ourselves after buying two overpriced tickets to the local aquarium.  I love Townsville, but that aquarium is not worth the $23/ticket price!
Within the first couple of days, Courtney was told by several sources that finding an employer willing to sponsor her, even with her degree and credentials, would be very difficult.  The catholic schools are a big part of the private school system here and several different ones told Courtney that they might have opportunities, but that they didn't sponsor individuals.  It seemed that any chance of finding a sponsored opportunity was most likely going to be far inland (a.k.a. the Outback areas).  If we wanted to live land-locked in the middle of nowhere, we would have stayed in Indiana!   Seriously though, living a lifestyle that allowed access to the water is a big desire of ours.
Although I've outlined it before let me recap our visa dilemma for those that don't know.  Basically, having a dependent disqualifies us from the easiest "Working Holiday" visas that are extremely common for travelers.  In addition, a working visa based on a points system would be attainable, but would take 12-18 months.  The only option that would allow us to stay here and work now is getting an employer to sponsor a visa application.  This would be virtually impossible for me without a degree or much industry-specific experience.  However, as a teacher, Courtney does have some options. The larger cities have more jobs, but they grant far less working visas in order to encourage people to relocate away from major cities to "regional" areas.
Long story short, as the week went by we were realizing that finding a school willing to sponsor was going to be a pretty difficult matter.  Not impossible, but very difficult. At this point, we continued looking for other options online.  Over time we kept seeing website and opportunities for New Zealand.  Upon further research, we found that the country has a major shortage of teachers due to some intense growth.  They had government sites that walked you through the visa process and were even processing some credentials and visas within 30-60 days (very fast).  The government site also listed over 600+ vacancies on their official website.  Even narrowing it to primary school in the Auckland area resulted in over 100 opportunities.
After discussing it further, we decided we would at least attempt to get Courtney's credentials verified (the first step).  Unfortunately, New Zealand requires all original documentation to expedite the process.  Which means we had to have family send Courtney's original diploma, transcripts, recommendation letters, and even high school transcripts!  With the help of family and friends and a bit of coordination we were able to get this in the mail and on it's way to us.
Waiting 3-5 Days For International Delivery
This seems like a good breaking point for this leg of the journey.  The next update will include details of our time on Magnetic Island, our return visit with the Lucas family, the split second decision to fly to Brisbane,  a very weird hotel experience, and the red-eye flight to New Zealand.  Looking back on all of this, it's funny to think of how quickly plans can change!
Have any questions about Townsville, Australia?  Want to know more about any specific topic?  Have you had any similar experiences with Couchsurfing, Hostels, or Visas?  Feel free to add your own experiences below!