[share_sc]
Last week, I updated everyone on our adventures in Townsville, Queensland.  It includes our first Couchsurfing experience, as well as our first extended stay in a hostel.  If you somehow missed it, hop on over and read it first to get up to speed!
When we left off the last update we were juggling our Australian visa dilemmas and waiting for some of Courtney's original documents to arrive from the States.  Because of our issues obtaining working visas, we had decided to expand our horizons to some other countries, including New Zealand.  But before we could initiate any more action, we still had a couple more days to wait!
Magnetic Island:  Our Favorite Place We've Been So Far!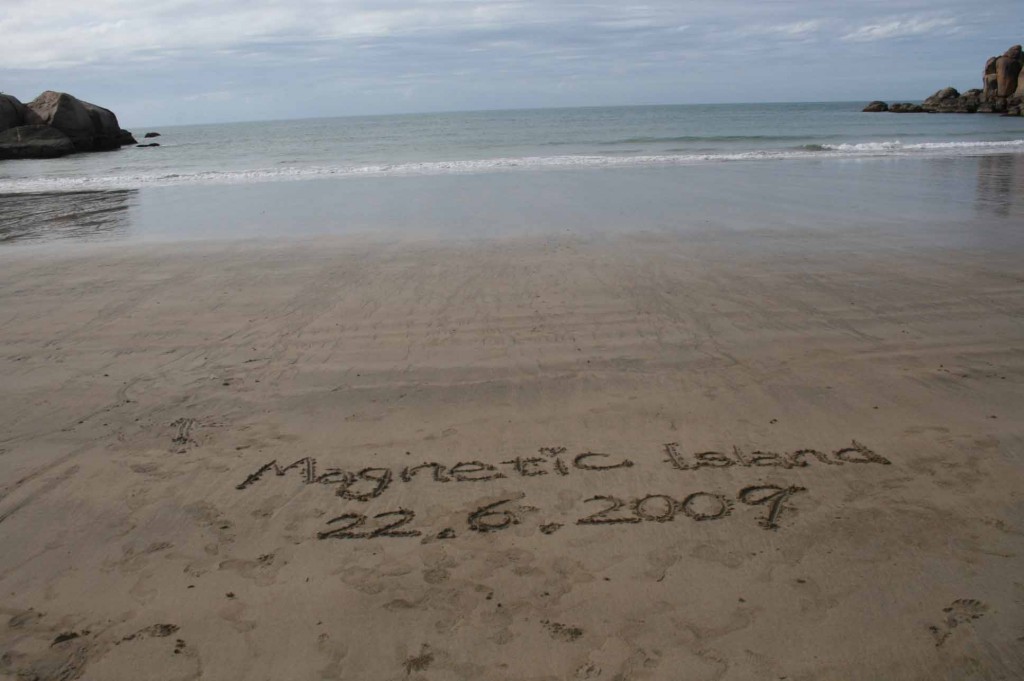 Since we had a couple days to burn, we decided to spend two of them on the beautiful Magnetic Island, which rests just 20-25 minutes off shore of Townsville.  We had heard wonderful stories about the sleepy little island community nestled within the wonderful hiking paths and scenery.
We elected to spend these two nights in a non-hostel accommodation of some sort.  After checking the internet, Lonely Planet, and a local publication, we settled on a little place called Myra's Bed & Breakfast.  We didn't have a ton of information on the place, but we decided to take a little bit of a chance.
Myra's B&B was ran by a lovely retired couple who had moved to island 12 years previous.  Walter, Myra's husband, volunteered to come pick us up from the ferry.  In his own words, "I'll be the old guy, standing next to a jeep, in a big white cowboy hat" Seemed simple enough for us!
After the comfortable ferry ride, it didn't take us long to find the white cowboy hat.  We expected Walter to simply drive us back to the B&B, but that's not the culture of Magnetic Island.  Walter took us on a round-the-island tour and explained the different beaches, shops, trails, and even the how to deal with the infamous 80-year-old crazy man who lived on a houseboat down by the beach.
After educating us on the different areas of the island, Walter pulled the jeep down a narrow, winding path along the beach back to a group of rocks.  He hopped out of the truck, grabbing a cup of food he had beside his seat.  Shaking the cup as he approached the rocks, we slowly exited the truck as we waited to see what happened next.  To our surprise, we saw a head pop out between the rocks.  It was a local wallaby who had made it's home in the caverns of the rocks and boulders along the shore.
It popped the rest of the way out and scampered down the rocks to where Walter was standing.  For those of you that don't know, wallabies are like miniature kangaroos.  I'm sure there's a much more scientific difference than that, but for us normal folk that description will suffice.  A couple seconds later, another one popped out from hiding.  Then another.  And another.
Soon there were wallabies all over the rocks, scampering back and forth.  There had to be at least twenty or so.  It was actually pretty amazing to see how they were able to climb the steep rock grades with such ease.  The wallabies were obviously used to being fed occasionally, so Courtney was able to hold Milligan in one arm and feed a group of 5 or 6 out of her other hand.  Milligan giggled with delight, although she seemed disappointed we wouldn't let her down to chase around the wild animals.
After feeding the wallabies, Walter took us back to his home.  As we pulled in, Courtney and I knew the we had made a great choice for our stay on Magnetic Island.  Walter showed us back to our room, which was a free standing building nestled into the back corner of their property.  The accommodation was perfect for us! Off the porch you could enter either into a small kitchenette area or continue into the main room with a large, comfortable bed.  Connected to the main room was an open, airy bathroom.  It was simple, but beautiful, with plenty of windows.
Their backyard was more like a mini-jungle. Tropical trees, plants, and flowers played host to a wide variety of wildlife.  Each night, the different species of birds joined in chorus to sing us to sleep.  One evening, Courtney witnessed a group of wallabies playing out the back area while preparing dinner.  Walter had even built a tiny shelter off the deck for a local possum that slept there each day.  At only $80/night (AUD) it was a very welcome change of pace from the week we stayed at the hostel (at around $47/night).
The island also featured a popular, but unique mode of transport in what they call a "mini moke".  Mokes are basically mini-jeeps. Sort of halfway between a go-cart and a real jeep.  Renting a moke is a popular way of getting around for tourist, but even some of the locals utilized them for local errands, as well.  Walter maintained two older mokes, which he gladly lent us for only $20 bucks to cover some gas.  Considering mokes on the island rent for anywhere from $50-$80/day, this was yet another reason we felt lucky we had took the chance on Myra's B&B.
WWII Forts, Nudey Beaches, and Other Island Adventures!
Our first objective on Magnetic Island was to try one of the much-talked-about hiking trails on the island.  We decided to tackle the gradual climb up to an old WWII Fort first.  The old fort was built upon one of the highest points on the island with a nearly flawless 360-degree view of the open water.  I want to say the hike took around 30-45 minutes, but most importantly the slope was much more gradual than our previous experience.  Enough to break a light sweat, but not enough to make my legs violently burn.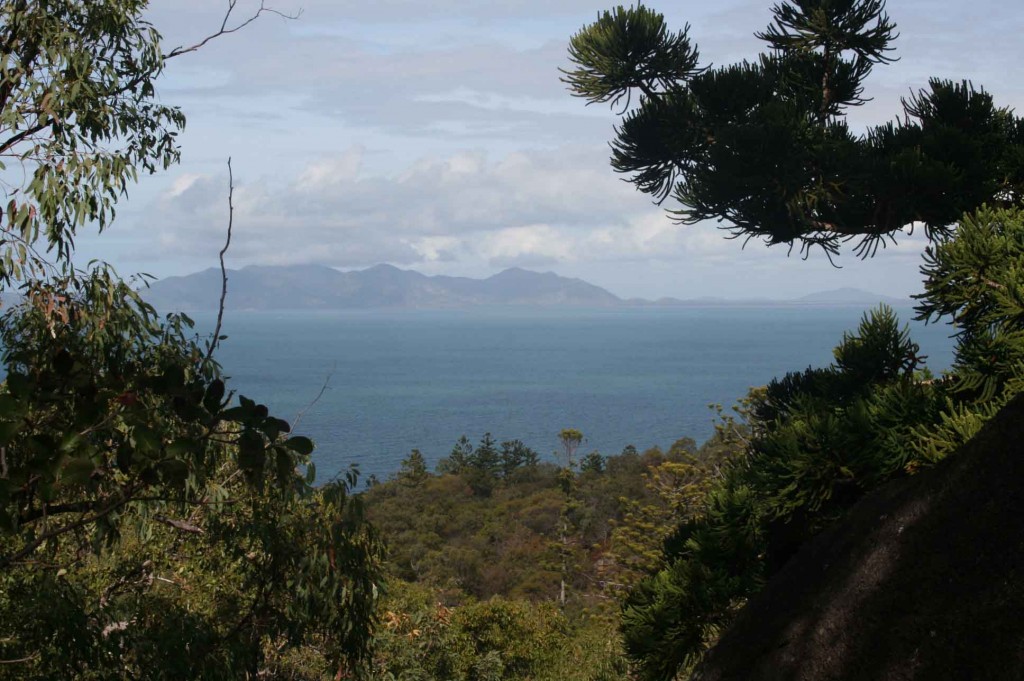 The path leads you up through a protected part of the tropical surroundings before you reach the bottom of the climb to the fort.  Luckily, on the way up we were able to spot a wild, baby koala sleeping in the trees.  While koalas aren't necessarily uncommon, there's also no guarantee you'll run into one in the wild like this.  We stayed for several minutes and snapped a couple photos, being careful not to wake it up.
The views from the Fort were amazing and just standing and taking in the breeze was worth the walk.  Frankly, there really isn't much left.  Just a concrete bunker, a couple ladders, a communication tower, and several gun embankments along the path.  Still, I couldn't help but imagine what it must have been like to be stationed in such a beautiful place, desperately watching the waters for signs of the Japanese fleet.  Both terrifying and amazing, I assume.
On the way down, we stopped back by the sleeping place of our new furry friend.  The baby koala was now awake and walking from branch to branch to get a quick bite to eat.  We couldn't resist taking even more pictures this time, along with several other hikers.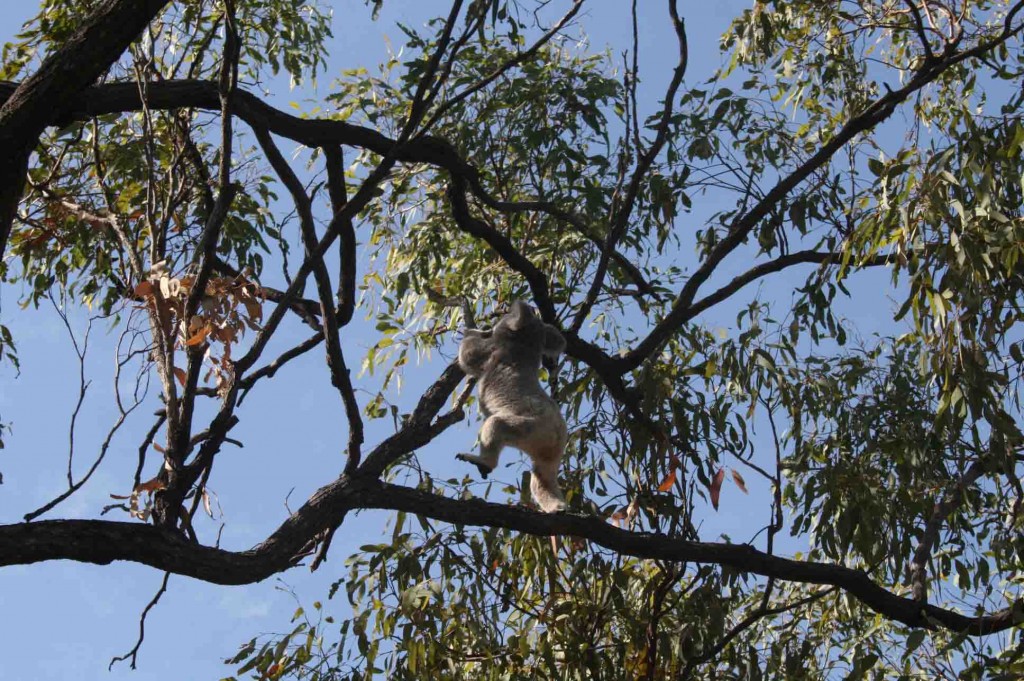 Soon, though, it was time to say goodbye and head back to our kick-ass room for the night.  We fell asleep to the sounds of tropical birds, insects, and whatever else was out there making noise.  It rocked.
The next day we set out to hike to some of the secluded beaches that were only accessible by foot (or boat if you were lucky).  The hike this time was slightly shorter, but was steep.  In other words, a slight burn, but only for a short time.  Along the path this time we met face to face with a hedgehog.  Well not actually face to face (it's head was buried), but I did make Courtney step around it first.  I let her know I would take Milligan and run for help if it attacked her leg.  Luckily, the thing chose not to attack us, but rather to just stay frozen in place.
Score 1 Bakers – 0 Sonic.
After our near-death experience we continued to plow ahead towards the sound of crashing waves.  Within a couple minutes we were able to see to secluded beach area:
Overall, our time on Magnetic Island came and went much faster than we had desired.  The continued hospitality of Myra and Walter at our B&B was nearly irresistible.  Every morning we stumbled up to their back deck and were served a full, home-cooked breakfast, complete with fresh flowers on the table and a huge orange slice garnishing our glass of juice.
LONELY PLANET YOU ARE MISSING AN ABSOLUTE GEM HERE!
In fact, if visas and money weren't an issue (I know… right), we would definitely have committed to the island for the long-haul.  We really enjoyed the people, culture, and scenery that much!  At the current time, visas and money are an issue though.  So we boarded the ferry back to Townsville…
Return To The Lucas Family
The night before we had left for Magnetic Island, we shared dinner with our original CouchSurfing hosts.  They extended the invitation to come stay another couple days, after we visited Magnetic Island.  We were hesitant at first (didn't want to overstay our welcome), but since we had to wait on our impending documents anyway, we decided to take them up.
Over the next two days, we researched different locations, flights, and other methods of travel.  We knew once the documents arrived that we would send them to start getting assessed by New Zealand.  However, at this point we weren't committed to heading that way until we heard back.
One plan that seems appealing was to buy an unlimited access bus ticket and slowly travel down the east coast of Queensland.  This is a popular route that is scattered with several small-to-medium sized towns roughly 3-4 hours a part.  Although it was a big commitment as far as cost and time were concerned, we enjoyed the fact that we'd be able to explore more of Australia for a couple months.
Then it happened. Our package got in a day earlier than we had expected.  We picked it up from the post office around 2 p.m. and immediately started wondering what to do next.  It was as if some ominous voice called out, "It's your move!"
Andy decided to jump on the computer and check out random flight prices once again.  After only a couple minutes, he called out, "Hey guys, I just found a flight to Brisbane for only $99 bucks…  only bad news is that it leaves in like 6 hours."
Courtney and I looked at each other for a moment.  Through our research we knew that Brisbane was one of the larger international hubs for the area.  In addition, the Gold Coast airport was only an hour away, which gave us two different airports we could leave from if a good deal arose.  "I guess we could explore Brisbane for a couple days, while we considered other options…" volunteered Courtney.
I handed Andy my debit card, "Book it…  We've got to pack." He just smiled.
After a quick 20 minutes of repacking all of our life possessions, we spent our final hour with the Lucas family searching for accommodation in Brisbane.  By this time we were pretty astute at combining Lonely Planet, CouchSurfing, social media, and mass online-listing sites to find interesting places at a decent price.
We ended up finding a holiday-apartment accommodation that was normally $249/night that was offering a two-night specials at $89/night (low $70's USD) for the first two days we would be arriving.  The hotel looked extremely spacious and had a central location (which was great for exploring the city on foot).  We figured two-days would allow us to explore the city some and move on if we found any great flight deals.  If we chose to stay longer, this time frame would also allow me to explore finding a Couchsurfing family willing to host.
We booked the downtown apartment/hotel for two nights, shut down the computer, and headed towards the bus depot.
Brisbane:  Rainy, Cold, Windy, Ugh…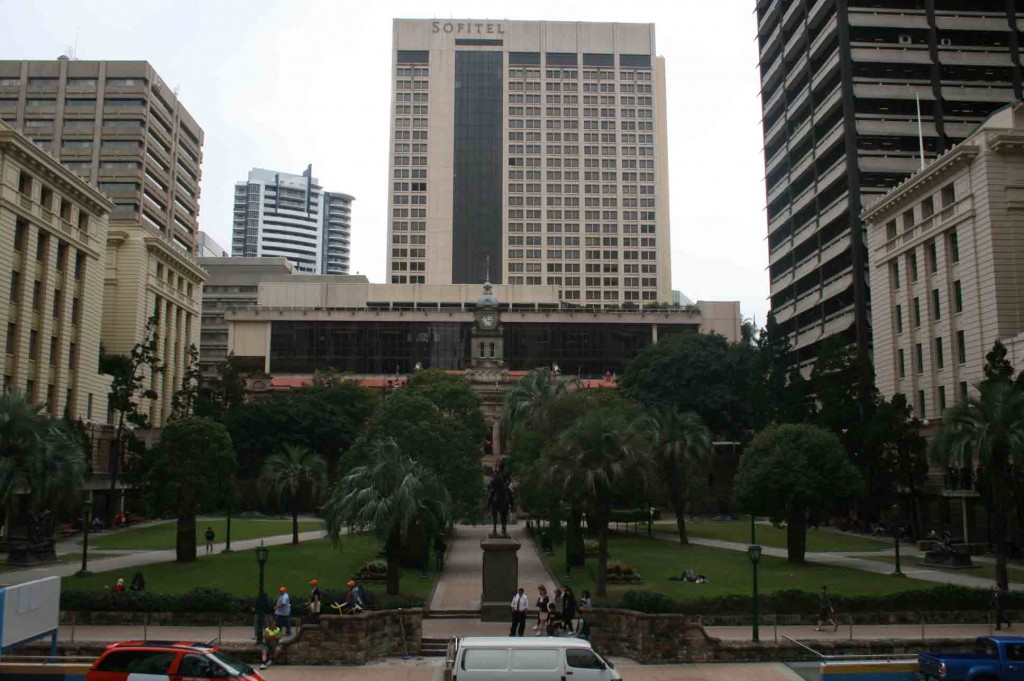 At this point, I'm going to admit that it is nearly impossible for Brisbane to get a fair review.  We ended up only staying 2 days and the entire time is was gloomy, damp, windy, and rather miserable.  We did go on a brief walking tour of the city, but that too was cut short by weather.  I'm sure Brisbane is a decent place when Mother Nature cooperates.  At least I hope.
The only story from Brisbane worth recounting was the first 3-4 hours after we touched down.  It was sometime after 1 o'clock a.m. and we had just paid $43 AUD to take a taxi from the airport into the city.  I felt like someone had just kicked me in the groin.  Actually that would have been more preferable than having to sit the entire trip watching the meter climb and climb.
At least the apartment/hotel place looked nice when we arrived.  As we approached the big glass doors, we rang the buzzer that calls the office.  BUZZ… No answer.  BUZZ… Another 60 seconds of silence.  Well, this certainly could get awkward fast.  Wet, cold, dark, frustrated… and that was just Milli!  Luckily, Courtney spotted a cell phone number at the bottom of one of the signs.
FOR EMERGENCY MAINTENANCE DIAL… Well, I guess "emergency" is relative to your situation.  If we didn't find a bed somewhere soon, I'm sure we could have redefined that term.
My call was answered by a droggy sounding female voice.  After 30-60 seconds of explaining that we booked earlier that day and that the website had indicated 24 hour check-in, blah blah blah, etc… etc…  She stumbled out of bed, down to the doors, and let us in.
Handing us a key from the office, "Room 201…  just head on up and get some rest, we'll do the check-in process tomorrow morning." Well, o.k.  We gathered our stuff and quickly made our way to 201.  As we entered the room looked very nice at first.  Upon entering the bathroom though, we found dirty towels scattered on the floor.  In the bedrooms, the beds looked as though someone had just left them.
"I'm pretty sure someone is either currently living in this place or it certainly hasn't been cleaned by the staff"  Ugh.  For a split second, I considered trying to talk Courtney into just sleeping in the bed anyway.  That's how tired we were.  However, common sense took over and I reluctantly called the last number in my cell phone.  Another "emergency" I guess.
The manager was very apologetic and after a couple minutes of checking the computer system told us to meet here at 303.  Once again we gathered our stuff and jumped up another floor to 303.
"I know for sure this one is ready to go, however, I'll stand outside just to make sure", as she swapped me keys.  I quickly unlocked the door and entered the room.  It didn't take as long as the last time.  Within the first couple of steps, my eyes caught glipse of a unmanned laptop on a table, complete with a half-eaten meal and a men's dress shirt on the chair.  I quickly doubled back and shut the door.
"Ummmm…  There is DEFINITELY someone in that room." Not believing me, the manager repeated the exact same leisurely stroll in and hustled double back to shut the door.  She had a look on her face somewhere between wanting to cry and just being told the secret to life.  "Wow… well…  something must be wrong with my computer system…  I'm so sorry…  I honestly don't know what to do."
I know what you need to do. You need to find us a freakin' empty room before Milligan realizes whats going on and starts screaming!  Long story short, another 15 minutes resulted in a nice, clean, stranger-less room.  Bigger and nicer than we had booked with late check-out two days later.
Yeah, that's it. The only worthwhile story in our short stay in Brisbane.  Under 48 hours later we were back in the Brisbane airport facing rejection at the check-in to our Auckland flight that left in less than an hour and a half.
While I guess that's another interesting story that technically took place in Brisbane.  But you'll have to wait for next week!  We'll discuss our check-in debacle, the awkwardness of Muslim prayers before take-off, and our first two weeks in New Zealand (we made the flight, barely).  See you all next week!