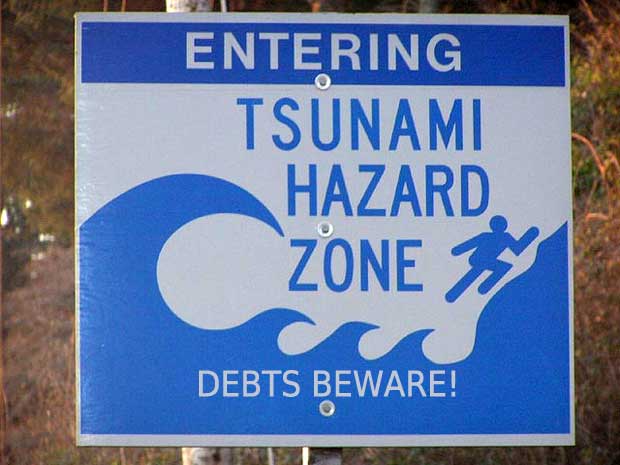 [share_sc]
Note: This is a post from Joan Concilio, Man Vs. Debt community manager. Read more about Joan.
How would you pay off $90,000 in debt?
It's kind of like if I asked you how'd you go about losing 50 pounds, right? Everyone would have some different suggestions, possibly tied to a specific "plan" they believe to be successful. There would be some outliers – the equivalent of the grapefruit diet – and there would be a lot of people who'd recommend the same broad categories of eating fewer calories and burning more of them.
Weight loss is complicated. It's a mathematical equation – and yet it isn't. There are emotional variables at play that make it hard to "balance" your equation!
I bet you can see where this is going. Getting out of debt is complicated. It's a mathematical equation – and yet it isn't. There are emotional variables at play!
If I asked a large group of people how to pay off $90,000 in debt or how to lose 50 pounds, probably 90% of the suggestions would fall into the category of being too weird to be livable or too broad to be helpful.
Many would be solutions that "sound" good logically, but that would be hard to do in real life. They'd negate the emotional part and deal with the concepts, most of which we already know.
I led Weight Watchers meetings as a side job for several years. I liked to make people laugh – so I'd say things like, "You're all here because no one ever told you it's good to exercise and to eat vegetables, right?!"
So I'll ask you guys here on Man Vs. Debt the related question: "You're all here because no one ever told you to spend less money than you earn and not to run up credit-card bills, right?!"
Losing weight and getting out of debt do require you to be armed with some basic factual information. But they also require two other things:
Support from people who will help you do what you know is right.
A concrete plan that shows you how to deal with the emotional struggles that will inevitably arise.
The things that didn't work for me
When I found Man Vs. Debt and participated in my first session of You Vs. Debt, I had tried to pay off my debt a bunch of ways before. I really liked Baker, but I didn't necessarily expect that this time was going to be any different.
I just wasn't motivated by the other methods I tried. I'd get started, but…
A financial "emergency" would arise and derail me…
I'd look at the HUGE amount I still had to go…
I'd see the pitiful amounts I was scraping together above the minimum payment…
And I'd get discouraged…
And then I'd just quit.
Here's the problem. I am a "numbers" person – or so I thought. So I believed – and had been told – that I "needed" to pay off my highest-interest debts first because that was mathematically strong. If I had kept up with it? Yeah, absolutely, that's factually correct.
This approach wasn't motivating me to stick with it when spending less and earning more got hard. In fact, it almost depressed me – to see so much of my money going to a company and so little of it taking down the principal because of the high interest rate.
So then I tried the "little debts" approach. You know… Pay off the smallest debt, then take the payment you were making on that and put it against the next debt. That's often called the debt snowball, and the idea behind it is that seeing that "win" early is supposed to motivate you.
This approach wasn't motivating me to stick with it because my smallest debt at the time was almost $10,000. That's a lot of months with no "snow" in your snowball!
I was also guilty of the not-normally-popularized "pay MORE than you really can on your debt and have no savings and then get panicky and charge it right back up" system. Yeah. That didn't work out either.
The Debt Tsunami approach to paying down debt
So when Baker said I could do something different, it was really freeing. I didn't feel like a failure because I – a math major – couldn't keep up the "mathematically correct" system. I didn't feel like a failure because I wasn't "snowballing" anything or cutting out payments.
Simply put, Baker and the You Vs. Debt class encouraged me to figure out what debt I most wanted to be rid of – and hammer as hard as I could at that. That's the debt tsunami in a nutshell – determining how you pay things off based on their emotional impact.
I don't normally write long posts and then include bonus required reading. But this is important. One of Baker's earliest posts here on Man Vs. Debt went into huge detail about how the Debt Tsunami works, and I want you to read it in his words, not mine.
Stop what you're doing, save this post, and go read about the debt tsunami here.
You're back? Did you read it?
GOOD. This is truly the foundational idea that's framing our efforts to pay off about $90,000 in consumer debt.
I've written about it in passing many times, but I've never gotten a chance to really focus and explain why it's so important to me.
With just under $60,000 in debt, I am now at my LOWEST percentage of debt in my adult life.
So, yeah, I want you to read more about the Debt Tsunami. But more than that, I would love for you to LIVE the Debt Tsunami approach if you're still in debt, and to share how it's working with our community!
[share_sc]
So what's your most-hated or most-stress-inducing debt, and why? Maybe it is because it's got a high interest rate. Maybe it is because it's a nagging little balance that you want to clear out. That's fine – it's a great way to combine other approaches.
But I want to hear what's really motivating you.
Comment and let me know!