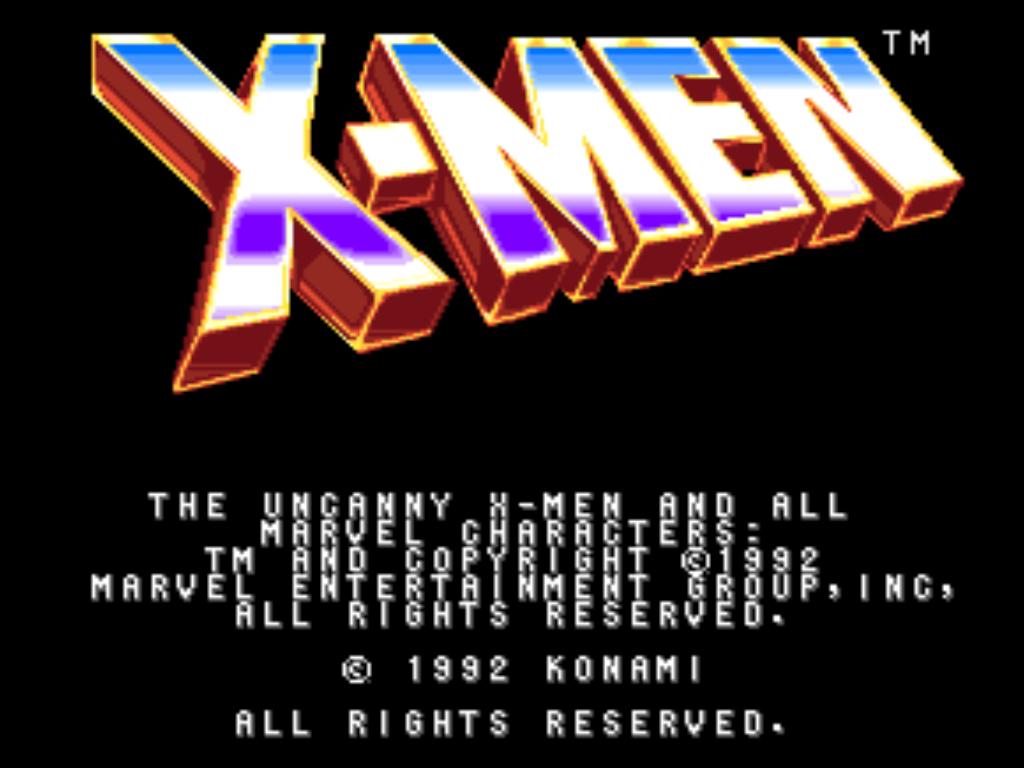 [share_sc]
The year was 1992 and the local Pizza Hut had just unveiled a new arcade game.  Not knowing what we were in for, my brother and I begged our parents for a couple bucks and wandered over the the small game room while we waited for some deep dish.
As we turned the corner, we were confronted with the screen featured above…
"Wow…  look… this one has room for up to 6-players!" We exclaimed as we slid a handful of quarters in and the rest, they say, was history.
I'm not sure I can credit this machine for my years of video game addiction (I'm fairly sure that award belongs to Golden Axe a year or two before), but I actually squirm at the thought of adding up how much of our parent's money was inserted into this contraption.  It would be a scary number.
I'm not the biggest comic book nerd, but when it comes to video games, I take no prisoners.  I thought it would be fun to break down the X-men featured in the game (as well as the villains) and relate them each to personal finance topics based on their given powers.
And I was right… I had a blast taking this trip down memory lane.  In all seriousness, it got me brainstorming about my own strengths and weakness in our journey to get out of debt… or what I now refer to as my very own Financial X-Men Mutant Power!  Enjoy.
The X-Men…  a.k.a. The Good Guys
Professor Xavier: Financial Independence

Real Name: Charles Xavier
Mutant Power: The world's most powerful telepath.
In the game/series: Professor X isn't actually a playable character in the game.  Instead he leads the X-men team through the game and gives the orders.  He's a master of telepathy, who can enter people's mind for both good and ill intentions if needed.
Financial explanation:  Professor X represents our own personal journey to financial independence.  You can't play Xavier in the game, just as you can't simply wake-up and achieve financial independence. Instead you have to build various skills, assemble a diverse team, and 'give the orders' to eventually lead to your own vision of success.
Wolverine: Passionate Debt Reduction
Real Name: James "Logan" Howlett
Mutant Power: Regeneration, Adamantium Skeleton & Claws
In the game/series: Wolverine's abilities in game aren't necessarily authentic to the comic series.  For example, his special power is sort of a augmented, laser-based swipe (kind of weird). And his regeneration/durability abilities aren't reflected more than any other character.  In the series, Wolverine is shown as brash, aggressive, passionate, and ultimately very effective in nearly all missions.
Financial explanation:  Wolverine is the "Dave Ramsey" of the X-Men world.  While he may have made mistakes in the past (as many of us with large debts have), he's focused, determined, and some may even say ornery.  Regardless of what you think of him, it's tough to argue against his effectiveness.  His intensity is most valuable when stepping up to turn around a situation or to eliminate a large amount of debt.  With this financial comparison, it shouldn't surprise you that Wolverine was my favorite character to play.  🙂
Colossus: A Healthy, Dependable Income

Real Name: Piotr Rasputin
Mutant Power: Super strength and quasi-invulnerability in special "organic metal form."
In the game/series: Like Wolverine, Colossus' in game powers aren't super authentic.  His durability isn't taken into account and his mutant power is an energy force field of sorts (again, a little weird).  In the series, though, he is known for his consistent and sturdy support.  His ability to transform into the 'organic metal' form means that he can withstand many attacks others can't and his super strength often comes in handy.
Financial explanation: Colossus is most similar to a strong and healthy income.  While a consistent income is not an absolute must (nor is it a guarantee of success), there's little doubt that it goes a long way in helping us withstand various external influences in our financial life.  Of course, the larger the income the more leverage (or 'strength') we have to accomplish our financial goals.
Storm: Entrepreneurial Spirit

Real Name: Ororo Iqadi T'Challa-Wakandas
Mutant Power: Weather manipulation
In the game/series: Storm's mutant power allows her considerable influence over the weather.  In the game, she uses lightning attacks and is able to summon a hurricane as her special.  Storm has a diverse skill set and can utilize everything from gusts of wind to rain, and blizzards to thunderstorms.  She can adapt quickly to many situations (although favors outside obviously) and has shown above average leadership throughout the comic series.
Financial explanation:  Storm's diverse skill set and ability to control many different moving parts best reflects an entrepreneurial mindset.  While not everyone needs to run out and start a business, even long-time employees can increase there value with knowledge of basic entrepreneurial principles.  Many of us can benefit from devoting some spare effort to a part-time business, both monetarily and otherwise.
Nightcrawler: Financial Agility

Real Name: Kurt Wagner
Mutant Power: Teleportation
In the game/series: Nightcrawler was almost always the most in-demand character in the arcade game.  He was just so fun to play and his special was awesome (a flurry of teleportation all around the screen).  In the series, Nightcrawler tends to focus on stealth objectives using his night-vision, wall climbing skills, and ability to blend into shadows.
Financial explanation:  Nightcrawler embodies what I like to call "financial agility."  This is reflected in the growing trend to have a flexible income, minimalist possessions, and no deep ties to any specific location.  Nightcrawler would almost certainly be a fan of a simple financial approach that allowed him to opt-out of much of the 'normal' hustle and bustle (and allow for travel, of course).  As a side note, I often wonder whether Chris Guillebeau yells, "BAMF!" as he boards public trains in random less-traveled European countries.
Cyclops: Leadership & Balance

Real Name: Scott Summers
Mutant Power: Shoots beam of energy from eyes
In the game/series: Cyclops is a long-time member and the most consistent leader of the X-men team.  His mutant power in the game is a straight-forward but powerful beam of 'concussive force' (fairly consistent with series).  Cyclops is one of the most emotionally balanced and well-rounded characters in the series.
Financial explanation:  Cyclops best reflects the power of having a well-rounded approach, especially in regards to a work/life or business/life balance.  While it at times may be slightly less effective than, let's say, Wolverine's approach (that conflict is shown throughout the series), Cyclops consistent leadership role is irreplaceable.  This principles-based approach can be of similar value in our financial lives, grounding our emotions and helping us to avoid burnout.
Dazzler: Frugality

Real Name: Alison Blaire
Mutant Power: Transforms sound into light energy
In the game/series: Let's be honest…  nobody wanted to play Dazzler.  It's not that she was any worse than the other characters, she just was less fun (and popular).  Like Storm, the beauty of her approach is in her resourcefulness.  She's able to transform sound into light energy, including laser beams, flashbangs, and holograms.
Financial explanation: Dazzler resourcefulness represent the power of frugality and the do-it-yourself mentality.  She's embodied the skills of being able to bargain hunt, make common products at home, and the ability to repair before looking to replace.  Frugality isn't about being cheap or wasting time… it's about eliminating waste, increasing quality, saving money, and having a little fun.  Remember Warren Buffett, whose time is arguably more valuable than any other person in the world, is well-known for his frugality.
The Bosses… a.k.a. The Bad Guys
Like most games, there are many bosses that stand in your way as you progress along your journey.  The same is true of our journey into financial freedom.  The bosses are all related to common financial hurdles that block us along the way.
Pyro: A Basic Income

Real Name: St. John Allerdyce
Mutant Power: Manipulate fire
In the game/series: Pyro is the first boss in the game and can easily be referred to as the weakest.  While his fire attacks can appear strong, with a little effort the can be avoided most of the time.
Financial explanation: Pyro represents a simple, basic income.  Honestly, that's the first financial hurdle we all have to overcome.  We don't need a 6-figure income out of the gates (although that would be nice), but few of us will last long without at least a minor income stream in the beginning.  Once that is covered we can start to get more creative!
The Blob: Student Loan Debt

Real Name: Fred Dukes
Mutant Power: Super-strength, Durability
In the game/series: "Nothing moves The Blob!" –  The Blob is the first of a string of bosses that have super-strength and strong physical attacks.  In the series, it's said that his mass is so large that his skin is immune to all but the strongest attacks including bullets.
Financial explanation: Unfortunately, student loans are the first sizeable debt most of us encounter in our journey.  And, ironically, the can often feel just like a huge 'blob' hanging over our heads.  While they may appear daunting at first, just like The Blob they can be taken down with consistent and repetitive force.
Wendigo: Car Loans & Leases
Real Name: Has affected many different people.
Mutant Power: Super-strength, Durability
In the game/series: Wendigo is actually a curse that can transform normal men into a mythical beast.  In the game, Wendigo is the second in a chain of bosses who have super-strength.  Throughout the series, Wendigo also possesses increased speed, durability, regenerations, and extra-sharp claws and teeth.
Financial explanation: While owning an automobile is generally not a negative thing, just like in the series, it can be 'cursed' by an attached loan or lease agreement.  Financing a depreciating asset is almost always a bad idea and car leases are renowned for the ability to come back a bite us in the butt.
Nimrod: Hasty Home Ownership

Real Name: N/A
Mutant Power: Super-strength, Leader of Sentinels
In the game/series: Throughout the game you encounter many Sentinels as the basic enemies.  Nimrod is considered the most powerful (and versatile) of all Sentinels, as well as being a leader of sorts.  In addition to the common super-strength, in the series, he possesses both teleportation and shapeshifting abilities.
Financial explanation: Home ownership is almost always the largest financial commitment any of us will make in our lives.  All too often, the various expenses and responsibility (financial and otherwise) are not all taken into account, especially during the first purchase.  The general Sentinel army represents the miscellaneous expenses, repairs, burdens, and stress of home ownership.  Nimrod, himself, embodies a hefty mortgage, which if not controlled properly can quickly destroy our financial goals.
The White Queen: Negative Influences

Real Name: Emma Frost
Mutant Power: Telepathy
In the game/series: While The White Queen is one of the easier bosses and the game, in real life the story isn't always the same.  Like Professor X, the White Queen is a telepath although certainly less powerful.  She is most well-known for her manipulation techniques, especially those involving seduction.
Financial explanation: The White Queen is a combination of all the external negative influences that bombard us.  These may be tangible influences, such as family and friends, or intangible emotions, such as fear of success or guilt about money.  Working through these issues is a normal part of the path to financial freedom.  The key is to keep them from dominating our thoughts on a regular basis.
Juggernaut: Credit Card Debt

Real Name: Cain Marko
Mutant Power: Super-strength, Unstoppable while in motion
In the game/series: It's widely known that the Juggernaut is not actually a mutant, but instead derives his power from a gem worn in his helmet.  His strength is second to none and it's said that he doesn't require food, water, or sleep to stay active.  Once he gets moving, he's impossible to stop, often plowing through anything in his way.  In the game, he is even equipped with a Bazooka!
Financial explanation: This was the easiest of all!  Juggernaut represents credit card debt, of course.  High interest credit card debt is on of the most dangerous financial pitfalls, especially once it's able to gain momentum.  The actual credit cards are the proverbial helmet, which is the source of the high interest debt's power.  Often times, the fastest way to defeat this beast is to 'remove the helmet' by cutting up and canceling the credit cards themselves.  Even the Bazooka can be directly related to the shady techniques employed by credit card companies!  🙂
Mystique: Lifestyle Inflation

Real Name: Raven Darkholme
Mutant Power: Shapeshifting
In the game/series: Mystique is one of the most popular X-men villains.  She can replicate the physical appearance of anyone whom she comes into contact with, including their voice.  She uses this ability and her cunning nature to take advantage of and infiltrate all sorts of situations for her own gain.  In the game, she impersonates both Professor X and Magneto at different times and is the second to last boss before the real Magneto.
Financial explanation: Mystiques' ability to shapeshift reflects the role lifestyle inflation can play in our financial lives.  Often times, we simply tread water.  As our income grows, we allow our responsibilities and expenses to mimic the increase.  This is the reason why so many lottery winners, professional athletes, and celebrities still end up with severe financial problems several years down the road.
Magneto: Financial Stress

Real Name: Max "Magnus" Eisenhardt
Mutant Power: Magnetism manipulation
In the game/series: Magneto is the final boss and as is customary, the most difficult to defeat.  His attacks are quick and powerful and his Magnetic Shield defends him from counter attacks (and even hurts too).  Throughout the series, he's the most common enemy the X-men routinely face.  He has complete mastery of anything metallic.
Financial explanation: The last and most powerful obstacle we have to overcome on our path to financial independence is eliminating the stress from our finances.  Ultimately, stress is behind all of our financial woes.  Stress from too much money… stress from too little money.  Stress from the burden of debt or stress from fighting with your spouse over spending.  Stress of too many possessions or not enough food to eat.  For me, financial independence isn't being debt-free or having 10 million dollars in a bank account.  It's simply finding out how to use sound financial principles to eliminate as much stress from our finances as possible, so we can concentrate on the more important things in life.  Thus, stress is the last 'boss' we have to defeat.
What's your financial X-Men mutant power?
While mapping out these correlations was a lot of fun, it does bring up a great issue.  We all have strengths and weaknesses when it comes to our finances.  Even Cyclops' well-rounded approach will eventually need the help of the others along the way.
When I first started focusing on my finances, I was in full-on Wolverine mode.  Lately, I've slid more into a freakish combination of Storm and Nightcrawler (describing it that way makes me smile).  I've never benefited from Colossus' power (a healthy income) and I could also learn a little more from Cyclops from time to time.  🙂
What ability most resembles your own strengths? There are literally hundreds of X-men, so I've only cracked the tip of the iceberg here.  If you are an uber comic nerd go ahead and get creative.  😉
Whew…  this took longer than I thought!