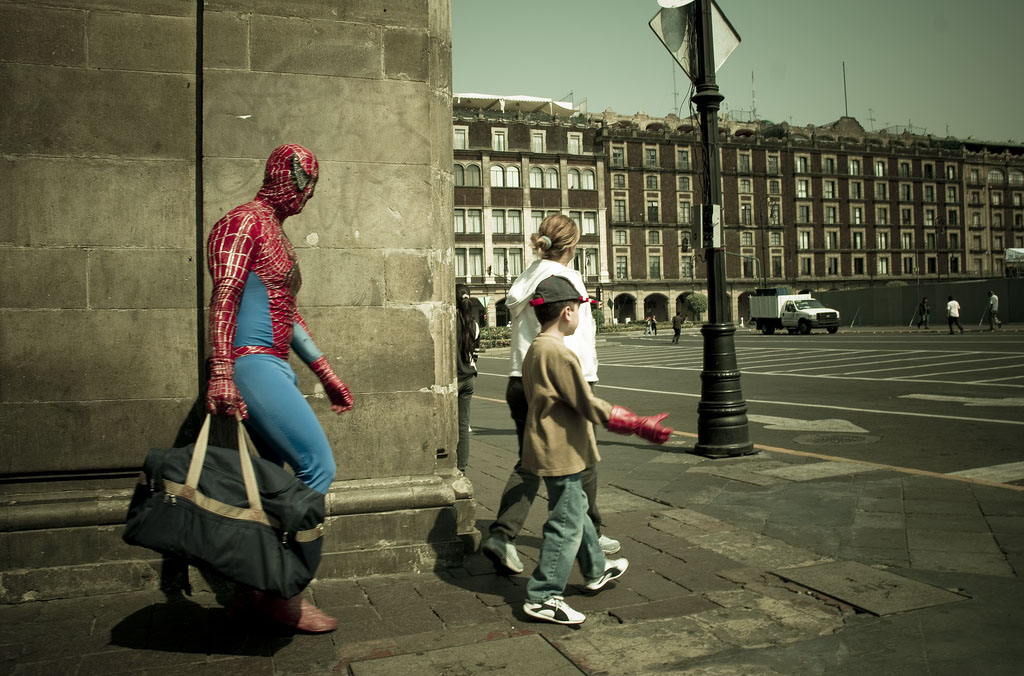 This article is a guest contribution by Austin Morgan. Austin blogs over at Foreigner's Finances, where he not only talks personal finance, but also writes on the culture differences (and increased cost) of living in Japan.  Courtney and I are considering Japan for the future, so I love reading about his firsthand experience.  Learn more by following @ForeignersFinan.
[share_sc]
If you've ever had an itch to start a business – do it.
Don't wait any longer; take your idea and run with it. The time will never be perfect, but starting your own business will teach you more about yourself than any book, tv show, magazine, or college course ever will.
I'm only suggesting you do this because I saw how much of a morale boost a tiny side business gave to my life.
I took over a textbook resale business my junior year of college from a friend. I had sold a book to him my sophomore year and asked him how his business worked. He told me he just sold the books on Amazon and was nothing more than a middle man. In the meantime, he bought a PS3 with his income from the side business.
My eyes popped out of my head. After working on-campus making minimum wage for two years, I was stunned at his "riches" and took the business from him when he graduated that spring.
I recruited my girlfriend and we bought textbooks from students and sold on Amazon for a profit. That was my business. It didn't take fifteen people, an office, or a secretary. It took two people, a dorm room, and some hard work.
This wasn't a huge business. It wasn't an LLC or anything "official".  We only made around $5,000 over fifty weeks of school – much better than part-time minimum wage, but not a huge ordeal.
The business sounds simple, but I quickly learned that working for myself was going to be significantly more difficult to manage and organize than I thought. It was hard work, but I learned more from that small side business than from any other part-time job I ever had.
That's the beauty of starting your own business. You stop saying, "I should really open up that (blank)" or "my skills in (blank) are marketable, I should really charge for them"; and you start doing it.  You learn to take an idea or a dream and put it into action!
Start now and work out the kinks along the way
It'll take a couple weeks for you to feel out the intricacies of working for yourself and your small business in general.
Once we got our name around campus and started purchasing inventory, I realized how important organization is to a successful business. We had five or six books coming in a day and were also selling that same amount on Amazon. We had to keep track of our customers around campus, shipping labels, incoming cash, and loads of e-mails.
You will make mistakes, but don't let them stop you. Take it from me, we made more than our fair share of mistakes.
It took us over a year to figure out the most efficient way to ship books across the country. The Post Office isn't the most helpful group of people in the world, and we finally learned our second year that we weren't shipping with the safest and most cost effective way. We wasted hundreds of dollars because we repeatedly lost books and had to give up the sale.
No one is going to hold your hand through the first few months, you just have to take the bumps and hope your business is still around when you come back down.
Warning – Not for Everyone
The self-employed life suits different people. Personally, I enjoyed working for myself and could see myself pursuing bigger self-employed ventures in the future. But there are also a lot of aspects of running your own business that aren't so glamorous and will make you miss the comfort of a steady job with a paycheck every two weeks.
Most of us have to work in some fashion, but there are multiple ways to go about it. Testing out the self-employment waters will let you see what you really want out of a job and give you a chance to find your passion and desire in work.
Here are the pros and cons I found from working part-time for myself the past two years.
Pros:
It's Liberating.
When you run your own business, you can wake up at 11 in the morning and work, you can answer some e-mails in the afternoon, or you can stay up late and tie up loose ends at 2 a.m. I would answer e-mails in my boxers, while I played NHL Hits on XBox at 4 in the afternoon – it was wonderful.
The chance to create your own work schedule is one of the best perks about working for yourself.  Work just feels different when you don't have to stare at the clock waiting for quitting time everyday.  It no longer mattered how many hours I worked in a day, but rather how efficient I had been with my time.
This was a huge plus because it allowed me to cater to my own energy levels as I wasn't forced to produce from 9-5 everyday. If I felt up for work, I went for it. But I never had to drag myself into the office and force myself to be productive.
You Get the Coffee Cup That Reads: "World's Best Boss"
Being in college, I had only worked part-time jobs, and I loved not having to cater to a boss or higher-up in my own business. I could concentrate on growing sales, marketing, and expanding instead of worrying if I was doing a good enough job for the person above me.
Some people need the structure and predictability of a boss or manager – which is totally fine.
But maybe you'd react differently to work if you called the shots. That's why it's a great idea to test out your own business to see what works for your specific working style. You may think of yourself as someone who needs to be managed by another, but it turns out you excel on your own.
Taking Pride
When you create a company yourself, it gives you a different perspective on what work can be. Your company becomes your baby. You create it, raise it to health, let it cry on your shoulder during the awkward teen years, and eventually you hope it moves on without you.
You no longer are a puzzle piece at a company with 200 employees. You are the employee and there is something incredibly uplifting about that. It drives you to work harder and make the company more successful. Clocking in at nine every morning and out at five doesn't concern you. You've found your passion and you'll work harder than you ever have to make it succeed.
If you get to this point with your own business, there is no going back. You have caught the self-employed bug.
Cons:
It's So Much Work
Starting something from the ground up is challenging. There's no way around it.
It'll take time to get your companies name out to the public, and it can take a long time for money to come in. Don't let this discourage you. Setting the foundation for your own company is the most difficult thing you will do, but if you set up a sturdy business, it'll soar once it gets going.
The most difficult thing about working for yourself is that you have to do EVERYTHING. There is no delegating work to others or slacking because someone else will pick it up. If you don't do the task needed, it won't get done. A lot of time this pressure can be too much for people. Any slow day is a wasted day when you're self-employed.
Working Alone is Lonely
This is the reason so many people have business partners. From the start, my girlfriend and I ran the textbook business and I don't think I could've done it without her.
A partner is great for throwing around ideas, keeping sane, and pushing one another to succeed. It's easy to slack and take it slow when you're a one-person business, but a two-person business still maintains the small-company culture, while adding a little accountability to keep the company progressing.
Juggling the Details

Managing e-mails and judging the relationship between time and income was something I never anticipated when I first started working for myself.
At first, anybody who emailed us books was someone we'd buy from. But after making only $5 on a book when it probably took two hours of work, I quickly became efficient at spotting what business was worth our time.
You can't fight all of your battles when you run your own company, so play to your strengths and only do the tasks that will make your business progress. Learn to say "no" early on, and you'll save yourself time and grey hair later.
What Life?

Setting boundaries for work is one of the hardest thing about starting your own business.
90% of my work was done online so it was so easy and tempting to check Amazon to see if we had sold a book, or to answer more e-mails before I went to bed. Far too many times I found myself hitting the refresh button on Gmail to see if we had received any new e-mails. It became too much and it lost its excitement when it reached this point.
Make sure to separate yourself from your work. Find the times of the day that work best for you, and be productive during those few hours. Hitting the refresh button on your e-mail ten times an hour isn't being productive and it's just hurting your morale and your business.
If you can learn to set boundaries between your company and your personal life, you'll create a much more successful business because your time spent working will be of quality.
Regardless – Just Take the Plunge
Starting your own business is a chance to test yourself. A chance to see what is available to you as an employee, and to see what best suits your personal work style.
Start small – what are your hobbies or interests? Follow those, and you'll be able to find a way to monetize those skills at least a little.
Your business can be something small you do after work for a couple of hours a day, but don't let paralysis by analysis set in. Pick something you love and run with it. This side project doesn't have to immediately challenge Exxon, but even a small business selling hand-made soap will teach you a lot about yourself and what you want from a job.
It's possible you won't succeed. It's possible you'll loathe working for yourself. Good. I hope you find such a concrete conclusion from this experiment. Congratulations for taking the risk, now move on and be a better employee because of it.
For me, self-employment showed me a path I never knew existed.  Right now I'm working as an English teacher in Japan, but I know I want to pursue a business of my own soon. I'm pursuing personal interests – blogging, and encouraging my girlfriend to open a restaurant in Japan.
Starting my own part-time business taught me more about myself than any blog, job, college professor, or homework assignment ever did.
Take the risk – you won't regret it.
Baker's Note: As you might guess, I really connected with this post.  Most people can't simply up and quit their jobs, but nearly everyone can start a side gig part-time.  For both Courtney and me, tinkering with small business has been a great experience that has really stretched us.  You'll never know unless you give it a shot, and a part-time gig like Austin's is a perfect start.
What has been your own experience with starting a part-time business? Have you given it much thought, if any?  Is so, what have been your biggest personal pros and cons?  I look forward to reading your comments below!