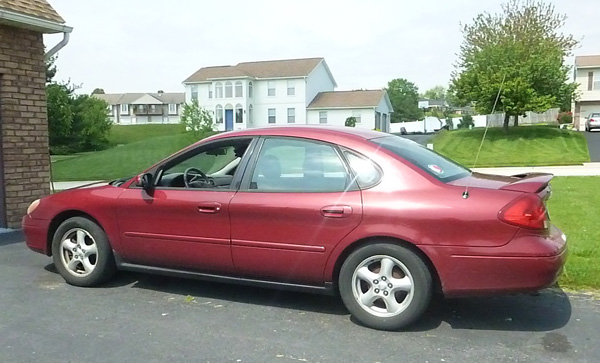 [share_sc]
Note: This is a post from Joan Concilio, Man Vs. Debt community manager. Read more about Joan here.
Meet our automotive pride and joy – our fully-paid-for, 111,000-plus-miles, has-even-gone-offroading 2003 Ford Taurus SES.
This car is a beast. And, for the past six years (as of this past Sunday), it's been put to the test – because it's been our only vehicle.
In early 2004, I'd bought the Taurus for something like $13,000. When I got it, it was "almost new," never having been titled and driven only as part of a fleet of cars leased to the dealership's employees.
That car, by the way, marks THE biggest spur-of-the-moment purchase I've ever made; my mom was in the market for a new car, and I'd gone to the dealership with her to help her weigh the options.
She found a sage green 2003 Taurus that she loved… and when I test-drove it too, I realized how awesome it was when compared with the not-yet-paid-for-but-always-broken-down 1996 Dodge Stratus I'd been driving.
So I bought a matching one in red, rolling over my old car note and trading in the Stratus, which was in the running to need a LOT of work. Probably not the world's sharpest financial decision, but at the time, as a single parent, I really needed and wanted a reliable vehicle.
Fast-forward a little; when we got married in May 2005, Chris had a two-door 1999 Ford Escort. He'd bought it several years earlier, and by the fall of 2005, we'd paid off that car loan and it was ours free and clear. The payments continued on the Taurus, to the tune of $250 a month.
With Sarah still in a booster seat, it was a LOT easier to take "my car" almost everywhere we went as a family. The Escort was used here and there… but not much.
Making the decision
In early 2006, the newspaper where Chris and I both worked full-time relocated its offices… to a half-mile from our home, through two blocks of residential neighborhood.
Suddenly, the infrequently-used Escort became the really infrequently-used Escort. At the same time, we started to get pretty serious about paying off our debt.
And we started asking ourselves: Could we be a one-car family?
We thought about all sorts of factors – positives and negatives. We were "side hustling" even back then, so there were places I, especially, needed to go besides the super-close newspaper office.
On the good side, we hadn't merged our insurance policies quite yet, so this would help us simplify by dropping Chris's auto insurance. And, of course, there was the bonus of a one-time influx of cash.
I do have to add one caveat here. My mother lives with us, and she has her car, the green 2003 Taurus I mentioned above. But Mom works and goes out with friends and to church and many other places, so her car is pretty much "busy."
Very occasionally, I'll take Mom's car somewhere, or she'll take ours, but in reality, we only have crossover when one car is in the shop, and then the three of us draw from the other car.
That said, knowing we had that backup became kind of a security blanket to help make the decision.
We also realized pretty quickly that even if we rented a spare car for the occasional times when we really needed it, that would cost FAR less than the maintenance, insurance and other costs that would come from us keeping Chris's Escort.
So we sold the Escort for $2,300 on May 6, 2006, after placing an ad on Craigslist as well as in the newspaper classifieds. We asked well below Kelley Blue Book value in order to move quickly, and it paid off: We received dozens of calls, and the first "looker" became our in-cash buyer.
That money quickly went toward debt repayment, and within another year and a half (in the fall of 2007), we were enough ahead of the game to pay off the Taurus almost a year and a half early.
That baby is all ours.
Moving forward, we've committed to one big goal: We'll never have a car payment again. We will drive this sucker into the ground, and whatever we can afford at that time – that's what we'll get as a replacement.
If that's a $500 rustbucket, well, it's lucky we pay for AAA. If that's a $10,000 late-model used car, great. But either way, we will not take on a monthly payment for a vehicle.
The good parts
In six years of sharing a car with my husband, we've found an awful lot of pluses.
1. No car payments.
We have one car, fully paid off. If we'd kept the Escort, I'm not sure it'd still be drivable, and if we were committed to replacing it, we'd probably still have a payment on its successor.
2. Reduced insurance costs.
Since the Taurus is only titled in my name, Chris doesn't even much "count" toward the insurance cost. We pay my mom's car insurance as well, and for the three of us on both Tauruses, we pay $71.14 a month. Before, Chris paid that much alone, and Mom and I paid even more (through our former company!)
3. More consciousness about our driving habits.
You don't tend to drive like a maniac in your vehicle when it's the only one you have. (Or, at least, Chris and I don't.) And since we know that errands aren't just a "go whenever" proposition, we work harder to plan out our trips and avoid things like running to the store for just a few items.
4. More family time.
This wasn't something that factored into our decision-making, but it's turned out to be a great added benefit.
Chris and I spend a good amount of time driving each other places. "I'll take you to tae kwon do, then go to the library, then pick you back up." That sort of thing.
That gives us time to talk, and just to be in each other's space. With two cars, we'd spend a lot of time doing the "you go your way, I'll go mine" thing.
This goes for Sarah, too; she gets Mom and Dad time instead of being shuttled by just one of us.
5. We walk more often.
When I asked Chris what his thoughts were on why this setup works, his answer was simple: "It helps when you live within walking distance of a lot of places."
Yes, we could walk with two cars. But we didn't – and we probably wouldn't. And the great thing is, we DO NOT live in a "city" by any means. We're 100% suburbia.
Even so, there are grocery stores, convenience stores, parks, a tennis court, churches, our mechanic, a movie theater, restaurants, banks and more – all within an easy walk of less than a mile.
We're considering changing banks – because ours is a mile away across a large highway, and we'd rather avoid it.
The less-good parts
Honestly, there aren't too many things I don't like about our one-car situation. That said, there are a few down-sides that are worth mentioning. Here's Exhibit A: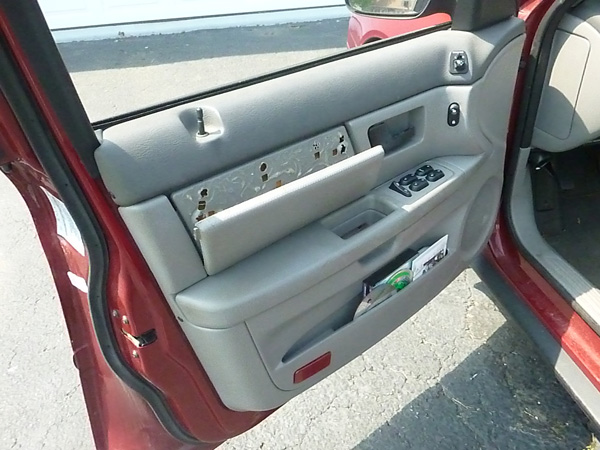 1. I hate my driver's side door panel.
It hasn't stayed attached – despite repeated gluing attempts with every adhesive known to humankind – for about the past four years.
If you elbow it hard when you sit down, you're usually good for about 30 miles, or until you open the door, but then it falls in again.
In the grand scheme of things, this ABSOLUTELY doesn't matter, but along with the dents/dings/scratches/peeling paint etc., it does make me long for a nice, newish vehicle. (Even if I had to share it – newish would be nice.)
2. Maintenance issues.
This particular car has not been without needs in its first 111,000-some miles.
It's not good on alternators (yes, plural). It's soon going to need some transmission work, as you can tell when you try (and sometimes fail) to accelerate from a stop.
The water pump has been replaced. The suspension has been overhauled.
It's not a money pit yet, but our biggest fear is that we'll cross the "we shouldn't put more work into this" bridge before we have the money saved up to buy a decent replacement.
3. Lack of hauling space.
If we had NO cars, and had decided to purchase only one for our family, we'd likely have chosen something with a little more room. The Taurus has pretty good trunk space, but it's not good for moving even small pieces of furniture and what have you.
We've made it work pretty well, but it isn't always the easiest.
4. Racking up the miles.
When we travel (and we do that a lot), all the miles go on one vehicle.
Now, that's balanced out by our lack of commute – we average about 11,000 miles a year, which is REALLY low.
That said, we don't have the option to, say, take the "better" car when we decide to road-trip to Vermont. It's all Taurus, all the time.
Remember how I said we've gone off-roading in it? Yup, really. Dirt and not-even-dirt roads in upstate Pennsylvania are no match for this baby. (And it makes for a fun trip to the mechanic, because he starts off your inspection with the line "I have a really strange question to ask you… has this car recently been on a, well, an unimproved road?")
So is it for you?
Look, I can definitely say that being a one-car family works for us – and barring any HUGE changes in our circumstances and goals in life, we plan to stay this way and probably even to drive LESS.
In a dream world, we'd keep beating this car up until Sarah, who's 12 now, turns 17 and gets her permit. By that time, we'd be more than two years out from our final credit-card payment, and if we take even half the money we're putting on the debt and save it for a vehicle in the interim, we'd be able to afford basically any later-model used vehicle we'd like. (That is, of course, dependent on this car making it five more years.) Then, Sarah could finish driving the Taurus into the ground, hopefully not literally.
We realize it's not for everyone, though. We have friends who each commute an hour – in opposite directions – five days a week. It would be ridiculous to suggest they could become a one-vehicle family, at least not without a LOT of rearranging.
We're lucky to live so close to all the places we need to go, especially because our town doesn't really have a huge public-transit infrastructure. And we're lucky – though I prefer to say blessed – that I can primarily work from home, which changes our situation drastically.
Finally, the biggest factor in making this work is that we want it to. We go out of our way to make it a success. I'll ask friends for rides – in exchange for gas money, or in exchange for returning the favor at other times. We'll rent a car when it makes sense, or rearrange our plans if that isn't in the cards.
It would be pretty easy to say it "makes sense" for us to have another vehicle, but we don't want one, and so we've built our lives accordingly.
[share_sc]
I'm not asking you to sell your vehicle today. Far from it. But for many of us, transportation expenses are some of the highest we have, behind maybe only housing and food.
Ready to think different about your spending? Get our Unautomate Your Finances guide, as well as several other awesome resources to "kickstart your money," join the Man Vs. Debt community list by clicking here!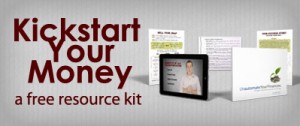 · Unautomate Your Finances ebook
· You Vs Debt Sample Lesson
· What to Sell Where Flow Chart
· Debt Payoff Tracker
· 10 Tips for an Effective Craigslist Ad
So I do challenge you to ask yourself this question: Is there anything you can do in the next month to save on transportation expenses? (Or anything you've already done?)
We'd love to hear your thoughts in the comments… and if you're led to becoming a one-car or NO-car family, well, I can tell you from first-hand experience that it's pretty cool!