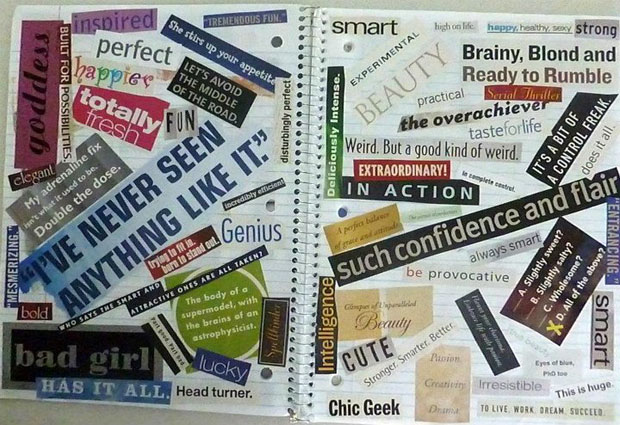 [share_sc]
Note: This is a post from Joan Concilio, Man Vs. Debt community manager. Read more about Joan.
When we talked about the Olympics, passion and the cost of hobbies in a recent post, one commenter, Jason, mentioned the concept of vision boards – basically, visual representations of your biggest goals.
I'm a huge proponent of goal-setting… but my attitude and approach toward it have changed drastically over the past couple of years.
How I used to set goals
At one point early last year, I read 42 Goals in 42 Months, a post by J.D. Roth on Get Rich Slowly about what he wanted to accomplish, drafted in honor of his 42nd birthday. And I got inspired.

That's my for-real comment, made for all the world to see, and I did start drafting a list of 30-by-30 goals.
The problem was, though, I stuck to the traditional advice I'd heard about goal-setting. I made a list of "tasks" – specific, concrete, measurable achievements in the areas of finance, health, career and personal life that I wanted to check off a list by Nov. 29, 2012, the (quickly approaching) date of my 30th birthday.
Conventional wisdom tells us that goals are supposed to be focused and specific. I think that's good advice – to a point.
Unfortunately, while the idea of making a list of goals inspired me, the "task lisk" itself did not! For instance, I had a series of financial goals that looked an awful lot like my set of Very Next Step goals for each of my debts. The list looked like this:
1. Balance owed under $20K on BoA Mastercard.

2. Balance owed under $3K on Discover card.

3. Balance owed under $6K on my Citi card.
… and so on. That stuff is absolutely important in my life – but I didn't wake up in the morning excited to work toward those goals, because individually, they weren't what I was aiming for.
I really don't care if, on my 30th birthday, that Citi credit card is at $7,000 or $5,000.
The REAL GOAL is to be debt-free except for my mortgage no later than March 30, 2015 – and to stay free of consumer debt afterward.
The health, career and personal goals were similar.
14. Own fewer than 200 articles of clothing.

15. Have the family scrapbook from my mom's side finished.

16. Have the family scrapbook for my dad's side finished.

17. Have the Otto annual scrapbooks caught up (at this point, that means finishing the 2010 annual, completing the Christmas 2010 book, and, before the "end date" of my challenge, finishing 2011, Christmas 2011, and all of 2012 up to November.)
The ideas are good, but the minutia wasn't inspiring me. The 30-by-30 project, which I was so excited to undertake, basically stalled; I never even came up with a full 30!
Looking back at the project a little more than a year later, I realize that, for me, goal-setting cannot be done as a "task list" approach. I have plenty of tasks in everyday life. When it comes to my goals, I need to both think bigger – and think smaller. I need to find the common themes among the tasks – and narrow my efforts down to the things that best fit my life's themes.
Brainy, blond and ready to rumble
Scroll back up to the top of today's post and take a good look at the image.
That's a collage that I've been working on for the past decade, titled "Brainy, blond and ready to rumble." Until late last year, I looked at that as a piece of art. Cool, incredibly personal art, but… just art.
I've come to realize that this collage is more than art. In a very real way, this is my self-portrait – or the portrait of the self I want to be.

THIS is my goal.  These are the things I want to be. Head-turner. Built for possibilities. A perfect balance of grace and attitude.
There are no tasks listed on that collage. No concrete steps toward a plan. But looking at this – it motivates me to see the big picture of my life.
Most of my "task goals" in life have consistent themes. Not having a lot of stuff, taking care to preserve my family's heritage, being a valuable member of the communities I'm part of, working hard at the things I love.
The details of the tasks often change. Since I created the old 30-in-30 list, I've made a major career shift and become a homeschooling parent. Some of my former "bullet points" no longer apply. But those themes – simplicity, family, dedication, community – are still there.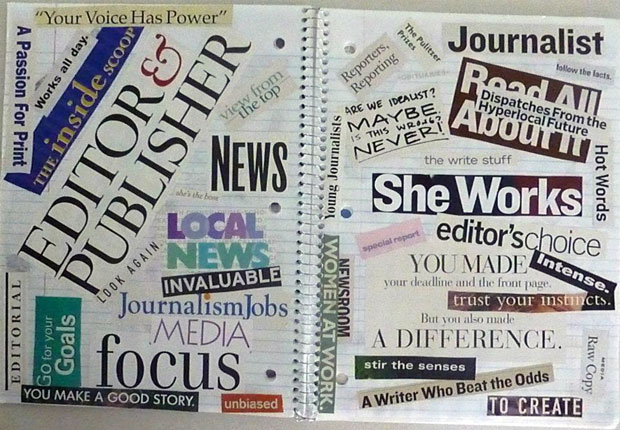 This is another of my "vision collages," created during 13 years of full-time work as a professional journalist. My idea was to get this one matted and framed and hung in my office when I eventually became a newspaper editor or publisher. Who knows – it still could happen.
The funny thing is, while the "job" has changed, this collage is still very much who I am. I'm here at Man Vs. Debt because I want to be a writer who beat the odds. As with the newspaper, at MvD, I make deadlines – and the front page. Hopefully, I also make a difference.
How to create your own vision
I'm not saying that lists of specific goal-tasks don't have a place. I love making lists. But if you're serious about setting goals for who you are – not just what you do – I highly recommend the eye-catching approach of a vision board or collage.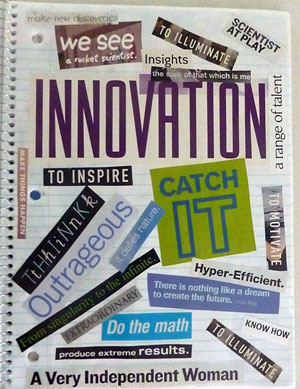 If you're "not artistic" – and I say that laughingly, because my friends and family know how UNARTISTIC I really am – don't get hung up on design.
This is YOUR vision – and if you want to paste words and pictures from whatever old magazines you have laying around, with no particular arrangement whatsoever, across a piece of posterboard that's been in the back of your kid's closet for 6 months, no one is going to tell you it's wrong.
Don't overcomplicate this. There are great, in-depth tutorials online that go into a lot of detail on what materials work best and how to arrange the items on your vision board for maximum mental impact and where to display it and all that.
I prefer this simple "walkthrough" by a poster named Desirae over on fitness community Lululemon (and she ties in how to include those "task goals" as well!) Here's the super-short version:
Find pictures and words that describe the kind of person you want to be.
Paste them onto something.
Add any notes, mission statements, task-goals, personal photos or anything else that really reflects YOU.
Display the finished product somewhere where you'll see it weekly if not daily.
At the very least, you'll learn more about yourself as you search for the text and images that reflect your "best self." (This, by the way, is a reason I love Pinterest – my boards are full of the things I most want to be, reflect and experience, in a wonderfully visual way!)
You've probably learned something about ME seeing my images in today's post – that I'm motivated by powerful words and beautiful typography more than photos. You might learn that photos are what motivate you most! Either is fine – which is the great part!

The BEST result, for me, of seeing my vision for myself laid out so clearly is that it keeps my focus on clear, simple statements of purpose.  To motivate. To inspire. Make things happen. Hyper-efficient.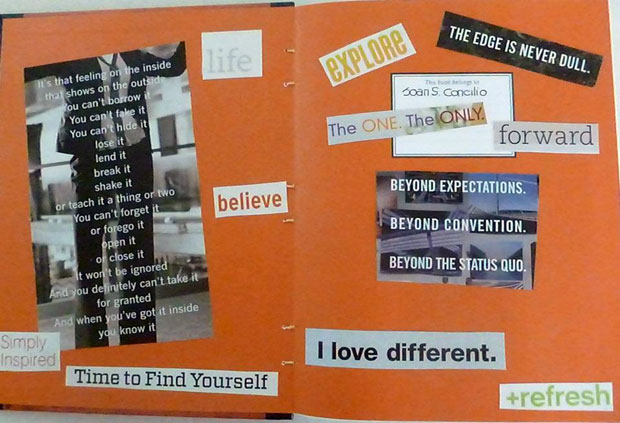 [share_sc]
So how do you set your goals and personal mission or vision? Are you task-based, big-picture-focused, or somewhere in the middle?
What are some of the key images or phrases on your own vision board, if you have one?
We'd love to hear your "vision stories!"