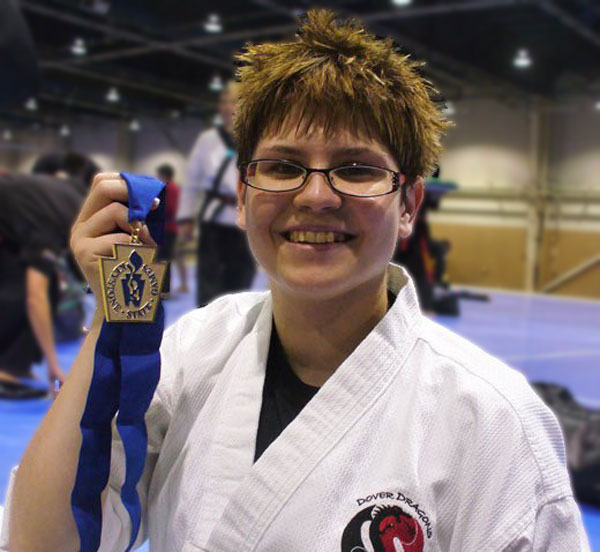 [share_sc]
Note: This is a post from Joan Concilio, Man Vs. Debt community manager. Read more about Joan.
Look, I'm a gold medalist!
It's not quite the Olympics – but that photo is from last year's Keystone State Games, Pennsylvania's version of an athletic championship. I'm competing in this year's games less than a week from today, and it got me thinking.
In my free time, I do one of two things. I practice tae kwon do, and I scrapbook. (And for good measure, I often scrapbook tae kwon do photos…)
Anyway, thinking about it this week, I realized: I have some really expensive hobbies.
Since I began studying tae kwon do a little under three years ago, I've probably invested more than $4,000 in it. Add in my daughter's study, and that goes up to closer to $6,000.
And I'm sure I've spent more than $1,500 on my scrapbooking in the past seven years, making it no slouch in the "costly hobby" race, either.
I know I'm not alone – in fact, one of the first personal finance posts I remember reading when we started our debt-payoff journey was this one from J.D. Roth on Get Rich Slowly about his comic-book collection.
Maybe you're gasping in horror right now – but maybe you're nodding in understanding. As I talked to friends over the past week about this concept, almost everyone had a "thing."
For some people, it was a collection.
For others, a sport.
Still others, some type of travel or "experience collection."
A lot of friends (OK, mostly ladies) said various crafts or other artistic hobbies bust their budget.
This weekend, we've gotten really involved in watching the Olympics. My daughter is fascinated by the athletes and the countries – and I'm fascinated by the passion and energy the competitors devote to their sport.
I am realizing more and more how much it costs the athletes and their families – and not just financially. As I think about that, I've learned a few things that help me evaluate my own costly hobbies.
1. If you're passionate about what you do, you'll find the money.

I'm sure you've heard plenty of stories about parents who sell their homes to pay for their children's Olympic training.
On a smaller scale, there are people at our tae kwon do school who routinely clean the bathrooms and mop the floors to help offset the cost of their lessons.
One of my friends does a few side hustles throughout the year to fund the annual scrapbooking weekend we all attend.
When you're passionate about something, you're willing to make choices to uphold that. Yes, I could have paid off $7,500 more in debt by now if I wasn't involved in scrapbooking and tae kwon do. I'm pleased with the choices I've made, but I recognize they're not for everyone.
That said, I'm not passionate enough to sell my house and move to Korea to train with some world-renowned martial-arts masters.
While I humbly submit that I'm not half bad at tae kwon do, I'm an almost-30-year-old mom. I'm not an Olympic hopeful, and it wasn't even in the budget for me to attend the national championships this year, even after qualifying.
So while I'm willing to put what seems like a significant amount of money into my training, I try to balance that cost with a dose of reality! What makes the most sense is for me to assume I'll max out at the state and national championship level in tae kwon do, so I have no desire to do Olympic-level financial stuff like taking out a second mortgage.
That's not limiting myself – it's making a choice based on the LEVEL of my passion and expertise.
Your challenge: Take a look at your own expensive interest or hobby. Figure out how much of your "work" goes toward it, and compare that with your passion level.
For instance, if you're spending a week's salary every month on a hobby, but you wouldn't say you're more than moderately interested in it, well, that might indicate a problem.
What about the other issue – if you're passionate about a pastime but feel like you're lacking funds to pursue it? That's when I strongly recommend a side hustle. I find that when you're truly excited about what you want that money for, it doesn't seem like as much of an effort to do the work to get it!
2. If you're passionate about what you do, you'll find the time.

Sometimes for years in advance, the Olympic athletes are practicing as many as 10 to 12 hours a DAY.
On a good week, I might spend six or seven hours altogether in the tae kwon do gym.
This weekend, a group of us spent more than 10 hours helping my best friend move – and we all sat down to work on our scrapbooking projects together for four hours afterward.
We shared this quote on the Man Vs. Debt Facebook page to widespread approval a couple of weeks ago:
If you really want to do something, you will find a way. If you don't, you will find an excuse.
I could have been too tired to scrapbook. In fact, I was pretty punchy. But I'm in the middle of a project I really want to finish.
If we hadn't had our gathering, it's not even that I would have come home and gone right to bed. I'd have probably wasted three of the four hours playing around on Facebook. I simply chose to use my time on one of my favorite hobbies instead of blowing it.
You know exactly what I'm talking about, right? We all have things we say we want to do – and at the end of the day, the week, the month, the year, how far are you toward those goals? Even if you've made progress, do you sometimes look back at the end of the day and wonder how you spent that time?

I dare you to watch any one of the Olympic athletes and think about whether they have to ask themselves that question!
Your challenge: Really ponder this: What do you MOST want to accomplish outside of your work this year? Is it a crafting project, a destination to visit, a particular sporting feat, an acquisition for a collection?
Now think about this: How do you MOST OFTEN waste time? Is it surfing Facebook or Twitter? Watching that NCIS rerun marathon for the fifth time this month? Wandering around the mall?
This week, make a commitment to "time swap" those two things. Next time you sit down intending to watch TV, commit to doing 15 minutes of practice or research or crafting instead.

3. If you're passionate about what you do, you'll find the mental strength.

In my lifetime, there's one Olympic moment I remember more than any other.
I don't think most people can really understand the mental strength it must have taken Kerri Strug to run, vault, twist and land on an already injured ankle in that 1996 competition. We talk about the physical way in which that was taxing, but try to get in her head as she's doing it.
I like to think I'm a pretty tough chick – but I can't put myself in her place.
Experts said afterward that she must have known she could be doing permanent damage to her body. While I obviously can't say for sure if that's true, if so, I can sympathize – in college, I gave up playing tennis, a sport I enjoyed, in all but the most casual way – after being warned about the damage I'd already done to my knees.
I liked tennis – but I didn't love it. Not enough to increase the likelihood of knee surgery, and not enough to suffer through the pain after a tough match.
Tae kwon do is different. I'm fortunate enough to practice on thick mats – and to have instructors who are understanding when my knees aren't holding up to a particular exercise. That said, many of my tournaments are held on solid concrete – and I've certainly given my knees a beating in order to participate.
Physical hobbies – sports and so on – make an obvious example of dedication, but it's no less present in other hobbies. The funny thing about things you do for fun is that they can sometimes feel like an awful lot of work.
Some days, I look at the box of family photos I'm trying to scrapbook and think, "They can sit a shoebox for the next decade."
I have a friend who, along with her husband, is trying to ride every roller coaster in North America. Some days, I know she thinks, "Man, just once I'd love to plan our vacation without having to consider what coasters are along the way."
If you don't love what you're doing, it's hard to stay motivated. I've talked about that in the context of debt repayment – if you don't have a good "why," it's so easy to get derailed. On the other hand, when your "why" gets big enough, you suddenly realize the power you have to overcome obstacles.
Your mental strength is the truest measure of your passion. If you can say to yourself, "Yes, I like this enough to sacrifice XYZ" – whether that sacrifice is in the form of pain in your knees or a few less hours of sleep or a few more hours worked at a part time job – that's passion.
Your challenge: Think back to the thing you most want to accomplish outside of work this year that we talked about above. I want you to have, written down and visible, a commitment to WHY you want to do that.

I want to finish scrapbooking my mother's family album (her pictures from childhood and from HER parents) THIS YEAR. My mom is in pretty good health, but she is 77. It's important to me that I use the time I have to get her memories written down to preserve them for my daughter and, hopefully, HER future children.
That's a "big WHY." When I look at it that way, I actually realize I want to prioritize this project above my tae kwon do advancement, even though I could be less than a year away from my first-degree black belt. But I know the black belt can happen two or three years from now if it needs to.
You'll be amazed at the difference writing down your "why" will make. Use that written-out "why" to keep your head in the game – even when it's hard. I might kind of want to spend tomorrow evening vegging out in front of the TV with my mom – but I think I'll ask her if she'd sort some pictures with me at the same time.
4. If you're NOT passionate about what you do, don't feel you have to keep going.
This is sort of the hobby equivalent of "don't throw good money after bad." Every year, the athletes who've trained for the Olympics but get cut in the trials have to make a decision: Try again in four more years, or throw in the towel?
There isn't a right or wrong answer to that question, but I believe there IS one wrong mindset with which to approach it.
Imagine this. You've invested a bunch of money, a bunch of time, a bunch of mental strength into something. You've bought all the gadgets and put in hours of work and made all sorts of sacrifices. And you realize one day that you don't enjoy it at all any more.
I'm not talking about those days when you're kind of "meh" and you need to rely on your mental strength and your big why to get you rolling again. I'm talking about the time when you realize, "You know what? I've changed, and this pastime just doesn't bring me joy now."
So there you are. Maybe it's only been a few weeks or months, but maybe it's been years – or decades. You've collected coins from around the world, and you just don't care about them at all.
If you try to argue that you "should" keep up with a hobby solely because of how far you've already come, I think that's a dangerous mindset – a fatalistic one.
"Well, I've already spent $6,000 on rare postage stamps. If I quit now, all that money was wasted."
I'm opposed to this mindset – because IF you enjoyed building the collection in the past, then the money you spent at that time was probably well worth it.
When I was in elementary school, I loved riding my bicycle. I would ride for HOURS and HOURS. I saved up my own money and bought a series of bikes and bike accessories. I don't ride any more at all – don't even have a bike – but I enjoyed the time I spent on that, my first hobby.
Was that money wasted? I feel like it's intuitively obvious that it wasn't, but as adults, we somehow hold ourselves to a different standard. I'm not suggesting you spend $6,000 tomorrow on a hobby, then quit next week. But if something has served you well for many years, but isn't a good fit any more, there's nothing wrong with letting it go, the same way I parted ways with my pink-and-purple bicycle!
Your challenge: I don't care if you have $2,000 in supplies from a former hobby sitting untouched for years in your basement. Honest. We won't think badly of you.
But if you don't love a particular pastime any more, your job this year is to sell anything related to it that you're willing to part with and stop spending money and time on it – then find something you DO love.
For me, it wasn't super-hard to give up tennis – or making beaded jewelry. I dabbled in both, and spent a decent amount of money, but when I realized that scrapbooking and martial arts were my true passions, I sold the "crap" that went along with both of my earlier hobbies.
This freed up all sorts of stuff – space in my home, money in my pocket, mental energy (no more feeling "guilty" that I wasn't making yet more earrings in my spare time!) It also gave me the freedom to spend more time on the hobbies I do enjoy most.

[share_sc]
The thing I love most about Man Vs. Debt is that it's built around a threefold approach.
It's not "Sell your crap and pay off your debt because it's the right thing to do."
Our mission is, expanded out a little bit, "Sell your crap, pay off your debt and, by so doing, give yourself flexibility to DO WHAT YOU LOVE."
How well are you living up to that?? At a bronze-medal level? Silver? Maybe even gold?
Be willing to go the distance for whatever it is you love the most.
It's worth it.