[share_sc]
Note: This is a post from Adam Baker, founder of Man Vs. Debt.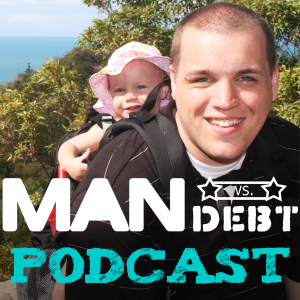 Episode 2 of the new podcast is now live!
We are so happy with the amazing response to the podcast! After just the first episode we were featured as "New & Noteworthy" for the Business category of podcasts in iTunes.
Not only that, but we also cracked into the Top 10 Investing Podcasts in iTunes! (For those wondering, iTunes really only has one category called "investing" for all financial topics, even though we rarely actually talk about investing concepts.)
Yet again, you guys have given us some great momentum for a fun new project. Thanks so much!
Listen to Episode 2 here!
You can also download the .mp3 file here; simply right-click or option-click and choose "Save link as."
[share_sc]
Notes on Episode #2:
We continued our popular "What we can learn from the news!" section with stories on Louis C.K., Verizon's new $2 fee, and Wikipedia's enormous end of year fundraiser!
We then talk about what I call "traditional" goal setting approaches. This includes picking multiple categories for your goals and setting short, medium, and long-term goals for each category. We cover the well-known S.M.A.R.T. system and what we like and don't like about this system.
Leo Babauta, popular blogger at Zen Habits, joins us to talk about his "No Goals" philosophy and why he's choosing to move away from traditional goal setting practices. Leo provides some great points and really helps open up the conversation about when setting goals can be good… and when it can backfire!
Next, I provide my own spin on goal setting and resolutions, along with what my team and I will be using to measure our progress and success. (Hint: It's actually in between the traditional planning and Leo's suggestions!)
Finally, we wrap up with a specific challenge for you to take (you'll need a piece of paper)!
You can also check out Man Vs. Debt editor and community manager Joan's take, The Minimalist Guide to Visual Goal-Setting, here!
I really think you'll enjoy this episode! Give it a listen over the weekend and let me know what you think!
Help the podcast reach even more people!
The best possible way to help is share the podcast with people who you know would enjoy it! Word of mouth is still the most amazing method to spread the news. 🙂
You can also click here to view and/or subscribe via iTunes!
If you are extra impressed, don't forget to leave a review.
Thanks to "Patty2Cakes", "MvDfan", and "Cliff" for the first couple reviews in iTunes!
[share_sc]
Here's to all of us having an amazing 2012!
Xoxoxo,
-Baker